Others titles
WHO Status Report Over Smoking and Tobacco Control
Global Health Professions Student Survey (GHPSS)
International Survey to Reduce Tobacco Epidemic
Keywords
Tobacco Use
Global Tobacco Surveillance System (GTSS)
Health Profession Students
Smoking Cessation Techniques
GTSS
Health Professions Survey
Student Survey
Global Tobacco Surveillance System Health Professions Student Survey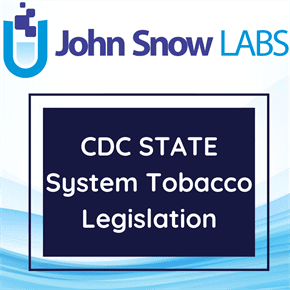 This dataset includes information on demographics, the prevalence of cigarette smoking and other tobacco use (smoked and smokeless), knowledge and attitudes about tobacco use, exposure to second-hand smoke, desire for smoking cessation and training received regarding patient counseling on smoking cessation techniques.
Log in to download
Complexity
Get The Data
For getting access to data download links please read and accept the end-user license agreement.
Your Data License
Research

Non-Commercial, Share-Alike, Attribution

Free Forever

Commercial

Commercial Use, Remix & Adapt, White Label Log in to download
Description
Numerous studies have illustrated that even brief and simple advice from health professionals can substantially increase smoking cessation rates.
In 2005, the World Health Organization (WHO), the US Centers for Disease Control and Prevention (CDC) and the Canadian Public Health Association (CPHA) therefore developed the first survey that collected information on health profession students (e.g. medical, nursing, dental and pharmacy) cross-nationally using a consistent methodology. The data source for this dataset is Global Health Professions Student Survey (GHPSS). It uses a common methodology and core questionnaire to systematically monitor health professions students' tobacco use and track trends over time in tobacco-related knowledge, attitudes, behaviors and environmental influences. This research is also about training the health professionals that how different methods can lead to reducing the tobacco use among people and their usefulness in the long run.
The findings of the survey are depicted in percentages. The common regional themes include:
1. Female health profession students have higher tobacco use than females in the general population
2. Female health profession students have higher tobacco use than male health profession students
3. Majority of health professions students recognize themselves as role models, but large proportion are current smokers
4. Large gap between those health profession students that believe they should receive formal training and those that actually do
5. Nursing and Dentistry students generally receive more formal training on tobacco than Medicine and Pharmacy
About this Dataset
Data Info
| | |
| --- | --- |
| Date Created | 2015-03-16 |
| Last Modified | 2023-09-06 |
| Version | 2023-09-06 |
| Update Frequency | Irregular |
| Temporal Coverage | 2005-2015 |
| Spatial Coverage | N/A |
| Source | John Snow Labs; Centers for Disease Control and Prevention; |
| Source License URL | |
| Source License Requirements | N/A |
| Source Citation | N/A |
| Keywords | Tobacco Use, Global Tobacco Surveillance System (GTSS), Health Profession Students, Smoking Cessation Techniques, GTSS, Health Professions Survey, Student Survey |
| Other Titles | WHO Status Report Over Smoking and Tobacco Control, Global Health Professions Student Survey (GHPSS), International Survey to Reduce Tobacco Epidemic |
Data Fields
| Name | Description | Type | Constraints |
| --- | --- | --- | --- |
| Year | Identifies the year in which the data is collected ranging from year 2005-2011. | date | required : 1 |
| WHO_Region | Indicates the geographical region of World Health Organization (WHO) member states. WHO Member States are grouped into 6 WHO regions: African Region, Region of the Americas, South-East Asia Region, European Region, Eastern Mediterranean Region, and Western Pacific Region. | string | required : 1 |
| Country | Represents the target country from where the data is gathered. | string | required : 1 |
| Survey_Site | Indicates different survey sites within each country wherever applicable. | string | required : 1 |
| Training_Topic | Depicts the training topic within Global Health Professions Student Survey (GHPSS). | string | required : 1 |
| Mpower_Measure_Report | The name of WHO report published in 2008. In this report, a package of six tobacco policies proven to reduce the global tobacco epidemic have been given. | string | - |
| Tobacco_Use_Indicator | Represents several tobacco use indicators used in GHPSS related to tobacco use. | string | required : 1 |
| Data_Value | The actual value of the data collected. | number | level : Ratio |
| Data_Value_Footnote | The footnote against a particular data value. | string | - |
| Low_Confidence_Limit | The lower confidence limit of the confidence interval used. | number | level : Ratio |
| High_Confidence_Limit | The higher confidence limit of the confidence interval used. | number | level : Ratio |
| Sample_Size | Represents the sample size used for gathering data. | integer | level : Ratio |
| Field_of_Discipline | The study field of the health student (the respondent) from whom the relative data is collected. | string | required : 1 |
| Gender | The gender of the health student (the respondent). | string | required : 1 |
| Latitude | Identifies the geographical location Latitude. | number | required : 1 |
| Longitude | Identifies the geographical location Longitude. | number | required : 1 |
| Location_ID | The identity of the location from where the respondent belongs. | integer | level : Nominalrequired : 1 |
| Topic_ID | The three letter alphanumeric identity of the topic. | string | required : 1 |
| Mpower_ID | The three letter alphanumeric identity of Mpower. | string | required : 1 |
| Indicator_ID | The four letter alphanumeric identity of the indicators used in the study. | string | required : 1 |
| Stratification_ID1 | The three letter alphanumeric identity which also represents the first part of the stratification. | string | required : 1 |
| Stratification_ID2 | The alphanumeric identity which also represents the second part of the stratification. | string | required : 1 |
Data Preview
| | | | | | | | | | | | | | | | | | | | | | |
| --- | --- | --- | --- | --- | --- | --- | --- | --- | --- | --- | --- | --- | --- | --- | --- | --- | --- | --- | --- | --- | --- |
| Year | WHO Region | Country | Survey Site | Training Topic | Mpower Measure Report | Tobacco Use Indicator | Data Value | Data Value Footnote | Low Confidence Limit | High Confidence Limit | Sample Size | Field of Discipline | Gender | Latitude | Longitude | Location ID | Topic ID | Mpower ID | Indicator ID | Stratification ID1 | Stratification ID2 |
| 2006 | Region of the Americas | Costa Rica | Costa Rica - National | Cessation | Offer | Percentage of current smokers who reported they wanted to stop smoking now | 70.8 | | | | 24.0 | Medical | Male | 9.748917 | -83.753428 | 349 | T01 | M02 | Q101 | D02 | G01 |
| 2005 | South-East Asia Region | Nepal | Nepal - National | Cessation | Offer | Percentage of current smokers who reported they wanted to stop smoking now | 65.3 | | 32.0 | 88.3 | 58.0 | Medical | Total | 28.394857000000002 | 84.12400799999999 | 435 | T01 | M02 | Q101 | D02 | G9901 |
| 2005 | South-East Asia Region | Nepal | Nepal - National | Cessation | Offer | Percentage of current smokers who reported they wanted to stop smoking now | | Insufficient Sample Size. | | | | Dental | Total | 28.394857000000002 | 84.12400799999999 | 435 | T01 | M02 | Q101 | D01 | G9901 |
| 2005 | Eastern Mediterranean Region | Egypt | Egypt - National | Cessation | Offer | Percentage of current smokers who reported they wanted to stop smoking now | 66.0 | | 47.0 | 81.0 | 100.0 | Medical | Total | 26.820553000000004 | 30.802497999999996 | 358 | T01 | M02 | Q101 | D02 | G9901 |
| 2005 | South-East Asia Region | India | India - National | Cessation | Offer | Percentage of current smokers who reported they wanted to stop smoking now | 64.3 | | 20.3 | 92.7 | 11.0 | Dental | Female | 20.593684 | 78.96288 | 386 | T01 | M02 | Q101 | D01 | G02 |
| 2006 | European Region | Slovakia | Slovakia - National | Cessation | Offer | Percentage of current smokers who reported they wanted to stop smoking now | | Insufficient Sample Size. | | | | Nursing | Male | 48.669026 | 19.699023999999998 | 408 | T01 | M02 | Q101 | D03 | G01 |
| 2006 | European Region | Armenia | Armenia - National | Cessation | Offer | Percentage of current smokers who reported they wanted to stop smoking now | | Insufficient Sample Size. | | | | Pharmacy | Male | 40.069099 | 45.038189 | 315 | T01 | M02 | Q101 | D04 | G01 |
| 2006 | European Region | Armenia | Armenia - National | Cessation | Offer | Percentage of current smokers who reported they wanted to stop smoking now | 59.1 | | 39.8 | 76.0 | 12.0 | Nursing | Male | 40.069099 | 45.038189 | 315 | T01 | M02 | Q101 | D03 | G01 |
| 2006 | European Region | Armenia | Armenia - National | Cessation | Offer | Percentage of current smokers who reported they wanted to stop smoking now | 83.7 | | 61.3 | 94.3 | 12.0 | Medical | Male | 40.069099 | 45.038189 | 315 | T01 | M02 | Q101 | D02 | G01 |
| 2006 | European Region | Lithuania | Lithuania - National | Cessation | Offer | Percentage of current smokers who reported they wanted to stop smoking now | 80.0 | | 63.7 | 90.1 | 13.0 | Medical | Male | 55.169438 | 23.881275 | 406 | T01 | M02 | Q101 | D02 | G01 |