Others titles
Global Burden of Disease Study 2016 (GBD 2016) Healthcare Access and Quality Index Based on Amenable Mortality 1990–2016
Global Under 5 Mortality
Deaths Among Children Under 5
Keywords
Under 5 Mortality
Under 5 Deaths
Child Mortality Rate
Child Mortality
Child Mortality 1970 to 2016
Causes of Death Child Under 5
Global Under 5 Mortality 1970 to 2016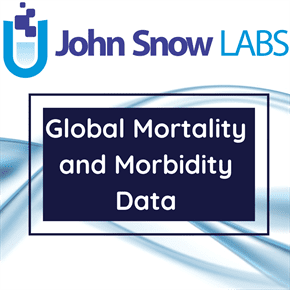 This dataset includes estimates for under-5 mortality rates and 95% uncertainty interval estimates by location and gender, male, female and both sexes combined in 1970, 1975, 1980, 1985, 1990, 1995, 2000, 2005, 2010, 2016. This age-specific mortality dataset is used to enable health systems to target interventions to the under 5 years of age population.
Log in to download
Complexity
Get The Data
For getting access to data download links please read and accept the end-user license agreement.
Your Data License
Research

Non-Commercial, Share-Alike, Attribution

Free Forever

Commercial

Commercial Use, Remix & Adapt, White Label Log in to download
Description
This dataset is from Global Burden of Disease Study 2016 (GBD 2016) estimates of age-specific and sex-specific all-cause mortality between 1970 and 2016 for 195 countries and territories and at the subnational level for the five countries with a population greater than 200 million in 2016.
Detailed assessments of mortality patterns, particularly age-specific mortality, in this dataset, the under 5 years of age, are useful in enabling health systems to target interventions to specific population groups.
Globally, mortality rates have decreased across all age groups over the past five decades, with the largest improvements occurring among children younger than 5 years. Under 5 mortality declined globally from 2000 to 2016, decreasing from 69·4 per
1000 live births (67·2–71·8) to 38·4 per 1000 live births (34·5–43·1), giving an average decrease of 3·7% per year (3·0–4·3); of 195 countries and territories, 189 had declines in U5MR since 2000.
Results of the study showed that the number of deaths among children younger than 5 years has declined substantially over the past 47 years, with rates of change accelerating in many countries since 2000, particularly compared with the previous decade, 1990–2000. In 2016, the number of under-5 deaths dropped below 5 million for the first time. This finding is continued evidence that progress is being made in tackling the key causes of child death, which is probably linked to successful strategies and trends, including increased educational levels of mothers, rising incomes per capita,39,40 declining levels of fertility, scale-up of vaccination programme, mass distribution of insecticide-treated bednets, improved water and sanitation, and the impact of a wide array of other health programmes funded by expanded provision of development assistance for health.
The study is published in The Lancet in September 2017 in "Global, regional, and national under-5 mortality, adult mortality, age-specific mortality, and life expectancy, 1970-2016: a systematic analysis for the Global Burden of Disease Study 2016".
About this Dataset
Data Info
| | |
| --- | --- |
| Date Created | 2018-05-23 |
| Last Modified | 2018-05-23 |
| Version | 2018-05-23 |
| Update Frequency | Never |
| Temporal Coverage | 1970-01-01-2016-12-31 |
| Spatial Coverage | World |
| Source | John Snow Labs; Institute for Health Metrics and Evaluation (IHME), Global Health Data Exchange; |
| Source License URL | |
| Source License Requirements | N/A |
| Source Citation | N/A |
| Keywords | Under 5 Mortality, Under 5 Deaths, Child Mortality Rate, Child Mortality, Child Mortality 1970 to 2016, Causes of Death Child Under 5 |
| Other Titles | Global Burden of Disease Study 2016 (GBD 2016) Healthcare Access and Quality Index Based on Amenable Mortality 1990–2016, Global Under 5 Mortality, Deaths Among Children Under 5 |
Data Fields
| Name | Description | Type | Constraints |
| --- | --- | --- | --- |
| Geography | Geography either global or the name of the country where under-5 mortality was estimated from 1970 to 2016 | string | - |
| Under_5_Mortality_Both_1970 | Under 5 mortality in both males and females in 1970 | number | level : Ratio |
| Under_5_Mortality_Both_1970_LL | Lower limit of Under 5 mortality in both males and females in 1970 | number | level : Ratio |
| Under_5_Mortality_Both_1970_UL | Upper limit of Under 5 mortality in both males and females in 1970 | number | level : Ratio |
| Under_5_Mortality_Both_1975 | Under 5 mortality in both males and females in 1975 | number | level : Ratio |
| Under_5_Mortality_Both_1975_LL | Lower limit of Under 5 mortality in both males and females in 1975 | number | level : Ratio |
| Under_5_Mortality_Both_1975_UL | Upper limit of Under 5 mortality in both males and females in 1975 | number | level : Ratio |
| Under_5_Mortality_Both_1980 | Under 5 mortality in both males and females in 1980 | number | level : Ratio |
| Under_5_Mortality_Both_1980_LL | Lower limit of Under 5 mortality in both males and females in 1980 | number | level : Ratio |
| Under_5_Mortality_Both_1980_UL | Upper limit of Under 5 mortality in both males and females in 1980 | number | level : Ratio |
| Under_5_Mortality_Both_1985 | Under 5 mortality in both males and females in 1985 | number | level : Ratio |
| Under_5_Mortality_Both_1985_LL | Lower limit of Under 5 mortality in both males and females in 1985 | number | level : Ratio |
| Under_5_Mortality_Both_1985_UL | Upper limit of Under 5 mortality in both males and females in 1985 | number | level : Ratio |
| Under_5_Mortality_Both_1990 | Under 5 mortality in both males and females in 1990 | number | level : Ratio |
| Under_5_Mortality_Both_1990_LL | Lower limit of Under 5 mortality in both males and females in 1990 | number | level : Ratio |
| Under_5_Mortality_Both_1990_UL | Upper limit of Under 5 mortality in both males and females in 1990 | number | level : Ratio |
| Under_5_Mortality_Both_1995 | Under 5 mortality in both males and females in 1995 | number | level : Ratio |
| Under_5_Mortality_Both_1995_LL | Lower limit of Under 5 mortality in both males and females in 1995 | number | level : Ratio |
| Under_5_Mortality_Both_1995_UL | Upper limit of Under 5 mortality in both males and females in 1995 | number | level : Ratio |
| Under_5_Mortality_Both_2000 | Under 5 mortality in both males and females in 2000 | number | level : Ratio |
| Under_5_Mortality_Both_2000_LL | Lower limit of Under 5 mortality in both males and females in 2000 | number | level : Ratio |
| Under_5_Mortality_Both_2000_UL | Upper limit of Under 5 mortality in both males and females in 2000 | number | level : Ratio |
| Under_5_Mortality_Both_2005 | Under 5 mortality in both males and females in 2005 | number | level : Ratio |
| Under_5_Mortality_Both_2005_LL | Lower limit of Under 5 mortality in both males and females in 2005 | number | level : Ratio |
| Under_5_Mortality_Both_2005_UL | Upper limit of Under 5 mortality in both males and females in 2005 | number | level : Ratio |
| Under_5_Mortality_Both_2010 | Under 5 mortality in both males and females in 2010 | number | level : Ratio |
| Under_5_Mortality_Both_2010_LL | Lower limit of Under 5 mortality in both males and females in 2010 | number | level : Ratio |
| Under_5_Mortality_Both_2010_UL | Upper limit of Under 5 mortality in both males and females in 2010 | number | level : Ratio |
| Under_5_Mortality_Both_2016 | Under 5 mortality in both males and females in 2016 | number | level : Ratio |
| Under_5_Mortality_Both_2016_LL | Lower limit of Under 5 mortality in both males and females in 2016 | number | level : Ratio |
| Under_5_Mortality_Both_2016_UL | Upper limit of Under 5 mortality in both males and females in 2016 | number | level : Ratio |
| Under_5_Mortality_Male_1970 | Under 5 mortality in males in 1970 | number | level : Ratio |
| Under_5_Mortality_Male_1970_LL | Under 5 mortality in males in 1970_lower limit | number | level : Ratio |
| Under_5_Mortality_Male_1970_UL | Under 5 mortality in males in 1970_upper limit | number | level : Ratio |
| Under_5_Mortality_Male_1975 | Under 5 mortality in males in 1975 | number | level : Ratio |
| Under_5_Mortality_Male_1975_LL | Under 5 mortality in males in 1970_lower limit | number | level : Ratio |
| Under_5_Mortality_Male_1975_UL | Under 5 mortality in males in 1970_upper limit | number | level : Ratio |
| Under_5_Mortality_Male_1980 | Under 5 mortality in males in 1980 | number | level : Ratio |
| Under_5_Mortality_Male_1980_LL | Under 5 mortality in males in 1980_lower limit | number | level : Ratio |
| Under_5_Mortality_Male_1980_UL | Under 5 mortality in males in 1980_upper limit | number | level : Ratio |
| Under_5_Mortality_Male_1985 | Under 5 mortality in males in 1985 | number | level : Ratio |
| Under_5_Mortality_Male_1985_LL | Under 5 mortality in males in 1985_lower limit | number | level : Ratio |
| Under_5_Mortality_Male_1985_UL | Under 5 mortality in males in 1985_upper limit | number | level : Ratio |
| Under_5_Mortality_Male_1990 | Under 5 mortality in males in 1990 | number | level : Ratio |
| Under_5_Mortality_Male_1990_LL | Under 5 mortality in males in 1990_lower limit | number | level : Ratio |
| Under_5_Mortality_Male_1990_UL | Under 5 mortality in males in 1990_upper limit | number | level : Ratio |
| Under_5_Mortality_Male_1995 | Under 5 mortality in males in 1995 | number | level : Ratio |
| Under_5_Mortality_Male_1995_LL | Under 5 mortality in males in 1995_lower limit | number | level : Ratio |
| Under_5_Mortality_Male_1995_UL | Under 5 mortality in males in 1995_upper limit | number | level : Ratio |
| Under_5_Mortality_Male_2000 | Under 5 mortality in males in 2000 | number | level : Ratio |
| Under_5_Mortality_Male_2000_LL | Under 5 mortality in males in 2000_lower limit | number | level : Ratio |
| Under_5_Mortality_Male_2000_UL | Under 5 mortality in males in 2000_upper limit | number | level : Ratio |
| Under_5_Mortality_Male_2005 | Under 5 mortality in males in 2005 | number | level : Ratio |
| Under_5_Mortality_Male_2005_LL | Under 5 mortality in males in 2005_lower limit | number | level : Ratio |
| Under_5_Mortality_Male_2005_UL | Under 5 mortality in males in 2005_upper limit | number | level : Ratio |
| Under_5_Mortality_Male_2010 | Under 5 mortality in males in 2010 | number | level : Ratio |
| Under_5_Mortality_Male_2010_LL | Under 5 mortality in males in 2010_lower limit | number | level : Ratio |
| Under_5_Mortality_Male_2010_UL | Under 5 mortality in males in 2010_upper limit | number | level : Ratio |
| Under_5_Mortality_Male_2016 | Under 5 mortality in males in 2016 | number | level : Ratio |
| Under_5_Mortality_Male_2016_LL | Under 5 mortality in males in 2016_lower limit | number | level : Ratio |
| Under_5_Mortality_Male_2016_UL | Under 5 mortality in males in 2016_upper limit | number | level : Ratio |
| Under_5_Mortality_Female_1970 | Under 5 mortality in females in 1970 | number | level : Ratio |
| Under_5_Mortality_Female_1970_LL | Under 5 mortality in females in 1970_lower limit | number | level : Ratio |
| Under_5_Mortality_Female_1970_UL | Under 5 mortality in females in 1970_upper limit | number | level : Ratio |
| Under_5_Mortality_Female_1975 | Under 5 mortality in females in 1975 | number | level : Ratio |
| Under_5_Mortality_Female_1975_LL | Under 5 mortality in females in 1975_lower limit | number | level : Ratio |
| Under_5_Mortality_Female_1975_UL | Under 5 mortality in females in 1975_upper limit | number | level : Ratio |
| Under_5_Mortality_Female_1980 | Under 5 mortality in and females in 1980 | number | level : Ratio |
| Under_5_Mortality_Female_1980_LL | Under 5 mortality in and females in 1980_lower limit | number | level : Ratio |
| Under_5_Mortality_Female_1980_UL | Under 5 mortality in and females in 1980_upper limit | number | level : Ratio |
| Under_5_Mortality_Female_1985 | Under 5 mortality in and females in 1985 | number | level : Ratio |
| Under_5_Mortality_Female_1985_LL | Under 5 mortality in and females in 1985_lower limit | number | level : Ratio |
| Under_5_Mortality_Female_1985_UL | Under 5 mortality in and females in 1985_upper limit | number | level : Ratio |
| Under_5_Mortality_Female_1990 | Under 5 mortality in and females in 1990 | number | level : Ratio |
| Under_5_Mortality_Female_1990_LL | Under 5 mortality in and females in 1990_lower limit | number | level : Ratio |
| Under_5_Mortality_Female_1990_UL | Under 5 mortality in females in 1990_upper limit | number | level : Ratio |
| Under_5_Mortality_Female_1995 | Under 5 mortality in females in 1995 | number | level : Ratio |
| Under_5_Mortality_Female_1995_LL | Under 5 mortality in females in 1995_lower limit | number | level : Ratio |
| Under_5_Mortality_Female_1995_UL | Under 5 mortality in females in 1995_upper limit | number | level : Ratio |
| Under_5_Mortality_Female_2000 | Under 5 mortality in females in 2000 | number | level : Ratio |
| Under_5_Mortality_Female_2000_LL | Under 5 mortality in females in 2000_lower limit | number | level : Ratio |
| Under_5_Mortality_Female_2000_UL | Under 5 mortality in females in 2000_upper limit | number | level : Ratio |
| Under_5_Mortality_Female_2005 | Under 5 mortality in females in 2005 | number | level : Ratio |
| Under_5_Mortality_Female_2005_LL | Under 5 mortality in females in 2005_lower limit | number | level : Ratio |
| Under_5_Mortality_Female_2005_UL | Under 5 mortality in females in 2005_upper limit | number | level : Ratio |
| Under_5_Mortality_Female_2010 | Under 5 mortality in females in 2010 | number | level : Ratio |
| Under_5_Mortality_Female_2010_LL | Under 5 mortality in females in 2010_lower limit | number | level : Ratio |
| Under_5_Mortality_Female_2010_UL | Under 5 mortality in females in 2010_upper limit | number | level : Ratio |
| Under_5_Mortality_Female_2016 | Under 5 mortality in females in 2016 | number | level : Ratio |
| Under_5_Mortality_Female_2016_LL | Under 5 mortality in females in 2016_lower limit | number | level : Ratio |
| Under_5_Mortality_Female_2016_UL | Under 5 mortality in females in 2016_upper limit | number | level : Ratio |
Data Preview
| | | | | | | | | | | | | | | | | | | | | | | | | | | | | | | | | | | | | | | | | | | | | | | | | | | | | | | | | | | | | | | | | | | | | | | | | | | | | | | | | | | | | | | | | | | |
| --- | --- | --- | --- | --- | --- | --- | --- | --- | --- | --- | --- | --- | --- | --- | --- | --- | --- | --- | --- | --- | --- | --- | --- | --- | --- | --- | --- | --- | --- | --- | --- | --- | --- | --- | --- | --- | --- | --- | --- | --- | --- | --- | --- | --- | --- | --- | --- | --- | --- | --- | --- | --- | --- | --- | --- | --- | --- | --- | --- | --- | --- | --- | --- | --- | --- | --- | --- | --- | --- | --- | --- | --- | --- | --- | --- | --- | --- | --- | --- | --- | --- | --- | --- | --- | --- | --- | --- | --- | --- | --- |
| Geography | Under 5 Mortality Both 1970 | Under 5 Mortality Both 1970 LL | Under 5 Mortality Both 1970 UL | Under 5 Mortality Both 1975 | Under 5 Mortality Both 1975 LL | Under 5 Mortality Both 1975 UL | Under 5 Mortality Both 1980 | Under 5 Mortality Both 1980 LL | Under 5 Mortality Both 1980 UL | Under 5 Mortality Both 1985 | Under 5 Mortality Both 1985 LL | Under 5 Mortality Both 1985 UL | Under 5 Mortality Both 1990 | Under 5 Mortality Both 1990 LL | Under 5 Mortality Both 1990 UL | Under 5 Mortality Both 1995 | Under 5 Mortality Both 1995 LL | Under 5 Mortality Both 1995 UL | Under 5 Mortality Both 2000 | Under 5 Mortality Both 2000 LL | Under 5 Mortality Both 2000 UL | Under 5 Mortality Both 2005 | Under 5 Mortality Both 2005 LL | Under 5 Mortality Both 2005 UL | Under 5 Mortality Both 2010 | Under 5 Mortality Both 2010 LL | Under 5 Mortality Both 2010 UL | Under 5 Mortality Both 2016 | Under 5 Mortality Both 2016 LL | Under 5 Mortality Both 2016 UL | Under 5 Mortality Male 1970 | Under 5 Mortality Male 1970 LL | Under 5 Mortality Male 1970 UL | Under 5 Mortality Male 1975 | Under 5 Mortality Male 1975 LL | Under 5 Mortality Male 1975 UL | Under 5 Mortality Male 1980 | Under 5 Mortality Male 1980 LL | Under 5 Mortality Male 1980 UL | Under 5 Mortality Male 1985 | Under 5 Mortality Male 1985 LL | Under 5 Mortality Male 1985 UL | Under 5 Mortality Male 1990 | Under 5 Mortality Male 1990 LL | Under 5 Mortality Male 1990 UL | Under 5 Mortality Male 1995 | Under 5 Mortality Male 1995 LL | Under 5 Mortality Male 1995 UL | Under 5 Mortality Male 2000 | Under 5 Mortality Male 2000 LL | Under 5 Mortality Male 2000 UL | Under 5 Mortality Male 2005 | Under 5 Mortality Male 2005 LL | Under 5 Mortality Male 2005 UL | Under 5 Mortality Male 2010 | Under 5 Mortality Male 2010 LL | Under 5 Mortality Male 2010 UL | Under 5 Mortality Male 2016 | Under 5 Mortality Male 2016 LL | Under 5 Mortality Male 2016 UL | Under 5 Mortality Female 1970 | Under 5 Mortality Female 1970 LL | Under 5 Mortality Female 1970 UL | Under 5 Mortality Female 1975 | Under 5 Mortality Female 1975 LL | Under 5 Mortality Female 1975 UL | Under 5 Mortality Female 1980 | Under 5 Mortality Female 1980 LL | Under 5 Mortality Female 1980 UL | Under 5 Mortality Female 1985 | Under 5 Mortality Female 1985 LL | Under 5 Mortality Female 1985 UL | Under 5 Mortality Female 1990 | Under 5 Mortality Female 1990 LL | Under 5 Mortality Female 1990 UL | Under 5 Mortality Female 1995 | Under 5 Mortality Female 1995 LL | Under 5 Mortality Female 1995 UL | Under 5 Mortality Female 2000 | Under 5 Mortality Female 2000 LL | Under 5 Mortality Female 2000 UL | Under 5 Mortality Female 2005 | Under 5 Mortality Female 2005 LL | Under 5 Mortality Female 2005 UL | Under 5 Mortality Female 2010 | Under 5 Mortality Female 2010 LL | Under 5 Mortality Female 2010 UL | Under 5 Mortality Female 2016 | Under 5 Mortality Female 2016 LL | Under 5 Mortality Female 2016 UL |
| Global | 144.6 | 137.92 | 151.66 | 127.15 | 122.28 | 132.23 | 111.19 | 107.16 | 115.19 | 97.34 | 93.96 | 100.55 | 85.08 | 82.15 | 87.96 | 77.56 | 74.99 | 80.11 | 69.39 | 67.16 | 71.8 | 59.84 | 57.31 | 62.43 | 49.82 | 46.43 | 53.51 | 38.42 | 34.48 | 43.05 | 149.38 | 140.47 | 158.96 | 131.24 | 124.73 | 137.95 | 114.77 | 109.59 | 120.15 | 100.48 | 96.16 | 104.87 | 87.93 | 84.19 | 91.64 | 80.18 | 76.93 | 83.47 | 71.71 | 68.56 | 75.09 | 61.94 | 58.53 | 65.43 | 51.8 | 47.59 | 56.35 | 40.37 | 35.58 | 46.09 | 139.58 | 134.84 | 144.5 | 122.85 | 119.08 | 126.69 | 107.42 | 104.03 | 110.86 | 94.01 | 91.34 | 96.67 | 82.05 | 79.7 | 84.56 | 74.77 | 72.76 | 76.85 | 66.89 | 65.48 | 68.36 | 57.6 | 55.8 | 59.34 | 47.71 | 45.24 | 50.4 | 36.35 | 33.32 | 39.86 |
| High SDI | 88.08 | 82.31 | 94.51 | 69.4 | 65.89 | 73.12 | 56.63 | 53.23 | 60.04 | 45.18 | 42.8 | 47.69 | 37.49 | 35.57 | 39.71 | 31.39 | 29.67 | 33.16 | 24.73 | 23.11 | 26.44 | 18.85 | 17.41 | 20.47 | 14.46 | 13.06 | 16.0 | 11.33 | 9.8 | 13.16 | 92.53 | 86.31 | 99.65 | 73.35 | 69.41 | 77.49 | 60.13 | 56.43 | 64.01 | 48.24 | 45.69 | 51.0 | 40.31 | 38.14 | 42.74 | 33.94 | 31.92 | 35.94 | 26.9 | 25.0 | 28.82 | 20.64 | 18.9 | 22.54 | 15.87 | 14.22 | 17.67 | 12.46 | 10.66 | 14.61 | 83.37 | 78.14 | 88.98 | 65.22 | 62.1 | 68.44 | 52.93 | 49.71 | 56.12 | 41.93 | 39.62 | 44.28 | 34.48 | 32.72 | 36.45 | 28.65 | 27.2 | 30.19 | 22.35 | 20.99 | 23.8 | 16.91 | 15.77 | 18.23 | 12.95 | 11.82 | 14.22 | 10.12 | 8.85 | 11.63 |
| High-middle SDI | 26.16 | 25.58 | 26.83 | 20.55 | 20.0 | 21.17 | 15.61 | 15.17 | 16.15 | 12.3 | 12.03 | 12.61 | 10.26 | 10.08 | 10.5 | 8.21 | 8.07 | 8.38 | 6.89 | 6.84 | 6.95 | 6.23 | 6.18 | 6.28 | 5.42 | 5.37 | 5.47 | 4.93 | 4.58 | 5.33 | 28.87 | 28.16 | 29.67 | 22.81 | 22.14 | 23.54 | 17.37 | 16.84 | 17.99 | 13.67 | 13.33 | 14.06 | 11.4 | 11.18 | 11.67 | 9.06 | 8.87 | 9.26 | 7.58 | 7.49 | 7.67 | 6.85 | 6.76 | 6.93 | 5.94 | 5.84 | 6.03 | 5.39 | 4.98 | 5.87 | 23.28 | 22.77 | 23.86 | 18.17 | 17.66 | 18.73 | 13.76 | 13.39 | 14.2 | 10.85 | 10.64 | 11.1 | 9.05 | 8.89 | 9.26 | 7.32 | 7.2 | 7.46 | 6.17 | 6.11 | 6.22 | 5.58 | 5.54 | 5.63 | 4.88 | 4.85 | 4.91 | 4.44 | 4.17 | 4.76 |
| Middle SDI | 207.59 | 197.6 | 218.1 | 182.67 | 174.52 | 191.11 | 159.2 | 152.84 | 165.09 | 139.23 | 134.26 | 144.14 | 120.16 | 115.86 | 124.43 | 107.35 | 103.45 | 111.13 | 94.08 | 90.82 | 97.41 | 80.47 | 77.13 | 84.01 | 66.2 | 61.66 | 70.94 | 49.56 | 44.81 | 55.19 | 213.5 | 199.23 | 229.17 | 186.97 | 175.96 | 198.41 | 162.68 | 154.75 | 171.06 | 142.13 | 135.64 | 148.28 | 122.76 | 117.61 | 128.34 | 109.58 | 104.75 | 114.53 | 95.95 | 91.37 | 100.64 | 82.11 | 77.69 | 86.55 | 67.85 | 62.37 | 73.72 | 51.39 | 45.66 | 58.36 | 201.4 | 195.28 | 207.77 | 178.17 | 171.75 | 184.24 | 155.55 | 150.58 | 160.45 | 136.18 | 131.95 | 140.71 | 117.42 | 113.24 | 121.6 | 104.99 | 101.87 | 108.15 | 92.08 | 89.79 | 94.35 | 78.71 | 75.95 | 81.45 | 64.42 | 61.02 | 68.1 | 47.6 | 43.92 | 51.84 |
| Low-middle SDI | 238.21 | 220.73 | 256.9 | 223.15 | 212.32 | 233.78 | 205.89 | 198.49 | 213.76 | 190.14 | 183.9 | 196.71 | 173.5 | 167.83 | 179.42 | 159.64 | 154.34 | 165.05 | 140.71 | 135.75 | 145.7 | 116.92 | 111.67 | 122.35 | 96.16 | 88.94 | 104.1 | 70.18 | 60.87 | 80.7 | 247.89 | 225.71 | 271.67 | 231.91 | 217.7 | 246.41 | 213.81 | 203.92 | 224.17 | 197.45 | 189.05 | 206.2 | 180.6 | 173.09 | 188.44 | 166.38 | 159.34 | 173.49 | 146.65 | 139.92 | 153.73 | 122.27 | 115.29 | 129.67 | 101.0 | 91.96 | 111.12 | 74.42 | 63.5 | 87.25 | 228.3 | 215.13 | 241.85 | 214.19 | 206.33 | 221.92 | 197.81 | 192.44 | 203.18 | 182.64 | 177.83 | 187.56 | 166.19 | 161.51 | 170.8 | 152.66 | 147.85 | 157.69 | 134.53 | 130.93 | 138.23 | 111.37 | 107.59 | 115.35 | 91.12 | 85.68 | 96.91 | 65.77 | 58.19 | 74.16 |
| Low SDI | 135.9 | 127.88 | 144.27 | 111.88 | 106.01 | 117.74 | 91.34 | 86.64 | 96.34 | 74.26 | 70.49 | 78.14 | 60.05 | 56.9 | 63.46 | 49.21 | 46.9 | 51.54 | 40.22 | 38.34 | 42.22 | 32.56 | 30.73 | 34.29 | 25.45 | 23.49 | 27.59 | 19.25 | 16.69 | 22.17 | 139.56 | 130.59 | 149.06 | 115.31 | 108.62 | 121.89 | 94.54 | 89.58 | 100.09 | 77.1 | 72.7 | 81.58 | 62.62 | 58.84 | 66.69 | 51.68 | 48.91 | 54.54 | 42.56 | 40.37 | 45.07 | 34.61 | 32.3 | 36.83 | 27.24 | 24.88 | 29.85 | 20.77 | 17.79 | 24.22 | 132.06 | 124.61 | 139.68 | 108.26 | 102.95 | 113.84 | 87.95 | 83.26 | 93.1 | 71.23 | 67.76 | 74.87 | 57.26 | 54.59 | 60.2 | 46.52 | 44.44 | 48.66 | 37.65 | 36.01 | 39.25 | 30.32 | 29.05 | 31.58 | 23.49 | 21.98 | 25.17 | 17.6 | 15.47 | 20.06 |
| High-income | 29.66 | 29.1 | 30.3 | 23.64 | 23.08 | 24.25 | 17.08 | 16.65 | 17.62 | 13.22 | 12.96 | 13.53 | 11.23 | 11.06 | 11.47 | 8.94 | 8.81 | 9.1 | 7.56 | 7.52 | 7.61 | 6.77 | 6.73 | 6.83 | 5.94 | 5.89 | 5.99 | 5.4 | 5.08 | 5.77 | 32.51 | 31.81 | 33.26 | 26.01 | 25.37 | 26.74 | 18.89 | 18.38 | 19.51 | 14.64 | 14.3 | 15.02 | 12.44 | 12.22 | 12.71 | 9.85 | 9.68 | 10.05 | 8.31 | 8.23 | 8.4 | 7.44 | 7.35 | 7.52 | 6.5 | 6.4 | 6.59 | 5.91 | 5.5 | 6.36 | 26.65 | 26.12 | 27.23 | 21.13 | 20.64 | 21.68 | 15.18 | 14.82 | 15.61 | 11.73 | 11.52 | 11.97 | 9.96 | 9.81 | 10.17 | 7.97 | 7.86 | 8.1 | 6.77 | 6.73 | 6.82 | 6.07 | 6.03 | 6.12 | 5.35 | 5.32 | 5.37 | 4.86 | 4.61 | 5.15 |
| High-income North America | 23.92 | 23.76 | 24.07 | 19.04 | 18.9 | 19.16 | 15.05 | 14.94 | 15.17 | 12.51 | 12.4 | 12.61 | 10.9 | 10.81 | 10.99 | 8.97 | 8.89 | 9.05 | 8.05 | 7.98 | 8.13 | 7.88 | 7.81 | 7.96 | 7.07 | 7.0 | 7.13 | 6.69 | 6.46 | 6.95 | 26.71 | 26.44 | 26.98 | 21.27 | 21.08 | 21.47 | 16.79 | 16.63 | 16.97 | 13.91 | 13.76 | 14.05 | 12.1 | 11.97 | 12.23 | 9.92 | 9.81 | 10.02 | 8.89 | 8.77 | 9.0 | 8.69 | 8.58 | 8.8 | 7.77 | 7.65 | 7.87 | 7.34 | 7.05 | 7.64 | 20.97 | 20.73 | 21.23 | 16.68 | 16.5 | 16.86 | 13.21 | 13.07 | 13.36 | 11.02 | 10.9 | 11.16 | 9.63 | 9.52 | 9.75 | 7.97 | 7.87 | 8.07 | 7.18 | 7.1 | 7.27 | 7.04 | 6.95 | 7.12 | 6.34 | 6.26 | 6.41 | 6.02 | 5.81 | 6.24 |
| Canada | 22.86 | 22.43 | 23.25 | 17.29 | 16.97 | 17.62 | 12.54 | 12.27 | 12.82 | 9.68 | 9.46 | 9.89 | 8.29 | 8.09 | 8.51 | 7.27 | 7.08 | 7.46 | 6.18 | 6.0 | 6.35 | 6.09 | 5.91 | 6.27 | 5.72 | 5.56 | 5.88 | 5.37 | 5.18 | 5.56 | 25.52 | 24.95 | 26.09 | 19.21 | 18.76 | 19.66 | 13.98 | 13.63 | 14.35 | 10.69 | 10.41 | 10.96 | 9.19 | 8.93 | 9.46 | 7.97 | 7.73 | 8.19 | 6.73 | 6.47 | 6.99 | 6.59 | 6.38 | 6.81 | 6.15 | 5.95 | 6.35 | 5.77 | 5.41 | 6.16 | 20.03 | 19.52 | 20.51 | 15.26 | 14.85 | 15.66 | 11.02 | 10.73 | 11.34 | 8.63 | 8.38 | 8.87 | 7.35 | 7.13 | 7.58 | 6.52 | 6.31 | 6.73 | 5.59 | 5.46 | 5.71 | 5.55 | 5.37 | 5.75 | 5.26 | 5.08 | 5.44 | 4.94 | 4.93 | 4.94 |
| Greenland | 46.81 | 43.14 | 50.05 | 39.46 | 36.31 | 42.82 | 39.08 | 35.83 | 42.68 | 38.04 | 34.51 | 41.91 | 38.73 | 34.94 | 42.99 | 27.04 | 24.25 | 30.14 | 19.41 | 17.2 | 21.99 | 18.06 | 15.89 | 20.71 | 16.32 | 14.16 | 18.72 | 14.14 | 11.85 | 16.88 | 52.43 | 48.13 | 56.7 | 44.63 | 40.64 | 48.59 | 43.78 | 39.55 | 48.32 | 41.91 | 37.76 | 46.58 | 42.23 | 37.25 | 47.28 | 29.46 | 26.08 | 33.25 | 21.54 | 18.92 | 24.38 | 19.61 | 17.14 | 22.79 | 17.19 | 14.62 | 19.99 | 14.84 | 11.64 | 18.8 | 40.94 | 37.14 | 45.03 | 34.05 | 31.11 | 37.35 | 34.46 | 31.25 | 38.38 | 33.83 | 30.25 | 38.01 | 35.2 | 31.24 | 39.79 | 24.63 | 21.67 | 28.19 | 17.36 | 15.2 | 19.88 | 16.45 | 14.34 | 18.9 | 15.35 | 13.24 | 17.81 | 13.42 | 12.07 | 14.92 |