Others titles
General Medical Practitioner Practices in England and Wales
Current GP Practices and Prescribing Cost Centres in England and Wales
Keywords
General Practitioners (GPs)
GP Practices
Prescribing Cost Centres
General Medical Practices
National Health Service (NHS)
Health and Social Care Information Centre (HSCIC)
National Administrative Codes Service (NACS)
GP Practices Currently Followed and Prescribing Cost Centers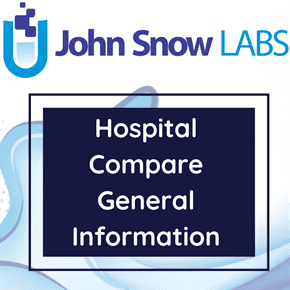 This dataset comprises of General Practitioner (GP) Practices and the prescribed Cost Centres in England and Wales. It includes the name and address information and identifying codes for GP Practices in England and Wales.
Log in to download
Complexity
Get The Data
For getting access to data download links please read and accept the end-user license agreement.
Your Data License
Research

Non-Commercial, Share-Alike, Attribution

Free Forever

Commercial

Commercial Use, Remix & Adapt, White Label Log in to download
Description
The Organization Data Service (ODS) is provided by the Health and Social Care Information Centre (HSCIC). It is responsible for the publication of all organization and practitioner codes and national policy and standards with regard to the majority of organization codes, and encompasses the functionality and services previously provided by the National Administrative Codes Service (NACS).
These code standards form part of the NHS data standards. The HSCIC is also responsible for the day-to-day operation of the ODS and for its overall development.
Data for General Medical Practices, General Medical Practitioners, Prescribing Cost Centers and Dispensaries are supplied by the NHS Prescription Services and are used to facilitate their remit to remunerate dispensing contractors and provide the NHS with financial, prescribing and drug information.
It should be noted that the National Health Service (NHS) Prescription Service do not always close practices that are inactive; often a practice will be given a state of 'Dormant' when it has no practitioners linked to it. This is to prevent unnecessary re-allocation of codes to the same practice, as it can be quite common for a practice to be unused for a short while before coming into use again. A status code of 'Proposed' is also used where practices are included within the file prior to their opening. For these reasons, despite the file being described as containing current GP Practices, it can be important to take note of a record's status.
There are a few instances where a Principal GP's name is given as the name of a practice. This is to cater for situations where a number of practices are located in a single establishment (e.g. a Health Center), where each practice is then known by the Principal GP's name.
Practices are provided with a Commissioner link to the Clinical Commissioning Group (CCG), Care Trust or Local Health Board in Wales that is responsible for their area. This is detailed in the Commissioner Org Code.
Users should be aware that there is more than one type of practice in the NHS Prescription Service data; in reality the NHS Prescription Service code prescribing cost centers as opposed to solely GP Practices. Those that offer Out of Hours services, operate as Walk-In Centres or are situated within the Justice Estate are identified with a type code as indicated below:
– 0 = Other
– 1 = WIC Practice
– 2 = OOH Practice
– 3 = WIC + OOH Practice
– 4 = GP Practice
– 8 = Public Health Service
– 9 = Community Health Service
– 10 = Hospital Service
– 11 = Optometry Service
– 12 = Urgent & Emergency Care
– 13 = Hospice
– 14 = Care Home / Nursing Home
– 15 = Border Force
– 16 = Young Offender Institution
– 17 = Secure Training Centre
– 18 = Secure Children's Home
– 19 = Immigration Removal Centre
– 20 = Court
– 21 = Police Custody
– 22 = Sexual Assault Referral Centre (SARC)
– 24 = Other – Justice Estate
– 25 = Prison
About this Dataset
Data Info
| | |
| --- | --- |
| Date Created | 2017 |
| Last Modified | 2022-11-25 |
| Version | 2022-11-25 |
| Update Frequency | Quarterly |
| Temporal Coverage | N/A |
| Spatial Coverage | England and Wales |
| Source | John Snow Labs; Data.Gov.UK, (National Health Service, England NHS Digital); |
| Source License URL | |
| Source License Requirements | N/A |
| Source Citation | N/A |
| Keywords | General Practitioners (GPs), GP Practices, Prescribing Cost Centres, General Medical Practices, National Health Service (NHS), Health and Social Care Information Centre (HSCIC), National Administrative Codes Service (NACS) |
| Other Titles | General Medical Practitioner Practices in England and Wales, Current GP Practices and Prescribing Cost Centres in England and Wales |
Data Fields
| Name | Description | Type | Constraints |
| --- | --- | --- | --- |
| Organization_Code | A six digit alpha-numeric code that represents the organization. | string | required : 1 |
| Health_Center_Name | Identifies the name of the Health Center. | string | required : 1 |
| National_Grouping | A three-digit alpha-numeric code that identifies the National Grouping of the specific Health Center. | string | - |
| High_Level_Health_Geography | A specific code that denotes the high-level health geography of a particular health center. | string | required : 1 |
| Address_Line1 | Main Address of the health center. | string | - |
| Address_Line2 | Secondary address of the health center. | string | - |
| Address_Line3 | Remaining part of the address where the health center is located | string | - |
| Address_Line4 | Remaining part of the address where the health center is located | string | - |
| Address_Line5 | Remaining part of the address where the health center is located | string | - |
| Post_Code | The postal code of the health center. | string | - |
| Open_Date | The opening date of the health center. | date | - |
| Close_Date | The closing date of the health center. | date | - |
| Status_Code | A single alphabetical code that depicts the current status of the health center. A = Active, C = Closed, D = Dormant, P = Proposed. | string | required : 1enum : Array ( [0] => A [1] => C [2] => D [3] => P ) |
| Organization_Sub_Type_Code | A single alphabetical code that depicts whether the health center is allocated to a Provider/Purchaser Organization or not. B = Allocated to a Provider/Purchaser Organization, Z = Not allocated to a Provider/Purchaser Organization | string | required : 1enum : Array ( [0] => B [1] => Z ) |
| Commissioner_Code | A code representing the commissioning organization. | string | - |
| Join_Provider_Date | Date when the organization joined the provider | date | - |
| Left_Provider_Date | Date when the organization left the provider | date | - |
| Contact_Telephone_Number | The telephone number to contact the hospital | string | - |
| Is_Record_Amended | Indicates whether the record is amended or not | boolean | required : 1enum : Array ( [0] => true [1] => false ) |
| Provider_Or_Purchaser_Code | Refers to the provider or purchaser (e.g. National Health Service Litigation Authority (NHSLA), International Society of Hospitality Purchasers (ISHP), ISHP Site, Clinical Commissioning Group (CCG), NHS Trust) | string | required : 1 |
| Prescribing_Setting | Prescribed setting for the health center. | integer | level : Ordinal |
Data Preview
| | | | | | | | | | | | | | | | | | | | | |
| --- | --- | --- | --- | --- | --- | --- | --- | --- | --- | --- | --- | --- | --- | --- | --- | --- | --- | --- | --- | --- |
| Organization Code | Health Center Name | National Grouping | High Level Health Geography | Address Line1 | Address Line2 | Address Line3 | Address Line4 | Address Line5 | Post Code | Open Date | Close Date | Status Code | Organization Sub Type Code | Commissioner Code | Join Provider Date | Left Provider Date | Contact Telephone Number | Is Record Amended | Provider Or Purchaser Code | Prescribing Setting |
| A81001 | THE DENSHAM SURGERY | Y63 | QHM | THE HEALTH CENTRE | LAWSON STREET | STOCKTON-ON-TEES | CLEVELAND | | TS18 1HU | 1974-04-01 | | A | B | 16C | 2020-04-01 | | 01642 672351 | False | 16C | 4 |
| A81002 | QUEENS PARK MEDICAL CENTRE | Y63 | QHM | QUEENS PARK MEDICAL CTR | FARRER STREET | STOCKTON ON TEES | CLEVELAND | | TS18 2AW | 1974-04-01 | | A | B | 16C | 2020-04-01 | | 01642 679681 | False | 16C | 4 |
| A81003 | VICTORIA MEDICAL PRACTICE | Y54 | Q74 | THE HEALTH CENTRE | VICTORIA ROAD | HARTLEPOOL | CLEVELAND | | TS26 8DB | 1974-04-01 | 2017-10-31 | C | B | 00K | 2013-04-01 | 2017-10-31 | 01429 272945 | False | 00K | 4 |
| A81004 | ACKLAM MEDICAL CENTRE | Y63 | QHM | TRIMDON AVENUE | ACKLAM | MIDDLESBROUGH | CLEVELAND | | TS5 8SB | 1974-04-01 | | A | B | 16C | 2020-04-01 | | 01642 827697 | False | 16C | 4 |
| A81005 | SPRINGWOOD SURGERY | Y63 | QHM | SPRINGWOOD SURGERY | RECTORY LANE | GUISBOROUGH | | | TS14 7DJ | 1974-04-01 | | A | B | 16C | 2020-04-01 | | 01287 619611 | False | 16C | 4 |
| A81006 | TENNANT STREET MEDICAL PRACTICE | Y63 | QHM | TENNANT ST MEDICAL PRACT | TENNANT STREET | STOCKTON-ON-TEES | CLEVELAND | | TS18 2AT | 1974-04-01 | | A | B | 16C | 2020-04-01 | | 01642 613331 | False | 16C | 4 |
| A81007 | BANKHOUSE SURGERY | Y63 | QHM | ONE LIFE HARTLEPOOL | PARK ROAD | HARTLEPOOL | CLEVELAND | | TS24 7PW | 1974-04-01 | | A | B | 16C | 2020-04-01 | | 01429 274800 | False | 16C | 4 |
| A81008 | ALBERT HOUSE CLINIC | Y54 | Q74 | LOW GRANGE HEALTH VILLAGE | NORMANBY ROAD | MIDDLESBROUGH | CLEVELAND | | TS6 6TD | 1974-04-01 | 2018-01-31 | C | B | 00M | 2013-04-01 | 2018-01-31 | 01642 466776 | False | 00M | 4 |
| A81009 | VILLAGE MEDICAL CENTRE | Y63 | QHM | THE VILLAGE MEDICAL CTR | 400/404 LINTHORPE ROAD | MIDDLESBROUGH | CLEVELAND | | TS5 6HF | 1974-04-01 | | A | B | 16C | 2020-04-01 | | 01642 851122 | False | 16C | 4 |
| A81011 | CHADWICK PRACTICE | Y63 | QHM | ONE LIFE HARTLEPOOL | PARK ROAD | HARTLEPOOL | CLEVELAND | | TS24 7PW | 1974-04-01 | | A | B | 16C | 2020-04-01 | | 01429 234646 | False | 16C | 4 |