Others titles
Hospital Cost and Utilization Project State Trend Inpatient Stay 2003-2015
Length Of Inpatient Stay State Trend 2003-2015
Statewise Length of stay Inpatient Hospitalization Trend 2003-2015
Keywords
Inpatient Stay
Length of Hospital Stay
Hospital Observation
Average Hosptial Stay
Inpatient Services
Inpatient Admission
Inpatient Facility
Inpatient Hospital Services
HCUP State Level Trend Inpatient Stay 2003-2015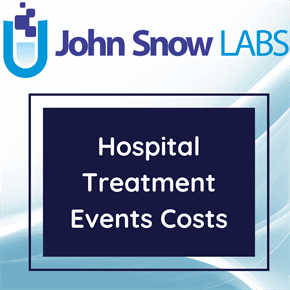 The dataset has information on the number of inpatient stays for every available calendar quarter at the level of State, hospitalization type, and expected payer. This results in 36 rows of data per available State.
Log in to download
Complexity
Get The Data
For getting access to data download links please read and accept the end-user license agreement.
Your Data License
Research

Non-Commercial, Share-Alike, Attribution

Free Forever

Commercial

Commercial Use, Remix & Adapt, White Label Log in to download
Description
Data for this report were from the HCUP State Inpatient Databases (SID) and quarterly data if available. The unit of analysis is the hospital discharge (i.e., the hospital stay), not a person or patient. This means that a person who is admitted to the hospital multiple times in one year will be counted each time as a separate "discharge" from the hospital. Counts are summarized by discharge quarter. Information based on quarterly data should be considered preliminary. Quarterly data will be replaced by the State's complete annual SID for the year when it is available. This analysis was limited to patients treated in community, non-rehabilitation hospitals in the State. Discharge counts for inpatient stays excluded transfers out to another acute care hospital.
Adult discharges were categorized into five hospitalization types in the following hierarchical order: maternal, mental health/substance use, injury, surgical, and medical. Medical discharges are identified by a medical DRG. The DRG grouper first assigns the discharge to an MDC based on the principal diagnosis. For each MDC there is a list of procedure codes that qualify as operating room procedures. If the discharge involves an operating room procedure, it is assigned to one of the surgical DRGs within the MDC category; otherwise it is assigned to a medical DRG. If the DRG indicated the information on the record was ungroupable (i.e., not identifiable as medical or surgical), then the discharge was assumed to be medical. This rarely occurred (less than 0.1 percent of total discharges). Available States are participating in both HCUP and the HCUP Fast Stats tool.
Quarterly counts have been rounded up to the nearest 50 inpatient stays. If a cell in the Data worksheet is empty, either the number has been suppressed due to small sample size or the data are unavailable (i.e., not all States have data for all quarters). This file includes all back year data, not all of which will be displayed in HCUP Fast Stats. Discharge counts are adjusted for community, non-rehabilitation hospitals that were not included in the SID or quarterly data. Weighting for missing hospitals used the following information from the American Hospital Association (AHA) Annual Survey of Hospitals to define strata within the State: Ownership (government, private nonprofit, and private investor-owned), Size of the hospital based on the number of beds (small, medium, and large categories defined within region), Location combined with teaching status (rural, urban nonteaching, urban teaching). Counts less than 26 were suppressed for confidentiality and will cause a discontinuity in the trend lines displayed in the figures.
About this Dataset
Data Info
| | |
| --- | --- |
| Date Created | 2016-03-25 |
| Last Modified | 2016-06-20 |
| Version | 2016-06-20 |
| Update Frequency | Never |
| Temporal Coverage | 2003-2015 |
| Spatial Coverage | United States |
| Source | John Snow Labs; Healthcare Cost and Utilization Project; |
| Source License URL | |
| Source License Requirements | N/A |
| Source Citation | N/A |
| Keywords | Inpatient Stay, Length of Hospital Stay, Hospital Observation, Average Hosptial Stay, Inpatient Services, Inpatient Admission, Inpatient Facility, Inpatient Hospital Services |
| Other Titles | Hospital Cost and Utilization Project State Trend Inpatient Stay 2003-2015, Length Of Inpatient Stay State Trend 2003-2015, Statewise Length of stay Inpatient Hospitalization Trend 2003-2015 |
Data Fields
| Name | Description | Type | Constraints |
| --- | --- | --- | --- |
| State | Name of the State | string | - |
| Hospitalization_Type | Type of Hospitalisation uses Coding criteria for the six hospitalization types based on International Classification of Diseases, Ninth Revision, Clinical Modification (ICD-9-CM) diagnosis codes, Clinical Classifications Software (CCS) categories, and diagnosis-related groups (DRGs). | string | - |
| Expected_Payer | The "expected payer" data element in HCUP databases provides information on the type of payer that the hospital expects to be the source of payment for the hospital bill. | string | - |
| Y2003_Q1 | Number of inpatient stay in the particular quarter of the year | number | level : Ratio |
| Y2003_Q2 | Number of inpatient stay in the particular quarter of the year | number | level : Ratio |
| Y2003_Q3 | Number of inpatient stay in the particular quarter of the year | number | level : Ratio |
| Y2003_Q4 | Number of inpatient stay in the particular quarter of the year | number | level : Ratio |
| Y2004_Q1 | Number of inpatient stay in the particular quarter of the year | number | level : Ratio |
| Y2004_Q2 | Number of inpatient stay in the particular quarter of the year | number | level : Ratio |
| Y2004_Q3 | Number of inpatient stay in the particular quarter of the year | number | level : Ratio |
| Y2004_Q4 | Number of inpatient stay in the particular quarter of the year | number | level : Ratio |
| Y2005_Q1 | Number of inpatient stay in the particular quarter of the year | number | level : Ratio |
| Y2005_Q2 | Number of inpatient stay in the particular quarter of the year | number | level : Ratio |
| Y2005_Q3 | Number of inpatient stay in the particular quarter of the year | number | level : Ratio |
| Y2005_Q4 | Number of inpatient stay in the particular quarter of the year | number | level : Ratio |
| Y2006_Q1 | Number of inpatient stay in the particular quarter of the year | number | level : Ratio |
| Y2006_Q2 | Number of inpatient stay in the particular quarter of the year | number | level : Ratio |
| Y2006_Q3 | Number of inpatient stay in the particular quarter of the year | number | level : Ratio |
| Y2006_Q4 | Number of inpatient stay in the particular quarter of the year | number | level : Ratio |
| Y2007_Q1 | Number of inpatient stay in the particular quarter of the year | number | level : Ratio |
| Y2007_Q2 | Number of inpatient stay in the particular quarter of the year | number | level : Ratio |
| Y2007_Q3 | Number of inpatient stay in the particular quarter of the year | number | level : Ratio |
| Y2007_Q4 | Number of inpatient stay in the particular quarter of the year | number | level : Ratio |
| Y2008_Q1 | Number of inpatient stay in the particular quarter of the year | number | level : Ratio |
| Y2008_Q2 | Number of inpatient stay in the particular quarter of the year | number | level : Ratio |
| Y2008_Q3 | Number of inpatient stay in the particular quarter of the year | number | level : Ratio |
| Y2008_Q4 | Number of inpatient stay in the particular quarter of the year | number | level : Ratio |
| Y2009_Q1 | Number of inpatient stay in the particular quarter of the year | number | level : Ratio |
| Y2009_Q2 | Number of inpatient stay in the particular quarter of the year | number | level : Ratio |
| Y2009_Q3 | Number of inpatient stay in the particular quarter of the year | number | level : Ratio |
| Y2009_Q4 | Number of inpatient stay in the particular quarter of the year | number | level : Ratio |
| Y2010_Q1 | Number of inpatient stay in the particular quarter of the year | number | level : Ratio |
| Y2010_Q2 | Number of inpatient stay in the particular quarter of the year | number | level : Ratio |
| Y2010_Q3 | Number of inpatient stay in the particular quarter of the year | number | level : Ratio |
| Y2010_Q4 | Number of inpatient stay in the particular quarter of the year | number | level : Ratio |
| Y2011_Q1 | Number of inpatient stay in the particular quarter of the year | number | level : Ratio |
| Y2011_Q2 | Number of inpatient stay in the particular quarter of the year | number | level : Ratio |
| Y2011_Q3 | Number of inpatient stay in the particular quarter of the year | number | level : Ratio |
| Y2011_Q4 | Number of inpatient stay in the particular quarter of the year | number | level : Ratio |
| Y2012_Q1 | Number of inpatient stay in the particular quarter of the year | number | level : Ratio |
| Y2012_Q2 | Number of inpatient stay in the particular quarter of the year | number | level : Ratio |
| Y2012_Q3 | Number of inpatient stay in the particular quarter of the year | number | level : Ratio |
| Y2012_Q4 | Number of inpatient stay in the particular quarter of the year | number | level : Ratio |
| Y2013_Q1 | Number of inpatient stay in the particular quarter of the year | number | level : Ratio |
| Y2013_Q2 | Number of inpatient stay in the particular quarter of the year | number | level : Ratio |
| Y2013_Q3 | Number of inpatient stay in the particular quarter of the year | number | level : Ratio |
| Y2013_Q4 | Number of inpatient stay in the particular quarter of the year | number | level : Ratio |
| Y2014_Q1 | Number of inpatient stay in the particular quarter of the year | number | level : Ratio |
| Y2014_Q2 | Number of inpatient stay in the particular quarter of the year | number | level : Ratio |
| Y2014_Q3 | Number of inpatient stay in the particular quarter of the year | number | level : Ratio |
| Y2014_Q4 | Number of inpatient stay in the particular quarter of the year | number | level : Ratio |
| Y2015_Q1 | Number of inpatient stay in the particular quarter of the year | number | level : Ratio |
| Y2015_Q2 | Number of inpatient stay in the particular quarter of the year | number | level : Ratio |
| Y2015_Q3 | Number of inpatient stay in the particular quarter of the year | number | level : Ratio |
Data Preview
| | | | | | | | | | | | | | | | | | | | | | | | | | | | | | | | | | | | | | | | | | | | | | | | | | | | | | |
| --- | --- | --- | --- | --- | --- | --- | --- | --- | --- | --- | --- | --- | --- | --- | --- | --- | --- | --- | --- | --- | --- | --- | --- | --- | --- | --- | --- | --- | --- | --- | --- | --- | --- | --- | --- | --- | --- | --- | --- | --- | --- | --- | --- | --- | --- | --- | --- | --- | --- | --- | --- | --- | --- |
| State | Hospitalization Type | Expected Payer | Y2003 Q1 | Y2003 Q2 | Y2003 Q3 | Y2003 Q4 | Y2004 Q1 | Y2004 Q2 | Y2004 Q3 | Y2004 Q4 | Y2005 Q1 | Y2005 Q2 | Y2005 Q3 | Y2005 Q4 | Y2006 Q1 | Y2006 Q2 | Y2006 Q3 | Y2006 Q4 | Y2007 Q1 | Y2007 Q2 | Y2007 Q3 | Y2007 Q4 | Y2008 Q1 | Y2008 Q2 | Y2008 Q3 | Y2008 Q4 | Y2009 Q1 | Y2009 Q2 | Y2009 Q3 | Y2009 Q4 | Y2010 Q1 | Y2010 Q2 | Y2010 Q3 | Y2010 Q4 | Y2011 Q1 | Y2011 Q2 | Y2011 Q3 | Y2011 Q4 | Y2012 Q1 | Y2012 Q2 | Y2012 Q3 | Y2012 Q4 | Y2013 Q1 | Y2013 Q2 | Y2013 Q3 | Y2013 Q4 | Y2014 Q1 | Y2014 Q2 | Y2014 Q3 | Y2014 Q4 | Y2015 Q1 | Y2015 Q2 | Y2015 Q3 |
| Alaska | All Adult Hospitalizations | Medicaid | | | | | | | | | | | | | | | | | | | | | | | | | | | | | 2000.0 | 2200.0 | 2150.0 | 2150.0 | 2200.0 | 2200.0 | 2150.0 | 1900.0 | 2050.0 | 2150.0 | 2100.0 | 2100.0 | | | | | | | | | | | |
| Alaska | All Adult Hospitalizations | Medicare | | | | | | | | | | | | | | | | | | | | | | | | | | | | | 2700.0 | 2900.0 | 3050.0 | 2850.0 | 2900.0 | 3100.0 | 3150.0 | 2900.0 | 2950.0 | 3050.0 | 3100.0 | 2900.0 | | | | | | | | | | | |
| Alaska | All Adult Hospitalizations | Private | | | | | | | | | | | | | | | | | | | | | | | | | | | | | 3600.0 | 3900.0 | 3900.0 | 3800.0 | 3650.0 | 3900.0 | 3700.0 | 3600.0 | 3300.0 | 3700.0 | 3750.0 | 3650.0 | | | | | | | | | | | |
| Alaska | All Adult Hospitalizations | Uninsured | | | | | | | | | | | | | | | | | | | | | | | | | | | | | 1450.0 | 1650.0 | 1600.0 | 1550.0 | 1600.0 | 1500.0 | 1600.0 | 1550.0 | 1650.0 | 1600.0 | 1600.0 | 1600.0 | | | | | | | | | | | |
| Alaska | Injury | Medicaid | | | | | | | | | | | | | | | | | | | | | | | | | | | | | 50.0 | 50.0 | 50.0 | 50.0 | 100.0 | 50.0 | 100.0 | 50.0 | 100.0 | 50.0 | 50.0 | 100.0 | | | | | | | | | | | |
| Alaska | Injury | Medicare | | | | | | | | | | | | | | | | | | | | | | | | | | | | | 150.0 | 150.0 | 200.0 | 150.0 | 150.0 | 200.0 | 250.0 | 200.0 | 200.0 | 150.0 | 200.0 | 150.0 | | | | | | | | | | | |
| Alaska | Injury | Private | | | | | | | | | | | | | | | | | | | | | | | | | | | | | 150.0 | 200.0 | 250.0 | 150.0 | 150.0 | 200.0 | 200.0 | 150.0 | 150.0 | 150.0 | 250.0 | 150.0 | | | | | | | | | | | |
| Alaska | Injury | Uninsured | | | | | | | | | | | | | | | | | | | | | | | | | | | | | 200.0 | 200.0 | 200.0 | 200.0 | 200.0 | 200.0 | 250.0 | 150.0 | 150.0 | 200.0 | 200.0 | 150.0 | | | | | | | | | | | |
| Alaska | Maternal | Medicaid | | | | | | | | | | | | | | | | | | | | | | | | | | | | | 1100.0 | 1250.0 | 1200.0 | 1100.0 | 1100.0 | 1100.0 | 1100.0 | 1050.0 | 1050.0 | 1100.0 | 1100.0 | 1150.0 | | | | | | | | | | | |
| Alaska | Maternal | Medicare | | | | | | | | | | | | | | | | | | | | | | | | | | | | | | | | | | | | | | | | | | | | | | | | | | | |