Others titles
Shortages of Dental Care
Health Professional Shortage Area 2016
Keywords
Health Professional Shortage Area
HRSA Data Warehouse
HPSA Data
HPSA Disciplines
HPSA
Shortage Designation Criteria
Shortages of Health Services
Health Professional Shortage Area Dental Care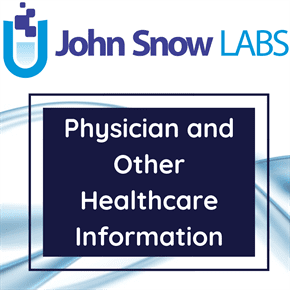 This dataset shows Health Professional Shortage Area (HPSA) in geographic areas with shortages of dental health providers. The Health Resource and Service Administration (HRSA) Data Warehouse (HDW) extracts HPSA data from the Shortage Designation Management System (SDMS), which is the transactional source system of record for all HPSA disciplines. This dataset is made available for a subscription according to the data refresh cycle indicated on the Data Marketplace page.
Log in to download
Complexity
Get The Data
For getting access to data download links please read and accept the end-user license agreement.
Your Data License
Research

Non-Commercial, Share-Alike, Attribution

Free Forever

Commercial

Commercial Use, Remix & Adapt, White Label Log in to download
Description
The Division of Policy and Shortage Designation (DPSD) in the Health Resource and Service Administration (HRSA), Bureau of Health Workforce (BHW) develops shortage designation criteria and uses them to decide whether or not a geographic area or population group is a Health Professional Shortage Area (HPSA), Medically Underserved Area (MUA), or Medically Underserved Population (MUP). More than 34 federal programs depend on the shortage designation to determine eligibility or as a funding preference. About 20 percent of the U.S. population resides in primary medical care HPSAs. HPSAs may have shortages of primary medical care, dental, or mental health providers; may be urban or rural areas; population groups; or medical or other public facilities.
About this Dataset
Data Info
| | |
| --- | --- |
| Date Created | 2015-12-05 |
| Last Modified | 2022-09-23 |
| Version | 2022-09-23 |
| Update Frequency | Annual |
| Temporal Coverage | 2022 |
| Spatial Coverage | United States |
| Source | John Snow Labs; HRSA, Health Resource and Service Administration; |
| Source License URL | |
| Source License Requirements | N/A |
| Source Citation | N/A |
| Keywords | Health Professional Shortage Area, HRSA Data Warehouse, HPSA Data, HPSA Disciplines, HPSA, Shortage Designation Criteria, Shortages of Health Services |
| Other Titles | Shortages of Dental Care, Health Professional Shortage Area 2016 |
Data Fields
| Name | Description | Type | Constraints |
| --- | --- | --- | --- |
| Source_ID | Represents the primary identifier for a Health Professional Shortage Area (HPSA) as a complete unit in the source data system. | string | - |
| Name | This attribute represents the title case format, user friendly name which is generated by decoding the Health Professional Shortage Area (HPSA) name which came directly from the source system. | string | - |
| Status_Description | This attribute represents the textual description of the current status of the Health Professional Shortage Area (HPSA) designation. | string | - |
| Type_Description | This attribute represents the textual description of the Health Professional Shortage Area (HPSA) type. | string | - |
| Address | This attribute represents the standardized version of the street address of a Health Professional Shortage Area (HPSA) facility. | string | - |
| City | This attribute represents the standardized version of the city name in which a Health Professional Shortage Areas (HPSA) facility is located. | string | - |
| State_Abbreviation | This attribute represents the U.S. Postal Service (USPS) code for the state in which the Health Professional Shortage Area (HPSA) entity is located. | string | - |
| ZIP_Code | This attribute represents the Health Professional Shortage Area (HPSA) U.S. Postal Service (USPS) Zoning Improvement Plan (ZIP) | string | - |
| Degree_of_Shortage | This attribute represents the degree of practitioner shortage for the Health Professional Shortage Area (HPSA) based on population to provider ratio. | string | - |
| Designation_Date | This attribute represents the text representation of the date when the Health Professional Shortage Area (HPSA) was designated | date | - |
| Designation_Last_Updated_Date | This attribute represents the Health Professional Shortage Area (HPSA) designation last update date converted to a text format and is generally used for HRSA Data Warehouse reporting purposes. | date | - |
| Designation_Population | This attribute represents the number of persons which have been identified by the HRSA, Bureau of Health Workforce (BHW), Division | number | level : Ratio |
| Formal_Ratio | This attribute represents the ratio of the Health Professional Shortage Area (HPSA) Designation Population to HPSA provider full-time equivalents displayed in ratio format (for example, 3500:1), where the population and the designation share the same discipline class (for example, Primary Care, Dental Care, and Mental Health). | string | - |
| FTE | This attribute represents the number of practitioners providing ambulatory patient care in the Health Professional Shortage Area (HPSA) expressed as full-time equivalents. | number | level : Ratio |
| Metropolitan_Indicator_Description | This attribute represents the description indicating whether a Health Professional Shortage Area (HPSA) is either Metropolitan, Non-Metropolitan, or Frontier in nature. | string | - |
| Percent_of_Population_Below_Poverty_Level | This attribute represents the percent of the population in the Health Professional Shortage Area (HPSA) living below the U.S. Federal Poverty Level (USFPL). | number | level : Ratio |
| Score | This attribute represents the Health Professional Shortage Area (HPSA) Score developed by the National Health Service Corps (NHSC) in determining priorities for assignment of clinicians. The scores range from 1 to 26 where the higher the score, the greater the priority. | integer | level : Ratio |
| Shortage | This attribute represents the number of full-time equivalent (FTE) practitioners needed in the Health Professional Shortage Area (HPSA) so that it will achieve the population to practitioner target ratio. The target ratio is determined by the type (discipline) of the HPSA. | number | level : Ratio |
| Component_Source_ID | This attribute represents the identification number linking a Health Professional Shortage Area (HPSA) component to its "parent" HPSA | string | - |
| Component_Name | This attribute represents the name assigned to the Health Professional Shortage Area (HPSA) component as identified in the most recent data refresh. | string | required : 1 |
| Component_Status_Description | This attribute represents the Health Professional Shortage Area (HPSA) Component Status Description which is the English-language expansion of the HPSA Component Status Code. This text description identifies the current status of the HPSA component and is subject to change during the lifespan of the HPSA. | string | required : 1 |
| Component_Type_Description | This attribute represents the Health Professional Shortage Area (HPSA) Component Type Description which identifies in words the type of the HPSA for the component. | string | required : 1 |
| Geography_ID | This attribute represents the Health Professional Shortage Area (HPSA) geography code which identifies the specific geographic area (county, minor civil division (MCD), or Census Tract) associated with the HPSA. | string | - |
| County_FIPS_Code | This attribute represents the numeric character string assigned by the National Institute of Standards and Technology to the counties and/or county equivalents for the states, the District of Columbia, and U.S. territories. | string | - |
| County | This attribute represents the name of the county or county equivalent in which the associated address is located, displayed as a text string. | string | required : 1 |
| State_County_FIPS_Code | This attribute represents the State County Federal Information Processing Standard (FIPS) Code. | string | - |
| State_FIPS_Code | This attribute represents the State Federal Information Processing Standard (FIPS) code identifying the two numeric character string assigned by the National Institute of Standards and Technology (NIST) to states, the District of Columbia, and U.S. territories. | integer | level : Nominal |
| State | This attribute represents the state or territory name. | string | required : 1 |
| Primary_Region_Name | This attribute represents the formal name for the U.S. Department of Health and Human Services (DHHS) Region associated with the location or address for the entity. With respect to a Health Professional Shortage Area (HPSA) or a Medically Underserved | string | required : 1 |
| Is_Break_Designation | This attribute represents the indication of whether the Health Professional Shortage Area (HPSA) or Medically Underserved Area/Population (MUA/P) has been continuously designated since the original designation date. | boolean | - |
| Longitude | This attribute represents the geocoding artifact indicating the primary Longitude in decimal degrees (x coordinate) of an address returned by the world geocoding service (or Esri StreetMap Premium), in spatial reference WGS84 (WKID 4326). | number | - |
| Latitude | This attribute represents the geocoding artifact indicating the primary Latitude in decimal degrees (y coordinate) of an address returned by the world geocoding service (or Esri StreetMap Premium), in spatial reference WGS84 (WKID 4326). | number | - |
| Population_Type_Description | This attribute represents the population type description which characterizes the Health Professional Shortage Area (HPSA). | string | - |
| Resident_Civilian_Population | This attribute represents the population type description for the Health Professional Shortage Area (HPSA). | integer | level : Nominal |
| Withdrawn_Date | This attribute represents the date on which the designation status was changed from designated to withdrawn. | date | - |
Data Preview
| | | | | | | | | | | | | | | | | | | | | | | | | | | | | | | | | | | |
| --- | --- | --- | --- | --- | --- | --- | --- | --- | --- | --- | --- | --- | --- | --- | --- | --- | --- | --- | --- | --- | --- | --- | --- | --- | --- | --- | --- | --- | --- | --- | --- | --- | --- | --- |
| Source ID | Name | Status Description | Type Description | Address | City | State Abbreviation | ZIP Code | Degree of Shortage | Designation Date | Designation Last Updated Date | Designation Population | Formal Ratio | FTE | Metropolitan Indicator Description | Percent of Population Below Poverty Level | Score | Shortage | Component Source ID | Component Name | Component Status Description | Component Type Description | Geography ID | County FIPS Code | County | State County FIPS Code | State FIPS Code | Primary Region Name | State | Is Break Designation | Longitude | Latitude | Population Type Description | Resident Civilian Population | Withdrawn Date |
| 6729997210 | Barrio Abrero | Withdrawn | Geographic HPSA | | | PR | | | 1985-09-04 | 1995-02-27 | 4416 | 4416:01:00 | 1.0 | Non-Metropolitan | 70.0 | | | | 32 | CT | Census Tract | 72127003200 | 127 | San Juan Municipio, PR | 72127 | 72 | Region 2 | Puerto Rico | False | | | Geographic Population | 4416.0 | 1995-02-27 |
| 6729997210 | Barrio Abrero | Withdrawn | Geographic HPSA | | | PR | | | 1985-09-04 | 1995-02-27 | 4416 | 4416:01:00 | 1.0 | Non-Metropolitan | 70.0 | | | | 45 | CT | Census Tract | 72127004500 | 127 | San Juan Municipio, PR | 72127 | 72 | Region 2 | Puerto Rico | False | | | Geographic Population | 4416.0 | 1995-02-27 |
| 6729997210 | Barrio Abrero | Withdrawn | Geographic HPSA | | | PR | | | 1985-09-04 | 1995-02-27 | 4416 | 4416:01:00 | 1.0 | Non-Metropolitan | 70.0 | | | | 34 | CT | Census Tract | 72127003400 | 127 | San Juan Municipio, PR | 72127 | 72 | Region 2 | Puerto Rico | False | | | Geographic Population | 4416.0 | 1995-02-27 |
| 6729997210 | Barrio Abrero | Withdrawn | Geographic HPSA | | | PR | | | 1985-09-04 | 1995-02-27 | 4416 | 4416:01:00 | 1.0 | Non-Metropolitan | 70.0 | | | | 37 | CT | Census Tract | 72127003700 | 127 | San Juan Municipio, PR | 72127 | 72 | Region 2 | Puerto Rico | False | | | Geographic Population | 4416.0 | 1995-02-27 |
| 6729997210 | Barrio Abrero | Withdrawn | Geographic HPSA | | | PR | | | 1985-09-04 | 1995-02-27 | 4416 | 4416:01:00 | 1.0 | Non-Metropolitan | 70.0 | | | | 38 | CT | Census Tract | 72127003800 | 127 | San Juan Municipio, PR | 72127 | 72 | Region 2 | Puerto Rico | False | | | Geographic Population | 4416.0 | 1995-02-27 |
| 6729997210 | Barrio Abrero | Withdrawn | Geographic HPSA | | | PR | | | 1985-09-04 | 1995-02-27 | 4416 | 4416:01:00 | 1.0 | Non-Metropolitan | 70.0 | | | | 29 | CT | Census Tract | 72127002900 | 127 | San Juan Municipio, PR | 72127 | 72 | Region 2 | Puerto Rico | False | | | Geographic Population | 4416.0 | 1995-02-27 |
| 6726420781 | Community Health Foundation Of Puerto Rico Inc. | Designated | Federally Qualified Health Center | 17 Calle C | Tejas | PR | 771 | | 2020-02-11 | 2021-09-11 | 126073 | | | Unknown | | 23.0 | | 6726420781.0 | Community Health Foundation Of Puerto Rico Inc. | UNK | Unknown | POINT | 85 | Las Piedras Municipio, PR | 72085 | 72 | Region 2 | Puerto Rico | False | -65.87188609 | 18.17720943 | | | |
| 6725342326 | PUERTO RICO COMMUNITY NETWORK FOR CLINICAL SERVICES, RESEARCH AND HEALTH ADVANCEMENT (PRCONCRA) INC. | Withdrawn | Federally Qualified Health Center | 1162 Calle Brumbaugh | San Juan | PR | 00925-3608 | | 2020-12-22 | 2021-09-30 | 1252162 | | | Unknown | | 17.0 | | 6725342326.0 | PUERTO RICO COMMUNITY NETWORK FOR CLINICAL SERVICES, RESEARCH AND HEALTH ADVANCEMENT (PRCONCRA) INC. | UNK | Unknown | POINT | 127 | San Juan Municipio, PR | 72127 | 72 | Region 2 | Puerto Rico | False | -66.05193749 | 18.39693871 | | | 2021-09-30 |
| 6723793880 | Centro de Detencion Bayamon (1072) | Proposed For Withdrawal | Correctional Facility | Avenida Central Juanita | Juan Sánchez | PR | 961 | 6.0 | 2016-09-20 | 2022-03-30 | 2564 | | 0.8 | Unknown | | 6.0 | 0.91 | 6723793880.0 | Centro de Detencion Bayamon (1072) | UNK | Unknown | POINT | 21 | Bayamon Municipio, PR | 72021 | 72 | Region 2 | Puerto Rico | False | -66.149698 | 18.420021 | | | |
| 6723162972 | MDC - Guaynabo | Designated | Correctional Facility | PR-28 | Pueblo Viejo | PR | 965 | 12.0 | 2019-02-13 | 2022-04-15 | 2500 | | | Unknown | | 12.0 | 1.67 | 6723162972.0 | MDC - Guaynabo | UNK | Unknown | POINT | 61 | Guaynabo Municipio, PR | 72061 | 72 | Region 2 | Puerto Rico | False | -66.112289 | 18.423263000000002 | | | |