Others titles
Medicare Helpful Contacts General Information List for Agencies
Helpul Contacts for Different Medicare Topics
Helpful Contacts General Information Regarding Different Agencies
Keywords
Medicare Helpful Contacts
Agencies Name
Agency list
Medicare Beneficiaries
Helpful Contacts Information Agency List By Topic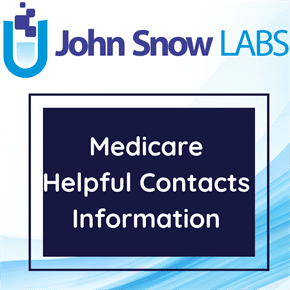 This dataset comprises of a database of agencies listed by state and topic to provide individuals with the contact information for specific organizations or help them get answers to their Medicare related questions.
Log in to download
Complexity
Get The Data
For getting access to data download links please read and accept the end-user license agreement.
Your Data License
Research

Non-Commercial, Share-Alike, Attribution

Free Forever

Commercial

Commercial Use, Remix & Adapt, White Label Log in to download
Description
This dataset is provided by the Centers for Medicare & Medicaid Services (CMS). They provide contacts information for specific topics that can help the individuals with Medicare-related questions.
It includes general information for different Medicare agencies such as their topic and agency names, different kind of phone numbers, street addresses, E-mail as well as their web addresses and many more.
About this Dataset
Data Info
| | |
| --- | --- |
| Date Created | 2015-01-21 |
| Last Modified | 2020-07-31 |
| Version | 2020-07-31 |
| Update Frequency | Quarterly |
| Temporal Coverage | N/A |
| Spatial Coverage | United States |
| Source | John Snow Labs; Centers for Medicare & Medicaid Services (CMS); |
| Source License URL | |
| Source License Requirements | N/A |
| Source Citation | N/A |
| Keywords | Medicare Helpful Contacts, Agencies Name, Agency list, Medicare Beneficiaries |
| Other Titles | Medicare Helpful Contacts General Information List for Agencies, Helpul Contacts for Different Medicare Topics, Helpful Contacts General Information Regarding Different Agencies |
Data Fields
| Name | Description | Type | Constraints |
| --- | --- | --- | --- |
| State_Abbreviation | The two-character postal code used to identify the state where the Helpful contacts agency is located. | string | required : 1 |
| State | Full name of different states of U.S. | string | required : 1 |
| Topic_Name | It includes the topic of the question. (Each question is associated with one or more topics.) | string | - |
| Question | It lists the actual question that a contact can answer. | string | required : 1 |
| Organization_Name | It refers to the actual name of the organization type for a contact. | string | required : 1 |
| Agency_Name | It lists the name of the agency serving as a contact | string | required : 1 |
| Local_Phone | It includes the local telephone number that corresponds to the agency. | string | - |
| Local_Phone_Extension | It lists any necessary telephone extension that corresponds to the local telephone number. | integer | level : Nominal |
| Local_Phone_Notes | It refers to the important notes regarding the local telephone number for the agency. | string | - |
| Local_TDD | Refers to the Telecommunication Device for the Deaf (TDD) for local telephone number that corresponds to the agency. | string | - |
| Tollfree_Phone | It includes the toll-free telephone number that corresponds to the agency.The toll-free telephone number or freephone number is a telephone number that is billed for all arriving calls instead of incurring charges to the originating telephone subscriber. | string | - |
| Tollfree_Extension | It lists any necessary telephone extension that corresponds to the tollfree telephone number. | integer | level : Nominal |
| Is_Tollfree_Instate | It refers to the fact whether or not the toll-free telephone number is only available to in-state callers. | boolean | required : 1 |
| Tollfree_Phone_Notes | It lists any important notes regarding the toll-free telephone number for the agency. | string | - |
| Tollfree_TDD | Refers to the Tollfree Telecommunication Device for the Deaf (TDD) phone number that corresponds to the agency. It also refers to the TeleTYpewriter (TTY) phone number. | string | - |
| Tollfree_TDD_Extension | It lists any necessary telephone extension that corresponds to the tollfree TDD telephone number. | integer | level : Nominal |
| Spanish_Phone | It lists the telephone number for Spanish-speaking callers that corresponds to the agency. | string | - |
| Spanish_Phone_Extension | It lists any necessary telephone extension that corresponds to the telephone number for Spanish-speaking callers. | string | - |
| Email_Address | It lists the email address that corresponds to the agency. | string | - |
| Web_Address | It lists the internet address that corresponds to the agency. | string | - |
Data Preview
| | | | | | | | | | | | | | | | | | | | |
| --- | --- | --- | --- | --- | --- | --- | --- | --- | --- | --- | --- | --- | --- | --- | --- | --- | --- | --- | --- |
| State Abbreviation | State | Topic Name | Question | Organization Name | Agency Name | Local Phone | Local Phone Extension | Local Phone Notes | Local TDD | Tollfree Phone | Tollfree Extension | Is Tollfree Instate | Tollfree Phone Notes | Tollfree TDD | Tollfree TDD Extension | Spanish Phone | Spanish Phone Extension | Email Address | Web Address |
| AK | Alaska | Claims & billing | Bills for durable medical equipment and a list of approved suppliers of this equipment. | DME MAC -- Durable Medical Equipment Medicare Administrative Contractor | Noridian Administrative Services | | | | | (800) 633-4227 | | False | Jurisdiction D | | | | | | www.noridianmedicare.com/dme |
| AK | Alaska | Claims & billing | (For Railroad Retirement beneficiaries only) - Part B bills and services. | RRB Carrier - Railroad Retirement Board Carrier | Noridian | (877) 288-7600 | | | | (888) 355-9165 | | False | | | | | | medicare.railroad@palmettogba.com | www.palmettogba.com/medicare |
| AK | Alaska | Claims & billing | Home health, hospice care, and fraud. | RHHI -- Regional Home Health Intermediary | Noridian | | | | | (800) 633-4227 | | False | 1-800-MEDICARE | | | | | | |
| AK | Alaska | Claims & billing | Medicare Secondary Payer, and who pays first. | Benefits Coordination & Recovery Center (BCRC) | Benefits Coordination & Recovery Center (BCRC) | | | | (855) 797-2627 | (855) 798-2627 | | False | | | | | | | www.cob.cms.hhs.gov |
| AK | Alaska | Claims & billing | Part A bills and services, hospital care, skilled nursing care, and fraud. | Fiscal Intermediary | Noridian Administrative Services | | | | | (800) 633-4227 | | False | 1-800-MEDICARE | | | | | | www.noridianmedicare.com |
| AK | Alaska | Claims & billing | Part B bills and services. | Carrier | Noridian Administrative Services | | | | | (800) 633-4227 | | False | 1-800-MEDICARE | | | | | | www.noridianmedicare.com |
| AK | Alaska | Claims & billing | Reporting fraud. | OIG (DHHS) -- Office of the Inspector General (Department of Health and Human Services) | Department of Health and Human Services - Office of Inspector General | (202) 619-1343 | | | | (800) 447-8477 | | False | | (800) 377-4950 | | | | hhstips@oig | www.oig.hhs.gov |
| AK | Alaska | Complaints about my care or services | Complaints about quality of care, and filing an appeal or complaint. | Beneficiary and Family Centered Care Quality Improvement Organization (BFCC-QIO) | Livanta, LLC | | | | (877) 588-1123 | (877) 588-1123 | | False | | | | | | | |
| AK | Alaska | Complaints about my care or services | Complaints about the quality of care in dialysis facilities. | ESRD State Survey Agency | DHSS of Alaska - Division of Healthcare Services & Health Facilities Licensing and Certification Uni | (907) 334-2430 | | | | (888) 387-9387 | | True | | | | | | | www.hss.state.ak.us |
| AK | Alaska | Complaints about my care or services | Finding a voluntary list of patients' rights in a hospital. | American Hospital Association | American Hospital Association | (312) 422-3000 | | | | (800) 424-4301 | | False | | | | | | | www.aha.org |