Others titles
Home Care Survey
CMS Home Health Care Consumer Assessment of Healthcare Providers and Systems
Patient Satisfaction Survey
Keywords
HCAHPS
Online Surveys
Home Care Agency
Home Care Services
Home Health Care Services
Healthcare at Home
Access Healthcare
Home Health Compare
Home Health Care Survey
Home Health Agencies
Patient Survey Questions
Hospital Patient Satisfaction
Home Health Care Agencies List and Ratings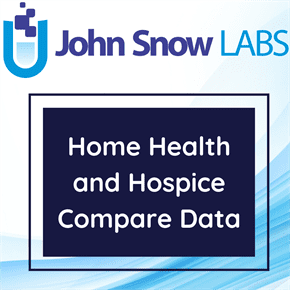 This dataset contains the list of all Home Health Agencies that have been registered with Medicare. The list includes addresses, phone numbers, and quality measure ratings for each agency.
Log in to download
Complexity
Get The Data
For getting access to data download links please read and accept the end-user license agreement.
Your Data License
Research

Non-Commercial, Share-Alike, Attribution

Free Forever

Commercial

Commercial Use, Remix & Adapt, White Label Log in to download
Description
In November 2002, the Quality Initiative was launched to ensure quality health care for all Americans through accountability and public disclosure. The initiative aims to (a) empower Americans with quality of care information to help them make more informed decisions about their health care, and (b) stimulate and support providers and clinicians to improve the quality of healthcare. The Quality Initiative was launched nationally in November 2002 for nursing homes (the Nursing Home Quality Initiative), and expanded in 2003 to the nation's hospitals and home healthcare agencies.
On September 25, 2006, the Agency for Healthcare Research and Quality (AHRQ) published a call in the Federal Register for survey items or measures representing areas of quality home healthcare that are viewed as important to consumers, their families, and intermediaries and initiated a review of existing literature in the area. AHRQ developed a draft survey instrument after several rounds of cognitive testing. A field test was conducted in 2008 with 34 home health agencies to test the psychometric properties of the survey and finalize its content. A final Home Health Care CAHPS Survey was developed in the summer of 2008. The Survey was endorsed by the National Quality Forum in March 2009 and approved by the United States Office of Management and Budget in July 2009.
The national implementation of the HHCAHPS Survey began in October 2009 with agencies participating on a voluntary basis prior to when quality reporting requirements for the home health annual payment update (APU) began in the third quarter of calendar year 2010. The Centers for Medicare & Medicaid Services (CMS) began publicly reporting results from the HHCAHPS Survey on Home Health Compare on the Medicare.gov Web site in April of 2012.
As described in the 2010 Home Health Prospective Payment System (HHPPS) Final Rule (42 CFR 409, 424, 484 [10 November 2009]), HHCAHPS was linked to the quality reporting requirement for the CY 2012 annual payment update (APU). As described in the 2011 HHPPS Final Rule (42 CFR Parts 409, 418, 424 et al. [17 November, 2010]), quality reporting for the 2013 APU was required of all Medicare-certified home health agencies who served 60 or more patients between April 1, 2010 and March 31, 2011 who met survey-eligibility criteria. Medicare-certified home health agencies that served 59 or fewer patients between April 1, 2010 and March 31, 2011 who met survey-eligibility criteria were able to apply for exemption from participating in the HHCAHPS Survey.
To receive the annual payment update (APU) for any given year, home health agencies that do not qualify for an exemption from participating in the HHCAHPS Survey for the specified APU must contract with an approved HHCAHPS Survey vendor and administer the survey on an ongoing (monthly) basis and submit HHCAHPS Survey data to the HHCAHPS Data Center on a quarterly basis. More information about the HHCAHPS Survey and participation requirements is available in the "HHA Responsibilities" document. To apply for an exemption, HHAs must count and report to CMS the number of patients served during the specified 12-month period via the online HHCAHPS Survey Participation Exemption Request Form.
Of the 25 core questions, 17 core questions are grouped into three survey "composites" or groupings of like topics, for the purpose of public reporting. The three composites that are publicly reported are "Care of Patients", "Communications Between Providers and Patients", and "Specific Care Issues". We also report the results of two global or overall measures (questions) called "Overall Rating of the Home Health Agency" and "Would You Recommend this Agency to Family and Friends".
About this Dataset
Data Info
| | |
| --- | --- |
| Date Created | 2012-04-16 |
| Last Modified | 2023-07-05 |
| Version | 2023-07-05 |
| Update Frequency | Quarterly |
| Temporal Coverage | N/A |
| Spatial Coverage | United States |
| Source | John Snow Labs; Centers for Medicare and Medicaid Services; |
| Source License URL | |
| Source License Requirements | N/A |
| Source Citation | N/A |
| Keywords | HCAHPS, Online Surveys, Home Care Agency, Home Care Services, Home Health Care Services, Healthcare at Home, Access Healthcare, Home Health Compare, Home Health Care Survey, Home Health Agencies, Patient Survey Questions, Hospital Patient Satisfaction |
| Other Titles | Home Care Survey, CMS Home Health Care Consumer Assessment of Healthcare Providers and Systems, Patient Satisfaction Survey |
Data Fields
| Name | Description | Type | Constraints |
| --- | --- | --- | --- |
| State_Abbreviation | Two-letter state abbreviation in the mailing address of the hospital. | string | - |
| CMS_Certification_Number | CMS certification number (CCN). Identification number of the hospital within the CMS dataset. | string | - |
| Provider_Name | Name of the hospital (also referred to as the provider) | string | - |
| Address | Main street address information of the hospital | string | - |
| City | Mailing city. The city in the main street address of the hospital. | string | - |
| Zip_Code | 5 digit postal zip code in the mailing address of the hospital. | integer | level : Nominal |
| Phone | Phone Number of the provider or hospital. | integer | level : Nominal |
| Provider_Type_of_Ownership | Identifies the type of ownership. | string | - |
| Is_Nursing_Care_Services_Offered | Describes whether Nursing care services were offered by healthcare team or not. | boolean | - |
| Is_Physical_Therapy_Services_Offered | Describes whether Physical Therapy services were offered by healthcare team or not. | boolean | - |
| Is_Occupational_Therapy_Services_Offered | Describes whether Occupational Therapy services were offered by healthcare team or not. | boolean | - |
| Is_Speech_Pathology_Services_Offered | Describes whether Pathology services were offered by healthcare team or not. | boolean | - |
| Is_Medical_Social_Services_Offered | Describes whether Medical Social services were offered by healthcare team or not. | boolean | - |
| Is_Home_Health_Aide_Services_Offered | Describes whether Home Health Aide services were offered by healthcare team or not. | boolean | - |
| Date_Certified | Indicates the Certification date of provider. | date | - |
| Quality_of_Patient_Care_Star_Rating | Indicates the number of stars given by consumers for quality of care during Home Health Care survey. | number | level : Ratio |
| Footnote_Quality_of_Patient_Care_Star_Rating | Indicates the footnote for Quality of patient care star rating. | string | - |
| HHT_Began_Their_Patients_Care_In_A_Timely_Manner | Indicates the rate for Home Health Team that how often they began treating their patients in a timely manner. | number | level : Ratio |
| Footnote_HHT_Began_Their_Patients_Care_In_A_Timely_Manner | Indicates the Footnotes for star rating for Healthcare Team Which began their patients care in a timely manner. | string | - |
| HHT_Taught_Patients_Or_Their_Caregivers_About_Their_Drugs | Indicates the rate for Home Health Team that how often they taught patients or their caregivers about their drugs. | number | level : Ratio |
| Footnote_HHT_Taught_Patients_Or_Caregivers_About_Their_Drugs | Indicates the Footnotes for Healthcare Team Which taught patients or their caregivers about their drugs. | string | - |
| HHT_Made_Sure_Patients_Receive_Flu_Shot_for_Current_Season | Indicates the rate for Home Health Team that how often they made sure that their patients received flu shots for the current flu season. | number | level : Ratio |
| Footnote_HHT_Patients_Receive_Flu_Shot_for_Current_Season | Indicates the Footnotes for Healthcare Team that how often they made sure that their patients received flu shots for the current flu season. | string | - |
| Patients_Got_Better_At_Walking_Or_Moving_Around | Indicates the rate for Home Health Team that how often patients got better at walking or moving around. | number | level : Ratio |
| Footnote_Patients_Got_Better_At_Walking_Or_Moving_Around | Indicates the Footnotes for Home Health Team that how often patients got better at walking or moving around. | string | - |
| Patients_Got_Better_At_Getting_In_And_Out_Of_Bed | Indicates the rate for Home Health Team that how often their patients got better at getting in and out of bed. | number | level : Ratio |
| Footnote_Patients_Got_Better_At_Getting_In_And_Out_Of_Bed | Indicates the Footnotes for Home Health Team that how often their patients got better at getting in and out of bed. | string | - |
| Patients_Breathing_Improved | Indicates the rate for Home Health Team that how often patients breathing improves by their treatment. | number | level : Ratio |
| Footnote_Patients_Breathing_Improved | Indicates the Footnotes for Home Health Team that how often patients breathing improves by their treatment. | string | - |
| Patients_Got_Better_At_Taking_Their_Drugs_Correctly_By_Mouth | Indicates the rate for Home Health Team that how often patients got better at taking their drugs correctly by mouth. | number | level : Ratio |
| Footnote_Patients_Got_Better_At_Taking_Their_Drugs_Correctly_By_Mouth | Indicates the Footnotes for Home Health Team that how often patients got better at taking their drugs correctly by mouth. | string | - |
| Home_Health_Patients_Had_To_Be_Admitted_To_Hospital | Indicates the rate for Home Health Team that how often patients have to be admitted to hospital. | number | level : Ratio |
| Footnote_Home_Health_Patients_Had_To_Be_Admitted_To_Hospital | Indicates the Footnotes for Home Health Team that how often patients have to be admitted to hospital. | string | - |
| HHC_Patients_Needed_Urgent_Unplanned_Care_In_ER_Without_Admission | Indicates the rate for Home Health Team that how often patients receiving Home Health Care needed urgent unplanned care in ER without being admitted. | number | level : Ratio |
| Footnote_HHC_Patients_Need_Urgent_Unplanned_ER_Care_Without_Admission | Indicates the Footnotes for Home Health Team that how often patients receiving Home Health Care needed urgent unplanned care in ER without being admitted. | string | - |
| Changes_In_Skin_Integrity_Post_Acute_Care_Pressure_Ulcers | Indicates the measure percentage as reported on Care Compare for Healthcare agencies. | number | level : Ratio |
| Footnote_Changes_In_Skin_Integrity_Post_Acute_Care_Pressure_Ulcers | Indicates the Footnotes for changes in skin integrity post acute care pressure ulcers for Healthcare agencies. | string | - |
| Physician_Recomm_Address_Medication_Issues_Completely_Timely | Indicates how often physician who recommended actions to address medication issues were completely timely for Healthcare agencies. | number | level : Ratio |
| Footnote_Physician_Recomm_Address_Medication_Issues_Completely_Timely | Indicates the Footnotes for how often physician who recommended actions to address medication issues were completely timely for Healthcare agencies. | string | - |
| Percent_Of_Residents_Experi_One_Or_More_Falls_With_Major_Injury | Indicates the percent of residents experiencing one or more falls with major injury. | number | level : Ratio |
| Footnote_For_Residents_Experi_1_Or_More_Falls_With_Major_Injury | Indicates the Footnotes for residents experiencing one or more falls with major injury. | string | - |
| Percent_Of_LTC_Hosp_Patients_With_Admi_And_Dischar_Func_Asses | Indicates the application of percent of long term care hospital patients with an admission and discharge functional assessment and a care plan that addresses function. | number | level : Ratio |
| Footnote_LTC_Hosp_Patients_With_Admi_And_Dischar_Func_Asses | Indicates footnote for the application of percent of long term care hospital patients with an admission and discharge functional assessment and a care plan that addresses function. | string | - |
| DTC_Numerator | Discharge to Community (DTC) numerator. | integer | level : Ratio |
| DTC_Denominator | Discharge to Community (DTC) denominator. | integer | level : Ratio |
| DTC_Observed_Rate | Discharge to Community (DTC) observation rate. | number | level : Ratio |
| DTC_Risk_Standardized_Rate | Discharge to Community (DTC) Standarized rate. | number | level : Ratio |
| DTC_Risk_Standardized_Rate_Lower_Limit | Discharge to Community (DTC) Standarized rate for lower limit. | number | level : Ratio |
| DTC_Risk_Standardized_Rate_Upper_Limit | Discharge to Community (DTC) Standarized rate for upper limit. | number | level : Ratio |
| DTC_Performance_Categorization | Categorization of Discharge to community (DTC) performance. | string | - |
| Footnote_For_DTC_Risk_Standardized_Rate | Footnote for Discharge to Community (DTC) Standarized rate. | string | - |
| PPR_Numerator | Potentially Preventable 30-Day Post—Discharge (PPR) numerator. | integer | level : Ratio |
| PPR_Denominator | Potentially Preventable 30-Day Post—Discharge (PPR) denominator. | integer | level : Ratio |
| PPR_Observed_Rate | Potentially Preventable 30-Day Post—Discharge (PPR) observation rate. | number | level : Ratio |
| PPR_Risk_Standardized_Rate | Potentially Preventable 30-Day Post—Discharge (PPR) Standarized rate. | number | level : Ratio |
| PPR_Risk_Standardized_Rate_Lower_Limit | Potentially Preventable 30-Day Post—Discharge (PPR) Standarized rate for lower limit. | number | level : Ratio |
| PPR_Risk_Standardized_Rate_Upper_Limit | Potentially Preventable 30-Day Post—Discharge (PPR) Standarized rate for upper limit. | number | level : Ratio |
| PPR_Performance_Categorization | Categorization of Potentially Preventable 30-Day Post—Discharge (PPR) performance. | string | - |
| Footnote_For_PPR_Risk_Standardized_Rate | Footnote for Potentially Preventable 30-Day Post—Discharge (PPR) Standarized rate. | string | - |
| Medicare_Episode_of_Care_Compare_To_All_Agencies_Nationally | Indicates how much medicare spends on an episode of care at this agency, compared to medicare spending across all agencies nationally. | number | level : Ratio |
| Footnote_Medicare_Episode_of_Care_Compare_To_All_Agencies_Nationally | Indicates the footnotes for how much medicare spends on an episode of care at this agency, compared to all agencies nationally. | string | - |
| Episodes_To_Calculate_Medicare_Per_Episode_of_Care_All_Agencies | Indicates the number of episodes of care used to calculate how much Medicare spends on an episode of care at this agency, compared to Medicare spending across all agencies nationally. | integer | level : Ratio |
Data Preview
| | | | | | | | | | | | | | | | | | | | | | | | | | | | | | | | | | | | | | | | | | | | | | | | | | | | | | | | | | | | | |
| --- | --- | --- | --- | --- | --- | --- | --- | --- | --- | --- | --- | --- | --- | --- | --- | --- | --- | --- | --- | --- | --- | --- | --- | --- | --- | --- | --- | --- | --- | --- | --- | --- | --- | --- | --- | --- | --- | --- | --- | --- | --- | --- | --- | --- | --- | --- | --- | --- | --- | --- | --- | --- | --- | --- | --- | --- | --- | --- | --- | --- |
| State Abbreviation | CMS Certification Number | Provider Name | Address | City | Zip Code | Phone | Provider Type of Ownership | Is Nursing Care Services Offered | Is Physical Therapy Services Offered | Is Occupational Therapy Services Offered | Is Speech Pathology Services Offered | Is Medical Social Services Offered | Is Home Health Aide Services Offered | Date Certified | Quality of Patient Care Star Rating | Footnote Quality of Patient Care Star Rating | HHT Began Their Patients Care In A Timely Manner | Footnote HHT Began Their Patients Care In A Timely Manner | HHT Taught Patients Or Their Caregivers About Their Drugs | Footnote HHT Taught Patients Or Caregivers About Their Drugs | HHT Made Sure Patients Receive Flu Shot for Current Season | Footnote HHT Patients Receive Flu Shot for Current Season | Patients Got Better At Walking Or Moving Around | Footnote Patients Got Better At Walking Or Moving Around | Patients Got Better At Getting In And Out Of Bed | Footnote Patients Got Better At Getting In And Out Of Bed | Patients Breathing Improved | Footnote Patients Breathing Improved | Footnote Patients Got Better At Taking Their Drugs Correctly By Mouth | Home Health Patients Had To Be Admitted To Hospital | Footnote Home Health Patients Had To Be Admitted To Hospital | HHC Patients Needed Urgent Unplanned Care In ER Without Admission | Footnote HHC Patients Need Urgent Unplanned ER Care Without Admission | Changes In Skin Integrity Post Acute Care Pressure Ulcers | Footnote Changes In Skin Integrity Post Acute Care Pressure Ulcers | Physician Recomm Address Medication Issues Completely Timely | Footnote Physician Recomm Address Medication Issues Completely Timely | Percent Of Residents Experi One Or More Falls With Major Injury | Footnote For Residents Experi 1 Or More Falls With Major Injury | Percent Of LTC Hosp Patients With Admi And Dischar Func Asses | Footnote LTC Hosp Patients With Admi And Dischar Func Asses | DTC Numerator | DTC Denominator | DTC Observed Rate | DTC Risk Standardized Rate | DTC Risk Standardized Rate Lower Limit | DTC Risk Standardized Rate Upper Limit | DTC Performance Categorization | Footnote For DTC Risk Standardized Rate | PPR Numerator | PPR Denominator | PPR Observed Rate | PPR Risk Standardized Rate | PPR Risk Standardized Rate Lower Limit | PPR Risk Standardized Rate Upper Limit | PPR Performance Categorization | Footnote For PPR Risk Standardized Rate | Medicare Episode of Care Compare To All Agencies Nationally | Footnote Medicare Episode of Care Compare To All Agencies Nationally | Episodes To Calculate Medicare Per Episode of Care All Agencies |
| AK | 27001 | PROVIDENCE HOME HEALTH ALASKA | 4001 DALE STREET, SUITE 101 | ANCHORAGE | 99508 | 9075630130 | VOLUNTARY NON PROFIT RELIGIOUS AFFILIATION | True | True | True | True | True | True | 1982-05-17 | 4.5 | | 96.8 | | 100.0 | | 44.5 | | 88.8 | | 91.9 | | 93.4 | | 99.8 | 14.9 | | 14.2 | | 0.1 | | 88.6 | | 1.4 | | 99.6 | | 253.0 | 302.0 | 83.77 | 89.37 | 84.85 | 93.37 | Better Than National Rate | | 5.0 | 337 | 1.48 | 2.92 | 2.14 | 4.01 | Same As National Rate | | 0.89 | | 500 |
| AK | 27002 | HOSPICE & HOME CARE OF JUNEAU | 1803 GLACIER HIGHWAY | JUNEAU | 99801 | 9074633113 | VOLUNTARY NON PROFIT RELIGIOUS AFFILIATION | True | True | True | True | True | True | 1982-12-27 | 2.0 | | 91.7 | | 96.3 | | 62.7 | | 60.2 | | 63.6 | | 63.8 | | 57.2 | 10.0 | | 16.1 | | 3.9 | | 98.2 | | 2.8 | | 100.0 | | 60.0 | 86.0 | 69.77 | 73.14 | 62.75 | 81.72 | Same As National Rate | | 2.0 | 76 | 2.63 | 3.37 | 2.31 | 4.82 | Same As National Rate | | 0.85 | | 220 |
| AK | 27006 | FAIRBANKS MEMORIAL HOSPITAL HHA | 1701 GILLAM WAY | FAIRBANKS | 99701 | 9074585410 | VOLUNTARY NONPROFIT OTHER | True | True | False | False | True | True | 1985-09-19 | 2.0 | | 62.6 | | 99.2 | | 54.2 | | 72.7 | | 71.8 | | 71.0 | | 61.5 | 16.4 | | 25.2 | | 1.2 | | 97.1 | | 2.1 | | 98.8 | | 110.0 | 129.0 | 85.27 | 87.59 | 79.4 | 92.77 | Better Than National Rate | | 1.0 | 153 | 0.65 | 3.02 | 2.12 | 4.43 | Same As National Rate | | 0.74 | | 224 |
| AK | 27008 | ANCORA HOME HEALTH & HOSPICE | 3831 E BLUE LUPINE DRIVE | WASILLA | 99654 | 9073524800 | PROPRIETARY | True | True | True | True | True | True | 1987-01-22 | 4.0 | | 97.5 | | 99.2 | | 53.4 | | 85.8 | | 89.0 | | 89.0 | | 90.1 | 11.9 | | 12.6 | | 0.1 | | 99.6 | | 1.5 | | 100.0 | | 403.0 | 518.0 | 77.8 | 86.77 | 83.13 | 90.28 | Better Than National Rate | | 15.0 | 459 | 3.27 | 3.18 | 2.28 | 4.34 | Same As National Rate | | 0.97 | | 852 |
| AK | 27009 | PETERSBURG MEDICAL CENTER HOME | P.O. BOX 589 | PETERSBURG | 99833 | 9077724291 | GOVERNMENT STATE/COUNTY | True | True | True | True | False | True | 1987-07-21 | 2.5 | | 85.5 | | 95.7 | | 42.6 | | 77.0 | | 89.4 | | 69.1 | | 70.8 | 20.9 | | 13.4 | | 0.0 | | 90.8 | | 4.1 | | 98.7 | | 16.0 | 37.0 | 43.24 | 49.52 | 34.23 | 63.21 | Worse Than National Rate | | | 6 | | | | | | The number of patient episodes for this measure is too small to report. | 1.09 | | 85 |
| AK | 27010 | SOUTH PENINSULA HOSPITAL HHA | 4300 BARTLETT STREET | HOMER | 99603 | 9072350369 | GOVERNMENT STATE/COUNTY | True | True | True | True | True | True | 1990-02-20 | 2.0 | | 96.8 | | 92.9 | | 39.1 | | 74.5 | | 74.8 | | 72.6 | | 60.3 | 17.9 | | 11.3 | | 1.0 | | 95.5 | | 0.0 | | 97.4 | | 65.0 | 101.0 | 64.36 | 71.39 | 60.14 | 80.42 | Same As National Rate | | 3.0 | 94 | 3.19 | 3.49 | 2.38 | 5.14 | Same As National Rate | | 1.13 | | 151 |
| AK | 27014 | PEACEHEALTH KETCHIKAN MEDICAL CENTER HOME HEALTH | 212 CARLANNA LAKE ROAD SUITE 100 | KETCHIKAN | 99901 | 9072287600 | VOLUNTARY NON PROFIT RELIGIOUS AFFILIATION | True | True | True | True | True | True | 1993-03-04 | 4.0 | | 85.1 | | 97.9 | | 67.0 | | 86.5 | | 87.0 | | 95.0 | | 95.0 | 10.0 | | 24.6 | | 0.7 | | 95.2 | | 1.0 | | 99.5 | | 59.0 | 98.0 | 60.2 | 63.48 | 53.1 | 72.23 | Worse Than National Rate | | 2.0 | 80 | 2.5 | 3.29 | 2.32 | 4.66 | Same As National Rate | | 0.97 | | 148 |
| AK | 27020 | 1ST CHOICE HOME HEALTH CARE, INC | 159 EAST REDOUBT AVE | SOLDOTNA | 99669 | 9072605959 | PROPRIETARY | True | True | True | True | True | False | 1996-01-02 | 4.5 | | 99.5 | | 86.2 | | 33.9 | | 88.9 | | 94.1 | | 97.5 | | 85.3 | 10.0 | | 25.0 | | 0.0 | | 82.8 | | 2.0 | | 89.4 | | 138.0 | 192.0 | 71.88 | 78.0 | 71.18 | 83.74 | Same As National Rate | | 4.0 | 228 | 1.75 | 3.05 | 2.13 | 4.17 | Same As National Rate | | 0.91 | | 307 |
| AK | 27022 | ENHABIT HEALTH HOME HEALTH | 3909 ARCTIC BLVD, SUITE 102 | ANCHORAGE | 99503 | 9072721275 | PROPRIETARY | True | True | True | True | True | True | 1996-05-07 | 2.5 | | 87.3 | | 92.5 | | 63.4 | | 81.8 | | 83.8 | | 81.5 | | 75.7 | 17.9 | | 12.7 | | 0.4 | | 96.6 | | 0.8 | | 98.9 | | 95.0 | 130.0 | 73.08 | 81.33 | 73.31 | 88.38 | Same As National Rate | | 10.0 | 125 | 8.0 | 4.17 | 2.96 | 5.89 | Same As National Rate | | 0.88 | | 272 |
| AK | 27032 | MAXIM HEALTHCARE SERVICES, INC | 670 WEST FIREWEED LANE SUITE 160 | ANCHORAGE | 99503 | 9077700862 | PROPRIETARY | True | False | False | False | False | True | 2006-08-23 | | The number of patient episodes for this measure is too small to report. | | The number of patient episodes for this measure is too small to report. | | The number of patient episodes for this measure is too small to report. | | The number of patient episodes for this measure is too small to report. | | This measure currently does not have data or provider has been certified/recertified for less than 6 months. | | This measure currently does not have data or provider has been certified/recertified for less than 6 months. | | This measure currently does not have data or provider has been certified/recertified for less than 6 months. | | | This measure currently does not have data or provider has been certified/recertified for less than 6 months. | | This measure currently does not have data or provider has been certified/recertified for less than 6 months. | | This measure currently does not have data or provider has been certified/recertified for less than 6 months. | | The number of patient episodes for this measure is too small to report. | | The number of patient episodes for this measure is too small to report. | | The number of patient episodes for this measure is too small to report. | | | | | | | | This measure currently does not have data or provider has been certified/recertified for less than 6 months. | 0.0 | 45 | 0.0 | 3.29 | 2.17 | 4.76 | Same As National Rate | | | The number of patient episodes for this measure is too small to report. | 18 |