Others titles
Comparison of Hospital ACS Measures
Outcome of Care Surgical Measures
Improving Surgical Quality and Making Care Decisions
Keywords
Hospital Compare
ACS Measures
Readmissions and Deaths
Hospital Quality Surgical Outcomes
Quality Healthcare Information
Preventable Surgical Complications
Surgical Quality Improvement Program
Surgical Report and Outcomes
Surgical Care Measure Outcomes
Surgical Care Compliance
Hospital Outcome of Care Surgical Measures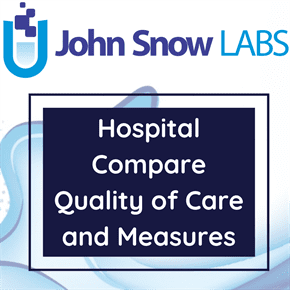 This dataset includes a list of different hospitals and their quality of surgical outcomes to provide information to healthcare consumers. The study comprises of Hospital Name and the data on the outcome measures for three different forms of surgeries. These "Outcome of Care Surgical Measures" show whether hospitals differ in what happens to patients after they have one of three types of surgeries – elderly surgery, colon surgery and lower-extremity bypass.
Log in to download
Complexity
Get The Data
For getting access to data download links please read and accept the end-user license agreement.
Your Data License
Research

Non-Commercial, Share-Alike, Attribution

Free Forever

Commercial

Commercial Use, Remix & Adapt, White Label Log in to download
Description
Today's health care environment demands more than ever of surgeons and the hospitals they work in. Payors, including Medicare, increasingly refuse to pay for treating complications deemed preventable, such as surgical site infections. A growing movement aims to tie reimbursements to outcomes—and publicly report the results. At the same time, hospitals face staffing shortages and financial pressures, trying to do more with less. A surgical quality improvement program so effective that each year a hospital uses it, on average, it has the opportunity to:
– Prevent 250–500 complications
– Save 12–36 lives
– Reduce costs by millions of dollars
The American College of Surgeons (ACS) National Surgical Quality Improvement Program (NSQIP) is the leading nationally validated, risk-adjusted, outcomes-based program to measure and improve the quality of surgical care in the private sector. ACS NSQIP has the tools, training, customization options and, most importantly, data, to keep different hospitals ahead of the curve.
In order to provide proven and stronger quality information, the ACS has partnered with the Centers for Medicare & Medicaid Services (CMS) to allow ACS NSQIP registered hospitals across the country the opportunity to report surgical outcomes to Hospital Compare, the CMS website that provides quality information to healthcare consumers. The program provides hospitals participating in the ACS NSQIP Adult Program Options the chance to voluntarily, publicly report on one or any combination of three National Quality Forum (NQF)-endorsed measures — elderly surgery, colon surgical and lower-extremity bypass outcomes. The Lower-Extremity Bypass Surgery is a surgical bypass that treats patient's narrowed (or enlarged) arteries by directly creating a detour, or bypass, around a section of the artery that is blocked or enlarged. The outcome measure in Lower-Extremity Bypass Surgeries for Patients for most of the hospitals is recorded as 'average' in this study.
Information on the Hospital Compare website will explain the rigors of ACS NSQIP so that patients better understand what the measures mean; the importance of accurate, risk-adjusted data; and how to use the information in making their care decisions. Because ACS NSQIP is based on the best available data—clinical, risk- and case-mix–adjusted, nationally benchmarked and audited 30-day patient outcomes—the program provides arguably the most valid and reliable look at surgical quality. It provides a better gauge of quality than many other public measures, many of which are based on compliance with process measures or based on administrative data.
About this Dataset
Data Info
| | |
| --- | --- |
| Date Created | 2012-07-26 |
| Last Modified | 2020-10-27 |
| Version | 2020-10-27 |
| Update Frequency | Quarterly |
| Temporal Coverage | N/A |
| Spatial Coverage | United States |
| Source | John Snow Labs; Centers for Medicare & Medicaid Services (CMS); |
| Source License URL | |
| Source License Requirements | N/A |
| Source Citation | N/A |
| Keywords | Hospital Compare, ACS Measures, Readmissions and Deaths, Hospital Quality Surgical Outcomes, Quality Healthcare Information, Preventable Surgical Complications, Surgical Quality Improvement Program, Surgical Report and Outcomes, Surgical Care Measure Outcomes, Surgical Care Compliance |
| Other Titles | Comparison of Hospital ACS Measures, Outcome of Care Surgical Measures, Improving Surgical Quality and Making Care Decisions |
Data Fields
| Name | Description | Type | Constraints |
| --- | --- | --- | --- |
| Provider_ID | CMS certification number (CCN). Identification number of the hospital within the CMS dataset. The CCN for providers and suppliers is a 6 digit number. The first 2 digits identify the State in which the provider is located. The last 4 digits identify the type of facility. | integer | level : Nominal |
| Hospital_Name | Name of the hospital (also referred to as the provider). | string | - |
| Surgeries_for_Patients_65_Years | It represents the outcome measure in Surgeries for Patients 65 Years of Age or Older. | string | - |
| Footnote_for_Surgeries_for_Patients_65_Years | Footnote for the outcome measure in Surgeries for Patients 65 Years of Age or Older. | integer | level : Nominal |
| Surgery_Footnote_Description | Description of footnote for the outcome measure in Surgeries for Patients 65 Years of Age or Older. | string | - |
| Colon_Surgeries | It represents the outcome measure in Colon Surgeries for Patients. This surgery includes the large bowel resection and is surgery to remove all or part of the patient's large bowel. It is also called colectomy. The large bowel is also called the large intestine or colon. | string | - |
| Footnote_for_Colon_Surgeries | Footnote for the outcome measure in Colon Surgeries for Patients. | integer | level : Nominal |
| Colon_Surgery_Footnote_Description | Description of footnote for the outcome measure in Colon Surgeries for Patients. | string | - |
| Lower_Extremity_Bypass_Surgeries | It represents the outcome measure in Lower-Extremity Bypass Surgeries for Patients. It is a surgical bypass that treats patient's narrowed (or enlarged) arteries by directly creating a detour, or bypass, around a section of the artery that is blocked or enlarged. | string | - |
| Footnote_for_Lower_Extremity_Bypass_Surgeries | Footnote for the outcome measure in Lower-Extremity Bypass Surgeries for Patients. | integer | level : Nominal |
| Lower_Extremity_Bypass_Surgeries_Footnote_Description | Description of footnote for the outcome measure in Lower-Extremity Bypass Surgeries for Patients. | string | - |
Data Preview
| | | | | | | | | | | |
| --- | --- | --- | --- | --- | --- | --- | --- | --- | --- | --- |
| Provider ID | Hospital Name | Surgeries for Patients 65 Years | Footnote for Surgeries for Patients 65 Years | Surgery Footnote Description | Colon Surgeries | Footnote for Colon Surgeries | Colon Surgery Footnote Description | Lower Extremity Bypass Surgeries | Footnote for Lower Extremity Bypass Surgeries | Lower Extremity Bypass Surgeries Footnote Description |
| 10033 | University of Alabama at Birmingham Hospital | | 12.0 | This measure does not apply to this hospital for this reporting period. | | 12.0 | This measure does not apply to this hospital for this reporting period. | | 12 | This measure does not apply to this hospital for this reporting period. |
| 20026 | Alaska Native Medical Center | Worse than Average | | | Average | | | | 1 | The number of cases/patients is too few to report. |
| 30103 | Mayo Clinic Arizona DBA Mayo Clinic Hospital | Average | | | Average | | | | 5 | Results are for this reporting period. |
| 40020 | Saint Bernards Medical Center (AR) | | 12.0 | This measure does not apply to this hospital for this reporting period. | | 12.0 | This measure does not apply to this hospital for this reporting period. | | 12 | This measure does not apply to this hospital for this reporting period. |
| 50007 | Mills Peninsula Health Services | Average | | | Average | | | | 12 | This measure does not apply to this hospital for this reporting period. |
| 50047 | Sutter West Bay DBA California Pacific Medical Center | | 12.0 | This measure does not apply to this hospital for this reporting period. | | 12.0 | This measure does not apply to this hospital for this reporting period. | | 12 | This measure does not apply to this hospital for this reporting period. |
| 50072 | Kaiser Medical Center - Walnut Creek | | 5.0 | Results are for this reporting period. | | 5.0 | Results are for this reporting period. | | 5 | Results are for this reporting period. |
| 50159 | Ventura County Medical Center | | 12.0 | This measure does not apply to this hospital for this reporting period. | | 12.0 | This measure does not apply to this hospital for this reporting period. | | 12 | This measure does not apply to this hospital for this reporting period. |
| 50180 | John Muir Medical Center - Walnut Creek | Average | | | Average | | | | 12 | This measure does not apply to this hospital for this reporting period. |
| 50292 | Riverside County Regional Medical Center | | 12.0 | This measure does not apply to this hospital for this reporting period. | | 12.0 | This measure does not apply to this hospital for this reporting period. | | 12 | This measure does not apply to this hospital for this reporting period. |