Others titles
Hospitalization and Discharge Status after Arthritis and Other Rheumatic Conditions
Hospital Stay after Arthritis and Other Rheumatic Conditions
Diagnoses for Adults Age 18 & Older, by Sex and Age
Nationwide Inpatient Sample (NIS) 2011
Healthcare Cost and Utilization Project (HCUP)
Systemic JIA Hospitalizations and Discharge for Arthritis
Causes Hospitalizations and Discharge for Rheumatoid Arthritis
Hospitalizations and Discharge for Arthritis Signs and AORC
Hospitalizations and Discharge for Chronic Arthritis
Keywords
Arthritis Hospitalizations
Arthritis Discharge Status
Arthritis and Other Rheumatic Condition
Systemic JIA
Rheumatoid Arthritis Causes
Arthritis Signs
Chronic Arthritis
Osteoarthritis Statistics
Rheumatoid Arthritis Statistics
Gout Statistics
Hospitalization and Discharge for Arthritis and Rheumatoid Conditions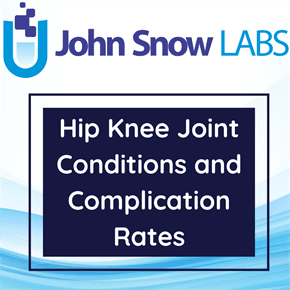 This dataset is from the Healthcare Cost and Utility Project (HCUP) 2011 Nationwide Inpatient Sample (NIS), which estimates 6.7 million hospitalizations that are associated with a diagnosis of Arthritis and Other Rheumatic Condition (AORC) or 17.3% of all hospitalizations that year.
Log in to download
Complexity
Get The Data
For getting access to data download links please read and accept the end-user license agreement.
Your Data License
Research

Non-Commercial, Share-Alike, Attribution

Free Forever

Commercial

Commercial Use, Remix & Adapt, White Label Log in to download
Description
Arthritis is often a contributing cause to hospitalization, particularly when associated with joint replacement surgery; therefore, most of the 6.7 million hospitalizations were associated with osteoarthritis (OA), gout, rheumatoid arthritis (RA), and other less specific disorders. Discharge from the hospital to long-term care or home health care occurs more often among AORC-associated hospitalizations than is found among hospitalizations for all causes.
This is true regardless of sex or age. Among the 10 AORC subgroups, discharge to home was more frequent and similar to that among all hospitalizations among those with fibromyalgia, diffuse connective tissue disease, and spondyloarthropathies.
About this Dataset
Data Info
| | |
| --- | --- |
| Date Created | 2011 |
| Last Modified | 2011 |
| Version | 2011 |
| Update Frequency | Never |
| Temporal Coverage | 2011 |
| Spatial Coverage | United States |
| Source | John Snow Labs; Nationwide Inpatient Sample (NIS) and Healthcare Cost and Utilization Project (HCUP); |
| Source License URL | |
| Source License Requirements | N/A |
| Source Citation | N/A |
| Keywords | Arthritis Hospitalizations, Arthritis Discharge Status, Arthritis and Other Rheumatic Condition, Systemic JIA, Rheumatoid Arthritis Causes, Arthritis Signs, Chronic Arthritis, Osteoarthritis Statistics, Rheumatoid Arthritis Statistics, Gout Statistics |
| Other Titles | Hospitalization and Discharge Status after Arthritis and Other Rheumatic Conditions, Hospital Stay after Arthritis and Other Rheumatic Conditions, Diagnoses for Adults Age 18 & Older, by Sex and Age, Nationwide Inpatient Sample (NIS) 2011, Healthcare Cost and Utilization Project (HCUP), Systemic JIA Hospitalizations and Discharge for Arthritis, Causes Hospitalizations and Discharge for Rheumatoid Arthritis, Hospitalizations and Discharge for Arthritis Signs and AORC, Hospitalizations and Discharge for Chronic Arthritis |
Data Fields
| Name | Description | Type | Constraints |
| --- | --- | --- | --- |
| Diagnosis | Description of the diagnosis that warranted hospitalization | string | unique : 1 |
| Notes | Description of special cases, specific count or other names for the diagnosis | string | - |
| Discharge_Status | Description of the discharge status per diagnosis. | string | - |
| Total_Patients | Total number (in 1,000s) of patients, male and female per diagnosis | number | level : Ratio |
| Percentage_Total_Patients | Percentage of the total number of patients (in 1,000s), male and female per diagnosis, per discharge status | number | level : Ratio |
| Male | Total number (in 1,000s) of male patients per diagnosis and discharge status | number | level : Ratio |
| Percentage_Male | Percentage of the total number (in 1,000s) of males per diagnosis, per discharge status | number | level : Ratio |
| Female | Total number (in 1,000s) of female patients per diagnosis and discharge status | number | level : Ratio |
| Percentage_Female | Percentage of the total number (in 1,000s) of females per diagnosis, per discharge status. | number | level : Ratio |
| Age_18_to_44_Years | Total number (in 1,000s) of patients, 18 to 44 years old per diagnosis | number | level : Ratio |
| Percentage_18_to_44_Years | Percentage of the total number (in 1,000s) of patients, 18 to 44 years old per diagnosis, per discharge status | number | level : Ratio |
| Age_45_to_64_Years | Total number (in 1,000s) of patients, 45 to 64 years old per diagnosis | number | level : Ratio |
| Percentage_45_to_64_Years | Percentage of the total number (in 1,000s) of patients, 45 to 64 years old per diagnosis, per discharge status | number | level : Ratio |
| Age_65_to_74_Years | Total number (in 1,000s) of patients, 65 to 74 years old per diagnosis | number | level : Ratio |
| Percentage_65_to_74_Years | Percentage of the total number (in 1,000s) of patients, 65 to 74 years old per diagnosis, per discharge status | number | level : Ratio |
| Age_75_Older | Total number (in 1,000s) of patients, 75 years and older per diagnosis | number | level : Ratio |
| Percentage_75_Older | Percentage of the total number (in 1,000s) of patients, 75 years older per diagnosis, per discharge status | number | level : Ratio |
Data Preview
| | | | | | | | | | | | | | | | | |
| --- | --- | --- | --- | --- | --- | --- | --- | --- | --- | --- | --- | --- | --- | --- | --- | --- |
| Diagnosis | Notes | Discharge Status | Total Patients | Percentage Total Patients | Male | Percentage Male | Female | Percentage Female | Age 18 to 44 Years | Percentage 18 to 44 Years | Age 45 to 64 Years | Percentage 45 to 64 Years | Age 65 to 74 Years | Percentage 65 to 74 Years | Age 75 Older | Percentage 75 Older |
| Osteoarthritis and allied disorders | (number in 1000s) | | 3161.1 | | 1140.1 | | 2020.9 | | 87.2 | | 917.6 | | 798.0 | | 1360.2 | |
| | | Routine/discharge home | | 0.43 | | 0.47 | | 0.41 | | 0.71 | | 0.55 | | 0.45 | | 0.33 |
| | | Discharge/transferred to short-term facility | | 0.02 | | 0.02 | | 0.02 | | 0.01 | | 0.02 | | 0.02 | | 0.02 |
| | | Transferred to skilled nursing/intermediate care | | 0.29 | | 0.23 | | 0.32 | | 0.08 | | 0.15 | | 0.25 | | 0.42 |
| | | Home health care | | 0.24 | | 0.25 | | 0.24 | | 0.19 | | 0.28 | | 0.27 | | 0.21 |
| | | Other discharge status | | 0.02 | | 0.02 | | 0.02 | | 0.02 | | 0.01 | | 0.01 | | 0.03 |
| Rheumatoid arthritis | (number in 1000s) | | 542.2 | | 134.6 | | 407.5 | | 39.5 | | 174.2 | | 137.7 | | 190.9 | |
| | | Routine/discharge home | | 0.53 | | 0.56 | | 0.51 | | 0.81 | | 0.66 | | 0.52 | | 0.35 |
| | | Discharge/transferred to short-term facility | | 0.02 | | 0.03 | | 0.02 | | 0.02 | | 0.02 | | 0.03 | | 0.02 |
| | | Discharge/transferred to long-term care institution | | 0.24 | | 0.2 | | 0.25 | | 0.04 | | 0.12 | | 0.23 | | 0.38 |