Others titles
ICD-10-CM as CC or MCC
ICD-10-CM as CC or MCC Code Book
ICD-10-CM Manual as CC or MCC
Keywords
ICD 10 Codes List
ICD 10 Procedure Code
ICD 10 Codes
ICD Codes
CCS
Code Book
ICD-10-CM Definition
ICD-10-CM Book
ICD-10-CM Manual
ICD-10 CM Codes Categorized as Complication or Comorbidity or Major CC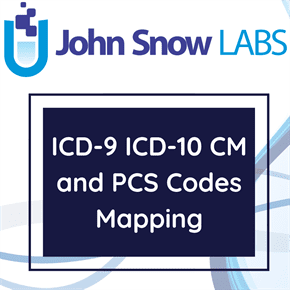 The dataset contains a list of all of the codes that are defined as either a complication or comorbidity (CC) or a major complication or comorbidity (MCC) when used as a secondary diagnosis. If the CC or MCC is allowed with all principal diagnoses, then the phrase NoExcl follows the CC/MCC indicator. Otherwise, a link is given to a collection of diagnosis codes which, when used as the principal diagnosis, will cause the CC or MCC to be considered as only a non CC.
Log in to download
Complexity
Get The Data
For getting access to data download links please read and accept the end-user license agreement.
Your Data License
Research

Non-Commercial, Share-Alike, Attribution

Free Forever

Commercial

Commercial Use, Remix & Adapt, White Label Log in to download
Description
The MS-DRG System: The MS-DRGs range from 001-999, with many unused numbers to accommodate future MS-DRG expansion.
One MS-DRG is assigned to each inpatient stay. The MS-DRGs are assigned using the principal diagnosis and additional diagnoses, the principal procedure and additional procedures, sex and discharge status. Diagnoses and procedures assigned by using ICD-10-CM codes determine the MS-DRG assignment. Accurate and complete ICD-10-CM coding by HIM professionals is essential for correct MS-DRG assignment and subsequent reimbursement.
In the MS-DRG system, many DRGs are split into one, two or three MS-DRGs based on whether any one of the secondary diagnoses has been categorized as an MCC, a CC or no CC.
Example of MS-DRGs with a three way split include:
MS-DRG 539, Osteomyelitis with MCC
MS-DRG 540, Osteomyelitis with CC
MS-DRG 541, Osteomyelitis without CC/MCC
MCC/CC List: Under MS-DRGs, CMS identified those diagnoses whose presence as a secondary diagnosis leads to substantially increased hospital resource use. They then categorized this list into two different levels of severity as follows:
Major complications or comorbidities (MCCs) reflect the highest level of severity
CCs represent the next level of severity.
Some MCCs and CCs are excluded because they are too closely related to the principal diagnoses. This is called the CC Exclusion List and identifies conditions that will not be considered a CC or MCC for a given principal diagnosis. For example, primary cardiomyopathy (425.4) is not a CC for congestive heart failure (428.0).
About this Dataset
Data Info
| | |
| --- | --- |
| Date Created | 2007 |
| Last Modified | 2019-09-30 |
| Version | 37 |
| Update Frequency | Annual |
| Temporal Coverage | N/A |
| Spatial Coverage | United States |
| Source | John Snow Labs; Centers for Medicare & Medicaid Services; |
| Source License URL | |
| Source License Requirements | N/A |
| Source Citation | N/A |
| Keywords | ICD 10 Codes List, ICD 10 Procedure Code, ICD 10 Codes, ICD Codes, CCS, Code Book, ICD-10-CM Definition, ICD-10-CM Book, ICD-10-CM Manual |
| Other Titles | ICD-10-CM as CC or MCC, ICD-10-CM as CC or MCC Code Book, ICD-10-CM Manual as CC or MCC |
Data Fields
| Name | Description | Type | Constraints |
| --- | --- | --- | --- |
| Primary_Diagnosis_Codes_Collection | Collection of Primary Diagnosis Codes categoried as CC or MCC | string | - |
| ICD_10_CM_Codes | ICD-10-CM Diagnosis Codes | string | required : 1 |
| ICD_10_CM_Codes_Description | Description of ICD Codes | string | - |
Data Preview
| | | |
| --- | --- | --- |
| Primary Diagnosis Codes Collection | ICD 10 CM Codes | ICD 10 CM Codes Description |
| PDX Collection 0002 | A000 | Cholera due to Vibrio cholerae 01, biovar cholerae |
| PDX Collection 0002 | A001 | Cholera due to Vibrio cholerae 01, biovar eltor |
| PDX Collection 0002 | A009 | Cholera, unspecified |
| PDX Collection 0003 | A0100 | Typhoid fever, unspecified |
| PDX Collection 0003 | A0101 | Typhoid meningitis |
| PDX Collection 0003 | A0102 | Typhoid fever with heart involvement |
| PDX Collection 0003 | A0103 | Typhoid pneumonia |
| PDX Collection 0003 | A0104 | Typhoid arthritis |
| PDX Collection 0003 | A0105 | Typhoid osteomyelitis |
| PDX Collection 0003 | A0109 | Typhoid fever with other complications |