Others titles
US Infant and Neonatal Mortality Rates
US Infant Mortality Rates
US Perinatal Mortality Rates
Keywords
Infant Mortality
Mortality Rates
Infant Mortality Rates
Neonatal Mortality
Perinatal Mortality
Infant and Neonatal Mortality Rates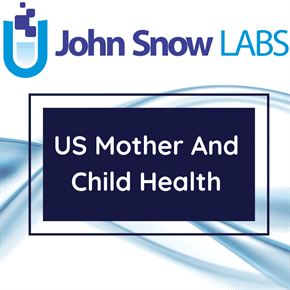 The Infant and Neonatal Mortality Rates dataset includes infant, neonatal, postneonatal, fetal, late fetal and perinatal mortality rates by detailed race and Hispanic origin of mother in the United States between 1983 and 2014.
Log in to download
Complexity
Get The Data
For getting access to data download links please read and accept the end-user license agreement.
Your Data License
Research

Non-Commercial, Share-Alike, Attribution

Free Forever

Commercial

Commercial Use, Remix & Adapt, White Label Log in to download
Description
The Infant and Neonatal Mortality Rates dataset lists mortality rates for infant, neonatal, postneonatal, fetal, late fetal and perinatal per 1,000 live births by detailed race including Hispanic origin from 1983 to 2014.
Each category is defined by age or weeks of gestation, infant is under 1 year, neonatal is under 28 days, postneonatal is between 28 days and 11 months, fetal is 20 weeks of gestation or more, late fetal is 28 weeks of gestation or more, perinatal is under 7 days from birth.
Infant mortality refers to deaths of young children, typically those less than one year of age. It is measured by the infant mortality rate (IMR), which is the number of deaths of children under one year of age per 1000 live births.
Premature birth is the biggest contributor to the IMR. Other leading causes of infant mortality are birth asphyxia, pneumonia, term birth complications such as abnormal presentation of the fetus umbilical cord prolapse, or prolonged labor, neonatal infection, diarrhea, malaria, measles and malnutrition.
One of the most common preventable causes of infant mortality is smoking during pregnancy. Many factors contribute to infant mortality, such as the mother's level of education, environmental conditions, and political and medical infrastructure. Improving sanitation, access to clean drinking water, immunization against infectious diseases, and other public health measures can help reduce high rates of infant mortality.
According to Unicef the first 28 days of life – the neonatal period – are the most vulnerable time for a child's survival. Children face the highest risk of dying in their first month of life.
Perinatal mortality (PNM), also perinatal death, refers to the death of a fetus or neonate and is the basis to calculate the perinatal mortality rate.
Perinatal period start from fetus stage (from 28 weeks of gestation in this dataset) and end one week after birth.
About this Dataset
Data Info
| | |
| --- | --- |
| Date Created | 2017-05 |
| Last Modified | 2017-05 |
| Version | 2017-05 |
| Update Frequency | Irregular |
| Temporal Coverage | 1983 to 2014 |
| Spatial Coverage | United States |
| Source | John Snow Labs; US National Center for Health Statistics; |
| Source License URL | |
| Source License Requirements | N/A |
| Source Citation | N/A |
| Keywords | Infant Mortality, Mortality Rates, Infant Mortality Rates, Neonatal Mortality, Perinatal Mortality |
| Other Titles | US Infant and Neonatal Mortality Rates, US Infant Mortality Rates, US Perinatal Mortality Rates |
Data Fields
| Name | Description | Type | Constraints |
| --- | --- | --- | --- |
| Maternal_Race_And_Hispanic_Origin | Race of mother and its Hispanic origin. | string | required : 1 |
| Year | Year of statistics | date | required : 1 |
| Infant_Deaths_Per_Thousand_Live_Births | Infant (under 1 year) deaths per 1000 live births for concerned race. | number | level : Ratio |
| Neonatal_Deaths_Per_Thousand_Live_Births | Neonatal (under 28 days) deaths per 1000 live births for concerned race. | number | level : Ratio |
| Postneonatal_Deaths_Per_Thousand_Live_Births | Postneonatal (between 28 days and 11 months) deaths per 1000 live births for concerned race. | number | level : Ratio |
| Fetal_Deaths_Per_Thousand_Live_Births | Fetal (20 weeks of gestation or more) deaths per 1000 live births plus fetal deaths for concerned race. | number | level : Ratio |
| Late_Fetal_Deaths_Per_Thousand_Live_Births | Late fetal (28 weeks of gestation or more) deaths per 1000 live births plus late fetal deaths for concerned race. | number | level : Ratio |
| Perinatal_Deaths_Per_Thousand_Live_Births | Late fetal deaths (28 weeks of gestation or more) plus infant under 7 days deaths per 1000 live births plus late fetal deaths for concerned race. | number | level : Ratio |
Data Preview
| | | | | | | | |
| --- | --- | --- | --- | --- | --- | --- | --- |
| Maternal Race And Hispanic Origin | Year | Infant Deaths Per Thousand Live Births | Neonatal Deaths Per Thousand Live Births | Postneonatal Deaths Per Thousand Live Births | Fetal Deaths Per Thousand Live Births | Late Fetal Deaths Per Thousand Live Births | Perinatal Deaths Per Thousand Live Births |
| All mothers | 1983 | 10.9 | 7.1 | 3.8 | | | |
| White | 1983 | 9.3 | 6.1 | 3.2 | | | |
| Black or African American | 1983 | 19.2 | 12.5 | 6.7 | | | |
| American Indian or Alaska Native | 1983 | 15.2 | 7.5 | 7.7 | | | |
| Asian or Pacific Islander | 1983 | 8.3 | 5.2 | 3.1 | | | |
| Hispanic or Latina | 1983 | 9.5 | 6.2 | 3.3 | | | |
| Hispanic or Latina: Mexican | 1983 | 9.1 | 5.9 | 3.2 | | | |
| Hispanic or Latina: Puerto Rican | 1983 | 12.9 | 8.7 | 4.2 | | | |
| Hispanic or Latina: Cuban | 1983 | 7.5 | 5.0 | 2.5 | | | |
| Hispanic or Latina: Central and South American | 1983 | 8.5 | 5.8 | 2.6 | | | |