Others titles
Psychiatric Hospital Compare Data by Facility
Inpatient Hospital Quality Measures
CMS Quality Measures Data
IPQRF Program Quality Measures
Inpatient Psychiatric Hospital Facility Quality Measures
Inpatient Psychiatric Hospital Facility Quality Reporting Program
Keywords
Quality Reporting Programs
Quality Reporting Payments
Quality of Care Information
Eligible Psychiatric Hospitals
Psychiatric Hospital
Psychiatric Services
CMS Hospital Compare
Psychiatric Hospital Facilities
Inpatient Psychiatric Hospital Facility Quality Measures by State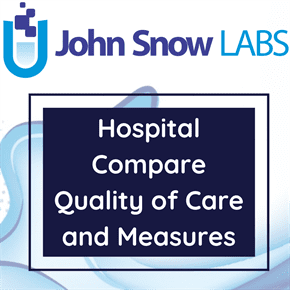 This dataset includes Psychiatric facilities that are eligible for the Inpatient Psychiatric Facility Quality Reporting (IPFQR) program are required to meet all program requirements, otherwise their Medicare payments may be reduced. It contains state-wise data for the hospitals in United States for several inpatient psychiatric facility quality measures.
Log in to download
Complexity
Get The Data
For getting access to data download links please read and accept the end-user license agreement.
Your Data License
Research

Non-Commercial, Share-Alike, Attribution

Free Forever

Commercial

Commercial Use, Remix & Adapt, White Label Log in to download
Description
The Inpatient Psychiatric Facility Quality Reporting (IPFQR) program is being developed as mandated by section 1886(s)(4) of the Social Security Act (SSA), as added and amended by Sections 3401(f) and 10322(a) of the Affordable Care Act (Pub.L. 111-148). The IPFQR program is a pay-for-reporting program intended to equip consumers with quality of care information to make more informed decisions about healthcare options. It is also intended to encourage hospitals and clinicians to improve the quality of inpatient care provided to beneficiaries by, first, ensuring that providers are aware of and reporting on best practices for their respective facilities and type of care. Because this is a pay-for-reporting program, facilities will be subject to payment reduction for non-participation. Eligible hospitals that do not participate in the IPFQR program in a fiscal year will receive a 2.0 percentage point reduction to their annual update to their standard federal rate for that year. The reduction is noncumulative across payment years.
The IPFQR program requires facilities to submit data for specific inpatient psychiatric clinical process measures. These quality measures will be announced no later than October 1, 2012. To meet the IPFQR program requirement, Inpatient Psychiatric Facilities (IPFs) will be required to submit all quality measures in the form, manner, and time as specified by the Secretary, to the Centers for Medicare & Medicaid Services (CMS), beginning with Fiscal Year (FY) 2014 payment determination year and subsequent fiscal years. Participating IPFs must comply with the program requirements, which will be set forth through rule-making, including public reporting of the measure rates.
About this Dataset
Data Info
| | |
| --- | --- |
| Date Created | 2014-01-28 |
| Last Modified | 2023-07-05 |
| Version | 2023-07-05 |
| Update Frequency | Quarterly |
| Temporal Coverage | 2014-2022 |
| Spatial Coverage | United States |
| Source | John Snow Labs; Centers for Medicare & Medicaid Services; |
| Source License URL | |
| Source License Requirements | N/A |
| Source Citation | N/A |
| Keywords | Quality Reporting Programs, Quality Reporting Payments, Quality of Care Information, Eligible Psychiatric Hospitals, Psychiatric Hospital, Psychiatric Services, CMS Hospital Compare, Psychiatric Hospital Facilities |
| Other Titles | Psychiatric Hospital Compare Data by Facility, Inpatient Hospital Quality Measures, CMS Quality Measures Data, IPQRF Program Quality Measures, Inpatient Psychiatric Hospital Facility Quality Measures, Inpatient Psychiatric Hospital Facility Quality Reporting Program |
Data Fields
| Name | Description | Type | Constraints |
| --- | --- | --- | --- |
| State_Abbreviation | Two-letter state abbreviation in the mailing address of the hospital. This includes information on hospitals in: | string | - |
| State_HBIPS2_Measure_Description | Description of State-wise Hospital Based Inpatient Psychiatric Services Core Measure Set. HBIPS2 is described as Hours of Physical Restraint Use. Total hours all patients spent in physical restraint as a proportion of total inpatient hours. | string | - |
| State_HBIPS2_Overall_Rate_Per_1000 | Indicates the overall rate per 1000 for HBIPS2 Measure. | number | level : Ratio |
| State_HBIPS2_Overall_Numerator | Indicates the overall Numerator value for HBIPS2 Measure. | number | level : Ratio |
| State_HBIPS2_Overall_Denominator | Indicates the overall Denominator value for HBIPS2 Measure. | integer | level : Ratio |
| State_HBIPS3_Measure_Description | Description of State-wise Hospital Based Inpatient Psychiatric Services Core Measure Set. HBIPS3 is described as Hours of Seclusion Use. Total hours all patients spent in seclusion as a proportion of total inpatient hours. | string | - |
| State_HBIPS3_Overall_Rate_Per_1000 | Indicates the overall rate per 1000 for HBIPS3 Measure. | number | level : Ratio |
| State_HBIPS3_Overall_Numerator | Indicates the overall Numerator value for HBIPS3 Measure. | number | level : Ratio |
| State_HBIPS3_Overall_Denominator | Indicates the overall Denominator value for HBIPS3 Measure. | integer | level : Ratio |
| State_HBIPS5_Measure_Description | Description of State-wise Hospital Based Inpatient Psychiatric Services Core Measure Set. HBIPS5 is described as Patients discharged on multiple antipsychotic medications with appropriate justification.Percent of patients discharged on multiple antipsychotic medications with appropriate justification as a proportion of patients discharged on two or more antipsychotic medications. Appropriate justifications are limited to augmentation of clozapine, tapering to monotherapy, and history of at least three failed trials of monotherapy. | string | - |
| State_HBIPS5_Percent_of_Total | Indicates the overall percentage for HBIPS5 Measure. | number | level : Ratio |
| State_SMD_Measure_Description | Description of Screening for Screening for Metabolic Disorders (SMD) Measure. | string | - |
| State_SMD_Percent_Total | Indicates the overall percentage for Screening for Metabolic Disorders (SMD) Measure. | integer | level : Ratio |
| State_SUB2_2a_Measure_Description | Description of State-wise Substance Use Treatment Measure. It is described as Alcohol Use Brief Intervention Provided or Offered. | string | - |
| State_SUB2_Percent | Indicates the overall percentage for SUB2 Measure. | number | level : Ratio |
| State_SUB2a_Percent | Indicates the overall percentage for SUB2a Measure. | number | level : Ratio |
| State_SUB3_3a_Measure_Description | Description of State-wise Substance Use Treatment Measure. SUB3 3a is described as use of Alcohol and other Drug Use Disorder Treatment Provided or Offered at Discharge. | string | - |
| State_SUB3_Percent | Indicates the overall percentage for SUB3 Measure. | integer | level : Ratio |
| State_SUB3a_Percent | Indicates the overall percentage for SUB3a Measure. | integer | level : Ratio |
| State_TOB2_2a_Measure_Description | Description of State-wise Substance Use Treatment Measure. It is described as Tobacco Use Treatment during the hospital stay. | string | - |
| State_TOB2_Percent | Indicates the overall percentage for TOB2 Measure. | number | level : Ratio |
| State_TOB2a_Percent | Indicates the overall percentage for TOB2a Measure. | number | level : Ratio |
| State_TOB3_3a_Measure_Description | Description of State-wise Substance Use Treatment Measure. It is described as Tobacco Use Treatment Provided or Offered at Discharge. | string | - |
| State_TOB3_Percent | Indicates the overall percentage for TOB3 Measure. | number | level : Ratio |
| State_TOB3a_Percent | Indicates the overall percentage for TOB3a Measure. | number | level : Ratio |
| State_TR1_Measure_Description | Description of Transition record with specified elements received by discharged patients (TR1). | string | - |
| State_TR1_Percent | Indicates the percentage of Transition Record with specified elements (TR1) Measure. | integer | level : Ratio |
| State_TR2_Measure_Description | Description of Timely Transmission of transition record (TR2) Measure. | string | - |
| State_TR2_Percent | Indicates the percentage of Timely Transmission of transition record (TR2) Measure. | integer | level : Ratio |
| Start_Date | The first day the data measures was collected. The date format is YYYY-MM-DD. | date | - |
| End_Date | The last day the data measures was collected. The date format is YYYY-MM-DD. | date | - |
| State_FUH_Measure_Description | Description of Follow-Up After Hospitalization (FUH) Measure. FUH for Mental Illness measures the percentage of discharged patients age 6 years or older who had an outpatient visit, an intensive outpatient encounter, or a partial hospitalization with a mental health practitioner, within 7 days and 30 days of discharge. CMS will calculate these measures based on Medicare claims data. | string | - |
| State_FUH30_Percent | Indicates the percent for Follow-up after Hospitalization (FUH) for Mental Illness of 30-Days. | number | level : Ratio |
| State_FUH7_Percent | Indicates the percent for Follow-up after Hospitalization (FUH) for Mental Illness of 7-Days. | number | level : Ratio |
| State_FUH_Measure_Start_Date | The first day the data regarding Follow-Up After Hospitalization (FUH) Measure was collected. The date format is YYYY-MM-DD. | date | - |
| State_FUH_Measure_End_Date | The last day the data regarding Follow-Up After Hospitalization (FUH) Measure was collected. The date format is YYYY-MM-DD. | date | - |
| State_MedCont_Measure_Description | It is described as Medication Continuation Following Inpatient Psychiatric Discharge. | string | - |
| State_MedCont_Percent | Indicates the overall percentage for MedCon Measure. | number | level : Ratio |
| State_MedCont_Measure_Start_Date | The first day the data regarding MedCont measures was collected. The date format is YYYY-MM-DD. | date | - |
| State_MedCont_Measure_End_Date | The last day the data regarding MedCont measures was collected. The date format is YYYY-MM-DD. | date | - |
| State_READM30_IPF_Measure_Description | Description of Patients readmitted to any hospital within 30 days of discharge from the inpatient psychiatric facility (READM-30-IPF). | string | - |
| State_READM30_IPF_Number_IPFs_Worse | Indicates the number of IPFs worse for rate of readmission after 30 days of discharge from hospital. | integer | level : Ratio |
| State_READM30_IPF_Number_IPFs_Same | Indicates the Same number of IPFs for rate of readmission after 30 days of discharge from hospital. | integer | level : Ratio |
| State_READM30_IPF_Number_IPFs_Better | Indicates the number of IPFs Better for rate of readmission after 30 days of discharge from hospital. | integer | level : Ratio |
| State_READM30_IPF_Number_IPFs_Too_Few | Indicates the number of IPFs Too Few for rate of readmission after 30 days of discharge from hospital. | integer | level : Ratio |
| State_READM30_IPF_Start_Date | The first day the data regarding READM30 IPF Measure was collected. The date format is YYYY-MM-DD. | date | - |
| State_READM30_IPF_End_Date | The last day the data regarding READM30 IPF Measure was collected. The date format is YYYY-MM-DD. | date | - |
| State_IMM2_Measure_Description | Indicates the description of State-wise Influenza Immunization Measure. | string | - |
| State_IMM2_Percent | Indicates the overall percentage for IMM2 Measure. | number | level : Ratio |
| Flu_Season_Start_Date | The first day the data regarding Flu Measure was collected. The date format is YYYY-MM-DD. | date | - |
| Flu_Season_End_Date | The last day the data regarding Flu Measure was collected. The date format is YYYY-MM-DD. | date | - |
| State_IPFQR_HCP_COVID19_Measure_Description | It describes inpatient psychiatric hospital facility quality measures percentage of healthcare personnel who completed COVID-19 primary vaccination series (IPFQR-HCP COVID-19). | string | - |
| State_IPFQR_HCP_COVID19_Percent | Indicates the overall percentage for IPFQR HCP COVID19 Measure. | number | level : Ratio |
| State_IPFQR_HCP_COVID19_Start_Date | The first day the data regarding IPFQR HCP COVID19 Measure was collected. The date format is YYYY-MM-DD. | date | - |
| State_IPFQR_HCP_COVID19_End_Date | The last day the data regarding IPFQR HCP COVID19 Measure was collected. The date format is YYYY-MM-DD. | date | - |
Data Preview
| | | | | | | | | | | | | | | | | | | | | | | | | | | | | | | | | | | | | | | | | | | | | | | | | | | | | | | |
| --- | --- | --- | --- | --- | --- | --- | --- | --- | --- | --- | --- | --- | --- | --- | --- | --- | --- | --- | --- | --- | --- | --- | --- | --- | --- | --- | --- | --- | --- | --- | --- | --- | --- | --- | --- | --- | --- | --- | --- | --- | --- | --- | --- | --- | --- | --- | --- | --- | --- | --- | --- | --- | --- | --- |
| State Abbreviation | State HBIPS2 Measure Description | State HBIPS2 Overall Rate Per 1000 | State HBIPS2 Overall Numerator | State HBIPS2 Overall Denominator | State HBIPS3 Measure Description | State HBIPS3 Overall Rate Per 1000 | State HBIPS3 Overall Numerator | State HBIPS3 Overall Denominator | State HBIPS5 Measure Description | State HBIPS5 Percent of Total | State SMD Measure Description | State SMD Percent Total | State SUB2 2a Measure Description | State SUB2 Percent | State SUB2a Percent | State SUB3 3a Measure Description | State SUB3 Percent | State SUB3a Percent | State TOB2 2a Measure Description | State TOB2 Percent | State TOB2a Percent | State TOB3 3a Measure Description | State TOB3 Percent | State TOB3a Percent | State TR1 Measure Description | State TR1 Percent | State TR2 Measure Description | State TR2 Percent | Start Date | End Date | State FUH Measure Description | State FUH30 Percent | State FUH7 Percent | State FUH Measure Start Date | State FUH Measure End Date | State MedCont Measure Description | State MedCont Percent | State MedCont Measure Start Date | State MedCont Measure End Date | State READM30 IPF Measure Description | State READM30 IPF Number IPFs Worse | State READM30 IPF Number IPFs Same | State READM30 IPF Number IPFs Better | State READM30 IPF Number IPFs Too Few | State READM30 IPF Start Date | State READM30 IPF End Date | State IMM2 Measure Description | State IMM2 Percent | Flu Season Start Date | Flu Season End Date | State IPFQR HCP COVID19 Measure Description | State IPFQR HCP COVID19 Percent | State IPFQR HCP COVID19 Start Date | State IPFQR HCP COVID19 End Date |
| AK | Hours of physical-restraint use | 0.09 | 110.19 | 48414 | Hours of seclusion use | 0.25 | 289.07 | 48414 | Patients discharged on multiple antipsychotic medications with appropriate justification | 82 | Screening for metabolic disorders (SMD) | 30 | Alcohol use brief intervention provided or offered | 98 | 95 | Alcohol and other drug use disorder treatment provided or offered at discharge | 50 | 20 | Tobacco use treatment provided or offered | 93 | 28 | Tobacco use treatment provided or offered at discharge | 51 | 9 | Transition record with specified elements received by discharged patients (TR1) | 38 | Timely transmission of transition record (TR2) | 28 | 2021-01-01 | 2021-12-31 | Percent of patients receiving follow-up care within 30 days (FUH-30) or within 7 days (FUH-7) after hospitalization for mental illness | 39.4 | 22.7 | 2020-07-01 | 2021-06-30 | Medication Continuation Following Inpatient Psychiatric Discharge | 66.7 | 2019-07-01 | 2021-06-30 | Patients readmitted to any hospital within 30 days of discharge from the inpatient psychiatric facility (READM-30-IPF) | 0 | 1 | 1 | 1 | 2019-07-01 | 2021-06-30 | Influenza immunization (IPFQR-IMM-2) | 64 | 2021-10-01 | 2022-03-31 | Percentage of healthcare personnel who completed COVID-19 primary vaccination series (IPFQR-HCP COVID-19) | 90.0 | 2022-07-01 | 2022-09-30 |
| AL | Hours of physical-restraint use | 0.16 | 1480.15 | 383337 | Hours of seclusion use | 0.18 | 1610.79 | 383337 | Patients discharged on multiple antipsychotic medications with appropriate justification | 50 | Screening for metabolic disorders (SMD) | 83 | Alcohol use brief intervention provided or offered | 56 | 79 | Alcohol and other drug use disorder treatment provided or offered at discharge | 59 | 52 | Tobacco use treatment provided or offered | 71 | 41 | Tobacco use treatment provided or offered at discharge | 58 | 19 | Transition record with specified elements received by discharged patients (TR1) | 68 | Timely transmission of transition record (TR2) | 64 | 2021-01-01 | 2021-12-31 | Percent of patients receiving follow-up care within 30 days (FUH-30) or within 7 days (FUH-7) after hospitalization for mental illness | 42.8 | 18.7 | 2020-07-01 | 2021-06-30 | Medication Continuation Following Inpatient Psychiatric Discharge | 71.6 | 2019-07-01 | 2021-06-30 | Patients readmitted to any hospital within 30 days of discharge from the inpatient psychiatric facility (READM-30-IPF) | 0 | 36 | 0 | 4 | 2019-07-01 | 2021-06-30 | Influenza immunization (IPFQR-IMM-2) | 79 | 2021-10-01 | 2022-03-31 | Percentage of healthcare personnel who completed COVID-19 primary vaccination series (IPFQR-HCP COVID-19) | 86.4 | 2022-07-01 | 2022-09-30 |
| AR | Hours of physical-restraint use | 0.07 | 529.16 | 300256 | Hours of seclusion use | 0.1 | 703.8 | 300256 | Patients discharged on multiple antipsychotic medications with appropriate justification | 43 | Screening for metabolic disorders (SMD) | 84 | Alcohol use brief intervention provided or offered | 46 | 50 | Alcohol and other drug use disorder treatment provided or offered at discharge | 50 | 40 | Tobacco use treatment provided or offered | 85 | 41 | Tobacco use treatment provided or offered at discharge | 72 | 19 | Transition record with specified elements received by discharged patients (TR1) | 74 | Timely transmission of transition record (TR2) | 65 | 2021-01-01 | 2021-12-31 | Percent of patients receiving follow-up care within 30 days (FUH-30) or within 7 days (FUH-7) after hospitalization for mental illness | 53.0 | 27.3 | 2020-07-01 | 2021-06-30 | Medication Continuation Following Inpatient Psychiatric Discharge | 78.4 | 2019-07-01 | 2021-06-30 | Patients readmitted to any hospital within 30 days of discharge from the inpatient psychiatric facility (READM-30-IPF) | 2 | 30 | 0 | 1 | 2019-07-01 | 2021-06-30 | Influenza immunization (IPFQR-IMM-2) | 75 | 2021-10-01 | 2022-03-31 | Percentage of healthcare personnel who completed COVID-19 primary vaccination series (IPFQR-HCP COVID-19) | 89.3 | 2022-07-01 | 2022-09-30 |
| AZ | Hours of physical-restraint use | 0.23 | 4216.92 | 762334 | Hours of seclusion use | 0.12 | 2255.06 | 762334 | Patients discharged on multiple antipsychotic medications with appropriate justification | 45 | Screening for metabolic disorders (SMD) | 72 | Alcohol use brief intervention provided or offered | 69 | 75 | Alcohol and other drug use disorder treatment provided or offered at discharge | 80 | 70 | Tobacco use treatment provided or offered | 73 | 33 | Tobacco use treatment provided or offered at discharge | 62 | 14 | Transition record with specified elements received by discharged patients (TR1) | 68 | Timely transmission of transition record (TR2) | 58 | 2021-01-01 | 2021-12-31 | Percent of patients receiving follow-up care within 30 days (FUH-30) or within 7 days (FUH-7) after hospitalization for mental illness | 61.7 | 43.3 | 2020-07-01 | 2021-06-30 | Medication Continuation Following Inpatient Psychiatric Discharge | 74.8 | 2019-07-01 | 2021-06-30 | Patients readmitted to any hospital within 30 days of discharge from the inpatient psychiatric facility (READM-30-IPF) | 0 | 32 | 1 | 1 | 2019-07-01 | 2021-06-30 | Influenza immunization (IPFQR-IMM-2) | 75 | 2021-10-01 | 2022-03-31 | Percentage of healthcare personnel who completed COVID-19 primary vaccination series (IPFQR-HCP COVID-19) | 85.3 | 2022-07-01 | 2022-09-30 |
| CA | Hours of physical-restraint use | 0.76 | 35239.69 | 1920186 | Hours of seclusion use | 0.53 | 24501.89 | 1920186 | Patients discharged on multiple antipsychotic medications with appropriate justification | 56 | Screening for metabolic disorders (SMD) | 81 | Alcohol use brief intervention provided or offered | 64 | 76 | Alcohol and other drug use disorder treatment provided or offered at discharge | 69 | 60 | Tobacco use treatment provided or offered | 60 | 33 | Tobacco use treatment provided or offered at discharge | 47 | 13 | Transition record with specified elements received by discharged patients (TR1) | 72 | Timely transmission of transition record (TR2) | 60 | 2021-01-01 | 2021-12-31 | Percent of patients receiving follow-up care within 30 days (FUH-30) or within 7 days (FUH-7) after hospitalization for mental illness | 42.2 | 23.7 | 2020-07-01 | 2021-06-30 | Medication Continuation Following Inpatient Psychiatric Discharge | 71.5 | 2019-07-01 | 2021-06-30 | Patients readmitted to any hospital within 30 days of discharge from the inpatient psychiatric facility (READM-30-IPF) | 10 | 78 | 2 | 3 | 2019-07-01 | 2021-06-30 | Influenza immunization (IPFQR-IMM-2) | 78 | 2021-10-01 | 2022-03-31 | Percentage of healthcare personnel who completed COVID-19 primary vaccination series (IPFQR-HCP COVID-19) | 94.5 | 2022-07-01 | 2022-09-30 |
| CO | Hours of physical-restraint use | 0.2 | 1865.25 | 383455 | Hours of seclusion use | 0.33 | 3076.96 | 383455 | Patients discharged on multiple antipsychotic medications with appropriate justification | 69 | Screening for metabolic disorders (SMD) | 80 | Alcohol use brief intervention provided or offered | 84 | 85 | Alcohol and other drug use disorder treatment provided or offered at discharge | 85 | 80 | Tobacco use treatment provided or offered | 83 | 49 | Tobacco use treatment provided or offered at discharge | 47 | 20 | Transition record with specified elements received by discharged patients (TR1) | 72 | Timely transmission of transition record (TR2) | 62 | 2021-01-01 | 2021-12-31 | Percent of patients receiving follow-up care within 30 days (FUH-30) or within 7 days (FUH-7) after hospitalization for mental illness | 52.8 | 27.8 | 2020-07-01 | 2021-06-30 | Medication Continuation Following Inpatient Psychiatric Discharge | 67.2 | 2019-07-01 | 2021-06-30 | Patients readmitted to any hospital within 30 days of discharge from the inpatient psychiatric facility (READM-30-IPF) | 0 | 15 | 1 | 2 | 2019-07-01 | 2021-06-30 | Influenza immunization (IPFQR-IMM-2) | 65 | 2021-10-01 | 2022-03-31 | Percentage of healthcare personnel who completed COVID-19 primary vaccination series (IPFQR-HCP COVID-19) | 95.8 | 2022-07-01 | 2022-09-30 |
| CT | Hours of physical-restraint use | 1.16 | 9957.2 | 356676 | Hours of seclusion use | 0.32 | 2702.93 | 356676 | Patients discharged on multiple antipsychotic medications with appropriate justification | 69 | Screening for metabolic disorders (SMD) | 80 | Alcohol use brief intervention provided or offered | 79 | 81 | Alcohol and other drug use disorder treatment provided or offered at discharge | 83 | 79 | Tobacco use treatment provided or offered | 72 | 58 | Tobacco use treatment provided or offered at discharge | 53 | 35 | Transition record with specified elements received by discharged patients (TR1) | 43 | Timely transmission of transition record (TR2) | 40 | 2021-01-01 | 2021-12-31 | Percent of patients receiving follow-up care within 30 days (FUH-30) or within 7 days (FUH-7) after hospitalization for mental illness | 61.6 | 38.7 | 2020-07-01 | 2021-06-30 | Medication Continuation Following Inpatient Psychiatric Discharge | 78.2 | 2019-07-01 | 2021-06-30 | Patients readmitted to any hospital within 30 days of discharge from the inpatient psychiatric facility (READM-30-IPF) | 0 | 24 | 0 | 2 | 2019-07-01 | 2021-06-30 | Influenza immunization (IPFQR-IMM-2) | 71 | 2021-10-01 | 2022-03-31 | Percentage of healthcare personnel who completed COVID-19 primary vaccination series (IPFQR-HCP COVID-19) | 97.5 | 2022-07-01 | 2022-09-30 |
| DC | Hours of physical-restraint use | 0.11 | 337.3 | 132971 | Hours of seclusion use | 0.08 | 263.14 | 132971 | Patients discharged on multiple antipsychotic medications with appropriate justification | 36 | Screening for metabolic disorders (SMD) | 74 | Alcohol use brief intervention provided or offered | 40 | 55 | Alcohol and other drug use disorder treatment provided or offered at discharge | 68 | 46 | Tobacco use treatment provided or offered | 53 | 30 | Tobacco use treatment provided or offered at discharge | 49 | 14 | Transition record with specified elements received by discharged patients (TR1) | 48 | Timely transmission of transition record (TR2) | 38 | 2021-01-01 | 2021-12-31 | Percent of patients receiving follow-up care within 30 days (FUH-30) or within 7 days (FUH-7) after hospitalization for mental illness | 28.9 | 15.9 | 2020-07-01 | 2021-06-30 | Medication Continuation Following Inpatient Psychiatric Discharge | 63.7 | 2019-07-01 | 2021-06-30 | Patients readmitted to any hospital within 30 days of discharge from the inpatient psychiatric facility (READM-30-IPF) | 0 | 4 | 0 | 1 | 2019-07-01 | 2021-06-30 | Influenza immunization (IPFQR-IMM-2) | 89 | 2021-10-01 | 2022-03-31 | Percentage of healthcare personnel who completed COVID-19 primary vaccination series (IPFQR-HCP COVID-19) | 98.7 | 2022-07-01 | 2022-09-30 |
| DE | Hours of physical-restraint use | 0.06 | 231.8 | 164858 | Hours of seclusion use | 0.04 | 170.35 | 164858 | Patients discharged on multiple antipsychotic medications with appropriate justification | 63 | Screening for metabolic disorders (SMD) | 80 | Alcohol use brief intervention provided or offered | 81 | 88 | Alcohol and other drug use disorder treatment provided or offered at discharge | 86 | 80 | Tobacco use treatment provided or offered | 89 | 47 | Tobacco use treatment provided or offered at discharge | 60 | 9 | Transition record with specified elements received by discharged patients (TR1) | 63 | Timely transmission of transition record (TR2) | 53 | 2021-01-01 | 2021-12-31 | Percent of patients receiving follow-up care within 30 days (FUH-30) or within 7 days (FUH-7) after hospitalization for mental illness | 51.6 | 31.0 | 2020-07-01 | 2021-06-30 | Medication Continuation Following Inpatient Psychiatric Discharge | 74.3 | 2019-07-01 | 2021-06-30 | Patients readmitted to any hospital within 30 days of discharge from the inpatient psychiatric facility (READM-30-IPF) | 0 | 5 | 0 | 0 | 2019-07-01 | 2021-06-30 | Influenza immunization (IPFQR-IMM-2) | 56 | 2021-10-01 | 2022-03-31 | Percentage of healthcare personnel who completed COVID-19 primary vaccination series (IPFQR-HCP COVID-19) | 94.8 | 2022-07-01 | 2022-09-30 |
| FL | Hours of physical-restraint use | 1.13 | 31178.7 | 1150958 | Hours of seclusion use | 0.12 | 3189.02 | 1150958 | Patients discharged on multiple antipsychotic medications with appropriate justification | 64 | Screening for metabolic disorders (SMD) | 77 | Alcohol use brief intervention provided or offered | 80 | 80 | Alcohol and other drug use disorder treatment provided or offered at discharge | 81 | 72 | Tobacco use treatment provided or offered | 73 | 38 | Tobacco use treatment provided or offered at discharge | 58 | 26 | Transition record with specified elements received by discharged patients (TR1) | 52 | Timely transmission of transition record (TR2) | 47 | 2021-01-01 | 2021-12-31 | Percent of patients receiving follow-up care within 30 days (FUH-30) or within 7 days (FUH-7) after hospitalization for mental illness | 45.0 | 23.7 | 2020-07-01 | 2021-06-30 | Medication Continuation Following Inpatient Psychiatric Discharge | 64.4 | 2019-07-01 | 2021-06-30 | Patients readmitted to any hospital within 30 days of discharge from the inpatient psychiatric facility (READM-30-IPF) | 23 | 45 | 0 | 1 | 2019-07-01 | 2021-06-30 | Influenza immunization (IPFQR-IMM-2) | 76 | 2021-10-01 | 2022-03-31 | Percentage of healthcare personnel who completed COVID-19 primary vaccination series (IPFQR-HCP COVID-19) | 81.5 | 2022-07-01 | 2022-09-30 |