Others titles
Health Insurance Portability and Accountability Act (HIPAA) standard electronic transactions
Medicare appropriate Claim Status Category Codes
General explanation of claim status codes
General category of Claim Status Category Codes
Claims Adjudication and Claim Status Category Codes
Disposition Codes and Claim Status Category Codes
Keywords
Claim status category codes
CSCC
ASC X12 External Code Source 507
Claims Adjudication
Disposition Codes
Health Care Claim Status Category Codes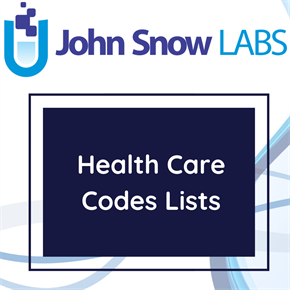 This dataset explains the Claim Status Category Codes that indicate the general category of the status (accepted, rejected, additional information requested, etc.) which is further detailed in the Claim Status Codes.
Log in to download
Complexity
Get The Data
For getting access to data download links please read and accept the end-user license agreement.
Your Data License
Research

Non-Commercial, Share-Alike, Attribution

Free Forever

Commercial

Commercial Use, Remix & Adapt, White Label Log in to download
Description
The HIPAA or Health Insurance Portability and Accountability Act of 1996, instructs medical healthcare plans to use the standard electronic transactions adopted under this agency by using the following valid standard codes.
Medicare policy requires that Claim Status Category Codes should provide a general description of each claim. If a detailed explanation is required, the Claim Status Codes will be referenced for further information on the status of a claim.
The Centers for Medicare & Medicaid Services (CMS) maintain and annually update a List of Current Procedural Terminology (CPT) / Healthcare Common Procedure Coding System (HCPCS) Codes (Code List), which identifies all the items and services included within certain DHS categories. CMS updates the Code List to conform the list to the most recent publications of CPT and HCPCS and to account for changes in Medicare coverage and payment policies. The updated Code List is published in the Federal Register as an addendum to the annual Physician Fee Schedule final rule. That rule is usually published in November and generally becomes effective January 1 of the following year. In addition, we may publish other rules or correction notices that may change the Code List. CMS posts any changes to the Code List on its webpage as soon as possible after publication in the Federal Register.
The DHS categories defined by the Code List are:
– Clinical laboratory services;
– Physical therapy services, occupational therapy services, outpatient speech-language pathology services;
– Radiology and certain other imaging services; and
– Radiation therapy services and supplies.
**NOTE**: The following DHS categories are defined at 42 CFR §411.351 without reference to the Code List:
– Durable medical equipment and supplies;
– Parenteral and enteral nutrients, equipment and supplies;
– Prosthetics, orthotics, and prosthetic devices and supplies;
– Home health services;
– Outpatient prescription drugs; and
– Inpatient and outpatient hospital services.
About this Dataset
Data Info
| | |
| --- | --- |
| Date Created | 1995 |
| Last Modified | 2020-03-01 |
| Version | 2020-03-01 |
| Update Frequency | Irregular |
| Temporal Coverage | 1995-2019 |
| Spatial Coverage | United States |
| Source | John Snow Labs; Centers for Medicare and Medicaid Services; |
| Source License URL | |
| Source License Requirements | N/A |
| Source Citation | N/A |
| Keywords | Claim status category codes, CSCC, ASC X12 External Code Source 507, Claims Adjudication, Disposition Codes |
| Other Titles | Health Insurance Portability and Accountability Act (HIPAA) standard electronic transactions, Medicare appropriate Claim Status Category Codes, General explanation of claim status codes, General category of Claim Status Category Codes, Claims Adjudication and Claim Status Category Codes, Disposition Codes and Claim Status Category Codes |
Data Fields
| Name | Description | Type | Constraints |
| --- | --- | --- | --- |
| Code | Claim Status Category Codes | string | required : 1unique : 1 |
| Description | Description for each Claim Status Category Code | string | required : 1 |
| Category | Category of the Claim Status Category Codes | string | required : 1 |
| Start_Date | Date the Claim Status Category Code started usage | date | required : 1 |
| Last_Modified | Date the Claim Status Category Code was changed/modified | date | - |
| Stop_Date | Date the Claim Status Category Code was deactivated/stopped | date | - |
| Status | Code update whether Active, To be Deactivated or Deactivated | string | required : 1 |
| Notes | Explanation to redundant and/or replacement Claim Status Category Code | string | - |
Data Preview
| | | | | | | | |
| --- | --- | --- | --- | --- | --- | --- | --- |
| Code | Description | Category | Start Date | Last Modified | Stop Date | Status | Notes |
| X0 | Supplemental Messages | Supplemental | 1995-01-01 | | 2003-10-16 | Deactivated | |
| A0 | Acknowledgement/Forwarded-The claim/encounter has been forwarded to another entity. | Acknowledgements | 1995-01-01 | | | Active | |
| A1 | Acknowledgement/Receipt-The claim/encounter has been received. This does not mean that the claim has been accepted for adjudication. | Acknowledgements | 1995-01-01 | | | Active | |
| A2 | Acknowledgement/Acceptance into adjudication system-The claim/encounter has been accepted into the adjudication system. | Acknowledgements | 1995-01-01 | | | Active | |
| A3 | Acknowledgement/Returned as unprocessable claim-The claim/encounter has been rejected and has not been entered into the adjudication system. | Acknowledgements | 1995-01-01 | | | Active | |
| A4 | Acknowledgement/Not Found-The claim/encounter can not be found in the adjudication system. | Acknowledgements | 1995-01-01 | | | Active | |
| A5 | Acknowledgement/Split Claim-The claim/encounter has been split upon acceptance into the adjudication system. | Acknowledgements | 2002-02-28 | | | Active | |
| A6 | Acknowledgement/Rejected for Missing Information - The claim/encounter is missing the information specified in the Status details and has been rejected. | Acknowledgements | 2002-10-31 | | | Active | |
| A7 | Acknowledgement/Rejected for Invalid Information - The claim/encounter has invalid information as specified in the Status details and has been rejected. | Acknowledgements | 2002-10-31 | | | Active | |
| A8 | Acknowledgement / Rejected for relational field in error. | Acknowledgements | 2004-10-31 | | | Active | |