Others titles
Liquor Authority Quarterly List of Active Permits
List of Active Permits by New York State Liquor Authority
Active Permits List by State Liquor Authority
Keywords
Alcohol Permits
SLA
Liquor authority
Alcohol Active Permits
Alcoholic Beverage Control
List of Active Permits Issued by Liquor Authority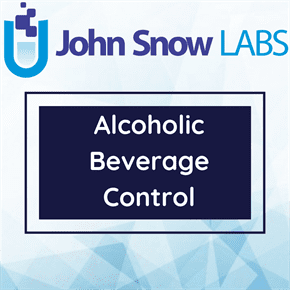 This dataset contains a list of all active permits issued by the State Liquor Authority (SLA). Permits in this dataset are issued for 1-3 year terms. The State Liquor Authority (SLA) regulates the manufacture and sale of alcoholic beverages.
Log in to download
Complexity
Get The Data
The data in CSV format

DOWNLOAD

Metadata in Human Readable format (PDF)

DOWNLOAD

Metadata in Machine Readable format (JSON)

DOWNLOAD
Your Data License
Research

Non-Commercial, Share-Alike, Attribution

Free Forever

Commercial

Commercial Use, Remix & Adapt, White Label Buy Subscription
Description
The SLA maintains offices in New York City, Albany (which serves as the agency headquarters), and Buffalo. The SLA's Licensing Bureau is responsible for the statewide processing of licenses, license renewals, permits and brand label registrations. All must be consistent with the Alcoholic Beverage Control Law. Base information corresponds to that provided, by applicants, on various permit applications. Processing time is contingent upon review within the Licensing Bureau.
Information is entered into the agency's workflow system as permits are received. Correlations could be made for different variables as a user of the data assesses the information. The dataset is straightforward and indicates the facts associated with each permit request.
About this Dataset
Data Info
| | |
| --- | --- |
| Date Created | 2015-03-04 |
| Last Modified | 2020-02-06 |
| Version | 2020-02-06 |
| Update Frequency | Quarterly |
| Temporal Coverage | N/A |
| Spatial Coverage | State of New York |
| Source | John Snow Labs; New York State Liquor Authority; |
| Source License URL | |
| Source License Requirements | N/A |
| Source Citation | N/A |
| Keywords | Alcohol Permits, SLA, Liquor authority, Alcohol Active Permits, Alcoholic Beverage Control |
| Other Titles | Liquor Authority Quarterly List of Active Permits, List of Active Permits by New York State Liquor Authority, Active Permits List by State Liquor Authority |
Data Fields
| Name | Description | Type | Constraints |
| --- | --- | --- | --- |
| Serial_Number | Unique Serial Number for the permitee | integer | level : Nominal |
| Agency_Zone_Office_Name | Agency Office responsible for the administration of the permit | string | - |
| Agency_Zone_Office_Number | Agency zone office number corresponds to local office. That is: 1=NYC, 2 = Albany, 3 = Buffalo | integer | level : Nominal |
| County | County where permit will reside | string | - |
| Type_Code | Alpha Code of permit type | string | - |
| Class_Code | Numeric code of permit type | integer | level : Nominal |
| Permit_Class_Description | Long description of permit type | string | - |
| Permit_Premises_Name | Permit premises name | string | - |
| Permit_Business_Name | Permit business name | string | - |
| Premises_Address | Premises physical address | string | - |
| Additional_Address_Information | Location specific information not included in Premises physical address | string | - |
| City | Premises city | string | - |
| State_Abbreviation | Premises state | string | - |
| Zip_Code | Premises zip code | integer | level : Nominal |
| Certificate_Number | Unique identifier on the permit certificate | integer | level : Nominal |
| Original_Issue_Date | Permit's first date of issuance | date | - |
| Effective_Date | Current Effective date of permit | date | - |
| Expiration_Date | Current Expiration Date of permit | date | - |
Data Preview
| | | | | | | | | | | | | | | | | | |
| --- | --- | --- | --- | --- | --- | --- | --- | --- | --- | --- | --- | --- | --- | --- | --- | --- | --- |
| Serial Number | Agency Zone Office Name | Agency Zone Office Number | County | Type Code | Class Code | Permit Class Description | Permit Premises Name | Permit Business Name | Premises Address | Additional Address Information | City | State Abbreviation | Zip Code | Certificate Number | Original Issue Date | Effective Date | Expiration Date |
| 1315836 | New York City | 1 | KINGS | FD | 618 | FARM BREWER BRANCH OFFICE | DALEVIEW LLC | DALEVIEW BREWERY, DALEVIEW BISCUITS & BEER | 1170 NOSTRAND AVE | STORE R | BROOKLYN | NY | 11225 | 558615 | 2019-03-08 | 2019-03-08 | 2020-02-28 |
| 2215767 | Albany | 2 | ALBANY | BE | 617 | ALCOHOLIC BEVERAGE EDUCATION | WHISKEY FOLKS LLC | | 111 GENESEE ST ,SUITE 302 | | BUFFALO | NY | 14203 | 559659 | 2019-03-12 | 2019-03-12 | 2020-02-28 |
| 2216147 | Albany | 2 | ALBANY | BE | 617 | ALCOHOLIC BEVERAGE EDUCATION | ZWILLING COOKING STUDIO LLC | | 270 MARBLE AVE | | PLEASANTVILLE | NY | 10570 | 559671 | 2019-03-27 | 2019-03-27 | 2020-02-28 |
| 1020070 | New York City | 1 | NEW YORK | AS | 620 | WINE / LIQUOR AUCTION | ACKER MERRALL & CONDIT CO INC | | 160 W 72ND STREET | | NEW YORK | NY | 10023 | 554282 | 2011-01-10 | 2019-03-01 | 2020-02-29 |
| 1103826 | New York City | 1 | NEW YORK | AS | 620 | WINE / LIQUOR AUCTION | 72ND AND YORK INC | SOTHEBY'S WINE | 1334 YORK AVE SUITE 190 | | NEW YORK | NY | 10021 | 554279 | | 2019-03-01 | 2020-02-29 |
| 2190496 | Albany | 2 | MADISON | FD | 618 | FARM BREWER BRANCH OFFICE | GOOD NATURE BREWING INC | | 8 BROAD ST | | HAMILTON | NY | 13346 | 554256 | 2013-05-09 | 2019-03-01 | 2020-02-29 |
| 2198629 | Albany | 2 | MADISON | FD | 618 | FARM BREWER BRANCH OFFICE | MORRISVILLE AUX OF STATE UNIV COLLEGE OF AGRI/TECH | NELSON FARMS | 3261 RTE 20 | | CAZENOVIA | NY | 13035 | 554272 | 2017-03-21 | 2019-03-01 | 2020-02-29 |
| 2210027 | Albany | 2 | ONONDAGA | FD | 618 | FARM BREWER BRANCH OFFICE | STOUT BEARD BREWING COMPANY LLC | | 126 DELL ST | | SYRACUSE | NY | 13210 | 554287 | 2018-02-01 | 2019-03-01 | 2020-02-29 |
| 1306710 | New York City | 1 | SUFFOLK | FD | 618 | FARM BREWER BRANCH OFFICE | EASTERN FRONT BREWING LLC | | 13100 MAIN RD | 472426875 | MATTITUCK | NY | 11952 | 554277 | 2018-03-02 | 2019-03-01 | 2020-02-29 |
| 3161856 | Buffalo | 3 | ERIE | FD | 618 | FARM BREWER BRANCH OFFICE | WNY BEER CLUB LLC | RUSTY NICKEL BREWING CO | 36 BROADWAY | | BUFFALO | NY | 14203 | 533066 | 2019-09-18 | 2019-09-18 | 2020-02-29 |