Others titles
Medical Device Establishment Registration
MD Establishment Registration
Keywords
Establishment Registration MD
Establishment Registration
MD Registration
Medical Device Establishments
MD Establishment Listing
Medical Device Registration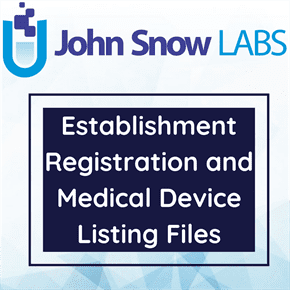 Detailed list of the types of device establishments that are required to register and pay the fee can be found in this dataset. This dataset also contains Medical Device Establishment Registration Information including registration keys and full addresses of establishments.
Log in to download
Complexity
Get The Data
For getting access to data download links please read and accept the end-user license agreement.
Your Data License
Research

Non-Commercial, Share-Alike, Attribution

Free Forever

Commercial

Commercial Use, Remix & Adapt, White Label Log in to download
Description
Most establishments that are required to register with the FDA are also required to list the devices that are made there and the activities that are performed on those devices. If a device requires premarket approval or notification before being marketed in the U.S., then the owner/operator should also provide the FDA premarket submission number (510(k), Premarket Approval (PMA), Product Development Protocol (PDP), Humanitarian Device Exemption (HDE)).
The amendments to the Medical Device User Fee Modernization Act require that after September 30th, 2007, all registration and listing information be submitted electronically, unless a waiver has been granted. The establishment registration fee is not eligible for a reduced small business fee.
Registration and listing provide FDA with the location of medical device establishments and the devices manufactured at those establishments. Knowing where devices are made increases the nation's ability to prepare for and respond to public health emergencies.
About this Dataset
Data Info
| | |
| --- | --- |
| Date Created | 2013 |
| Last Modified | 2023-11-27 |
| Version | 2023-11-27 |
| Update Frequency | Weekly |
| Temporal Coverage | N/A |
| Spatial Coverage | United States |
| Source | John Snow Labs; U.S. Food and Drug Administration (FDA); |
| Source License URL | |
| Source License Requirements | N/A |
| Source Citation | N/A |
| Keywords | Establishment Registration MD, Establishment Registration, MD Registration, Medical Device Establishments, MD Establishment Listing |
| Other Titles | Medical Device Establishment Registration, MD Establishment Registration |
Data Fields
| Name | Description | Type | Constraints |
| --- | --- | --- | --- |
| Registration_Key | Registration Key of the Establishment | integer | level : Nominalrequired : 1 |
| Registration_Number | Registration Number of the Establishment | integer | level : Nominal |
| FEI_Number | Facility Establishment Identifier Number | integer | level : Nominal |
| Registration_Status_ID | Registration status ID | integer | level : Nominalenum : Array ( [0] => 1 [1] => 5 ) |
| Is_Initial_Importer_Flag | Initial importer flag | boolean | - |
| Registration_Expiry_Date | Registration expiry year | date | - |
| Address_Type | Establishment Address type | string | enum : Array ( [0] => F [1] => U ) |
| Name | Name of the Establishment | string | - |
| Address_Line_1 | Address of the Establishment, 1st line | string | - |
| Address_Line_2 | Address of the Establishment, 2nd line | string | - |
| City | City of the Establishment | string | - |
| State_Abbreviation | State code of the Establishment | string | - |
| Iso_Country_Code | Country of the Establishment | string | required : 1 |
| Zip_Code | Zip code of the Establishment | string | - |
| Postal_Code | Postal code of the Establishment | string | - |
Data Preview
| | | | | | | | | | | | | | | |
| --- | --- | --- | --- | --- | --- | --- | --- | --- | --- | --- | --- | --- | --- | --- |
| Registration Key | Registration Number | FEI Number | Registration Status ID | Is Initial Importer Flag | Registration Expiry Date | Address Type | Name | Address Line 1 | Address Line 2 | City | State Abbreviation | Iso Country Code | Zip Code | Postal Code |
| 7542 | 9681199.0 | 3003999430.0 | 1 | False | 2024 | F | DEGUDENT GMBH | RODENBACHER CHAUSSEE 4 | | HANAU Hesse | | DE | | 63457 |
| 7542 | 9681199.0 | 3003999430.0 | 1 | False | 2024 | U | Eliane Schaefer | 221 West Philadelphia Street, Suite 60W | | York | PA | US | 17401.0 | |
| 7576 | 9681851.0 | 3002807009.0 | 1 | False | 2024 | U | Eliane Schaefer | 221 West Philadelphia Street, Suite 60W | | York | PA | US | 17401.0 | |
| 7578 | 9612618.0 | 3002809338.0 | 1 | False | 2024 | U | Eliane Schaefer | 221 West Philadelphia Street, Suite 60W | | York | PA | US | 17401.0 | |
| 6861 | 2417991.0 | 2417991.0 | 1 | False | 2023 | F | HY-TAPE INTERNATIONAL, INC. | 25 JON BARRETT RD | | PATTERSON | NY | US | 12563.0 | |
| 6810 | 2432733.0 | 2432733.0 | 1 | True | 2023 | F | PALL CORPORATION | 25 HARBOR PARK DR | | Port Washington | NY | US | 11050.0 | |
| 6813 | 9680602.0 | 1000268645.0 | 1 | False | 2024 | F | PALL NEWQUAY | ST. COLUMB MAJOR | | Newquay Cornwall | | GB | | TR9 6TT |
| 6388 | 2242436.0 | 2242436.0 | 1 | False | 2024 | F | ZEUS SCIENTIFIC | 200 EVANS WAY | | BRANCHBURG | NJ | US | 8876.0 | |
| 6872 | 9613415.0 | 3000327335.0 | 1 | False | 2023 | F | COLGATE-PALMOLIVE INDUSTRIAL LTDA | Via Anchieta Km 14 | SAO BERNARDO DO CAMPO | Sao Paulo | | BR | | 09696-000 |
| 8526 | 3011632.0 | 3011632.0 | 1 | False | 2024 | F | Pascal International, Inc. | 2929 Northup Way | | Bellevue | WA | US | 98004.0 | |