Others titles
MedSun Adverse Events Reports
MD Medical Product Safety Network
Medical Devices Safety Network
Keywords
Medical Product Safety
Adverse Event Reporting Program
MedSun
MD Safety
MD Reporting
Medical Product Safety Network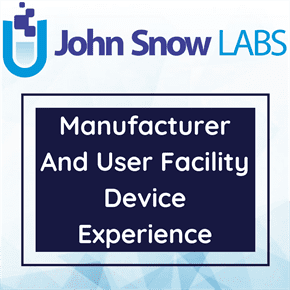 The Medical Product Safety Network (MedSun) is an adverse event reporting program launched by the U.S. Food and Drug Administration's Center for Devices and Radiological Health (CDRH).
Log in to download
Complexity
Get The Data
For getting access to data download links please read and accept the end-user license agreement.
Your Data License
Research

Non-Commercial, Share-Alike, Attribution

Free Forever

Commercial

Commercial Use, Remix & Adapt, White Label Log in to download
Description
The Medical Product Safety Network dataset involves the reporting of problems with medical products from a network of approximately 300 hospitals, nursing homes and home health facilities around the United States.
MedSun sites work collaboratively with the FDA to assist in detecting, understanding, and sharing information concerning the safety of medical products. MedSun utilizes a secure, online system for reporting problems with the use of medical devices. MedSun plays a critical role in FDA's postmarket surveillance efforts.
The primary goal for MedSun is to work collaboratively with the clinical community to identify, understand, and solve problems with the use of medical devices.
The Safe Medical Devices Act (SMDA) defines 'user facilities' as hospitals, nursing homes, and outpatient treatment and diagnostic centers. They are required to report medical device problems that result in serious illness, injury, or death. MedSun participants are also highly encouraged to voluntarily report problems with devices, such as 'close-calls,' potential for harm, and other safety concerns. By monitoring reports about problems and concerns before a more serious event occurs, FDA, manufacturers, and clinicians work together proactively to prevent serious injuries and death.
About this Dataset
Data Info
| | |
| --- | --- |
| Date Created | 2002 |
| Last Modified | 2023-11-28 |
| Version | 2023-11-28 |
| Update Frequency | Daily |
| Temporal Coverage | 2006-03-24 to 2023-11-28 |
| Spatial Coverage | United States |
| Source | John Snow Labs; U.S. Food and Drug Administration (FDA); |
| Source License URL | |
| Source License Requirements | N/A |
| Source Citation | N/A |
| Keywords | Medical Product Safety, Adverse Event Reporting Program, MedSun, MD Safety, MD Reporting |
| Other Titles | MedSun Adverse Events Reports, MD Medical Product Safety Network, Medical Devices Safety Network |
Data Fields
| Name | Description | Type | Constraints |
| --- | --- | --- | --- |
| Device_Brand | The brand of medical device | string | - |
| Device_Manufacturer | Device manufacturer name | string | - |
| Device_Type | The type of medical device | string | - |
| Device_Problem | Problem associated with the device | string | - |
| Date_Report | The Date report | date | required : 1 |
| Event_Description | The Event description | string | - |
Data Preview
| | | | | | |
| --- | --- | --- | --- | --- | --- |
| Device Brand | Device Manufacturer | Device Type | Device Problem | Date Report | Event Description |
| SureStep Foley Tray System Bard® Lubri-Sil Foley Catheter Tray | C. R. Bard Inc. | CATHETER RETENTION TYPE BALLOON | Not known | 2023-11-28 | From Staff: When fundal check was done - Foley catheter came out with balloon deflated - upon further examination of balloon there was a hole in the balloon. |
| Spectrum IQ IV Pump | BAXTER INTERNATIONAL INC. | PUMP INFUSION | Minor injury to the patient or health care provider;Potential harm to a health care provider | 2023-11-27 | Patient is on TPN (Total parenteral nutrition) cycled overnight at 68-136 ml/hr. TPN bag that was hung last night was found not delivered upon inspection this morning. Manufacturer response for IV Inufsion Pump - Spectrum IQ IV Pump (per site reporter) Ongoing since 2020. |
| AISYS CS2 | DATEX-OHMEDA INC | Gas-machine anesthesia | Potential for patient harm | 2023-11-21 | Despite passing initial machine checks before patient care - after induction once patient placed onto the ventilator and after a few minutes transpired - the respiratory monitoring screen displayed alternate O2 - manually set O2 flow - set agent if shown. Waveforms and numerical values for CO2 - Paw - Flow - TV - RR - gases displayed and measured. Machine could not deliver air to provide other than 100% FiO2. Complete machine check performed again with the assistance of the anesthesia tech after transitioning the patient to manual BMV (bag mask ventilation) and IV sedation. Machine passed all checks. Patient returned to the anesthesia machine and circuit. After a few minutes - the machine displayed alternate O2 - manually set O2 flow - set agent. Biomedical engineer contacted for in room machine assessment - determined that the machine could not be fully assessed as long as it was in use. Decision to proceed with 100% O2 as the carrier gas - since all other components of the machine are functional. |
| CUFFBPDISP1 TUBEADULTHP | MEDLINE INDUSTRIES INC. | blood pressure cuff | Potential for patient harm | 2023-11-21 | Defective blood pressure monitoring equipment - examples noted below: It was necessary to recycle my patient's blood pressure cuff at least every two hours due to Time out notifications on the monitor. It was also noted that other patient's monitors on the unit showed the Time out notification all at the same time. There was also significant variation in blood pressure cuff readings. For example - the patient's systolic blood pressure readings ranged from 90s to 120s overnight. However - there were multiple readings where the patient's systolic blood pressure reading was as high as 220mmHg - and the blood pressure cuff would have to be re-cycled. It is also important to note that the patient was a RASS (Richmond Agitation Sedation Scale) of -2 the entire shift and did not move significantly enough to warrant SBPs (systolic blood pressure) this high. BP cuffs were re-cycled - sometimes more than once - which revealed blood pressure cuff readings of 120mmHg or less. These readings appear to be spontaneous and present themselves every two to three hours. |
| CUFFBPDISP1 TUBEADULTHP | MEDLINE INDUSTRIES INC. | blood pressure cuff | Potential for patient harm | 2023-11-21 | Blood pressure (BP) cuffed failed to cycle on 2 occasions. Confirmed cuff was on patient and set to cycle. After 2nd failure to cycle - Found BP cuff cable was disconnected from cuff tubing. Reconnected and cuff became disconnected immediately. The cable connector where it connects to the BP cuff is not secure. It only takes a minimal amount of pressure against the connector: like linens or the patient moving his arm against the bed to cause the cuff to become disconnected. |
| Endo GIA 30 Stapler | Covidien LP | STAPLE IMPLANTABLE | Serious injury | 2023-11-21 | During an elective laparoscopic nephrectomy for harvest of a donor kidney - the stapler used to dissect the renal artery misfired. The artery was cut but was not sealed. The patient sustained a large blood loss. The patient needed intra-operative consultation for Vascular Surgery to repair the artery. An estimated 6 liters of blood was lost and the patient required blood product resuscitation and ICU care post-operatively. Manufacturer response for Endovascular GIA -30 Stapler - Endovascular GIA -30 Stapler (per site reporter) No response to date. |
| CUFFBPDISP1TBLG ADULTHP | MEDLINE INDUSTRIES INC. | blood pressure cuff | Potential for patient harm | 2023-11-21 | Non-invasive BP (blood pressure) cuff randomly giving erroneously low readings on trasnport from ICU to OR (operating room) and in OR. This is a super morbidly obese patient with no arterial line - transported from neuro ICU to OR with dark green Medline (new style) BP cuff on right forearm (upper arm is prohibitively large to fit any cuff). BPs were normal in neuro ICU and at beginning of transport (cuff was not adjusted for transport). Midway through transport - cuff began reading 50/30 - then 40s/20s. Patient was alert and clinical status unchanged so suspected error. In OR - transferred PDM (patient data module) to OR station and initial BP (without changing anything) was fine. Then several readings later - was 59/32... next value was fine. Later in case - another cluster of very low readings. In critically ill patients - this is a huge risk as neuro patients cannot be easily empirically treated with vasopressors due to the risks of hypertension - but artifact fatigue could easily lead a team to delay treatment of true hypotension. |
| CUFFBPDISP1 TUBEADULTHP | MEDLINE INDUSTRIES INC. | blood pressure cuff | Potential for patient harm | 2023-11-21 | New Medline BP (blood pressure) cord and cuff switched out by Medline today. BP cuff not fully inflating and times out when tech went to do vitals - unable to obtain BP. This is with the monitors in the room not a portable device. Connections checked but still unable to complete BP. New cord placed with same BP cuff and able to obtain BP with new cord. |
| CUFFBPDISP1 TUBEADULTHP | MEDLINE INDUSTRIES INC. | blood pressure cuff | Potential for patient harm | 2023-11-21 | Equipment malfunction. New BP (blood pressure) cuff (Medline; Adult Regular size) unable to obtain blood pressure. Event: Standard admission - cuff placed on RUE (right upper extremity). Unable to obtain blood pressure - monitor showed ---/---. Primary RN (registered nurse) changed cuff twice - then changed BP cable. Able to obtain BP after cable and 2 cuff changes. |
| PACKHOTINSTANTLRG6X9 | MEDLINE INDUSTRIES INC. | PACK HOT OR COLD DISPOSABLE | Potential for patient harm | 2023-11-20 | CNA (certified nursing assistant) came to writer to let writer know that a heat pack had just exploded on her while she was activating it - contents did get on her left arm and wrist area. CNA did fill out a staff accident report. CNA reported that she was correctly activating heat pack where the arrows on the sides were while holding it upright using 2 fingers. The contents of the heat pack came out of the upper side of the bag. Of note - the heat pack was discarded - and garbage was removed prior to being able to save the heat pack. Numbers listed below are from current stock in drawer - assuming the damaged heat pack numbers match what's left in the drawer. |