Others titles
Medicare Part D Prescriber Public Use File Data 2015
Medicare Provider Utilization and Payment Part D Prescriber Data 2015
Keywords
Prescriber Data
Prescription Drug Plans
Medicare Part D
Medicare Advantage
Medicare Prescription Drug Coverage
Medicare Claims Data
Provider Summary
Medicare Part D Prescriber Utilization and Payment Data 2015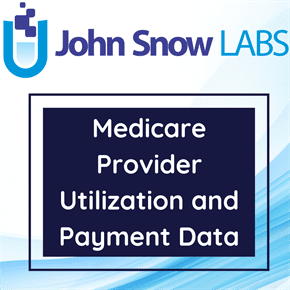 The Medicare Part D Prescriber Public Use File provides information on prescription drug events (PDEs) incurred by Medicare beneficiaries with a Part D prescription drug plan for the year 2015. The Part D Prescriber PUF is organized by National Provider Identifier (NPI) and drug name and contains information on drug utilization (claim counts and day supply) and total drug costs.
Log in to download
Complexity
Get The Data
For getting access to data download links please read and accept the end-user license agreement.
Your Data License
Research

Non-Commercial, Share-Alike, Attribution

Free Forever

Commercial

Commercial Use, Remix & Adapt, White Label Log in to download
Description
The Part D Prescriber Public Use File (PUF) provides information on prescription drugs prescribed by individual physicians and other healthcare providers and paid for under the Medicare Part D Prescription Drug Program. The Part D Prescriber PUF is based on information from CMS's Chronic Conditions Data Warehouse, which contains Prescription Drug Event records submitted by Medicare Advantage Prescription Drug (MAPD) plans and by stand-alone Prescription Drug Plans (PDP). The dataset identifies providers by their National Provider Identifier (NPI) and the specific prescriptions that were dispensed at their direction, listed by brand name (if applicable) and generic name. For each prescriber and drug, the dataset includes the total number of prescriptions that were dispensed, which include original prescriptions and any refills, and the total drug cost. The total drug cost includes the ingredient cost of the medication, dispensing fees, sales tax, and any applicable administration fees and is based on the amount paid by the Part D plan, Medicare beneficiary, government subsidies, and any other third-party payers.
Although the Part D Prescriber PUF has a wealth of information on payment and utilization for Medicare Part D prescriptions, the dataset has a number of limitations. Of particular importance is the fact that the data may not be representative of a physician's entire practice or all of Medicare as it only includes information on beneficiaries enrolled in the Medicare Part D prescription drug program (i.e., approximately two-thirds of all Medicare beneficiaries).
About this Dataset
Data Info
| | |
| --- | --- |
| Date Created | 2015-05-22 |
| Last Modified | 2017-05-25 |
| Version | 2017-05-25 |
| Update Frequency | Annual |
| Temporal Coverage | 2015 |
| Spatial Coverage | United States |
| Source | John Snow Labs; Centers for Medicare and Medicaid Services; |
| Source License URL | |
| Source License Requirements | N/A |
| Source Citation | N/A |
| Keywords | Prescriber Data, Prescription Drug Plans, Medicare Part D, Medicare Advantage, Medicare Prescription Drug Coverage, Medicare Claims Data, Provider Summary |
| Other Titles | Medicare Part D Prescriber Public Use File Data 2015, Medicare Provider Utilization and Payment Part D Prescriber Data 2015 |
Data Fields
| Name | Description | Type | Constraints |
| --- | --- | --- | --- |
| National_Provider_Identifier | National Provider Identifier (NPI) for the performing provider on the claim. | string | - |
| Last_Name_Organization_Name | When the provider is registered in NPPES as an individual, this is the provider's last name. When the provider is registered as an organization, this is the organization name. | string | - |
| First_Name | When the provider is registered in NPPES as an individual, this is the provider's first name. When the provider is registered as an organization, this will be blank. | string | - |
| City | The city where the provider is located, as reported in NPPES | string | - |
| State | The state where the provider is located, as reported in NPPES. The fifty U.S. states and the District of Columbia are reported by the state postal abbreviation. "XX" = "Unknown" "AA" = "Armed Forces Central/South America" "AE" = "Armed Forces Europe" "AP" = "Armed Forces Pacific" "AS" = "American Samoa" "GU" = "Guam" "MP" = "Northern Mariana Islands" "PR" = "Puerto Rico" "VI" = "Virgin Islands" "ZZ" = "Foreign Country" | string | - |
| Speciality_Description | Speciality_description is derived from the Medicare provider/supplier specialty code reported on the NPI's Part B claims. For providers that have more than one Medicare specialty code reported on their claims, the Medicare specialty code associated with the largest number of services is reported. Where a prescriber's NPI did not have associated Part B claims, the taxonomy code associated with the NPI in NPPES is mapped to a Medicare specialty code using an external crosswalk. For any taxonomy codes that could not be mapped to a Medicare specialty code, the taxonomy classification description from the National Uniform Claim Committee (NUCC) taxonomy code set is used. | string | - |
| Description_Flag | A flag that indicates the source of the specialty_description. "S" = Medicare Specialty Code description "T" = Taxonomy Code Classification description. | string | - |
| Drug_Name | The name of the drug filled. This includes both brand names (drugs that have a trademarked name) and generic names (drugs that do not have a trademarked name). | string | - |
| Generic_Name | A term referring to the chemical ingredient of a drug rather than the trademarked brand name under which the drug is sold. | string | - |
| Beneficiaries_Count | The total number of unique Medicare Part D beneficiaries with at least one claim for the drug. Counts fewer than 11 are suppressed and are indicated by a blank. | integer | level : Ratio |
| Total_Claim_Count | The number of Medicare Part D claims. This includes original prescriptions and refills. Aggregated records based on total_claim_count fewer than 11 are not included in the data file. | number | level : Ratio |
| Total_30_Day_Fill_Count | The aggregate number of Medicare Part D standardized 30-day fills. The standardized 30-day fill is derived from the number of days supplied on each Part D claim divided by 30. Standardized 30-day fill values less than 1.0 were bottom-coded with a value of 1.0 and standardized 30day fill values greater than 12.0 were top-coded with a value of 12.0. | number | level : Ratio |
| Total_Day_Supply | The aggregate number of day's supply for which this drug was dispensed. | number | level : Ratio |
| Total_Drug_Cost | The aggregate total drug cost paid for all associated claims. This amount includes ingredient cost, dispensing fee, sales tax, and any applicable vaccine administration fees. The total drug cost is based on the amounts paid by the Part D plan, Medicare beneficiary, government subsidies, and any other third-party payers. | number | - |
| Beneficiary_Count_Of_Age_65 | The total number of unique Medicare Part D beneficiaries age 65 and older with at least one claim for the drug. A blank indicates the value is suppressed | integer | level : Ratio |
| Supression_Reason_Of_Beneficiary_Count_Age_65 | A flag indicating the reason the bene_count_ge65 variable is suppressed. * = Primary suppressed due to bene_count_ge65 between 1 and 10. # = Counter suppressed because the "less than 65 year old" group (not explicitly displayed) contains a beneficiary count between 1 and 10, which can be mathematically determined from bene_count_ge65 and bene_count. | string | - |
| Total_Claim_Count_Age65_And_Older | The number of Medicare Part D claims for beneficiaries age 65 and older. This includes original prescriptions and refills. A blank indicates the value is suppressed. See ge65_suppress_flag regarding suppression of data. | number | level : Ratio |
| Supression_Reason_Aged65_And_Older | A flag that indicates the reason the total_claim_count_ge65, total_30_day_fill_count ge65, total_day_supply_ge65, and total_drug_cost_ge65 variables are suppressed. * = Primary suppressed due to total_claim_count_ge65 between 1 and 10. "#" = Counter suppressed because the "less than 65 year old" group (not explicitly displayed) contains a small claim count between 1 and 10, which can be mathematically determined from the total_claim_count_ge65 and total_claim_count. | string | - |
| Total_30Day_Fill_Count_Aged65_And_Older | The number of Medicare Part D standardized 30-day fills for beneficiaries age 65 and older. The standardized 30-day fill is derived from the number of days supplied on each Part D claim divided by 30. Standardized 30-day fill values less than 1.0 were bottom-coded with a value of 1.0 and standardized 30-day fill values greater than 12.0 were top-coded with a value of 12.0. If total_claim_count_ge65 is suppressed, this variable is suppressed. A blank indicates the value is suppressed. See ge65_suppress_flag regarding suppression of data. | number | level : Ratio |
| Total_Day_Supply_Aged65_And_Older | The aggregate number of day's supply for which this drug was dispensed, for beneficiaries age 65 and older. If total_claim_count_ge65 is suppressed, this variable is suppressed. A blank indicates the value is suppressed. See ge65_suppress_flag regarding suppression of data. | number | level : Ratio |
| Total_Drug_Cost_Aged65_And_Older | The aggregate total drug cost paid for all associated claim for beneficiaries age 65 and older. This amount includes ingredient cost, dispensing fee, sales tax, and any applicable vaccine administration fees and is based on the amounts paid by the Part D plan, Medicare beneficiary, government subsidies, and any other third-party payers. If total_claim_count_ge65 is suppressed, this variable is suppressed. A blank indicates the value is suppressed. See ge65_suppress_flag regarding suppression of data. | number | - |
Data Preview
| | | | | | | | | | | | | | | | | | | | | |
| --- | --- | --- | --- | --- | --- | --- | --- | --- | --- | --- | --- | --- | --- | --- | --- | --- | --- | --- | --- | --- |
| National Provider Identifier | Last Name Organization Name | First Name | City | State | Speciality Description | Description Flag | Drug Name | Generic Name | Beneficiaries Count | Total Claim Count | Total 30 Day Fill Count | Total Day Supply | Total Drug Cost | Beneficiary Count Of Age 65 | Supression Reason Of Beneficiary Count Age 65 | Total Claim Count Age65 And Older | Supression Reason Aged65 And Older | Total 30Day Fill Count Aged65 And Older | Total Day Supply Aged65 And Older | Total Drug Cost Aged65 And Older |
| 1912175340 | H'S)U | E'K:(A:I | SAN JUAN BAUTISTA | California | General Surgery | Medicare Specialty Code description | HYDROCODONE-ACETAMINOPHEN | HYDROCODONE/ACETAMINOPHEN | 15.0 | 15 | 15 | 213 | 186.85 | | # | | # | | | |
| 1912175340 | H'S)U | E'K:(A:I | SAN JUAN BAUTISTA | California | General Surgery | Medicare Specialty Code description | IBUPROFEN | IBUPROFEN | 20.0 | 21 | 21 | 305 | 114.18 | | # | | # | | | |
| 1912175340 | H'S)U | E'K:(A:I | SAN JUAN BAUTISTA | California | General Surgery | Medicare Specialty Code description | METOCLOPRAMIDE HCL | METOCLOPRAMIDE HCL | 30.0 | 34 | 34 | 244 | 117.93 | | # | | # | | | |
| 1417051921 | A | N | CATOOSA | Oklahoma | Physician Assistant | Medicare Specialty Code description | ACETAMINOPHEN-CODEINE | ACETAMINOPHEN WITH CODEINE | 17.0 | 17 | 17 | 44 | 57.64 | | * | | * | | | |
| 1417051921 | A | N | CATOOSA | Oklahoma | Physician Assistant | Medicare Specialty Code description | AZITHROMYCIN | AZITHROMYCIN | 44.0 | 44 | 44 | 219 | 305.91 | 33.0 | | 33.0 | | 33.0 | 164.0 | 243.85 |
| 1417051921 | A | N | CATOOSA | Oklahoma | Physician Assistant | Medicare Specialty Code description | LEVOFLOXACIN | LEVOFLOXACIN | 21.0 | 21 | 21 | 131 | 248.2 | | # | | # | | | |
| 1417051921 | A | N | CATOOSA | Oklahoma | Physician Assistant | Medicare Specialty Code description | PREDNISONE | PREDNISONE | 30.0 | 31 | 31 | 279 | 185.18 | | # | | # | | | |
| 1417051921 | A | N | CATOOSA | Oklahoma | Physician Assistant | Medicare Specialty Code description | SULFAMETHOXAZOLE-TRIMETHOPRIM | SULFAMETHOXAZOLE/TRIMETHOPRIM | 19.0 | 20 | 20 | 172 | 81.28 | | # | | # | | | |
| 1952310666 | A'BODJEDI | ENENGE | STAMFORD | Connecticut | Psychiatry | Medicare Specialty Code description | AMBIEN | ZOLPIDEM TARTRATE | | 12 | 12 | 360 | 4792.29 | | * | 12.0 | | 12.0 | 360.0 | 4792.29 |
| 1952310666 | A'BODJEDI | ENENGE | STAMFORD | Connecticut | Psychiatry | Medicare Specialty Code description | AMBIEN CR | ZOLPIDEM TARTRATE | | 12 | 12 | 360 | 4792.29 | | * | 12.0 | | 12.0 | 360.0 | 4792.29 |