Others titles
Advancing Care Information and Cost
MIPS Data Validation and Auditing 2017
MIPS Data Validation and Auditing 2018
MIPS Data Validation and Auditing 2019
MIPS Data Validation and Auditing 2020
Keywords
Data Validation and Auditing
Data Validation Criteria
Improvement Activities
MIPS Data Validation Criteria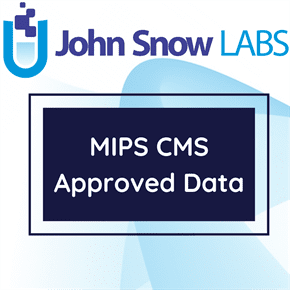 This dataset includes the MIPS Data Validation Criteria. The Medicare Access and CHIP Reauthorization Act of 2015 (MACRA) streamlines a patchwork collection of programs with a single system where provider can be rewarded for better care. Providers will be able to practice as they always have, but they may receive higher Medicare payments based on their performance.
Log in to download
Complexity
Get The Data
For getting access to data download links please read and accept the end-user license agreement.
Your Data License
Research

Non-Commercial, Share-Alike, Attribution

Free Forever

Commercial

Commercial Use, Remix & Adapt, White Label Log in to download
Description
The Quality Payment Program Final Rule with comment requires CMS to provide the criteria we will use to audit and validate measures and activities for the transition year of MIPS for the Quality, Advancing Care Information and Improvement Activities performance categories.
By definition, data validation is the process of ensuring that a program operates on accurate and useful data. MIPS requires all-payer data for all data submission mechanisms with the exception of claims and the CMS Web Interface. The data from payers, other than Medicare, will be used for informational purposes to improve future validation efforts and will not be the only source of data used to make final determinations on whether you pass or fail an audit in the transition year.
About this Dataset
Data Info
| | |
| --- | --- |
| Date Created | 2017-08-10 |
| Last Modified | 2021-06-28 |
| Version | 2021-06-11 |
| Update Frequency | Annual |
| Temporal Coverage | 2017-2020 |
| Spatial Coverage | United States |
| Source | John Snow Labs; Quality Payment Program Resource Library; |
| Source License URL | |
| Source License Requirements | N/A |
| Source Citation | N/A |
| Keywords | Data Validation and Auditing, Data Validation Criteria, Improvement Activities |
| Other Titles | Advancing Care Information and Cost, MIPS Data Validation and Auditing 2017, MIPS Data Validation and Auditing 2018, MIPS Data Validation and Auditing 2019, MIPS Data Validation and Auditing 2020 |
Data Fields
| Name | Description | Type | Constraints |
| --- | --- | --- | --- |
| Activity_ID | Unique Activity Identification Number | string | - |
| Subcategory_Name | Category Complete Name | string | - |
| Activity_Name | Provided Activity Name | string | - |
| Activity_Description | Detail Description of Activity | string | - |
| Activity_Weighting | Shows Activity weighting (High and Normal) | string | - |
| Validation | Detailed validation report | string | - |
| Suggested_Documentation | Suggested/ Required documents for activities | string | - |
| First_Program_Year | First yearof MIPS data validation | number | - |
| Additional_Notes | Examples of Additional Activities that Qualify for Attestation. Completing these alternate activities can fulfill the requirements of this Improvement Activity; and Notes. | string | - |
Data Preview
| | | | | | | | | |
| --- | --- | --- | --- | --- | --- | --- | --- | --- |
| Activity ID | Subcategory Name | Activity Name | Activity Description | Activity Weighting | Validation | Suggested Documentation | First Program Year | Additional Notes |
| IA_EPA_1 | Expanded Practice Access | Provide 24/7 Access to MIPS Eligible Clinicians or Groups Who Have Real-Time Access to Patient's Medical Record | Provide 24/7 access to MIPS eligible clinicians, groups, or care teams for advice about urgent and emergent care (For example, eligible clinician and care team access to medical record, cross-coverage with access to medical record, or protocol-driven nurse line with access to medical record) that could include one or more of the following:• Expanded hours in evenings and weekends with access to the patient medical record (For example, coordinate with small practices to provide alternate hour office visits and urgent care);• Use of alternatives to increase access to care team by MIPS eligible clinicians and groups, such as telehealth, phone visits, group visits, home visits and alternate locations (For example, senior centers and assisted living centers); and/or• Provision of same-day or next-day access to a consistent MIPS eligible clinician, group or care team when needed for urgent care or transition management. | High | Demonstration of patient care provided outside of normal business hours through 24/7 or expanded practice hours with access to medical records or ability to increase access through alternative access methods or same-day or next-day visits | 1) Patient Record from EHR - A patient record from an EHR with date and timestamp indicating services provided outside of normal business hours for that clinician (a certified EHR may be used for documentation purposes, but is not required unless attesting for the Promoting Interoperability [formerly ACI] bonus); or2) Patient Encounter/Medical Record/Claim - Patient encounter/medical record claims indicating patient was seen or services provided outside of normal business hours for that clinician including use of alternative visits; or3) Same or Next Day Patient Encounter/Medical Record/Claim - Patient encounter/medical record claims indicating patient was seen same-day or next-day to a consistent clinician for urgent or transitional care. | 2017 | |
| IA_EPA_2 | Expanded Practice Access | Use of telehealth services that expand practice access | Use of telehealth services and analysis of data for quality improvement, such as participation in remote specialty care consults or teleaudiology pilots that assess ability to still deliver quality care to patients. | Medium | Documented use of telehealth services and participation in data analysis assessing provision of quality care with those servicesNOTE: For the purposes of this IA, telehealth services include a "real time" interaction and may be obtained over the phone, online, etc. and are not limited to the Medicare reimbursed telehealth service criteria. | 1) Use of Telehealth Services - Documented use of telehealth services through: a) claims adjudication (may use G codes to validate); b) EHR or c) other medical record document showing specific telehealth services, consults, or referrals performed for a patient; and 2) Analysis of Assessing Ability to Deliver Quality of Care - Participation in or performance of quality improvement analysis showing delivery of quality care to patients through the telehealth medium (e.g. Excel spreadsheet, Word document or others). NOTE: For the purposes of this IA, telehealth services include a "real time" interaction and may be obtained over the phone, online, etc. and are not limited to the Medicare reimbursed telehealth service criteria. | 2017 | |
| IA_EPA_3 | Expanded Practice Access | Collection and use of patient experience and satisfaction data on access | Collection of patient experience and satisfaction data on access to care and development of an improvement plan, such as outlining steps for improving communications with patients to help understanding of urgent access needs. | Medium | Development and use of access to care improvement plan based on collected and stratified patient experience and satisfaction data | 1) Access to Care Patient Experience and Satisfaction Data - Patient experience and satisfaction data on access to care; and2) Improvement plan - Access to care improvement plan. | 2017 | Please note: CMS examples of stratification may include, patient demographics such as race/ethnicity, disability status (if available), sexual orientation (if available), sex, gender identity (if available), and geography |
| IA_EPA_4 | Expanded Practice Access | Additional improvements in access as a result of QIN/QIO TA | As a result of Quality Innovation Network-Quality Improvement Organization technical assistance, performance of additional activities that improve access to services or improve care coordination (for example, investment of on-site diabetes educator). | Medium | Implementation of additional processes, practices, resources or technology to improve access to services or improve care coordination, as a result of receiving QIN/QIO technical assistance | 1) Relationship with QIN/QIO Technical Assistance - Confirmation of technical assistance and documentation of relationship with QIN/QIO; and2) Improvement Activities - Documentation of activities that improve access or improve care coordination, including support on additional services offered. | 2017 | |
| IA_EPA_5 | Expanded Practice Access | Participation in User Testing of the Quality Payment Program Website (https://qpp.cms.gov/) | User participation in the Quality Payment Program website testing is an activity for eligible clinicians who have worked with CMS to provide substantive, timely, and responsive input to improve the CMS Quality Payment Program website through product user-testing that enhances system and program accessibility, readability and responsiveness as well as providing feedback for developing tools and guidance thereby allowing for a more user-friendly and accessible clinician and practice Quality Payment Program website experience. | Medium | Evidence of user participation and implementation of website testing for the Quality Payment Program (QPP) | 1) Documentation of input to improve the CMS Quality Payment Program website through product user-testing aimed at enhancing system and program accessibility, readability and responsiveness and2) Provide feedback for developing tools and guidance for a more efficient and accessible clinician and practice QPP website experience. | 2018 | |
| IA_PM_2 | Population Management | Anticoagulant management improvements | Individual MIPS eligible clinicians and groups who prescribe anti-coagulation medications (including, but not limited to oral Vitamin K antagonist therapy, including warfarin or other coagulation cascade inhibitors) must attest that for 75 percent of their ambulatory care patients receiving these medications are being managed with support from one or more of the following improvement activities: • Participation in a systematic anticoagulation program (coagulation clinic, patient self-reporting program, or patient self-management program);• Patients are being managed by an anticoagulant management service, that involves systematic and coordinated care, incorporating comprehensive patient education, systematic prothrombin time (PT-INR) testing, tracking, follow-up, and patient communication of results and dosing decisions;• Patients are being managed according to validated electronic decision support and clinical management tools that involve systematic and coordinated care, incorporating comprehensive patient education, systematic PT-INR testing, tracking, follow-up, and patient communication of results and dosing decisions;• For rural or remote patients, patients are managed using remote monitoring or telehealth options that involve systematic and coordinated care, incorporating comprehensive patient education, systematic PT-INR testing, tracking, follow-up, and patient communication of results and dosing decisions; or• For patients who demonstrate motivation, competency, and adherence, patients are managed using either a patient self-testing (PST) or patient-self-management (PSM) program. | High | Documented participation of patients being managed by one or more clinical practice improvement activities. Could be supported by claims. Anticoagulation services may consult with patients over the phone, recommending dosage changes and setting dates for follow-up lab work and may also consult with the patient's personal physician or specialty physicians in complex cases. | 1) Patients Receiving Anti-Coagulation Medications - Total number of outpatients prescribed oral Vitamin K antagonist therapy; and2) Percentage of that Total Being Managed By a Clinical Practice Improvement Activity - Number of outpatients prescribed oral Vitamin K antagonist therapy and who are being managed by one or more of the four activities in the described in the activity description; and3) Documentation plan to address patients' language and communication needs, literacy level, and cognitive and functional limitations. | 2017 | |
| IA_PM_3 | Population Management | RHC, IHS or FQHC quality improvement activities | Participating in a Rural Health Clinic (RHC), Indian Health Service Medium Management (IHS), or Federally Qualified Health Center (FQHC) in ongoing engagement activities that contribute to more formal quality reporting, and that include receiving quality data back for broader quality improvement and benchmarking improvement which will ultimately benefit patients. Participation in Indian Health Service (IHS), as an improvement activity, requires MIPS eligible clinicians and groups to deliver care to federally recognized American Indian and Alaska Native populations in the U.S. and in the course of that care implement continuous clinical practice improvement including reporting data on quality of services being provided and receiving feedback to make improvements over time. | High | Participation in RHC, IHS, or FQHC occurs and clinical quality improvement occurs | 1) Name of RHC, IHS or FQHC - Identified name of RHC, IHS, or FQHC in which the practice participates in ongoing engagement activities; and 2) Continuous Quality Improvement Activities - Documented continuous quality improvement activities that contribute to more formal quality reporting, and that include receiving quality data back for broader quality and benchmarking improvement that ultimately benefits patients. | 2017 | |
| IA_PM_4 | Population Management | Glycemic management services | For outpatient Medicare beneficiaries with diabetes and who are prescribed antidiabetic agents (e.g., insulin, sulfonylureas), MIPS eligible clinicians and groups must attest to having:For the first performance year, at least 60 percent of medical records with documentation of an individualized glycemic treatment goal that:a) Takes into account patient-specific factors, including, at least 1) age, 2) comorbidities, and 3) risk for hypoglycemia, and b) Is reassessed at least annually.The performance threshold will increase to 75 percent for the second performance year and onward. Clinician would attest that, 60 percent for first year, or 75 percent for the second year, of their medical records that document individualized glycemic treatment represent patients who are being treated for at least 90 days during the performance period. | High | Report listing patients who are diabetic and prescribed antidiabetic agents and have documented glycemic treatment goals based on patient-specific factors | 1) Diabetic Patients Prescribed Antidiabetic Agents - Total number of outpatients who are diabetic and prescribed antidiabetic agents; and 2) Documented Percentage of Total and each demographic group with Glycemic Treatment Goals and Assessed at Least Annually - Number of outpatients, stratified by demographic groups, who are diabetic and prescribed antidiabetic agents, with documented glycemic treatment goals ; and the goals take into account patient-specific factors, including at least age, comorbidities, and risk for hypoglycemia; and are flagged for reassessment in following year. | 2017 | Please note: CMS examples of stratification may include, patient demographics such as race/ethnicity, disability status (if available), sexual orientation (if available), sex, gender identity (if available), and geography |
| IA_PM_5 | Population Management | Engagement of community for health status improvement | Take steps to improve health status of communities, such as collaborating with key partners and stakeholders to implement evidenced-based practices to improve a specific chronic condition. Refer to the local Quality Improvement Organization (QIO) for additional steps to take for improving health status of communities as there are many steps to select from for satisfying this activity. QIOs work under the direction of CMS to assist MIPS eligible clinicians and groups with quality improvement, and review quality concerns for the protection of beneficiaries and the Medicare Trust Fund. | Medium | Activity to improve specific chronic condition for specific, identified population within the community is being undertaken | 1) Documentation of Partnership in the Community - Screenshot of website or other correspondence identifying key partners and stakeholders and relevant initiative including specific chronic condition and target population; and2) Steps for Improving Community Health Status - Report detailing steps being taken to satisfy the activity including, e.g., timeline, purpose, and outcome that is in compliance with the local QIO. | 2017 | |
| IA_PM_6 | Population Management | Use of toolsets or other resources to close healthcare disparities across communities | Take steps to improve healthcare disparities, such as Population Health Toolkit or other resources identified by CMS, the Learning and Action Network, Quality Innovation Network, or National Coordinating Center. Refer to the local Quality Improvement Organization (QIO) for additional steps to take for improving health status of communities as there are many steps to select from for satisfying this activity. QIOs work under the direction of CMS to assist eligible clinicians and groups with quality improvement, and review quality concerns for the protection of beneficiaries and the Medicare Trust Fund. | Medium | Activity to improve health disparities | 1) Resources Used to Improve Disparities - Resources used, e.g., Population Health Toolkit; and2) Documentation of Steps - Report detailing activity as outlined by the local QIO with a statement outlining a plan of action to address specific identified disparities including evidence of disparity targeted and how this disparity is changing over time. | 2017 | |