Others titles
Human PBMC Isolate Data
Human Isolate Data Ficoll Separation
Human Isolate Data Centrifuged Blood
Peripheral Mononuclear Human Isolate Data
Keywords
Human PBMC
Ficoll Separation
Centrifuged Blood
Peripheral Mononuclear
Human Antibiotics
Antibacterial Resistance
Antimicrobial Medicines
Anti Microbial Drugs
Human Isolates
Antimicrobial Resistance
NARMS Human Isolate Data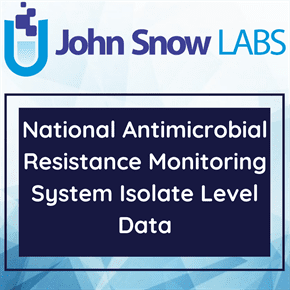 The National Antimicrobial Resistance Monitoring System (NARMS) Human Isolate Data makes it easier and quicker to find out how antibiotic resistance has changed over the past 20 years for four bacteria transmitted commonly through food—Campylobacter, E. coli O157, Salmonella, and Shigella.
Log in to download
Complexity
Get The Data
For getting access to data download links please read and accept the end-user license agreement.
Your Data License
Research

Non-Commercial, Share-Alike, Attribution

Free Forever

Commercial

Commercial Use, Remix & Adapt, White Label Log in to download
Description
The National Antimicrobial Resistance Monitoring System for Enteric Bacteria (NARMS) was established in 1996. NARMS is a collaboration between state and local public health departments, CDC (Centers of Disease Control and Prevention), the U.S. Food and Drug Administration (FDA), and the U.S. Department of Agriculture (USDA). This national public health surveillance system tracks changes in the antimicrobial susceptibility of certain enteric (intestinal) bacteria found in ill people (CDC), retail meats (FDA), and food animals (USDA) in the United States. The NARMS program at CDC helps protect public health by providing information about emerging bacterial resistance, the ways in which resistance is spread, and how resistant infections differ from susceptible infections.
NARMS monitors antibiotic resistance among the following four major foodborne bacteria.
Salmonella:
Non-typhoidal Salmonella enterica is widely dispersed in nature. It can be found in intestinal tracts of vertebrates including wildlife, livestock, domestic pets, and also in environmental sources such as pond water. It is spread through the fecal oral route and through contact with contaminated foods. An estimated 1.2 million people get sick from Salmonella infection in the United States each year. Of these, about 23,000 are hospitalized, and 450 die from their infections. Symptoms include nausea, vomiting, abdominal cramps, diarrhea, fever, headache generally lasting 4 to 7 days with acute symptoms lasting 1-2 days. Serious disease can develop in the very young, the elderly and the immunocompromised. Fluoroquinolones and cephalosporins are used as first-line therapies for the treatment of serious Salmonella infection in adults. Cephalosporins are recommended for the treatment of pediatric infections.
Campylobacter:
Campylobacter is part of the natural gut flora of most food-producing animals such as chickens, turkeys, swine, cattle and sheep. It is estimated to cause over 1.3 million illnesses and 76 deaths in the United States each year. More than 80% of Campylobacter infections are caused by C. jejuni. However, other Campylobacter species, such as C. coli and C. fetus can cause disease in humans. C. coli and C. jejuni cause similar disease symptoms including fever, diarrhea, abdominal cramps, and vomiting lasting anywhere from 2 to 10 days. Most cases of Campylobacter gastroenteritis are self-limited and typically, antibiotic therapy is not needed. When antibiotic therapy is indicated, macrolides and fluoroquinolones are most commonly prescribed. Major food sources linked to C. jejuni infections include improperly handled or undercooked poultry products, raw milk and cheeses made from raw milk, and contaminated water.
Escherichia coli
Escherichia coli Escherichia coli is one of the predominant enteric species in the normal intestinal flora of vertebrates. However, some serotypes of E. coli can cause severe diarrheal diseases in humans. One of these pathogenic strains is E. coli O157, which is monitored for antibiotic resistance by CDC in the human population. More information can be found on the CDC website. USDA and FDA monitor resistance among generic (non-serotyped) E. coli from food animals and retail meats. Generic E. coli are used by NARMS as an indicator organism to detect both emerging resistance patterns and specific resistance genes that could potentially be transferred to other pathogenic gram-negative bacteria, like Salmonella.
Enterococcus
Enterococcus is ubiquitous in nature and can be found in the gastrointestinal tracts, genitourinary tracts, oral cavities, and skin of humans and animals, as well as in insects, plants, soil, and water. Enterococcus is the only gram-positive organism that NARMS routinely monitors. Because it is consistently present in both types of meat and food animals, NARMS uses Enterococcus as an indicator organism to track resistance to antibiotics with activity against gram-positive organisms that may result from antimicrobial use. Enterococcus infection is notable largely as a hospital or community-acquired illness, and not much information is known about its role as a direct cause of foodborne illness. However, it is known that poorly processed meat and milk are among the foods that can transmit it.
About this Dataset
Data Info
| | |
| --- | --- |
| Date Created | 1996 |
| Last Modified | 2022-05-23 |
| Version | 2022-05-23 |
| Update Frequency | Annual |
| Temporal Coverage | 1996 - 2022 |
| Spatial Coverage | United States |
| Source | John Snow Labs; Centers of Disease Control and Prevention(CDC), U.S. Food and Drug Administration (FDA), U.S. Department of Agriculture (USDA); |
| Source License URL | |
| Source License Requirements | N/A |
| Source Citation | N/A |
| Keywords | Human PBMC, Ficoll Separation, Centrifuged Blood, Peripheral Mononuclear, Human Antibiotics, Antibacterial Resistance, Antimicrobial Medicines, Anti Microbial Drugs, Human Isolates, Antimicrobial Resistance |
| Other Titles | Human PBMC Isolate Data, Human Isolate Data Ficoll Separation, Human Isolate Data Centrifuged Blood, Peripheral Mononuclear Human Isolate Data |
Data Fields
| Name | Description | Type | Constraints |
| --- | --- | --- | --- |
| Specimen_ID | Unique identification number of the specimen. | string | - |
| NCBI_Accession_Number | Accession number for whole-genome sequence uploaded to NCBI for this isolate (assigned by NCBI). | string | - |
| Whole_Genome_Sequence_ID | Unique ID assigned by PulseNet for an assembled whole-genome sequence. Used to identify sequences uploaded to NCBI. | string | - |
| Is_AST_Approved | If yes (true), the isolate was collected for routine surveillance purposes and underwent antimicrobial susceptibly testing (AST) at CDC and AST results are approved by CDC NARMS. If no (false), the isolate was not collected for routine surveillance purposes, or did not undergo antimicrobial susceptibly testing (AST) at CDC, or AST results are not approved by CDC NARMS. | boolean | - |
| Is_WGS_Approved | If yes (true), the isolate underwent whole genome sequencing (WGS), the WGS data was screened for resistance genes, and results are approved by CDC NARMS. If no (false), the isolate did not undergo whole genome sequencing (WGS), or WGS data was not screened for resistance genes, or the results are not approved by CDC NARMS. | boolean | - |
| Genus_of_Bacterial_Isolate | Value: Salmonella, Campylobacter, Shigella, Escherichia, Vibrio | string | - |
| Species_of_Bacterial_Isolate | Species of the bacterial isolate. This is usually based on what the submitting laboratory reported, but may be updated if identification is performed at CDC and a different species result is obtained. Species is confirmed at CDC for all Campylobacter submitted for NARMS surveillance. | string | - |
| Serotype_of_Bacterial_Isolate | Serotype of the bacterial isolate. This is usually based on what the submitting laboratory reported, but may be updated if identification is performed at CDC and a different serotype result is obtained. | string | - |
| Data_Year_of_the_Bacterial_Isolate_Submission | The calendar year for the isolate (i.e. calendar year is assigned based off of specimen collection date). | string | - |
| Region_Name | HHS (Health & Human Services) Region is the geographic location for the state that submitted the isolate to NARMS. | string | - |
| Age_Group | Age category (in years: 0-4, 5-9, 10-19, 20-29, 30- 39, 40- 49, 50- 59, 60- 69, 70- 79, 80+) | string | - |
| Specimen_Source | Type of specimen from which the isolate was obtained (i.e. blood or stool) | string | - |
| Resistance_Pattern | Antibiotics that were found to be resistant for the isolate; otherwise, will read "No resistance detected" | string | - |
| Resistance_Determinants | Genes or mutations known to predict resistance found through whole genome sequencing. If none were found, will read "No determinants detected". If whole genome sequencing was not performed on the isolate, will read "Not sequenced". If whole genome sequencing was performed on the isolate, but it has not yet been analyzed for the presence of resistance genes, will read "Not analyzed". | string | - |
| Predictive_Resistance_Pattern | Predicted resistance pattern based on resistance determinants. If no determinants were found, will read "No determinants detected". If whole genome sequencing was not performed on the isolate, will read "Not sequenced". If whole genome sequencing was performed on the isolate, but it has not yet been analyzed for the presence of resistance genes, will read "Not analyzed". | string | - |
| Is_Lost_Resistance_On_Retest | If yes (true), the isolate has lost resistance through some mechanism. | boolean | - |
| Amikacin_Equivalence_Operator | Equivalence operator on the test result for Amikacin | string | - |
| Amikacin_Result | | number | level : Ratio |
| Amikacin_Conclusion | Value: S,I,R,X | string | - |
| Amikacin_Conclusion_Predicted | AMI predicted conclusion as determined by genetic sequencing (NPR - No Predicted Resistance, DS - Decreased Susceptibility, or R - Resistant. Will be blank if not sequenced or if not yet analyzed for the presences of resistance genes). | string | - |
| Ampicillin_Equivalence_Operator | AMP (or A in Resistance Pattern). Equivalence operator on the test result for Ampicillin | string | - |
| Ampicillin_Result | | number | level : Ratio |
| Ampicillin_Conclusion | Value: S,I,R,X | string | - |
| Ampicillin_Conclusion_Predicted | AMP predicted conclusion as determined by genetic sequencing (NPR - No Predicted Resistance, DS - Decreased Susceptibility, or R - Resistant. Will be blank if not sequenced or if not yet analyzed for the presences of resistance genes). | string | - |
| Aztreonam_Equivalence_Operator | Equivalence operator on the test result for Aztreonam | string | - |
| Aztreonam_Result | | number | level : Ratio |
| Aztreonam_Conclusion | Value: S,I,R,X | string | - |
| Aztreonam_Conclusion_Predicted | ATM predicted conclusion as determined by genetic sequencing (NPR - No Predicted Resistance, DS - Decreased Susceptibility, or R - Resistant. Will be blank if not sequenced or if not yet analyzed for the presences of resistance genes). | string | - |
| Amoxicillin_Clavulanic_Acid_Equivalence_Operator | AUG (or Au in Resistance Pattern). Equivalence operator on the test result for Amoxicillin-clavulanic acid | string | - |
| Amoxicillin_Clavulanic_Acid_Result | | number | level : Ratio |
| Amoxicillin_Clavulanic_Acid_Conclusion | Value: S,I,R,X | string | - |
| Amoxicillin_Clavulanic_Acid_Conclusion_Predicted | AUG predicted conclusion as determined by genetic sequencing (NPR - No Predicted Resistance, DS - Decreased Susceptibility, or R - Resistant. Will be blank if not sequenced or if not yet analyzed for the presences of resistance genes). | string | - |
| Ceftriaxone_Equivalence_Operator | AXO (or Cx in Resistance Pattern). Equivalence operator on the test result for Ceftriaxone | string | - |
| Ceftriaxone_Result | | number | level : Ratio |
| Ceftriaxone_Conclusion | Value: S,I,R,X | string | - |
| Ceftriaxone_Conclusion_Predicted | AXO predicted conclusion as determined by genetic sequencing (NPR - No Predicted Resistance, DS - Decreased Susceptibility, or R - Resistant. Will be blank if not sequenced or if not yet analyzed for the presences of resistance genes). | string | - |
| Azithromycin_Equivalence_Operator | Equivalence operator on the test result for Azithromycin | string | - |
| Azithromycin_Result | | number | level : Ratio |
| Azithromycin_Conclusion | Value: S,I,R,X | string | - |
| Azithromycin_Conclusion_Predicted | AZM predicted conclusion as determined by genetic sequencing (NPR - No Predicted Resistance, DS - Decreased Susceptibility, or R - Resistant. Will be blank if not sequenced or if not yet analyzed for the presences of resistance genes). | string | - |
| Ceftazidime_Equivalence_Operator | Equivalence operator on the test result for Ceftazidime | string | - |
| Ceftazidime_Result | | number | level : Ratio |
| Ceftazidime_Conclusion | Value: S,I,R,X | string | - |
| Ceftazidime_Conclusion_Predicted | CAZ predicted conclusion as determined by genetic sequencing (NPR - No Predicted Resistance, DS - Decreased Susceptibility, or R - Resistant. Will be blank if not sequenced or if not yet analyzed for the presences of resistance genes). | string | - |
| Ceftazidime_Clavulanic_Acid_Equivalence_Operator | Equivalence operator on the test result for Ceftazidime-clavulanic acid | string | - |
| Ceftazidime_Clavulanic_Acid_Result | | number | level : Ratio |
| Ceftazidime_Clavulanic_Acid_Conclusion | Value: S,I,R,X | string | - |
| Ceftazidime_Clavulanic_Acid_Conclusion_Predicted | CCV predicted conclusion as determined by genetic sequencing (NPR - No Predicted Resistance, DS - Decreased Susceptibility, or R - Resistant. Will be blank if not sequenced or if not yet analyzed for the presences of resistance genes). | string | - |
| Cephalothin_Equivalence_Operator | Equivalence operator on the test result for Cephalothin | string | - |
| Cephalothin_Result | | number | level : Ratio |
| Cephalothin_Conclusion | Value: S,I,R,X | string | - |
| Cephalothin_Conclusion_Predicted | CEP predicted conclusion as determined by genetic sequencing (NPR - No Predicted Resistance, DS - Decreased Susceptibility, or R - Resistant. Will be blank if not sequenced or if not yet analyzed for the presences of resistance genes). | string | - |
| Cefquinome_Equivalence_Operator | Equivalence operator on the test result for Cefquinome | string | - |
| Cefquinome_Result | | number | level : Ratio |
| Cefquinome_Conclusion | Value: S,I,R,X | string | - |
| Cefquinome_Conclusion_Predicted | CEQ predicted conclusion as determined by genetic sequencing (NPR - No Predicted Resistance, DS - Decreased Susceptibility, or R - Resistant. Will be blank if not sequenced or if not yet analyzed for the presences of resistance genes). | string | - |
| Chloramphenicol_Equivalence_Operator | CHL (or C in Resistance Pattern). Equivalence operator on the test result for Chloramphenicol | string | - |
| Chloramphenicol_Result | | number | level : Ratio |
| Chloramphenicol_Conclusion | Value: S,I,R,X | string | - |
| Chloramphenicol_Conclusion_Predicted | CHL predicted conclusion as determined by genetic sequencing (NPR - No Predicted Resistance, DS - Decreased Susceptibility, or R - Resistant. Will be blank if not sequenced or if not yet analyzed for the presences of resistance genes). | string | - |
| Ciprofloxacin_Equivalence_Operator | Equivalence operator on the test result for Ciprofloxacin | string | - |
| Ciprofloxacin_Result | | number | level : Ratio |
| Ciprofloxacin_Conclusion | Value: S,I,R,X | string | - |
| Ciprofloxacin_Conclusion_Predicted | CIP predicted conclusion as determined by genetic sequencing (NPR - No Predicted Resistance, DS - Decreased Susceptibility, or R - Resistant. Will be blank if not sequenced or if not yet analyzed for the presences of resistance genes). | string | - |
| Clindamycin_Equivalence_Operator | Equivalence operator on the test result for Clindamycin | string | - |
| Clindamycin_Result | | number | level : Ratio |
| Clindamycin_Conclusion | Value: S,I,R,X | string | - |
| Clindamycin_Conclusion_Predicted | CLI predicted conclusion as determined by genetic sequencing (NPR - No Predicted Resistance, DS - Decreased Susceptibility, or R - Resistant. Will be blank if not sequenced or if not yet analyzed for the presences of resistance genes). | string | - |
| Colistin_Equivalence_Operator | Equivalence operator on the test result for Colistin | string | - |
| Colistin_Result | | number | level : Ratio |
| Colistin_Conclusion | Value: S,I,R,X | string | - |
| Colistin_Conclusion_Predicted | COL predicted conclusion as determined by genetic sequencing (NPR - No Predicted Resistance, DS - Decreased Susceptibility, or R - Resistant. Will be blank if not sequenced or if not yet analyzed for the presences of resistance genes). | string | - |
| Trimethoprim_Sulfamethoxazole_Equivalence_Operator | Equivalence operator on the test result for Trimethoprim-sulfamethoxazole | string | - |
| Trimethoprim_Sulfamethoxazole_Result | | number | level : Ratio |
| Trimethoprim_Sulfamethoxazole_Conclusion | Value: S,I,R,X | string | - |
| Trimethoprim_Sulfamethoxazole_Conclusion_Predicted | COT predicted conclusion as determined by genetic sequencing (NPR - No Predicted Resistance, DS - Decreased Susceptibility, or R - Resistant. Will be blank if not sequenced or if not yet analyzed for the presences of resistance genes). | string | - |
| Cefotaxime_Clavulanic_Acid_Equivalence_Operator | Equivalence operator on the test result for Cefotaxime-clavulanic acid | string | - |
| Cefotaxime_Clavulanic_Acid_Result | | number | level : Ratio |
| Cefotaxime_Clavulanic_Acid_Conclusion | Value: S,I,R,X | string | - |
| Cefotaxime_Clavulanic_Acid_Conclusion_Predicted | CTC predicted conclusion as determined by genetic sequencing (NPR - No Predicted Resistance, DS - Decreased Susceptibility, or R - Resistant. Will be blank if not sequenced or if not yet analyzed for the presences of resistance genes). | string | - |
| Cefotaxime_Equivalence_Operator | Equivalence operator on the test result for Cefotaxime | string | - |
| Cefotaxime_Result | | number | level : Ratio |
| Cefotaxime_Conclusion | Value: S,I,R,X | string | - |
| Cefotaxime_Conclusion_Predicted | CTX predicted conclusion as determined by genetic sequencing (NPR - No Predicted Resistance, DS - Decreased Susceptibility, or R - Resistant. Will be blank if not sequenced or if not yet analyzed for the presences of resistance genes). | string | - |
| Erythromycin_Equivalence_Operator | Equivalence operator on the test result for Erythromycin | string | - |
| Erythromycin_Result | | number | level : Ratio |
| Erythromycin_Conclusion | Value: S,I,R,X | string | - |
| Erythromycin_Conclusion_Predicted | ERY predicted conclusion as determined by genetic sequencing (NPR - No Predicted Resistance, DS - Decreased Susceptibility, or R - Resistant. Will be blank if not sequenced or if not yet analyzed for the presences of resistance genes). | string | - |
| Cefepime_Equivalence_Operator | Equivalence operator on the test result for Cefepime | string | - |
| Cefepime_Result | | number | level : Ratio |
| Cefepime_Conclusion | Value: S,I,R,X | string | - |
| Cefepime_Conclusion_Predicted | FEP predicted conclusion as determined by genetic sequencing (NPR - No Predicted Resistance, DS - Decreased Susceptibility, or R - Resistant. Will be blank if not sequenced or if not yet analyzed for the presences of resistance genes). | string | - |
| Florfenicol_Equivalence_Operator | Equivalence operator on the test result for Florfenicol | string | - |
| Florfenicol_Result | | number | level : Ratio |
| Florfenicol_Conclusion | Value: S,I,R,X | string | - |
| Florfenico_Conclusion_Predicted | FFN predicted conclusion as determined by genetic sequencing (NPR - No Predicted Resistance, DS - Decreased Susceptibility, or R - Resistant. Will be blank if not sequenced or if not yet analyzed for the presences of resistance genes). | string | - |
| Sulfisoxazole_Equivalence_Operator | FIS (or Su in Resistance Pattern). Equivalence operator on the test result for Sulfisoxazole | string | - |
| Sulfisoxazole_Result | | integer | level : Ratio |
| Sulfisoxazole_Conclusion | Value: S,I,R,X | string | - |
| Sulfisoxazole_Conclusion_Predicted | FIS predicted conclusion as determined by genetic sequencing (NPR - No Predicted Resistance, DS - Decreased Susceptibility, or R - Resistant. Will be blank if not sequenced or if not yet analyzed for the presences of resistance genes). | string | - |
| Cefoxitin_Equivalence_Operator | Equivalence operator on the test result for Cefoxitin | string | - |
| Cefoxitin_Result | | number | level : Ratio |
| Cefoxitin_Conclusion | Value: S,I,R,X | string | - |
| Cefoxitin_Conclusion_Predicted | FOX predicted conclusion as determined by genetic sequencing (NPR - No Predicted Resistance, DS - Decreased Susceptibility, or R - Resistant. Will be blank if not sequenced or if not yet analyzed for the presences of resistance genes). | string | - |
| Gentamicin_Equivalence_Operator | Equivalence operator on the test result for Gentamicin | string | - |
| Gentamicin_Result | | number | level : Ratio |
| Gentamicin_Conclusion | Value: S,I,R,X | string | - |
| Gentamicin_Conclusion_Predicted | GEN predicted conclusion as determined by genetic sequencing (NPR - No Predicted Resistance, DS - Decreased Susceptibility, or R - Resistant. Will be blank if not sequenced or if not yet analyzed for the presences of resistance genes). | string | - |
| Imipenem_Equivalence_Operator | Equivalence operator on the test result for Imipenem | string | - |
| Imipenem_Result | | number | level : Ratio |
| Imipenem_Conclusion | Value: S,I,R,X | string | - |
| Imipenem_Conclusion_Predicted | IMI predicted conclusion as determined by genetic sequencing (NPR - No Predicted Resistance, DS - Decreased Susceptibility, or R - Resistant. Will be blank if not sequenced or if not yet analyzed for the presences of resistance genes). | string | - |
| Kanamycin_Equivalence_Operator | Equivalence operator on the test result for Kanamycin | string | - |
| Kanamycin_Result | | number | level : Ratio |
| Kanamycin_Conclusion | Value: S,I,R,X | string | - |
| Kanamycin_Conclusion_Predicted | KAN predicted conclusion as determined by genetic sequencing (NPR - No Predicted Resistance, DS - Decreased Susceptibility, or R - Resistant. Will be blank if not sequenced or if not yet analyzed for the presences of resistance genes). | string | - |
| Meropenem_Equivalence_Operator | Equivalence operator on the test result for Meropenem. | string | - |
| Meropenem_Result | | number | level : Ratio |
| Meropenem_Conclusion | Value: S,I,R,X | string | - |
| Meropenem_Conclusion_Predicted | MER predicted conclusion as determined by genetic sequencing (NPR - No Predicted Resistance, DS - Decreased Susceptibility, or R - Resistant. Will be blank if not sequenced or if not yet analyzed for the presences of resistance genes). | string | - |
| Naladixic_Acid_Equivalence_Operator | Equivalence operator on the test result for Naladixic acid | string | - |
| Naladixic_Acid_Result | | number | level : Ratio |
| Naladixic_Acid_Conclusion | Value: S,I,R,X | string | - |
| Naladixic_Conclusion_Predicted | NAL predicted conclusion as determined by genetic sequencing (NPR - No Predicted Resistance, DS - Decreased Susceptibility, or R - Resistant. Will be blank if not sequenced or if not yet analyzed for the presences of resistance genes). | string | - |
| Piperacillin_Tazobactam_Equivalence_Operator | Equivalence operator on the test result for Piperacillin-tazobactam | string | - |
| Piperacillin_Tazobactam_Result | | number | level : Ratio |
| Piperacillin_Tazobactam_Conclusion | Value: S,I,R,X | string | - |
| Piperacillin_Tazobactam_Conclusion_Predicted | PTZ predicted conclusion as determined by genetic sequencing (NPR - No Predicted Resistance, DS - Decreased Susceptibility, or R - Resistant. Will be blank if not sequenced or if not yet analyzed for the presences of resistance genes). | string | - |
| Sulfamethoxazole_Equivalence_Operator | Equivalence operator on the test result for Sulfamethoxazole | string | - |
| Sulfamethoxazole_Result | | integer | level : Ratio |
| Sulfamethoxazole_Conclusion | Value: S,I,R,X | string | - |
| Sulfamethoxazole_Conclusion_Predicted | SMX predicted conclusion as determined by genetic sequencing (NPR - No Predicted Resistance, DS - Decreased Susceptibility, or R - Resistant. Will be blank if not sequenced or if not yet analyzed for the presences of resistance genes). | string | - |
| Streptomycin_Equivalence_Operator | STR (or S in Resistance Pattern). STR (or S in Resistance Pattern) .Equivalence operator on the test result for Streptomycin | string | - |
| Streptomycin_Result | | number | level : Ratio |
| Streptomycin_Conclusion | Value: S,I,R,X | string | - |
| Streptomycin_Conclusion_Predicted | STR predicted conclusion as determined by genetic sequencing (NPR - No Predicted Resistance, DS - Decreased Susceptibility, or R - Resistant. Will be blank if not sequenced or if not yet analyzed for the presences of resistance genes). | string | - |
| Telithromycin_Equivalence_Operator | Equivalence operator on the test result for Telithromycin | string | - |
| Telithromycin_Result | | number | level : Ratio |
| Telithromycin_Conclusion | Value: S,I,R,X | string | - |
| Telithromycin_Conclusion_Predicted | TEL predicted conclusion as determined by genetic sequencing (NPR - No Predicted Resistance, DS - Decreased Susceptibility, or R - Resistant. Will be blank if not sequenced or if not yet analyzed for the presences of resistance genes). | string | - |
| Tetracycline_Equivalence_Operator | TET (or T in Resistance Pattern) .Equivalence operator on the test result for Tetracycline | string | - |
| Tetracycline_Result | | number | level : Ratio |
| Tetracycline_Conclusion | Value: S,I,R,X | string | - |
| Tetracycline_Conclusion_Predicted | TET predicted conclusion as determined by genetic sequencing (NPR - No Predicted Resistance, DS - Decreased Susceptibility, or R - Resistant. Will be blank if not sequenced or if not yet analyzed for the presences of resistance genes). | string | - |
| Ceftiofur_Equivalence_Operator | Equivalence operator on the test result for Ceftiofur | string | - |
| Ceftiofur_Result | | number | level : Ratio |
| Ceftiofur_Conclusion | Value: S,I,R,X | string | - |
| Ceftiofur_Conclusion_Predicted | TIO predicted conclusion as determined by genetic sequencing (NPR - No Predicted Resistance, DS - Decreased Susceptibility, or R - Resistant. Will be blank if not sequenced or if not yet analyzed for the presences of resistance genes). | string | - |
Data Preview
| | | | | | | | | | | | | | | | | | | | | | | | | | | | | | | | | | | | | | | | | | | | | | | | | | | | | | | | | | | | | | | | | | | | | | | | | | | | | | | | | | | | | | | | | | | | | | | | | | | | | | | | | | | | | | | | | | | | | | | | | | | | | | | | | | | | | | | | | | | | | | | | | | | | |
| --- | --- | --- | --- | --- | --- | --- | --- | --- | --- | --- | --- | --- | --- | --- | --- | --- | --- | --- | --- | --- | --- | --- | --- | --- | --- | --- | --- | --- | --- | --- | --- | --- | --- | --- | --- | --- | --- | --- | --- | --- | --- | --- | --- | --- | --- | --- | --- | --- | --- | --- | --- | --- | --- | --- | --- | --- | --- | --- | --- | --- | --- | --- | --- | --- | --- | --- | --- | --- | --- | --- | --- | --- | --- | --- | --- | --- | --- | --- | --- | --- | --- | --- | --- | --- | --- | --- | --- | --- | --- | --- | --- | --- | --- | --- | --- | --- | --- | --- | --- | --- | --- | --- | --- | --- | --- | --- | --- | --- | --- | --- | --- | --- | --- | --- | --- | --- | --- | --- | --- | --- | --- | --- | --- | --- | --- | --- | --- | --- | --- | --- | --- | --- | --- | --- | --- | --- | --- | --- | --- | --- | --- | --- | --- | --- | --- | --- | --- |
| Specimen ID | NCBI Accession Number | Whole Genome Sequence ID | Is AST Approved | Is WGS Approved | Genus of Bacterial Isolate | Species of Bacterial Isolate | Serotype of Bacterial Isolate | Data Year of the Bacterial Isolate Submission | Region Name | Age Group | Specimen Source | Resistance Pattern | Resistance Determinants | Predictive Resistance Pattern | Is Lost Resistance On Retest | Amikacin Equivalence Operator | Amikacin Result | Amikacin Conclusion | Amikacin Conclusion Predicted | Ampicillin Equivalence Operator | Ampicillin Result | Ampicillin Conclusion | Ampicillin Conclusion Predicted | Aztreonam Equivalence Operator | Aztreonam Result | Aztreonam Conclusion | Aztreonam Conclusion Predicted | Amoxicillin Clavulanic Acid Equivalence Operator | Amoxicillin Clavulanic Acid Result | Amoxicillin Clavulanic Acid Conclusion | Amoxicillin Clavulanic Acid Conclusion Predicted | Ceftriaxone Equivalence Operator | Ceftriaxone Result | Ceftriaxone Conclusion | Ceftriaxone Conclusion Predicted | Azithromycin Equivalence Operator | Azithromycin Result | Azithromycin Conclusion | Azithromycin Conclusion Predicted | Ceftazidime Equivalence Operator | Ceftazidime Result | Ceftazidime Conclusion | Ceftazidime Conclusion Predicted | Ceftazidime Clavulanic Acid Equivalence Operator | Ceftazidime Clavulanic Acid Result | Ceftazidime Clavulanic Acid Conclusion | Ceftazidime Clavulanic Acid Conclusion Predicted | Cephalothin Equivalence Operator | Cephalothin Result | Cephalothin Conclusion | Cephalothin Conclusion Predicted | Cefquinome Equivalence Operator | Cefquinome Result | Cefquinome Conclusion | Cefquinome Conclusion Predicted | Chloramphenicol Equivalence Operator | Chloramphenicol Result | Chloramphenicol Conclusion | Chloramphenicol Conclusion Predicted | Ciprofloxacin Equivalence Operator | Ciprofloxacin Result | Ciprofloxacin Conclusion | Ciprofloxacin Conclusion Predicted | Clindamycin Equivalence Operator | Clindamycin Result | Clindamycin Conclusion | Clindamycin Conclusion Predicted | Colistin Equivalence Operator | Colistin Result | Colistin Conclusion | Colistin Conclusion Predicted | Trimethoprim Sulfamethoxazole Equivalence Operator | Trimethoprim Sulfamethoxazole Result | Trimethoprim Sulfamethoxazole Conclusion | Trimethoprim Sulfamethoxazole Conclusion Predicted | Cefotaxime Clavulanic Acid Equivalence Operator | Cefotaxime Clavulanic Acid Result | Cefotaxime Clavulanic Acid Conclusion | Cefotaxime Clavulanic Acid Conclusion Predicted | Cefotaxime Equivalence Operator | Cefotaxime Result | Cefotaxime Conclusion | Cefotaxime Conclusion Predicted | Erythromycin Equivalence Operator | Erythromycin Result | Erythromycin Conclusion | Erythromycin Conclusion Predicted | Cefepime Equivalence Operator | Cefepime Result | Cefepime Conclusion | Cefepime Conclusion Predicted | Florfenicol Equivalence Operator | Florfenicol Result | Florfenicol Conclusion | Florfenico Conclusion Predicted | Sulfisoxazole Equivalence Operator | Sulfisoxazole Result | Sulfisoxazole Conclusion | Sulfisoxazole Conclusion Predicted | Cefoxitin Equivalence Operator | Cefoxitin Result | Cefoxitin Conclusion | Cefoxitin Conclusion Predicted | Gentamicin Equivalence Operator | Gentamicin Result | Gentamicin Conclusion | Gentamicin Conclusion Predicted | Imipenem Equivalence Operator | Imipenem Result | Imipenem Conclusion | Imipenem Conclusion Predicted | Kanamycin Equivalence Operator | Kanamycin Result | Kanamycin Conclusion | Kanamycin Conclusion Predicted | Meropenem Equivalence Operator | Meropenem Result | Meropenem Conclusion | Meropenem Conclusion Predicted | Naladixic Acid Equivalence Operator | Naladixic Acid Result | Naladixic Acid Conclusion | Naladixic Conclusion Predicted | Piperacillin Tazobactam Equivalence Operator | Piperacillin Tazobactam Result | Piperacillin Tazobactam Conclusion | Piperacillin Tazobactam Conclusion Predicted | Sulfamethoxazole Equivalence Operator | Sulfamethoxazole Result | Sulfamethoxazole Conclusion | Sulfamethoxazole Conclusion Predicted | Streptomycin Equivalence Operator | Streptomycin Result | Streptomycin Conclusion | Streptomycin Conclusion Predicted | Telithromycin Equivalence Operator | Telithromycin Result | Telithromycin Conclusion | Telithromycin Conclusion Predicted | Tetracycline Equivalence Operator | Tetracycline Result | Tetracycline Conclusion | Tetracycline Conclusion Predicted | Ceftiofur Equivalence Operator | Ceftiofur Result | Ceftiofur Conclusion | Ceftiofur Conclusion Predicted |
| AM51658 | | | True | False | Shigella | sonnei | | 2012 | Region 2 | 20-29 | Stool | AS | Not sequenced | Not sequenced | | | | | | > | 32.0 | R | | | | | | = | 8.0 | S | | <= | 0.25 | S | | = | 4.0 | S | | | | | | | | | | | | | | | | | | = | 8.0 | S | | <= | 0.015 | S | | | | | | | | | | = | 0.5 | S | | | | | | | | | | | | | | | | | | | | | | <= | 16.0 | S | | = | 4.0 | S | | = | 1.0 | S | | | | | | <= | 8.0 | S | | | | | | = | 2 | S | | | | | | | | | | > | 64.0 | R | | | | | | <= | 4.0 | S | | = | 0.5 | S | |
| AM39779 | | | True | False | Salmonella | enterica | Typhi | 2008 | Region 6 | 10-19 | Blood | ACSSuTNalCot | Not sequenced | Not sequenced | | = | 1.0 | S | | > | 32.0 | R | | | | | | = | 4.0 | S | | <= | 0.25 | S | | | | | | | | | | | | | | | | | | | | | | > | 32.0 | R | | = | 0.25 | I | | | | | | | | | | > | 4.0 | R | | | | | | | | | | | | | | | | | | | | | | > | 256.0 | R | | = | 4.0 | S | | <= | 0.25 | S | | | | | | <= | 8.0 | S | | | | | | > | 32 | R | | | | | | | | | | > | 64.0 | R | | | | | | > | 32.0 | R | | = | 0.5 | S | |
| AM18255 | | | True | False | Salmonella | enterica | Ibadan | 2003 | Region 6 | 80+ | Stool | No resistance detected | Not sequenced | Not sequenced | | <= | 0.5 | S | | = | 2.0 | S | | | | | | <= | 1.0 | S | | <= | 0.25 | S | | | | | | | | | | | | | | <= | 2.0 | S | | | | | | = | 8.0 | S | | <= | 0.015 | S | | | | | | | | | | = | 0.25 | S | | | | | | | | | | | | | | | | | | | | | | | | | | = | 2.0 | S | | <= | 0.25 | S | | | | | | <= | 8.0 | S | | | | | | = | 8 | S | | | | | | = | 64.0 | S | | <= | 32.0 | S | | | | | | <= | 4.0 | S | | = | 0.5 | S | |
| AM05608 | | | True | False | Salmonella | enterica | Typhimurium | 1999 | Region 3 | 0-4 | Stool | No resistance detected | Not sequenced | Not sequenced | | <= | 4.0 | S | | <= | 2.0 | S | | | | | | = | 1.0 | S | | <= | 0.25 | S | | | | | | | | | | | | | | = | 8.0 | S | | | | | | = | 8.0 | S | | = | 0.03 | S | | | | | | | | | | <= | 0.12 | S | | | | | | | | | | | | | | | | | | | | | | | | | | | | | | <= | 0.25 | S | | | | | | <= | 16.0 | S | | | | | | <= | 4 | S | | | | | | <= | 128.0 | S | | <= | 32.0 | S | | | | | | <= | 4.0 | S | | <= | 0.5 | S | |
| AM02405 | | | True | False | Salmonella | enterica | Typhimurium | 1997 | Region 1 | 60-69 | Stool | ASSuTKan | Not sequenced | Not sequenced | | <= | 4.0 | S | | > | 64.0 | R | | | | | | = | 8.0 | S | | <= | 0.25 | S | | | | | | | | | | | | | | = | 8.0 | S | | | | | | <= | 4.0 | S | | <= | 0.015 | S | | | | | | | | | | <= | 0.12 | S | | | | | | | | | | | | | | | | | | | | | | | | | | | | | | <= | 0.25 | S | | | | | | > | 64.0 | R | | | | | | <= | 4 | S | | | | | | > | 512.0 | R | | = | 256.0 | R | | | | | | > | 64.0 | R | | <= | 0.5 | S | |
| AM46480 | | | True | False | Salmonella | enterica | Typhimurium | 2011 | Region 7 | 30-39 | Stool | No resistance detected | Not sequenced | Not sequenced | | | | | | <= | 1.0 | S | | | | | | <= | 1.0 | S | | <= | 0.25 | S | | = | 4.0 | S | | | | | | | | | | | | | | | | | | = | 4.0 | S | | <= | 0.015 | S | | | | | | | | | | <= | 0.12 | S | | | | | | | | | | | | | | | | | | | | | | = | 32.0 | S | | = | 2.0 | S | | = | 0.5 | S | | | | | | <= | 8.0 | S | | | | | | = | 4 | S | | | | | | | | | | <= | 32.0 | S | | | | | | <= | 4.0 | S | | = | 0.5 | S | |
| 2004023 | | | True | False | Campylobacter | jejuni | | 2004 | Region 2 | 10-19 | Stool | TCipNal | Not sequenced | Not sequenced | | | | | | | | | | | | | | | | | | | | | | = | 0.19 | S | | | | | | | | | | | | | | | | | | = | 4.0 | S | | > | 32.0 | R | | = | 0.5 | S | | | | | | | | | | | | | | | | | | = | 2.0 | S | | | | | | | | | | | | | | | | | | = | 0.38 | S | | | | | | | | | | | | | | > | 256 | R | | | | | | | | | | | | | | | | | | > | 256.0 | R | | | | | |
| AM06451 | | | True | False | Salmonella | enterica | Typhimurium | 1999 | Region 2 | 0-4 | Stool | No resistance detected | Not sequenced | Not sequenced | | <= | 4.0 | S | | <= | 2.0 | S | | | | | | = | 1.0 | S | | <= | 0.25 | S | | | | | | | | | | | | | | = | 4.0 | S | | | | | | <= | 4.0 | S | | <= | 0.015 | S | | | | | | | | | | <= | 0.12 | S | | | | | | | | | | | | | | | | | | | | | | | | | | | | | | <= | 0.25 | S | | | | | | <= | 16.0 | S | | | | | | <= | 4 | S | | | | | | <= | 128.0 | S | | <= | 32.0 | S | | | | | | <= | 4.0 | S | | <= | 0.5 | S | |
| 20110328 | | | True | False | Campylobacter | jejuni | | 2011 | Region 9 | 80+ | Stool | No resistance detected | Not sequenced | Not sequenced | | | | | | | | | | | | | | | | | | | | | | = | 0.06 | S | | | | | | | | | | | | | | | | | | | | | | = | 0.12 | S | | = | 0.25 | S | | | | | | | | | | | | | | | | | | = | 0.5 | S | | | | | | = | 1.0 | S | | | | | | | | | | = | 0.5 | S | | | | | | | | | | | | | | <= | 4 | S | | | | | | | | | | | | | | = | 0.5 | S | | = | 0.25 | S | | | | | |
| AM31294 | | | True | False | Salmonella | enterica | Sandiego | 2007 | Region 4 | 40-49 | Stool | No resistance detected | Not sequenced | Not sequenced | | = | 1.0 | S | | <= | 1.0 | S | | | | | | <= | 1.0 | S | | <= | 0.25 | S | | | | | | | | | | | | | | | | | | | | | | = | 8.0 | S | | <= | 0.015 | S | | | | | | | | | | <= | 0.12 | S | | | | | | | | | | | | | | | | | | | | | | = | 32.0 | S | | = | 2.0 | S | | = | 0.5 | S | | | | | | <= | 8.0 | S | | | | | | = | 2 | S | | | | | | | | | | <= | 32.0 | S | | | | | | <= | 4.0 | S | | = | 1.0 | S | |