Others titles
OAS CAHPS Survey for Hospital Outpatient Departments
Patients' Experiences of Care in Hospital Outpatient Departments by Facility
OAS CAHPS Survey Statistic Data by Facility
Hospital Outpatient Department Ratings About OAS CAHPS Survey
Keywords
Ambulatory Surgery Center by Facility
Outpatient and Ambulatory Surgery
OAS CAHPS Survey
Hospital Outpatient Departments by Facility
Experience of Care for Patients
Outpatient Surgical Services
Outpatient Facility
OAS CAHPS Survey for Hospital Outpatient Departments by Facility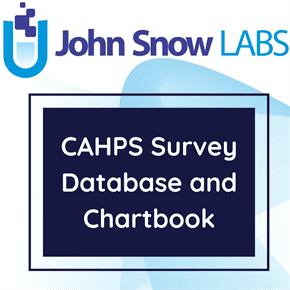 This dataset contains a list of hospital outpatient department ratings for the Outpatient and Ambulatory Surgery Consumer Assessment of Healthcare Providers and Systems (OAS CAHPS) survey. The dataset is updated and reported each quarter with data from the most recently completed quarter replacing the oldest quarter of data.
Log in to download
Complexity
Get The Data
For getting access to data download links please read and accept the end-user license agreement.
Your Data License
Research

Non-Commercial, Share-Alike, Attribution

Free Forever

Commercial

Commercial Use, Remix & Adapt, White Label Log in to download
Description
The Consumer Assessment of Healthcare Providers and Systems Outpatient and Ambulatory Surgery Survey (OAS CAHPS) by facility collect information about patient's experiences of care in Hospital Outpatient Departments (HOPDs) and Ambulatory Surgery Centers (ASCs). OAS CAHPS Survey is designed to measure patient's experiences with a surgery or procedure from Medicare-certified Hospital Outpatient Departments (HOPDs) and Ambulatory Surgery Centers. The Centers for Medicare & Medicaid Services (CMS) contracted with Respiratory Tract Infection (RTI) International to develop the OAS CAHPS survey to measure the experience of care for patients who have a surgery or procedure performed in a hospital outpatient department or ambulatory surgery center.
Patients 18 years old and older who had both medically and non-medically necessary surgeries and procedures are eligible. The CAHPS Outpatient and Ambulatory Surgery Survey ask adult patients about their experiences receiving care in Medicare-certified Hospital Outpatient Surgery Departments and Ambulatory Surgery Centers. The survey asks about patients' experiences with:
– Preparation for the surgery or procedure
– Check-in and pre-operative processes
– Cleanliness of the surgery facility
– The surgery facility staff
– Discharge from the facility
– Preparation for recovering at home
The survey also includes questions about whether patients received information about what to do if they had possible side-effects during their recovery. OAS CAHPS is designed to be national in scope and will require standardized administration protocols. Hospital Outpatient Department and Ambulatory Surgery Center can use the survey results to improve the services provided to patients and to support consumers in making informed healthcare choices. As of December 2012, there were approximately 5,357 Medicare-certified Ambulatory Surgery Center and about 3,360 Hospital Outpatient Departments. In 2006, there were almost 35 million ambulatory surgical visits; approximately 20 million surgeries and procedures were performed in Hospital Outpatient Departments, and approximately 15 million were performed in Ambulatory Surgery Center. Medicare payments to Ambulatory Surgery Center have increased by 24% over the years, from $2.9 billion in 2007 to $3.6 billion in 2012. Considering the growing number of Ambulatory Surgery Center and the increase in Medicare expenditures for outpatient surgical services in both ASCs and HOPDs, the implementation of OAS CAHPS will provide statistically valid data from the patient perspective to inform quality improvement and comparative consumer information about outpatient facilities.
About this Dataset
Data Info
| | |
| --- | --- |
| Date Created | 2018-03-02 |
| Last Modified | 2022-10-05 |
| Version | 2022-10-05 |
| Update Frequency | Quarterly |
| Temporal Coverage | 2020-07-01 to 2022-10-30 |
| Spatial Coverage | United States |
| Source | John Snow Labs; Centers for Medicare and Medicaid Services; |
| Source License URL | |
| Source License Requirements | N/A |
| Source Citation | N/A |
| Keywords | Ambulatory Surgery Center by Facility, Outpatient and Ambulatory Surgery, OAS CAHPS Survey, Hospital Outpatient Departments by Facility, Experience of Care for Patients, Outpatient Surgical Services, Outpatient Facility |
| Other Titles | OAS CAHPS Survey for Hospital Outpatient Departments, Patients' Experiences of Care in Hospital Outpatient Departments by Facility, OAS CAHPS Survey Statistic Data by Facility, Hospital Outpatient Department Ratings About OAS CAHPS Survey |
Data Fields
| Name | Description | Type | Constraints |
| --- | --- | --- | --- |
| CMS_Certification_Number | Center for Medicare & Medicaid Services (CMS) certification number (CCN). Identification number of the facility within the CMS dataset. The CCN for providers and suppliers is a 6 digit number. The first 2 digits identify the State in which the provider is located. The last 4 digits identify the type of facility. | string | - |
| Facility_Name | The name of the hospital outpatient departments by facility. | string | - |
| Address | The main street address of the hospital outpatient departments by facility. | string | - |
| City | The city name in the location address of the facility being identified. | string | - |
| County | The name of the county in the location address of the facility being identified. | string | - |
| State_Abbreviation | The two-letter abbreviations of the state in the mailing address of the ambulatory center. This includes information on hospitals in different U.S. states. | string | - |
| Zip_Code | The postal Zip code in the mailing address of the hospital. | integer | level : Nominal |
| Telephone_Number | Main phone number of the hospital. 3-digit area code plus 7-digit telephone number. | string | - |
| Pts_Report_Staff_Care_Professionally_And_Clean_Facility | Indicates the patients who reported that staff definitely gave care in a professional way and the facility was clean for Outpatient and Ambulatory Surgery Consumer Assessment of Healthcare Providers and Systems (OAS CAHPS) survey. | integer | level : Ratio |
| Pts_Report_Staff_Somewhat_Care_Professionally_Or_Clean_Facility | Indicates the patients who reported that staff somewhat gave care in a professional way or the facility was somewhat clean for Outpatient and Ambulatory Surgery Consumer Assessment of Healthcare Providers and Systems (OAS CAHPS) survey. | integer | level : Ratio |
| Pts_Report_No_Staff_Care_Professionally_Or_No_Clean_Facility | Indicates the patients who reported that staff did not give care in a professional way or the facility was not clean for Outpatient and Ambulatory Surgery Consumer Assessment of Healthcare Providers and Systems (OAS CAHPS) survey. | integer | level : Ratio |
| Facilities_And_Staff_Linear_Mean_Score | Indicates the facilities and staff linear mean score for Outpatient and Ambulatory Surgery Consumer Assessment of Healthcare Providers and Systems (OAS CAHPS) survey. | integer | level : Ratio |
| Pts_Report_Staff_To_Comm_Expectation_During_And_After_Procedure | Indicates the patients who reported that staff definitely communicated about what to expect during and after the procedure for Outpatient and Ambulatory Surgery Consumer Assessment of Healthcare Providers and Systems (OAS CAHPS) survey. | integer | level : Ratio |
| Pts_Report_Staff_Somewhat_Comm_Expectation_During_And_After_Procedure | Indicates the patients who reported that staff somewhat communicated about what to expect during and after the procedure for Outpatient and Ambulatory Surgery Consumer Assessment of Healthcare Providers and Systems (OAS CAHPS) survey. | integer | level : Ratio |
| Pts_Report_Staff_Not_To_Comm_Expection_During_And_After_Procedure | Indicates the patients who reported that staff did not communicate about what to expect during and after the procedure for Outpatient and Ambulatory Surgery Consumer Assessment of Healthcare Providers and Systems (OAS CAHPS) survey. | integer | level : Ratio |
| Communication_About_Procedure_Linear_Mean_Score | Indicates the communication about procedure linear mean score for Outpatient and Ambulatory Surgery Consumer Assessment of Healthcare Providers and Systems (OAS CAHPS) survey. | integer | level : Ratio |
| Pts_Gave_Facility_Rating_of_9_Or_10_On_Scale_From_0_To_10 | Indicates the patients who gave the facility a rating of 9 or 10 on a scale from 0 (lowest) to 10 (highest) for Outpatient and Ambulatory Surgery Consumer Assessment of Healthcare Providers and Systems (OAS CAHPS) survey. | integer | level : Ratio |
| Pts_Gave_Facility_Rating_Of_7_Or_8_On_Scale_From_0_To_10 | Indicates the patients who gave the facility a rating of 7 or 8 on a scale from 0 (lowest) to 10 (highest) for Outpatient and Ambulatory Surgery Consumer Assessment of Healthcare Providers and Systems (OAS CAHPS) survey. | integer | level : Ratio |
| Pts_Gave_Facility_Rating_of_0_Or_6_On_Scale_From_0_To_10 | Indicates the patients who gave the facility a rating of 0 to 6 on a scale from 0 (lowest) to 10 (highest) for Outpatient and Ambulatory Surgery Consumer Assessment of Healthcare Providers and Systems (OAS CAHPS) survey. | integer | level : Ratio |
| Pts_Rating_of_The_Facility_Linear_Mean_Score | Indicates the patients rating of the facility linear mean score for Outpatient and Ambulatory Surgery Consumer Assessment of Healthcare Providers and Systems (OAS CAHPS) survey. | integer | level : Ratio |
| Pts_Report_Definitely_Yes_To_Recommend_Facility_To_Family_Or_Friends | Indicates the patients who reported YES they would definitely recommend the facility to family or friends for Outpatient and Ambulatory Surgery Consumer Assessment of Healthcare Providers and Systems (OAS CAHPS) survey. | integer | level : Ratio |
| Pts_Report_Probably_Yes_To_Recommend_Facility_To_Family_Or_Friends | Indicates the patients who reported probably YES they would recommend the facility to family or friends for Outpatient and Ambulatory Surgery Consumer Assessment of Healthcare Providers and Systems (OAS CAHPS) survey. | integer | level : Ratio |
| Pts_Report_NO_To_Recommend_Facility_To_Family_Or_Friends | Indicates the patients who reported NO, they would not recommend the facility to family or friends for Outpatient and Ambulatory Surgery Consumer Assessment of Healthcare Providers and Systems (OAS CAHPS) survey. | integer | level : Ratio |
| Pts_Recommending_The_Facility_Linear_Mean_Score | Indicates the patients recommending the facility linear mean score for Outpatient and Ambulatory Surgery Consumer Assessment of Healthcare Providers and Systems (OAS CAHPS) survey. | integer | level : Ratio |
| Footnote_Code | Footnote code represents the code for an additional piece of information given separately for compiled data. | string | - |
| Number_of_Sampled_Patients | It represents the number of sampled patients for Outpatient and Ambulatory Surgery Consumer Assessment of Healthcare Providers and Systems (OAS CAHPS) survey. | integer | level : Ratio |
| Number_of_Completed_Surveys | It represents the number of completed surveys for Outpatient and Ambulatory Surgery Consumer Assessment of Healthcare Providers and Systems (OAS CAHPS) survey. | integer | level : Ratio |
| Survey_Response_Rate_Percent | It represents the percentage for the response rate of survey. | integer | level : Ratio |
Data Preview
| | | | | | | | | | | | | | | | | | | | | | | | | | | | |
| --- | --- | --- | --- | --- | --- | --- | --- | --- | --- | --- | --- | --- | --- | --- | --- | --- | --- | --- | --- | --- | --- | --- | --- | --- | --- | --- | --- |
| CMS Certification Number | Facility Name | Address | City | County | State Abbreviation | Zip Code | Telephone Number | Pts Report Staff Care Professionally And Clean Facility | Pts Report Staff Somewhat Care Professionally Or Clean Facility | Pts Report No Staff Care Professionally Or No Clean Facility | Facilities And Staff Linear Mean Score | Pts Report Staff To Comm Expectation During And After Procedure | Pts Report Staff Somewhat Comm Expectation During And After Procedure | Pts Report Staff Not To Comm Expection During And After Procedure | Communication About Procedure Linear Mean Score | Pts Gave Facility Rating of 9 Or 10 On Scale From 0 To 10 | Pts Gave Facility Rating Of 7 Or 8 On Scale From 0 To 10 | Pts Gave Facility Rating of 0 Or 6 On Scale From 0 To 10 | Pts Rating of The Facility Linear Mean Score | Pts Report Definitely Yes To Recommend Facility To Family Or Friends | Pts Report Probably Yes To Recommend Facility To Family Or Friends | Pts Report NO To Recommend Facility To Family Or Friends | Pts Recommending The Facility Linear Mean Score | Footnote Code | Number of Sampled Patients | Number of Completed Surveys | Survey Response Rate Percent |
| 10005 | MARSHALL MEDICAL CENTERS | 2505 U S HIGHWAY 431 NORTH | BOAZ | Marshall | AL | 35957 | (256) 593-8310 | 97 | 3 | 0 | 99 | 93 | 6 | 1 | 96 | 87 | 12 | 1 | 94 | 80 | 19 | 1 | 93 | | 2699 | 602 | 22 |
| 10008 | CRENSHAW COMMUNITY HOSPITAL | 101 HOSPITAL CIRCLE | LUVERNE | Crenshaw | AL | 36049 | (334) 335-3374 | 100 | 0 | 0 | 100 | 96 | 3 | 1 | 98 | 84 | 16 | 0 | 95 | 83 | 17 | 0 | 95 | 3.0 | 160 | 51 | 33 |
| 10016 | SHELBY BAPTIST MEDICAL CENTER | 1000 FIRST STREET NORTH | ALABASTER | Shelby | AL | 35007 | (205) 620-8100 | 96 | 3 | 1 | 97 | 90 | 8 | 2 | 94 | 83 | 14 | 3 | 93 | 82 | 16 | 2 | 93 | | 1905 | 435 | 23 |
| 10019 | HELEN KELLER HOSPITAL | 1300 SOUTH MONTGOMERY AVENUE | SHEFFIELD | Colbert | AL | 35660 | (256) 386-4556 | 97 | 3 | 0 | 98 | 92 | 6 | 2 | 95 | 87 | 11 | 2 | 94 | 88 | 11 | 1 | 95 | | 3062 | 746 | 25 |
| 10021 | DALE MEDICAL CENTER | 126 HOSPITAL AVE | OZARK | Dale | AL | 36360 | (334) 774-2601 | 96 | 4 | 0 | 98 | 94 | 5 | 1 | 96 | 86 | 13 | 1 | 96 | 92 | 7 | 1 | 97 | | 821 | 250 | 31 |
| 10023 | BAPTIST MEDICAL CENTER SOUTH | 2105 EAST SOUTH BOULEVARD | MONTGOMERY | Montgomery | AL | 36116 | (334) 288-2100 | 94 | 5 | 1 | 96 | 92 | 6 | 2 | 95 | 82 | 13 | 5 | 92 | 86 | 12 | 2 | 94 | | 2903 | 824 | 29 |
| 10029 | THE EAST ALABAMA HEALTHCARE AUTHORITY | 2000 PEPPERELL PARKWAY | OPELIKA | Lee | AL | 36801 | (334) 749-3411 | 96 | 3 | 1 | 97 | 91 | 7 | 2 | 94 | 85 | 14 | 1 | 94 | 86 | 13 | 1 | 95 | | 1769 | 428 | 24 |
| 10035 | CULLMAN REGIONAL MEDICAL CENTER | 1912 ALABAMA HIGHWAY 157 | CULLMAN | Cullman | AL | 35058 | (256) 737-2000 | 95 | 5 | 0 | 98 | 92 | 7 | 1 | 95 | 81 | 17 | 2 | 93 | 75 | 23 | 2 | 91 | | 1421 | 353 | 25 |
| 10039 | HUNTSVILLE HOSPITAL | 101 SIVLEY RD | HUNTSVILLE | Madison | AL | 35801 | (256) 265-1000 | 97 | 3 | 0 | 98 | 90 | 8 | 2 | 94 | 85 | 13 | 2 | 94 | 86 | 12 | 2 | 94 | | 5440 | 1265 | 23 |
| 10044 | MARION REGIONAL MEDICAL CENTER | 1256 MILITARY STREET SOUTH | HAMILTON | Marion | AL | 35570 | (205) 921-6200 | 98 | 2 | 0 | 99 | 91 | 7 | 2 | 95 | 88 | 11 | 1 | 95 | 82 | 16 | 2 | 93 | 3.0 | 324 | 93 | 29 |