Others titles
National HCPCS Code and Place of Service Aggregate Report
National HCPCS Aggregate Report
Medicare Providers Utilization and Payment Data National Aggregate Report
Physicians And Other Suppliers National Aggregate Report
Keywords
HCPCS Code
Place of Service
Aggregate HCPCS Table
Physician and Other Supplier
Utilization and Payment
National HCPCS Aggregate Table
Physician and Other Supplier Payment National HCPCS Aggregate Report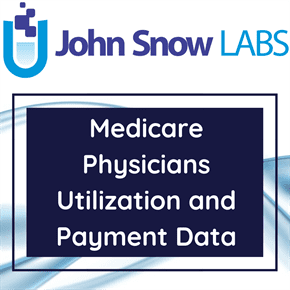 The dataset contains information on average utilization and payments (submitted charges, Medicare allowed amount, Medicare Payment amount, Medicare standardized payment amount) on Healthcare Common Procedure Coding System (HCPCS) codes on the national level. This Public Use File is based on information from Centers for Medicare and Medicaid Services administrative claims data for Medicare beneficiaries enrolled in the fee-for-service program available from the Chronic Condition Data Warehouse.
Log in to download
Complexity
Get The Data
For getting access to data download links please read and accept the end-user license agreement.
Your Data License
Research

Non-Commercial, Share-Alike, Attribution

Free Forever

Commercial

Commercial Use, Remix & Adapt, White Label Log in to download
Description
Each year, in the United States, health care insurers process over 5 billion claims for payment. The Healthcare Common Procedure Coding System (HCPCS) code is a standardized coding system that helps Medicare and other health insurance programs ensure the claims are processed in an orderly and consistent manner. The HCPCS Level II Code Set is one of the standard code sets used for this purpose. The HCPCS is divided into two principal subsystems, referred to as level I and level II of the HCPCS. Level I of the HCPCS is comprised of CPT (Current Procedural Terminology), a numeric coding system maintained by the American Medical Association (AMA).
The CPT, on the other hand, is a uniform coding system consisting of descriptive terms and identifying codes that are used primarily to identify medical services and procedures furnished by physicians and other healthcare professionals. Level II of the HCPCS is a standardized coding system that is used primarily to identify products, supplies, and services not included in the CPT codes, such as ambulance services and durable medical equipment, prosthetics, orthotics, and supplies (DMEPOS) when used outside a physician's office. The Physician and Other Supplier PUF and the supplemental summary tables including the "Medicare State/National HCPCS Aggregate Tables" have been updated to include Medicare standardized payment amounts. The data in the Physician and Other Supplier PUF covers the calendar year 2012 to 2015 and contains 100% final-action physician/supplier Part B non-institutional line items for the Medicare fee-for-service population.
About this Dataset
Data Info
| | |
| --- | --- |
| Date Created | 2017-09-22 |
| Last Modified | 2019-06-05 |
| Version | 2019-06-05 |
| Update Frequency | Annual |
| Temporal Coverage | 2016-2017 |
| Spatial Coverage | United States |
| Source | John Snow Labs; Centers for Medicare and Medicaid Services; |
| Source License URL | |
| Source License Requirements | N/A |
| Source Citation | N/A |
| Keywords | HCPCS Code, Place of Service, Aggregate HCPCS Table, Physician and Other Supplier, Utilization and Payment, National HCPCS Aggregate Table |
| Other Titles | National HCPCS Code and Place of Service Aggregate Report, National HCPCS Aggregate Report, Medicare Providers Utilization and Payment Data National Aggregate Report, Physicians And Other Suppliers National Aggregate Report |
Data Fields
| Name | Description | Type | Constraints |
| --- | --- | --- | --- |
| Year | Year of national HCPCS aggregate data | date | - |
| HCPCS_Code | HCPCS code used to identify the specific medical service furnished by the provider. HCPCS codes include two levels. Level I codes are the Current Procedural Terminology (CPT) codes that are maintained by the American Medical Association and Level II codes are created by CMS to identify products, supplies and services not covered by the CPT codes (such as ambulance services). | string | - |
| HCPCS_Description | Description of the HCPCS code for the specific medical service furnished by the provider. HCPCS descriptions associated with CPT codes are consumer friendly descriptions provided by the AMA. All other descriptions are CMS Level II descriptions provided in the long form. Due to variable length restrictions, the CMS Level II descriptions have been truncated to 256 bytes. As a result, the same HCPCS description can be associated with more than one HCPCS code. | string | - |
| Is_HCPCS_Drug_Indicator | Identifies whether the HCPCS code for the specific service furnished by the provider is an HCPCS listed on the Medicare Part B Drug Average Sales Price (ASP) File. | boolean | - |
| Place_of_Service | Identifies whether the place of service submitted on the claims is a facility (value of 'F') or non-facility (value of 'O'). Non-facility is generally an office setting; however other entities are included in non-facility. | string | - |
| Number_of_Providers | Number of providers in the country with HCPCS code and place of service. | integer | level : Ratio |
| Number_of_Services | Total provider services. | number | level : Ratio |
| Number_of_Unique_Beneficiary_Or_Provider_Interactions | Total Medicare beneficiaries receiving the provider services. | integer | level : Ratio |
| Number_of_Distinct_Medicare_Beneficiary_Or_Per_Day_Services | Since a given beneficiary may receive multiple services of the same type (e.g., single vs. multiple cardiac stents) on a single day, this metric removes double-counting from the line service count to identify whether a unique service occurred. | integer | level : Ratio |
| Average_Submitted_Charge_Amount | Average of the charges that providers submit for the service. | number | - |
| Average_Medicare_Allowed_Amount | Average of the Medicare allowed amount for the service. Medicare allowed amounts includes the amount Medicare pays, the deductible and coinsurance amounts that the beneficiary is responsible for paying, and any amounts that a third party is responsible for paying. | number | - |
| Average_Medicare_Payment_Amount | Average amount that Medicare paid after deductible and coinsurance amounts have been deducted for the line item service. | number | - |
| Average_Medicare_Standardized_Payment_Amount | Average Medicare Standardized Amount which is the average amount that Medicare paid after beneficiary deductible and coinsurance amounts have been deducted for the line item service and after standardization of the Medicare payment has been applied. | number | - |
Data Preview
| | | | | | | | | | | | | |
| --- | --- | --- | --- | --- | --- | --- | --- | --- | --- | --- | --- | --- |
| Year | HCPCS Code | HCPCS Description | Is HCPCS Drug Indicator | Place of Service | Number of Providers | Number of Services | Number of Unique Beneficiary Or Provider Interactions | Number of Distinct Medicare Beneficiary Or Per Day Services | Average Submitted Charge Amount | Average Medicare Allowed Amount | Average Medicare Payment Amount | Average Medicare Standardized Payment Amount |
| 2016 | 0008M | Onc breast risk score | False | O | 5 | 201 | 194 | 199 | 7908.15 | 3419.4 | 3351.01 | 3351.03 |
| 2016 | 100 | Anesthesia for procedure on salivary gland with biopsy | False | F | 9735 | 12216 | 12187 | 12213 | 1709.57 | 233.89 | 181.3 | 182.48 |
| 2016 | 100 | Anesthesia for procedure on salivary gland with biopsy | False | O | 59 | 72 | 72 | 72 | 1145.43 | 145.35 | 110.99 | 113.16 |
| 2016 | 102 | Anesthesia for procedure to repair lip defect present at birth | False | F | 65 | 70 | 70 | 70 | 1308.12 | 178.69 | 137.86 | 140.33 |
| 2016 | 103 | Anesthesia for procedure on eyelid | False | O | 1008 | 3935 | 3912 | 3934 | 915.08 | 126.65 | 97.18 | 97.27 |
| 2016 | 103 | Anesthesia for procedure on eyelid | False | F | 21460 | 123331 | 121509 | 123225 | 1000.69 | 150.95 | 116.27 | 117.41 |
| 2016 | 104 | Anesthesia for electric shock treatment | False | O | 125 | 1701 | 974 | 1701 | 636.01 | 79.37 | 60.92 | 62.85 |
| 2016 | 104 | Anesthesia for electric shock treatment | False | F | 12625 | 190539 | 103340 | 190491 | 618.62 | 85.39 | 65.84 | 66.14 |
| 2016 | 0010M | Oncology (high-grade prostate cancer), biochemical assay of four proteins (total psa, free psa, intact psa and human kallidrein 2 (hk2)) plus patient age, digital rectal examination status, and no history of positive prostate biopsy, utilizing plasma, prog | False | O | 4 | 13467 | 13233 | 13466 | 1900.05 | 333.54 | 260.38 | 260.38 |
| 2016 | 120 | Anesthesia for biopsy of external middle and inner ear | False | F | 13056 | 23783 | 23402 | 23778 | 1456.79 | 198.86 | 153.8 | 154.89 |