Others titles
Poverty Status by Zip Code Tabulation Area Census Tract
Poverty Status by Zip Code Tabulation Area Map
Keywords
Zip Code
FIPS Code
Longitude And Latitude
American Community Survey
Poverty By Age
Poverty By Sex
Poverty By Race
Education And Poverty Statistics
Poverty And Employment
Below Poverty Line
Poverty Status by Zip Code Tabulation Area 2012-2016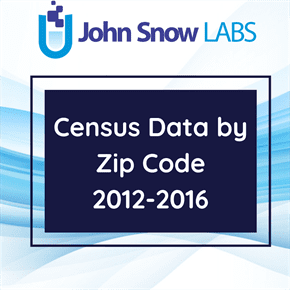 This American Community Survey (ACS) dataset identifies poverty status by zip code tabulation areas within the United States, from 2012 through 2016. The poverty characteristics include race, sex, age, educational attainment, employment status, work experience, and poverty level.
Log in to download
Complexity
Get The Data
For getting access to data download links please read and accept the end-user license agreement.
Your Data License
Research

Non-Commercial, Share-Alike, Attribution

Free Forever

Commercial

Commercial Use, Remix & Adapt, White Label Log in to download
Description
The American Community Survey (ACS) is an ongoing survey that provides vital information on a yearly basis about our nation and its people. Information from the survey generates data that help determine how more than $675 billion in federal and state funds are distributed each year. Through the ACS, we know more about jobs and occupations, educational attainment, veterans, whether people own or rent their homes, and other topics. Public officials, planners, and entrepreneurs use this information to assess the past and plan the future. ACS is supporting the communities plans for hospitals and schools, support school lunch programs, improve emergency services, build bridges, and inform businesses looking to add jobs and expand to new markets, and more.
Data are based on a sample and are subject to sampling variability. The degree of uncertainty for an estimate arising from sampling variability is represented through the use of a margin of error. The margin of error can be interpreted roughly as providing a 90 percent probability that the interval defined by the estimate minus the margin of error and the estimate plus the margin of error (the lower and upper confidence bounds) contains the true value.
About this Dataset
Data Info
| | |
| --- | --- |
| Date Created | 2018 |
| Last Modified | 2018 |
| Version | 2018 |
| Update Frequency | Annual |
| Temporal Coverage | 2012 - 2016 |
| Spatial Coverage | United States |
| Source | John Snow Labs; US Census Bureau; |
| Source License URL | |
| Source License Requirements | N/A |
| Source Citation | N/A |
| Keywords | Zip Code, FIPS Code, Longitude And Latitude, American Community Survey, Poverty By Age, Poverty By Sex, Poverty By Race, Education And Poverty Statistics, Poverty And Employment, Below Poverty Line |
| Other Titles | Poverty Status by Zip Code Tabulation Area Census Tract, Poverty Status by Zip Code Tabulation Area Map |
Data Fields
| Name | Description | Type | Constraints |
| --- | --- | --- | --- |
| Geographic_ID | The 14-digit codes used to represent specific geographic areas comprising the geographic component of the data and the Federal Information Processing Series (FIPS) code, maintained by the US Census Bureau and the American National Standards Institute (ANSI) | string | required : 1unique : 1 |
| FIPS_Code | The 5-digit Federal Information Processing Series (FIPS) code maintained by the American National Standards Institute (ANSI) | string | required : 1unique : 1 |
| Geographic_Display_Label | The ZIP Code Tabulation Areas (ZCTAs) which are generalized area representations of United States Postal Service (USPS) ZIP Code service areas | string | required : 1unique : 1 |
| Latitude | The 2010 Census current latitude of the internal point of ZIP Code Tabulation Area in decimal degrees (WGS 84) | number | required : 1 |
| Longitude | The 2010 Census current longitude of the internal point of ZIP Code Tabulation Area in decimal degrees (WGS 84) | number | required : 1 |
| Land_Area | The 2010 Census land area of ZIP Code Tabulation Area in square meters | integer | level : Ratio |
| Water_Area | The 2010 Census water area of ZIP Code Tabulation Area in square meters | integer | level : Ratio |
| Estimate_Total_Poverty_Determined | The estimated total population for whom poverty status is determined | integer | level : Ratio |
| Margin_Of_Error_Total_Poverty_Determined | The margin of error for the estimated total population for whom poverty status is determined | integer | level : Ratio |
| Estimate_Below_Poverty | The estimated total population for whom poverty status is determined and the income is below poverty level | integer | level : Ratio |
| Margin_Of_Error_Below_Poverty | The margin of error for the estimated total population for whom poverty status is determined and the income is below poverty level | integer | level : Ratio |
| Estimate_Percent_Below_Poverty | The estimated percent of population for whom poverty status is determined and the income is below poverty level | number | level : Ratio |
| Margin_Of_Error_Percent_Below_Poverty | The margin of error for the estimated percent of population for whom poverty status is determined and the income is below poverty level | number | level : Ratio |
| Estimate_Total_Under_18 | The estimated total population under 18 years | integer | level : Ratio |
| Margin_Of_Error_Total_Under_18 | The margin of error for the estimated total population under 18 years | integer | level : Ratio |
| Estimate_Under_18_Below_Poverty | The estimated population under 18 years, whom income is below poverty level | integer | level : Ratio |
| Margin_Of_Error_Under_18_Below_Poverty | The margin of error for the estimated population under 18 years, whom income is below poverty level | integer | level : Ratio |
| Estimate_Percent_Under_18_Below_Poverty | The estimated percent of population under 18 years, whom income is below poverty level | number | level : Ratio |
| Margin_Of_Error_Percent_Under_18_Below_Poverty | The margin of error for the estimated percent of population under 18 years, whom income is below poverty level | number | level : Ratio |
| Estimate_Total_Under_5 | The estimated population under 5 years | integer | level : Ratio |
| Margin_Of_Error_Total_Under_5 | The margin of error for the estimated population under 5 years | integer | level : Ratio |
| Estimate_Under_5_Below_Poverty | The estimated population under 5 years, whom income is below poverty level | integer | level : Ratio |
| Margin_Of_Error_Under_5_Below_Poverty | The margin of error for the estimated population under 5 years, whom income is below poverty level | integer | level : Ratio |
| Estimate_Percent_Under_5_Below_Poverty | The estimated percent of population under 5 years, whom income is below poverty level | number | level : Ratio |
| Margin_Of_Error_Percent_Under_5_Below_Poverty | The margin of error for the estimated percent of population under 5 years, whom income is below poverty level | number | level : Ratio |
| Estimate_Total_5_17 | The estimated population 5-17 years | integer | level : Ratio |
| Margin_Of_Error_Total_Under_5_17 | The margin of error for the estimated population 5-17 years | integer | level : Ratio |
| Estimate_Under_5_17_Below_Poverty | The estimated population 5-17 years, who are below poverty level | integer | level : Ratio |
| Margin_Of_Error_Under_5_17_Below_Poverty | The margin of error for the estimated population 5-17 years, whom income is below poverty level | integer | level : Ratio |
| Estimate_Percent_Under_5_17_Below_Poverty | The estimated percent of population under 5-17 years, whom income is below poverty level | number | level : Ratio |
| Margin_Of_Error_Percent_Under_5_17_Below_Poverty | The margin of error for the estimated percent of population 5-17 years, whom income is below poverty level | number | level : Ratio |
| Estimate_Related_Children_Under_18 | The estimated number of householder related children under 18 years | integer | level : Ratio |
| Margin_Of_Error_Related_Children_Under_18 | The margin of error for the estimated number of householder related children under 18 years | integer | level : Ratio |
| Estimate_Related_Children_Under_18_Below_Poverty | The estimated number of householder related children under 18 years, whom income is below poverty level | integer | level : Ratio |
| Margin_Of_Error_Related_Children_Under_18_Below_Poverty | The margin of error for the estimated number of householder related children under 18 years, whom income is below poverty level | integer | level : Ratio |
| Estimate_Percent_Related_Children_Under_18_Below_Poverty | The estimated percent of householder related children under 18 years, whom income is below poverty level | number | level : Ratio |
| Margin_Of_Error_Percent_Related_Children_Under_18_Below_Poverty | The margin of error for the estimated percent of householder related children under 18 years, whom income is below poverty level | number | level : Ratio |
| Estimate_Total_18_To_64 | The estimated population 18-64 years | integer | level : Ratio |
| Margin_Of_Error_Total_18_To_64 | The margin of error for the estimated population 18-64 years | integer | level : Ratio |
| Estimate_18_To_64_Below_Poverty | The estimated population 18-64 years, whom income is below poverty level | integer | level : Ratio |
| Margin_Of_Error_18_To_64_Below_Poverty | The margin of error for the estimated population 18-64 years, whom income is below poverty level | integer | level : Ratio |
| Estimate_Percent_18_To_64_Below_Poverty | The estimated percent of population 18-64 years, whom income is below poverty level | number | level : Ratio |
| Margin_Of_Error_Percent_18_To_64_Below_Poverty | The margin of error for the estimated percent of population 18-64 years, whom income is below poverty level | number | level : Ratio |
| Estimate_Total_18_To_34 | The estimated population 18-34 years | integer | level : Ratio |
| Margin_Of_Error_Total_18_To_34 | The margin of error for the estimated population 18-34 years | integer | level : Ratio |
| Estimate_18_To_34_Below_Poverty | The estimated population 18-34 years, whom income is below poverty level | integer | level : Ratio |
| Margin_Of_Error_18_To_34_Below_Poverty | The margin of error for the estimated population 18-34 years, whom income is below poverty level | integer | level : Ratio |
| Estimate_Percent_18_To_34_Below_Poverty | The estimated percent of population 18-34 years, whom income is below poverty level | number | level : Ratio |
| Margin_Of_Error_Percent_18_To_34_Below_Poverty | The margin of error for the estimated percent of population 18-34 years, whom income is below poverty level | number | level : Ratio |
| Estimate_Total_35_To_64 | The estimated population 35-64 years | integer | level : Ratio |
| Margin_Of_Error_Total_35_To_64 | The margin of error for the estimated population 35-64 years | integer | level : Ratio |
| Estimate_35_To_64_Below_Poverty | The estimated population 35-64 years, whom income is below poverty level | integer | level : Ratio |
| Margin_Of_Error_35_To_64_Below_Poverty | The margin of error for the estimated population 35-64 years, whom income is below poverty level | integer | level : Ratio |
| Estimate_Percent_35_To_64_Below_Poverty | The estimated percent of population 35-64 years, whom income is below poverty level | number | level : Ratio |
| Margin_Of_Error_Percent_35_To_64_Below_Poverty | The margin of error for the estimated percent of population 35-64 years, whom income is below poverty level | number | level : Ratio |
| Estimate_Total_60_And_Over | The estimated population 60 years and over | integer | level : Ratio |
| Margin_Of_Error_Total_60_And_Over | The margin of error for the estimated population 60 years and over | integer | level : Ratio |
| Estimate_60_And_Over_Below_Poverty | The estimated population 60 years and over, whom income is below poverty level | integer | level : Ratio |
| Margin_Of_Error_60_And_Over_Below_Poverty | The margin of error for the estimated population 60 years and over, whom income is below poverty level | integer | level : Ratio |
| Estimate_Percent_60_And_Over_Below_Poverty | The estimated percent of population 60 years and over, whom income is below poverty level | number | level : Ratio |
| Margin_Of_Error_Percent_60_And_Over_Below_Poverty | The margin of error for the estimated percent of population 60 years and over, whom income is below poverty level | number | level : Ratio |
| Estimate_Total_65_And_Over | The estimated population 65 years and over | integer | level : Ratio |
| Margin_Of_Error_Total_65_And_Over | The margin of error for the estimated population 65 years and over | integer | level : Ratio |
| Estimate_65_And_Over_Below_Poverty | The estimated population 65 years and over, whom income is below poverty level | integer | level : Ratio |
| Margin_Of_Error_65_And_Over_Below_Poverty | The margin of error for the estimated population 65 years and over, whom income is below poverty level | integer | level : Ratio |
| Estimate_Percent_65_And_Over_Below_Poverty | The estimated percent of population 65 years and over, whom income is below poverty level | number | level : Ratio |
| Margin_Of_Error_Percent_65_And_Over_Below_Poverty | The margin of error for the estimated percent of population 65 years and over, whom income is below poverty level | number | level : Ratio |
| Estimate_Total_Male | The estimated total male population | integer | level : Ratio |
| Margin_Of_Error_Total_Male | The margin of error for the estimated total male population | integer | level : Ratio |
| Estimate_Male_Below_Poverty | The estimated male population, whom income is below poverty level | integer | level : Ratio |
| Margin_Of_Error_Male_Below_Poverty | The margin of error for the estimated male population, whom income is below poverty level | integer | level : Ratio |
| Estimate_Percent_Male_Below_Poverty | The estimated percent of male population, whom income is below poverty level | number | level : Ratio |
| Margin_Of_Error_Percent_Male_Below_Poverty | The margin of error for the estimated percent of male population, whom income is below poverty level | number | level : Ratio |
| Estimate_Total_Female | The estimated total female population | integer | level : Ratio |
| Margin_Of_Error_Total_Female | The margin of error for the estimated total female population | integer | level : Ratio |
| Estimate_Female_Below_Poverty | The estimated female population, whom income is below poverty level | integer | level : Ratio |
| Margin_Of_Error_Female_Below_Poverty | The margin of error for the estimated female population, whom income is below poverty level | integer | level : Ratio |
| Estimate_Percent_Female_Below_Poverty | The estimated percent of female population, whom income is below poverty level | number | level : Ratio |
| Margin_Of_Error_Percent_Female_Below_Poverty | The margin of error for the estimated percent of female population, whom income is below poverty level | number | level : Ratio |
| Estimate_Total_White | The estimated total White population | integer | level : Ratio |
| Margin_Of_Error_Total_White | The margin of error for the estimated total White population | integer | level : Ratio |
| Estimate_White_Below_Poverty | The estimated White population, whom income is below poverty level | integer | level : Ratio |
| Margin_Of_Error_White_Below_Poverty | The margin of error for the estimated White population, whom income is below poverty level | integer | level : Ratio |
| Estimate_Percent_White_Below_Poverty | The estimated percent of White population, whom income is below poverty level | number | level : Ratio |
| Margin_Of_Error_Percent_White_Below_Poverty | The margin of error for the estimated percent of White population, whom income is below poverty level | number | level : Ratio |
| Estimate_Total_Black_African_American | The estimated total Black or African American population | integer | level : Ratio |
| Margin_Of_Error_Total_Black_African_American | The margin of error for the estimated total Black or African American population | integer | level : Ratio |
| Estimate_Black_African_American_Below_Poverty | The estimated Black or African American population, whom income is below poverty level | integer | level : Ratio |
| Margin_Of_Error_Black_African_American_Below_Poverty | The margin of error for the estimated Black or African American population, whom income is below poverty level | integer | level : Ratio |
| Estimate_Percent_Black_African_American_Below_Poverty | The estimated percent of Black or African American population, whom income is below poverty level | number | level : Ratio |
| Margin_Of_Error_Percent_Black_African_American_Below_Poverty | The margin of error for the estimated percent of Black or African American population, whom income is below poverty level | number | level : Ratio |
| Estimate_Total_American_Indian_Alaska_Native | The estimated total American and Indian Alaska Native population | integer | level : Ratio |
| Margin_Of_Error_Total_American_Indian_Alaska_Native | The margin of error for the estimated total American and Indian Alaska Native population | integer | level : Ratio |
| Estimate_American_Indian_Alaska_Native_Below_Poverty | The estimated American and Indian Alaska Native population, whom income is below poverty level | integer | level : Ratio |
| Margin_Of_Error_American_Indian_Alaska_Native_Below_Poverty | The margin of error for the estimated American and Indian Alaska Native population, whom income is below poverty level | integer | level : Ratio |
| Estimate_Percent_American_Indian_Alaska_Native_Below_Poverty | The estimated percent of American and Indian Alaska Native population, whom income is below poverty level | number | level : Ratio |
| Margin_Of_Error_Percent_American_Indian_Alaska_Native_Below_Poverty | The margin of error for the estimated percent of American and Indian Alaska Native population, whom income is below poverty level | number | level : Ratio |
| Estimate_Total_Asian | The estimated total Asian population | integer | level : Ratio |
| Margin_Of_Error_Total_Asian | The margin of error for the estimated total Asian population | integer | level : Ratio |
| Estimate_Asian_Below_Poverty | The estimated Asian population, whom income is below poverty level | integer | level : Ratio |
| Margin_Of_Error_Asian_Below_Poverty | The margin of error for the estimated Asian population, whom income is below poverty level | integer | level : Ratio |
| Estimate_Percent_Asian_Below_Poverty | The estimated percent of Asian population, whom income is below poverty level | number | level : Ratio |
| Margin_Of_Error_Percent_Asian_Below_Poverty | The margin of error for the estimated percent of Asian population, whom income is below poverty level | number | level : Ratio |
| Estimate_Total_Native_Hawaiian_Other_Pacific | The estimated total Native Hawaiian and Other Pacific Islander population | integer | level : Ratio |
| Margin_Of_Error_Total_Native_Hawaiian_Other_Pacific | The margin of error for the estimated total Native Hawaiian and Other Pacific Islander population | integer | level : Ratio |
| Estimate_Native_Hawaiian_Other_Pacific_Below_Poverty | The estimated Native Hawaiian and Other Pacific Islander population, whom income is below poverty level | integer | level : Ratio |
| Margin_Of_Error_Native_Hawaiian_Other_Pacific_Below_Poverty | The margin of error for the estimated Native Hawaiian and Other Pacific Islander population, whom income is below poverty level | integer | level : Ratio |
| Estimate_Percent_Native_Hawaiian_Other_Pacific_Below_Poverty | The estimated percent of Native Hawaiian and Other Pacific Islander population, whom income is below poverty level | number | level : Ratio |
| Margin_Of_Error_Native_Hawaiian_Other_Pacific_Percent_Below_Poverty | The margin of error for the estimated percent of Native Hawaiian and Other Pacific Islander population, whom income is below poverty level | number | level : Ratio |
| Estimate_Total_Some_Other_Race | The estimated total population of some other race | integer | level : Ratio |
| Margin_Of_Error_Total_Some_Other_Race | The margin of error for the estimated total population of some other race | integer | level : Ratio |
| Estimate_Some_Other_Race_Below_Poverty | The estimated population of some other race, who are below poverty level | integer | level : Ratio |
| Margin_Of_Error_Some_Other_Race_Below_Poverty | The margin of error for the estimated population of some other race, whom income is below poverty level | integer | level : Ratio |
| Estimate_Percent_Some_Other_Race_Below_Poverty | The estimated percent of population of some other race, whom income is below poverty level | number | level : Ratio |
| Margin_Of_Error_Percent_Some_Other_Race_Below_Poverty | The margin of error for the estimated percent of population of some other race, whom income is below poverty level | number | level : Ratio |
| Estimate_Total_Two_More_Races | The estimated total population of two or more races | integer | level : Ratio |
| Margin_Of_Error_Total_Two_More_Races | The margin of error for the estimated total population of two or more races | integer | level : Ratio |
| Estimate_Two_More_Races_Below_Poverty | The estimated population of two or more races, whom income is below poverty level | integer | level : Ratio |
| Margin_Of_Error_Two_More_Races_Below_Poverty | The margin of error for the estimated population of two or more races, whom income is below poverty level | integer | level : Ratio |
| Estimate_Percent_Two_More_Races_Below_Poverty | The estimated percent of population of two or more races, whom income is below poverty level | number | level : Ratio |
| Margin_Of_Error_Percent_Two_More_Races_Below_Poverty | The margin of error for the estimated percent of population of two or more races, whom income is below poverty level | number | level : Ratio |
| Estimate_Total_Hispanic_Latino | The estimated total Hispanic or Latino population | integer | level : Ratio |
| Margin_Of_Error_Total_Hispanic_Latino | The margin of error for the estimated total Hispanic or Latino population | integer | level : Ratio |
| Estimate_Hispanic_Latino_Below_Poverty | The estimated Hispanic or Latino population, whom income is below poverty level | integer | level : Ratio |
| Margin_Of_Error_Hispanic_Latino_Below_Poverty | The margin of error for the estimated Hispanic or Latino population, whom income is below poverty level | integer | level : Ratio |
| Estimate_Percent_Hispanic_Latino_Below_Poverty | The estimated percent of Hispanic or Latino population, whom income is below poverty level | number | level : Ratio |
| Margin_Of_Error_Percent_Hispanic_Latino_Below_Poverty | The margin of error for the estimated percent of Hispanic or Latino population, whom income is below poverty level | number | level : Ratio |
| Estimate_Total_White_Not_Hispanic_Latino | The estimated total White, not Hispanic or Latino, population | integer | level : Ratio |
| Margin_Of_Error_Total_White_Not_Hispanic_Latino | The margin of error for the estimated total White, not Hispanic or Latino, population | integer | level : Ratio |
| Estimate_White_Not_Hispanic_Latino_Below_Poverty | The estimated White, not Hispanic or Latino, population, whom income is below poverty level | integer | level : Ratio |
| Margin_Of_Error_White_Not_Hispanic_Latino_Below_Poverty | The margin of error for the estimated White, not Hispanic or Latino, population, whom income is below poverty level | integer | level : Ratio |
| Estimate_Percent_White_Not_Hispanic_Latino_Below_Poverty | The estimated percent of White, not Hispanic or Latino, population, whom income is below poverty level | number | level : Ratio |
| Margin_Of_Error_Percent_White_Not_Hispanic_Latino_Below_Poverty | The margin of error for the estimated percent of White, not Hispanic or Latino, population, whom income is below poverty level | number | level : Ratio |
| Estimate_Total_25_And_Over | The estimated total population 25 years and over | integer | level : Ratio |
| Margin_Of_Error_Total_25_And_Over | The margin of error for the estimated total population 25 years and over | integer | level : Ratio |
| Estimate_25_Over_Below_Poverty | The estimated population 25 years and over, whom income is below poverty level | integer | level : Ratio |
| Margin_Of_Error_25_And_Over_Below_Poverty | The margin of error for the estimated population 25 years and over, whom income is below poverty level | integer | level : Ratio |
| Estimate_Percent_25_And_Over_Below_Poverty | The estimated percent of population 25 years and over, whom income is below poverty level | number | level : Ratio |
| Margin_Error_Percent_25_And_Over_Below_Poverty | The margin of error for the estimated percent of population 25 years and over, whom income is below poverty level | number | level : Ratio |
| Estimate_25_Over_Less_High_School | The estimated population 25 years and over, less than high school graduate | integer | level : Ratio |
| Margin_Of_Error_25_Over_Less_High_School | The margin of error for the estimated population 25 years and over, less than high school graduate | integer | level : Ratio |
| Estimate_25_Over_Less_High_School_Below_Poverty | The estimated population 25 years and over, less than high school graduate, whom income is below poverty level | integer | level : Ratio |
| Margin_Of_Error_25_Over_Less_High_School_Below_Poverty | The margin of error for the estimated population 25 years and over, less than high school graduate, whom income is below poverty level | integer | level : Ratio |
| Estimate_Percent_25_Over_Less_High_School_Below_Poverty | The estimated percent of population 25 years and over, less than high school graduate, whom income is below poverty level | number | level : Ratio |
| Margin_Of_Error_Percent_25_Over_Less_High_School_Below_Poverty | The margin of error for the estimated percent of population 25 years and over, less than high school graduate, whom income is below poverty level | number | level : Ratio |
| Estimate_25_Over_High_School | The estimated population 25 years and over, high school graduate | integer | level : Ratio |
| Margin_Of_Error_25_Over_High_School | The margin of error for the estimated population 25 years and over, high school graduate | integer | level : Ratio |
| Estimate_25_Over_High_School_Below_Poverty | The estimated population 25 years and over, high school graduate, whom income is below poverty level | integer | level : Ratio |
| Margin_Of_Error_25_Over_High_School_Below_Poverty | The margin of error for the estimated population 25 years and over, high school graduate, whom income is below poverty level | integer | level : Ratio |
| Estimate_Percent_25_Over_High_School_Below_Poverty | The estimated percent of population 25 years and over, high school graduate, whom income is below poverty level | number | level : Ratio |
| Margin_Of_Error_Percent_25_Over_High_School_Below_Poverty | The margin of error for the estimated percent of population 25 years and over, high school graduate, whom income is below poverty level | number | level : Ratio |
| Estimate_25_Over_Some_College_Associate | The estimated population 25 years and over with some college, associate's degree | integer | level : Ratio |
| Margin_Of_Error_25_Over_Some_College_Associate | The margin of error for the estimated population 25 years and over with some college, associate's degree | integer | level : Ratio |
| Estimate_25_Over_Some_College_Associate_Below_Poverty | The estimated population 25 years and over with some college, associate's degree, whom income is below poverty level | integer | level : Ratio |
| Margin_Of_Error_25_Over_Some_College_Associate_Below_Poverty | The margin of error for the estimated population 25 years and over with some college, associate's degree, whom income is below poverty level | integer | level : Ratio |
| Estimate_Percent_25_Over_Some_College_Associate_Below_Poverty | The estimated percent of population 25 years and over with some college, associate's degree, whom income is below poverty level | number | level : Ratio |
| Margin_Of_Error_Percent_25_Over_Some_College_Associate_Below_Poverty | The margin of error for the estimated percent of population 25 years and over with some college, associate's degree, whom income is below poverty level | number | level : Ratio |
| Estimate_25_Over_Bachelor_Or_Higher | The estimated population 25 years and over with bachelor's degree or higher | integer | level : Ratio |
| Margin_Of_Error_25_Over_Bachelor_Or_Higher | The margin of error for the estimated population 25 years and over with bachelor's degree or higher | integer | level : Ratio |
| Estimate_25_Over_Bachelor_Or_Higher_Below_Poverty | The estimated population 25 years and over with bachelor's degree or higher, whom income is below poverty level | integer | level : Ratio |
| Margin_Of_Error_25_Over_Bachelor_Or_Higher_Below_Poverty | The margin of error for the estimated population 25 years and over with bachelor's degree or higher, whom income is below poverty level | integer | level : Ratio |
| Estimate_Percent_25_Over_Bachelor_Or_Higher_Below_Poverty | The estimated percent of population 25 years and over with bachelor's degree or higher, whom income is below poverty level | number | level : Ratio |
| Margin_Of_Error_Percent_25_Over_Bachelor_Or_Higher_Below_Poverty | The margin of error for the estimated percent of population 25 years and over with bachelor's degree or higher, whom income is below poverty level | number | level : Ratio |
| Estimate_Civilian_16_And_Over | The estimated civilian population 16 years and over | integer | level : Ratio |
| Margin_Of_Error_Civilian_16_And_Over | The margin of error for the estimated civilian population 16 years and over | integer | level : Ratio |
| Estimate_Civilian_16_And_Over_Below_Poverty | The estimated civilian population 16 years and over, whom income is below poverty level | integer | level : Ratio |
| Margin_Of_Error_Civilian_16_And_Over_Below_Poverty | The margin of error for the estimated civilian population 16 years and over, whom income is below poverty level | integer | level : Ratio |
| Estimate_Percent_Civilian_16_And_Over_Below_Poverty | The estimated percent of civilian population 16 years and over, whom income is below poverty level | number | level : Ratio |
| Margin_Of_Error_Percent_Civilian_16_And_Over_Below_Poverty | The margin of error for the estimated percent of civilian population 16 years and over, whom income is below poverty level | number | level : Ratio |
| Estimate_Civilian_16_Over_Employed | The estimated civilian population 16 years and over, employed | integer | level : Ratio |
| Margin_Of_Error_Civilian_Civilian_16_Over_Employed | The margin of error for the estimated civilian population 16 years and over, employed | integer | level : Ratio |
| Estimate_Civilian_16_Over_Employed_Below_Poverty | The estimated civilian population 16 years and over, employed, whom income is below poverty level | integer | level : Ratio |
| Margin_Of_Error_Civilian_16_Over_Employed_Below_Poverty | The margin of error for the estimated civilian population 16 years and over, employed, whom income is below poverty level | integer | level : Ratio |
| Estimate_Percent_Civilian_16_Over_Employed_Below_Poverty | The estimated percent of civilian population 16 years and over, employed, whom income is below poverty level | number | level : Ratio |
| Margin_Of_Error_Percent_Civilian_16_Over_Employed_Below_Poverty | The margin of error for the estimated percent of civilian population 16 years and over, employed, whom income is below poverty level | number | level : Ratio |
| Estimate_Civilian_Male_16_Over_Employed | The estimated civilian male population 16 years and over, employed | integer | level : Ratio |
| Margin_Of_Error_Civilian_Male_16_Over_Employed | The margin of error for the estimated civilian male population 16 years and over, employed | integer | level : Ratio |
| Estimate_Civilian_Male_16_Over_Employed_Below_Poverty | The estimated civilian male population 16 years and over, employed, whom income is below poverty level | integer | level : Ratio |
| Margin_Of_Error_Civilian_Male_16_Over_Employed_Below_Poverty | The margin of error for the estimated civilian male population 16 years and over, employed, whom income is below poverty level | integer | level : Ratio |
| Estimate_Percent_Civilian_Male_16_Over_Employed_Below_Poverty | The estimated percent of civilian male population 16 years and over, employed, whom income is below poverty level | number | level : Ratio |
| Margin_Of_Error_Percent_Civilian_Male_16_Over_Employed_Below_Poverty | The margin of error for the estimated percent of civilian male population 16 years and over, employed, whom income is below poverty level | number | level : Ratio |
| Estimate_Civilian_Female_16_Over_Employed | The estimated civilian female population 16 years and over, employed | integer | level : Ratio |
| Margin_Of_Error_Civilian_Female_16_Over_Employed | The margin of error for the estimated civilian female population 16 years and over, employed | integer | level : Ratio |
| Estimate_Civilian_Female_16_Over_Employed_Below_Poverty | The estimated civilian female population 16 years and over, employed, whom income is below poverty level | integer | level : Ratio |
| Margin_Of_Error_Civilian_Female_16_Over_Employed_Below_Poverty | The margin of error for the estimated civilian female population 16 years and over, employed, whom income is below poverty level | integer | level : Ratio |
| Estimate_Percent_Civilian_Female_16_Over_Employed_Below_Poverty | The estimated percent of civilian female population 16 years and over, employed, whom income is below poverty level | number | level : Ratio |
| Margin_Of_Error_Percent_Civilian_Female_16_Over_Employed_Below_Poverty | The margin of error for the estimated percent of civilian female population 16 years and over, employed, whom income is below poverty level | number | level : Ratio |
| Estimate_Civilian_16_Over_Unemployed | The estimated civilian population 16 years and over, unemployed | integer | level : Ratio |
| Margin_Of_Error_Civilian_16_Over_Unemployed | The margin of error for the estimated civilian population 16 years and over, unemployed | integer | level : Ratio |
| Estimate_Civilian_16_Over_Unemployed_Below_Poverty | The estimated civilian population 16 years and over, unemployed, whom income is below poverty level | integer | level : Ratio |
| Margin_Of_Error_Civilian_16_Over_Unemployed_Below_Poverty | The margin of error for the estimated civilian population 16 years and over, unemployed, whom income is below poverty level | integer | level : Ratio |
| Estimate_Percent_Civilian_16_Over_Unemployed_Below_Poverty | The estimated percent of civilian population 16 years and over, unemployed, whom income is below poverty level | number | level : Ratio |
| Margin_Of_Error_Percent_Civilian_16_Over_Unemployed_Below_Poverty | The margin of error for the estimated percent of civilian population 16 years and over, unemployed, whom income is below poverty level | number | level : Ratio |
| Estimate_Civilian_Male_16_Over_Unemployed | The estimated civilian male population 16 years and over, unemployed | integer | level : Ratio |
| Margin_Of_Error_Civilian_Male_16_Over_Unemployed | The margin of error for the estimated civilian male population 16 years and over, unemployed | integer | level : Ratio |
| Estimate_Civilian_Male_16_Over_Unemployed_Below_Poverty | The estimated civilian male population 16 years and over, unemployed, whom income is below poverty level | integer | level : Ratio |
| Margin_Of_Error_Civilian_Male_16_Over_Unemployed_Below_Poverty | The margin of error for the estimated civilian male population 16 years and over, unemployed, whom income is below poverty level | integer | level : Ratio |
| Estimate_Percent_Civilian_Male_16_Over_Unemployed_Below_Poverty | The estimated percent of civilian male population 16 years and over, unemployed, whom income is below poverty level | number | level : Ratio |
| Margin_Of_Error_Percent_Civilian_Male_16_Over_Unemployed_Below_Poverty | The margin of error for the estimated percent of civilian male population 16 years and over, unemployed, whom income is below poverty level | number | level : Ratio |
| Estimate_Civilian_Female_16_Over_Unemployed | The estimated civilian female population 16 years and over, unemployed | integer | level : Ratio |
| Margin_Of_Error_Civilian_Female_16_Over_Unemployed | The margin of error for the estimated civilian female population 16 years and over, unemployed | integer | level : Ratio |
| Estimate_Civilian_Female_16_Over_Unemployed_Below_Poverty | The estimated civilian female population 16 years and over, unemployed, whom income is below poverty level | integer | level : Ratio |
| Margin_Of_Error_Civilian_Female_16_Over_Unemployed_Below_Poverty | The margin of error for the estimated civilian female population 16 years and over, unemployed, whom income is below poverty level | integer | level : Ratio |
| Estimate_Percent_Civilian_Female_16_Over_Unemployed_Below_Poverty | The estimated percent of civilian female population 16 years and over, unemployed, whom income is below poverty level | number | level : Ratio |
| Margin_Error_Percent_Civilian_Female_16_Over_Unemployed_Below_Poverty | The margin of error for the estimated percent of civilian female population 16 years and over, unemployed, whom income is below poverty level | number | level : Ratio |
| Estimate_Total_16_Over | The estimated total population 16 years and over | integer | level : Ratio |
| Margin_Of_Error_Total_16_Over | The margin of error for the estimated total population 16 years and over | integer | level : Ratio |
| Estimate_16_Over_Below_Poverty | The estimated population 16 years and over, who are below poverty level | integer | level : Ratio |
| Margin_Of_Error_16_Over_Below_Poverty | The margin of error for the estimated population 16 years and over, whom income is below poverty level | integer | level : Ratio |
| Estimate_Percent_16_Over_Below_Poverty | The estimated percent of population 16 years and over, whom income is below poverty level | number | level : Ratio |
| Margin_Of_Error_Percent_16_Over_Below_Poverty | The margin of error for the estimated percent of population 16 years and over, whom income is below poverty level | number | level : Ratio |
| Estimate_16_Over_Full_Time_Past_12_Months | The estimated population 16 years and over who worked full-time, year-round in the past 12 months | integer | level : Ratio |
| Margin_Of_Error_16_Over_Full_Time_Past_12_Months | The margin of error for the estimated population 16 years and over who worked full-time, year-round in the past 12 months | integer | level : Ratio |
| Estimate_16_Over_Full_Time_Past_12_Months_Below_Poverty | The estimated population 16 years and over who worked full-time, year-round in the past 12 months and whom income is below poverty level | integer | level : Ratio |
| Margin_Of_Error_16_Over_Full_Time_Past_12_Months_Below_Poverty | The margin of error for the estimated population 16 years and over who worked full-time, year-round in the past 12 months and whom income is below poverty level | integer | level : Ratio |
| Estimate_Percent_16_Over_Full_Time_Past_12_Months_Below_Poverty | The estimated percent of population 16 years and over who worked full-time, year-round in the past 12 months and whom income is below poverty level | number | level : Ratio |
| Margin_Of_Error_Percent_16_Over_Full_Time_Past_12_Months_Below_Poverty | The margin of error for the estimated percent of population 16 years and over who worked full-time, year-round in the past 12 months and whom income is below poverty level | number | level : Ratio |
| Estimate_16_Over_Part_Time_Past_12_Months | The estimated population 16 years and over who worked part-time, year-round in the past 12 months | integer | level : Ratio |
| Margin_Of_Error_16_Over_Part_Time_Past_12_Months | The margin of error for the estimated population 16 years and over who worked part-time, year-round in the past 12 months | integer | level : Ratio |
| Estimate_16_Over_Part_Time_Past_12_Months_Below_Poverty | The estimated population 16 years and over who worked part-time, year-round in the past 12 months and whom income is below poverty level | integer | level : Ratio |
| Margin_Of_Error_16_Over_Part_Time_Past_12_Months_Below_Poverty | The margin of error for the estimated population 16 years and over who worked part-time, year-round in the past 12 months and whom income is below poverty level | integer | level : Ratio |
| Estimate_Percent_16_Over_Part_Time_Past_12_Months_Below_Poverty | The estimated percent of population 16 years and over who worked part-time, year-round in the past 12 months and whom income is below poverty level | number | level : Ratio |
| Margin_Of_Error_Percent_16_Over_Part_Time_Past_12_Months_Below_Poverty | The margin of error for the estimated percent of population 16 years and over who worked part-time, year-round in the past 12 months and whom income is below poverty level | number | level : Ratio |
| Estimate_16_Over_Not_Work_Past_12_Months | The estimated population 16 years and over who did not worked, year-round in the past 12 months | number | level : Ratio |
| Margin_Of_Error_16_Over_Not_Work_Past_12_Months | The margin of error for the estimated population 16 years and over who did not worked, year-round in the past 12 months | integer | level : Ratio |
| Estimate_16_Over_Not_Work_Past_12_Months_Below_Poverty | The estimated population 16 years and over who did not worked, year-round in the past 12 months and whom income is below poverty level | integer | level : Ratio |
| Margin_Of_Error_16_Over_Not_Work_Past_12_Months_Below_Poverty | The margin of error for the estimated population 16 years and over who did not worked, year-round in the past 12 months and whom income is below poverty level | integer | level : Ratio |
| Estimate_Percent_16_Over_Not_Work_Past_12_Months_Below_Poverty | The estimated percent of population 16 years and over who did not worked, year-round in the past 12 months and whom income is below poverty level | number | level : Ratio |
| Margin_Of_Error_Percent_16_Over_Not_Work_Past_12_Months_Below_Poverty | The margin of error for the estimated percent of population 16 years and over who did not worked, year-round in the past 12 months and whom income is below poverty level | number | level : Ratio |
| Estimate_Below_50_Percent_Poverty_Level | The estimated population whom income is 50 percent below poverty level | integer | level : Ratio |
| Margin_Of_Error_Below_50_Percent_Poverty_Level | The margin of error for the estimated population whom income is 50 percent below poverty level | integer | level : Ratio |
| Estimate_Below_125_Percent_Poverty_Level | The estimated population whom income is 125 percent below poverty level | integer | level : Ratio |
| Margin_Of_Error_Below_125_Percent_Poverty_Level | The margin of error for the estimated population whom income is 125 percent below poverty level | integer | level : Ratio |
| Estimate_Below_150_Percent_Poverty_Level | The estimated population whom income is 150 percent below poverty level | integer | level : Ratio |
| Margin_Of_Error_Below_150_Percent_Poverty_Level | The margin of error for the estimated population whom income is 150 percent below poverty level | integer | level : Ratio |
| Estimate_Below_185_Percent_Poverty_Level | The estimated population whom income is 185 percent below poverty level | integer | level : Ratio |
| Margin_Of_Error_Below_185_Percent_Poverty_Level | The margin of error for the estimated population whom income is 185 percent below poverty level | integer | level : Ratio |
| Estimate_Below_200_Percent_Poverty_Level | The estimated population whom income is 200 percent below poverty level | integer | level : Ratio |
| Margin_Of_Error_Below_200_Percent_Poverty_Level | The margin of error for the estimated population whom income is 200 percent below poverty level | integer | level : Ratio |
| Estimate_Below_300_Percent_Poverty_Level | The estimated population whom income is 300 percent below poverty level | integer | level : Ratio |
| Margin_Of_Error_Below_300_Percent_Poverty_Level | The margin of error for the estimated population whom income is 300 percent below poverty level | integer | level : Ratio |
| Estimate_Below_400_Percent_Poverty_Level | The estimated population whom income is 400 percent below poverty level | integer | level : Ratio |
| Margin_Of_Error_Below_400_Percent_Poverty_Level | The margin of error for the estimated population whom income is 400 percent below poverty level | integer | level : Ratio |
| Estimate_Below_500_Percent_Poverty_Level | The estimated population whom income is 500 percent below poverty level | integer | level : Ratio |
| Margin_Of_Error_Below_500_Percent_Poverty_Level | The margin of error for the estimated population whom income is 500 percent below poverty level | integer | level : Ratio |
| Estimate_Unrelated_Poverty_Status_Determined | The estimated number of unrelated individuals for whom poverty status is determined | integer | level : Ratio |
| Margin_Of_Error_Unrelated_Poverty_Status_Determined | The margin of error for the estimated number of unrelated individuals for whom poverty status is determined | integer | level : Ratio |
| Estimate_Unrelated_Below_Poverty | The estimated number of unrelated individuals, whom income is below poverty level | integer | level : Ratio |
| Margin_Of_Error_Unrelated_Below_Poverty | The margin of error for the estimated number of unrelated individuals, whom income is below poverty level | integer | level : Ratio |
| Estimate_Percent_Unrelated_Below_Poverty | The estimated percent of unrelated individuals, whom income is below poverty level | number | level : Ratio |
| Margin_Of_Error_Percent_Unrelated_Below_Poverty | The margin of error for the estimated percent of unrelated individuals, whom income is below poverty level | number | level : Ratio |
| Estimate_Unrelated_Male_Status_Determined | The estimated number of unrelated male individuals for whom poverty status is determined | integer | level : Ratio |
| Margin_Of_Error_Unrelated_Male_Status_Determined | The margin of error for the estimated number of unrelated male individuals for whom poverty status is determined | integer | level : Ratio |
| Estimate_Unrelated_Male_Below_Poverty | The estimated number of unrelated male individuals, whom income is below poverty level | integer | level : Ratio |
| Margin_Of_Error_Unrelated_Male_Below_Poverty | The margin of error for the estimated number of unrelated male individuals, whom income is below poverty level | integer | level : Ratio |
| Estimate_Percent_Unrelated_Male_Below_Poverty | The estimated percent of unrelated male individuals, whom income is below poverty level | number | level : Ratio |
| Margin_Of_Error_Percent_Unrelated_Male_Below_Poverty | The margin of error for the estimated percent of unrelated male individuals, whom income is below poverty level | number | level : Ratio |
| Estimate_Unrelated_Female_Status_Determined | The estimated number of unrelated female individuals for whom poverty status is determined | integer | level : Ratio |
| Margin_Of_Error_Unrelated_Female_Status_Determined | The margin of error for the estimated number of unrelated female individuals for whom poverty status is determined | integer | level : Ratio |
| Estimate_Unrelated_Female_Below_Poverty | The estimated number of unrelated female individuals, whom income is below poverty level | integer | level : Ratio |
| Margin_Of_Error_Unrelated_Female_Below_Poverty | The margin of error for the estimated number of unrelated female individuals, whom income is below poverty level | integer | level : Ratio |
| Estimate_Percent_Unrelated_Female_Below_Poverty | The estimated percent of unrelated female individuals, whom income is below poverty level | number | level : Ratio |
| Margin_Of_Error_Percent_Unrelated_Female_Below_Poverty | The margin of error for the estimated percent of unrelated female individuals, whom income is below poverty level | number | level : Ratio |
| Estimate_Total_15_Years | The estimated total population 15 years old | integer | level : Ratio |
| Margin_Of_Error_Total_15_Years | The margin of error for the estimated total population 15 years old | integer | level : Ratio |
| Estimate_15_Years_Below_Poverty | The estimated population 15 years old, whom income is below poverty level | integer | level : Ratio |
| Margin_Of_Error_15_Years_Below_Poverty | The margin of error for the estimated population 15 years old, whom income is below poverty level | integer | level : Ratio |
| Estimate_Percent_15_Years_Below_Poverty | The estimated percent of population 15 years old, whom income is below poverty level | number | level : Ratio |
| Margin_Of_Error_Percent_15_Years_Below_Poverty | The margin of error for the estimated percent of population 15 years old, whom income is below poverty level | number | level : Ratio |
| Estimate_Total_16_17_Years | The estimated total population 16-17 years | integer | level : Ratio |
| Margin_Of_Error_16_17_Years | The margin of error for the estimated total population 16-17 years | integer | level : Ratio |
| Estimate_16_17_Years_Below_Poverty | The estimated population 16-17 years, whom income is below poverty level | integer | level : Ratio |
| Margin_Of_Error_16_17_Years_Below_Poverty | The margin of error for the estimated population 16-17 years, whom income is below poverty level | integer | level : Ratio |
| Estimate_Percent_16_17_Years_Below_Poverty | The estimated percent of population 16-17 years, whom income is below poverty level | number | level : Ratio |
| Margin_Of_Error_Percent_16_17_Years_Below_Poverty | The margin of error for the estimated percent of population 16-17 years, whom income is below poverty level | number | level : Ratio |
| Estimate_Total_18_24_Years | The estimated total population 18-24 years | integer | level : Ratio |
| Margin_Of_Error_18_24_Years | The margin of error for the estimated total population 18-24 years | integer | level : Ratio |
| Estimate_18_24_Years_Below_Poverty | The estimated population 18-24 years, whom income is below poverty level | integer | level : Ratio |
| Margin_Of_Error_18_24_Years_Below_Poverty | The margin of error for the estimated population 18-24 years, whom income is below poverty level | integer | level : Ratio |
| Estimate_Percent_18_24_Years_Below_Poverty | The estimated percent of population 18-24 years, whom income is below poverty level | number | level : Ratio |
| Margin_Of_Error_Percent_18_24_Years_Below_Poverty | The margin of error for the estimated percent of population 18-24 years, whom income is below poverty level | number | level : Ratio |
| Estimate_Total_25_34_Years | The estimated total population 25-34 years | integer | level : Ratio |
| Margin_Of_Error_25_34_Years | The margin of error for the estimated total population 25-34 years | integer | level : Ratio |
| Estimate_25_34_Years_Below_Poverty | The estimated population 25-34 years, whom income is below poverty level | integer | level : Ratio |
| Margin_Of_Error_25_34_Years_Below_Poverty | The margin of error for the estimated population 25-34 years, whom income is below poverty level | integer | level : Ratio |
| Estimate_Percent_25_34_Years_Below_Poverty | The estimated percent of population 25-34 years, whom income is below poverty level | number | level : Ratio |
| Margin_Of_Error_Percent_25_34_Years_Below_Poverty | The margin of error for the estimated percent of population 25-34 years, whom income is below poverty level | number | level : Ratio |
| Estimate_Total_35_44_Years | The estimated total population 35-44 years | integer | level : Ratio |
| Margin_Of_Error_35_44_Years | The margin of error for the estimated total population 35-44 years | integer | level : Ratio |
| Estimate_35_44_Years_Below_Poverty | The estimated population 35-44 years, whom income is below poverty level | integer | level : Ratio |
| Margin_Of_Error_35_44_Years_Below_Poverty | The margin of error for the estimated population 35-44 years, whom income is below poverty level | integer | level : Ratio |
| Estimate_Percent_35_44_Years_Below_Poverty | The estimated percent of population 35-44 years, whom income is below poverty level | number | level : Ratio |
| Margin_Of_Error_Percent_35_44_Years_Below_Poverty | The margin of error for the estimated percent of population 35-44 years, whom income is below poverty level | number | level : Ratio |
| Estimate_Total_45_54_Years | The estimated total population 45-54 years | integer | level : Ratio |
| Margin_Of_Error_45_54_Years | The margin of error for the estimated total population 45-54 years | integer | level : Ratio |
| Estimate_45_54_Years_Below_Poverty | The estimated population 45-54 years, whom income is below poverty level | integer | level : Ratio |
| Margin_Of_Error_45_54_Years_Below_Poverty | The margin of error for the estimated population 45-54 years, whom income is below poverty level | integer | level : Ratio |
| Estimate_Percent_45_54_Years_Below_Poverty | The estimated percent of population 45-54 years, whom income is below poverty level | number | level : Ratio |
| Margin_Of_Error_Percent_45_54_Years_Below_Poverty | The margin of error for the estimated percent of population 45-54 years, whom income is below poverty level | number | level : Ratio |
| Estimate_Total_55_64_Years | The estimated total population 55-64 years | integer | level : Ratio |
| Margin_Of_Error_55_64_Years | The margin of error for the estimated total population 55-64 years | integer | level : Ratio |
| Estimate_55_64_Years_Below_Poverty | The estimated population 55-64 years, whom income is below poverty level | integer | level : Ratio |
| Margin_Of_Error_55_64_Years_Below_Poverty | The margin of error for the estimated population 55-64 years, whom income is below poverty level | integer | level : Ratio |
| Estimate_Percent_55_64_Years_Below_Poverty | The estimated percent of population 55-64 years, whom income is below poverty level | number | level : Ratio |
| Margin_Of_Error_Percent_55_64_Years_Below_Poverty | The margin of error for the estimated percent of population 55-64 years, whom income is below poverty level | number | level : Ratio |
| Estimate_Total_65_74_Years | The estimated total population 65-74 years | integer | level : Ratio |
| Margin_Of_Error_65_74_Years | The margin of error for the estimated total population 65-74 years | integer | level : Ratio |
| Estimate_65_74_Years_Below_Poverty | The estimated population 65-74 years, whom income is below poverty level | integer | level : Ratio |
| Margin_Of_Error_65_74_Years_Below_Poverty | The margin of error for the estimated population 65-74 years, whom income is below poverty level | integer | level : Ratio |
| Estimate_Percent_65_74_Years_Below_Poverty | The estimated percent of population 65-74 years, whom income is below poverty level | number | level : Ratio |
| Margin_Of_Error_Percent_65_74_Years_Below_Poverty | The margin of error for the estimated percent of population 65-74 years, whom income is below poverty level | number | level : Ratio |
| Estimate_Total_75_And_Over | The estimated total population 75 years and over | integer | level : Ratio |
| Margin_Of_Error_75_And_Over | The margin of error for the estimated total population 75 years and over | integer | level : Ratio |
| Estimate_75_And_Over_Below_Poverty | The estimated population 75 years and over, whom income is below poverty level | integer | level : Ratio |
| Margin_Of_Error_75_And_Over_Below_Poverty | The margin of error for the estimated population 75 years and over, whom income is below poverty level | integer | level : Ratio |
| Estimate_Percent_75_And_Over_Below_Poverty | The estimated percent of population 75 years and over, whom income is below poverty level | number | level : Ratio |
| Margin_Of_Error_Percent_75_And_Over_Below_Poverty | The margin of error for the estimated percent of population 75 years and over, whom income is below poverty level | number | level : Ratio |
| Estimate_Unrelated_Income_Deficit_In_Dollars | The estimated mean income deficit in dollars for unrelated individuals | integer | level : Ratio |
| Margin_Of_Error_Unrelated_Income_Deficit_In_Dollars | The margin of error for the estimated mean income deficit in dollars for unrelated individuals | integer | level : Ratio |
| Estimate_Total_Full_Time_Past_12_Months | The total estimated population who worked full-time, year-round in the past 12 months | integer | level : Ratio |
| Margin_Of_Error_Total_Full_Time_Past_12_Months | The margin of error for the total estimated population who worked full-time, year-round in the past 12 months | integer | level : Ratio |
| Estimate_Full_Time_Past_12_Months_Below_Poverty | The estimated population who worked full-time, year-round in the past 12 months and whom income is below poverty level | integer | level : Ratio |
| Margin_Of_Error_Full_Time_Past_12_Months_Below_Poverty | The margin of error for the estimated population who worked full-time, year-round in the past 12 months and whom income is below poverty level | integer | level : Ratio |
| Estimate_Percent_Full_Time_Past_12_Months_Below_Poverty | The estimated percent of population who worked full-time, year-round in the past 12 months and whom income is below poverty level | number | level : Ratio |
| Margin_Of_Error_Percent_Full_Time_Past_12_Months_Below_Poverty | The margin of error for the estimated percent of population who worked full-time, year-round in the past 12 months and whom income is below poverty level | number | level : Ratio |
| Estimate_Total_Less_Full_Time_Past_12_Months | The estimated total population who worked less than full-time, year-round in the past 12 months | integer | level : Ratio |
| Margin_Of_Error_Total_Less_Full_Time_Past_12_Months | The margin of error for the estimated total population who worked less than full-time, year-round in the past 12 months | integer | level : Ratio |
| Estimate_Less_Full_Time_Past_12_Months_Below_Poverty | The total estimated population who worked less than full-time, year-round in the past 12 months and whom income is below poverty level | integer | level : Ratio |
| Margin_Of_Error_Less_Full_Time_Past_12_Months_Below_Poverty | The margin of error for the estimated population who worked less than full-time, year-round in the past 12 months and whom income is below poverty level | integer | level : Ratio |
| Estimate_Percent_Less_Full_Time_Past_12_Months_Below_Poverty | The total estimated percent of population who worked less than full-time, year-round in the past 12 months and whom income is below poverty level | number | level : Ratio |
| Margin_Of_Error_Percent_Less_Full_Time_Past_12_Months_Below_Poverty | The margin of error for the estimated percent of population who worked less than full-time, year-round in the past 12 months and whom income is below poverty level | number | level : Ratio |
| Estimate_Total_Not_Work | The estimated total population who did not worked, year-round in the past 12 months | integer | level : Ratio |
| Margin_Of_Error_Total_Not_Work | The margin of error for the estimated total population who did not worked, year-round in the past 12 months | integer | level : Ratio |
| Estimate_Not_Work_Below_Poverty | The estimated population who did not worked, year-round in the past 12 months and whom income is below poverty level | integer | level : Ratio |
| Margin_Of_Error_Not_Work_Below_Poverty | The margin of error for the estimated population who did not worked, year-round in the past 12 months and whom income is below poverty level | integer | level : Ratio |
| Estimate_Percent_Not_Work_Below_Poverty | The estimated percent of population who did not worked, year-round in the past 12 months and whom income is below poverty level | number | level : Ratio |
| Margin_Of_Error_Percent_Not_Work_Below_Poverty | The margin of error for the estimated percent of population who did not worked, year-round in the past 12 months and whom income is below poverty level | number | level : Ratio |
Data Preview
| | | | | | | | | | | | | | | | | | | | | | | | | | | | | | | | | | | | | | | | | | | | | | | | | | | | | | | | | | | | | | | | | | | | | | | | | | | | | | | | | | | | | | | | | | | | | | | | | | | | | | | | | | | | | | | | | | | | | | | | | | | | | | | | | | | | | | | | | | | | | | | | | | | | | | | | | | | | | | | | | | | | | | | | | | | | | | | | | | | | | | | | | | | | | | | | | | | | | | | | | | | | | | | | | | | | | | | | | | | | | | | | | | | | | | | | | | | | | | | | | | | | | | | | | | | | | | | | | | | | | | | | | | | | | | | | | | | | | | | | | | | | | | | | | | | | | | | | | | | | | | | | | | | | | | | | | | | | | | | | | | | | | | | | | | | | | | | | | |
| --- | --- | --- | --- | --- | --- | --- | --- | --- | --- | --- | --- | --- | --- | --- | --- | --- | --- | --- | --- | --- | --- | --- | --- | --- | --- | --- | --- | --- | --- | --- | --- | --- | --- | --- | --- | --- | --- | --- | --- | --- | --- | --- | --- | --- | --- | --- | --- | --- | --- | --- | --- | --- | --- | --- | --- | --- | --- | --- | --- | --- | --- | --- | --- | --- | --- | --- | --- | --- | --- | --- | --- | --- | --- | --- | --- | --- | --- | --- | --- | --- | --- | --- | --- | --- | --- | --- | --- | --- | --- | --- | --- | --- | --- | --- | --- | --- | --- | --- | --- | --- | --- | --- | --- | --- | --- | --- | --- | --- | --- | --- | --- | --- | --- | --- | --- | --- | --- | --- | --- | --- | --- | --- | --- | --- | --- | --- | --- | --- | --- | --- | --- | --- | --- | --- | --- | --- | --- | --- | --- | --- | --- | --- | --- | --- | --- | --- | --- | --- | --- | --- | --- | --- | --- | --- | --- | --- | --- | --- | --- | --- | --- | --- | --- | --- | --- | --- | --- | --- | --- | --- | --- | --- | --- | --- | --- | --- | --- | --- | --- | --- | --- | --- | --- | --- | --- | --- | --- | --- | --- | --- | --- | --- | --- | --- | --- | --- | --- | --- | --- | --- | --- | --- | --- | --- | --- | --- | --- | --- | --- | --- | --- | --- | --- | --- | --- | --- | --- | --- | --- | --- | --- | --- | --- | --- | --- | --- | --- | --- | --- | --- | --- | --- | --- | --- | --- | --- | --- | --- | --- | --- | --- | --- | --- | --- | --- | --- | --- | --- | --- | --- | --- | --- | --- | --- | --- | --- | --- | --- | --- | --- | --- | --- | --- | --- | --- | --- | --- | --- | --- | --- | --- | --- | --- | --- | --- | --- | --- | --- | --- | --- | --- | --- | --- | --- | --- | --- | --- | --- | --- | --- | --- | --- | --- | --- | --- | --- | --- | --- | --- | --- | --- | --- | --- | --- | --- | --- | --- | --- | --- | --- | --- | --- | --- | --- | --- | --- | --- | --- | --- | --- | --- | --- | --- | --- | --- | --- | --- | --- | --- | --- | --- | --- | --- | --- | --- | --- |
| Geographic ID | FIPS Code | Geographic Display Label | Latitude | Longitude | Land Area | Water Area | Estimate Total Poverty Determined | Margin Of Error Total Poverty Determined | Estimate Below Poverty | Margin Of Error Below Poverty | Estimate Percent Below Poverty | Margin Of Error Percent Below Poverty | Estimate Total Under 18 | Margin Of Error Total Under 18 | Estimate Under 18 Below Poverty | Margin Of Error Under 18 Below Poverty | Estimate Percent Under 18 Below Poverty | Margin Of Error Percent Under 18 Below Poverty | Estimate Total Under 5 | Margin Of Error Total Under 5 | Estimate Under 5 Below Poverty | Margin Of Error Under 5 Below Poverty | Estimate Percent Under 5 Below Poverty | Margin Of Error Percent Under 5 Below Poverty | Estimate Total 5 17 | Margin Of Error Total Under 5 17 | Estimate Under 5 17 Below Poverty | Margin Of Error Under 5 17 Below Poverty | Estimate Percent Under 5 17 Below Poverty | Margin Of Error Percent Under 5 17 Below Poverty | Estimate Related Children Under 18 | Margin Of Error Related Children Under 18 | Estimate Related Children Under 18 Below Poverty | Margin Of Error Related Children Under 18 Below Poverty | Estimate Percent Related Children Under 18 Below Poverty | Margin Of Error Percent Related Children Under 18 Below Poverty | Estimate Total 18 To 64 | Margin Of Error Total 18 To 64 | Estimate 18 To 64 Below Poverty | Margin Of Error 18 To 64 Below Poverty | Estimate Percent 18 To 64 Below Poverty | Margin Of Error Percent 18 To 64 Below Poverty | Estimate Total 18 To 34 | Margin Of Error Total 18 To 34 | Estimate 18 To 34 Below Poverty | Margin Of Error 18 To 34 Below Poverty | Estimate Percent 18 To 34 Below Poverty | Margin Of Error Percent 18 To 34 Below Poverty | Estimate Total 35 To 64 | Margin Of Error Total 35 To 64 | Estimate 35 To 64 Below Poverty | Margin Of Error 35 To 64 Below Poverty | Estimate Percent 35 To 64 Below Poverty | Margin Of Error Percent 35 To 64 Below Poverty | Estimate Total 60 And Over | Margin Of Error Total 60 And Over | Estimate 60 And Over Below Poverty | Margin Of Error 60 And Over Below Poverty | Estimate Percent 60 And Over Below Poverty | Margin Of Error Percent 60 And Over Below Poverty | Estimate Total 65 And Over | Margin Of Error Total 65 And Over | Estimate 65 And Over Below Poverty | Margin Of Error 65 And Over Below Poverty | Estimate Percent 65 And Over Below Poverty | Margin Of Error Percent 65 And Over Below Poverty | Estimate Total Male | Margin Of Error Total Male | Estimate Male Below Poverty | Margin Of Error Male Below Poverty | Estimate Percent Male Below Poverty | Margin Of Error Percent Male Below Poverty | Estimate Total Female | Margin Of Error Total Female | Estimate Female Below Poverty | Margin Of Error Female Below Poverty | Estimate Percent Female Below Poverty | Margin Of Error Percent Female Below Poverty | Estimate Total White | Margin Of Error Total White | Estimate White Below Poverty | Margin Of Error White Below Poverty | Estimate Percent White Below Poverty | Margin Of Error Percent White Below Poverty | Estimate Total Black African American | Margin Of Error Total Black African American | Estimate Black African American Below Poverty | Margin Of Error Black African American Below Poverty | Estimate Percent Black African American Below Poverty | Margin Of Error Percent Black African American Below Poverty | Estimate Total American Indian Alaska Native | Margin Of Error Total American Indian Alaska Native | Estimate American Indian Alaska Native Below Poverty | Margin Of Error American Indian Alaska Native Below Poverty | Estimate Percent American Indian Alaska Native Below Poverty | Margin Of Error Percent American Indian Alaska Native Below Poverty | Estimate Total Asian | Margin Of Error Total Asian | Estimate Asian Below Poverty | Margin Of Error Asian Below Poverty | Estimate Percent Asian Below Poverty | Margin Of Error Percent Asian Below Poverty | Estimate Total Native Hawaiian Other Pacific | Margin Of Error Total Native Hawaiian Other Pacific | Estimate Native Hawaiian Other Pacific Below Poverty | Margin Of Error Native Hawaiian Other Pacific Below Poverty | Estimate Percent Native Hawaiian Other Pacific Below Poverty | Margin Of Error Native Hawaiian Other Pacific Percent Below Poverty | Estimate Total Some Other Race | Margin Of Error Total Some Other Race | Estimate Some Other Race Below Poverty | Margin Of Error Some Other Race Below Poverty | Estimate Percent Some Other Race Below Poverty | Margin Of Error Percent Some Other Race Below Poverty | Estimate Total Two More Races | Margin Of Error Total Two More Races | Estimate Two More Races Below Poverty | Margin Of Error Two More Races Below Poverty | Estimate Percent Two More Races Below Poverty | Margin Of Error Percent Two More Races Below Poverty | Estimate Total Hispanic Latino | Margin Of Error Total Hispanic Latino | Estimate Hispanic Latino Below Poverty | Margin Of Error Hispanic Latino Below Poverty | Estimate Percent Hispanic Latino Below Poverty | Margin Of Error Percent Hispanic Latino Below Poverty | Estimate Total White Not Hispanic Latino | Margin Of Error Total White Not Hispanic Latino | Estimate White Not Hispanic Latino Below Poverty | Margin Of Error White Not Hispanic Latino Below Poverty | Estimate Percent White Not Hispanic Latino Below Poverty | Margin Of Error Percent White Not Hispanic Latino Below Poverty | Estimate Total 25 And Over | Margin Of Error Total 25 And Over | Estimate 25 Over Below Poverty | Margin Of Error 25 And Over Below Poverty | Estimate Percent 25 And Over Below Poverty | Margin Error Percent 25 And Over Below Poverty | Estimate 25 Over Less High School | Margin Of Error 25 Over Less High School | Estimate 25 Over Less High School Below Poverty | Margin Of Error 25 Over Less High School Below Poverty | Estimate Percent 25 Over Less High School Below Poverty | Margin Of Error Percent 25 Over Less High School Below Poverty | Estimate 25 Over High School | Margin Of Error 25 Over High School | Estimate 25 Over High School Below Poverty | Margin Of Error 25 Over High School Below Poverty | Estimate Percent 25 Over High School Below Poverty | Margin Of Error Percent 25 Over High School Below Poverty | Estimate 25 Over Some College Associate | Margin Of Error 25 Over Some College Associate | Estimate 25 Over Some College Associate Below Poverty | Margin Of Error 25 Over Some College Associate Below Poverty | Estimate Percent 25 Over Some College Associate Below Poverty | Margin Of Error Percent 25 Over Some College Associate Below Poverty | Estimate 25 Over Bachelor Or Higher | Margin Of Error 25 Over Bachelor Or Higher | Estimate 25 Over Bachelor Or Higher Below Poverty | Margin Of Error 25 Over Bachelor Or Higher Below Poverty | Estimate Percent 25 Over Bachelor Or Higher Below Poverty | Margin Of Error Percent 25 Over Bachelor Or Higher Below Poverty | Estimate Civilian 16 And Over | Margin Of Error Civilian 16 And Over | Estimate Civilian 16 And Over Below Poverty | Margin Of Error Civilian 16 And Over Below Poverty | Estimate Percent Civilian 16 And Over Below Poverty | Margin Of Error Percent Civilian 16 And Over Below Poverty | Estimate Civilian 16 Over Employed | Margin Of Error Civilian Civilian 16 Over Employed | Estimate Civilian 16 Over Employed Below Poverty | Margin Of Error Civilian 16 Over Employed Below Poverty | Estimate Percent Civilian 16 Over Employed Below Poverty | Margin Of Error Percent Civilian 16 Over Employed Below Poverty | Estimate Civilian Male 16 Over Employed | Margin Of Error Civilian Male 16 Over Employed | Estimate Civilian Male 16 Over Employed Below Poverty | Margin Of Error Civilian Male 16 Over Employed Below Poverty | Estimate Percent Civilian Male 16 Over Employed Below Poverty | Margin Of Error Percent Civilian Male 16 Over Employed Below Poverty | Estimate Civilian Female 16 Over Employed | Margin Of Error Civilian Female 16 Over Employed | Estimate Civilian Female 16 Over Employed Below Poverty | Margin Of Error Civilian Female 16 Over Employed Below Poverty | Estimate Percent Civilian Female 16 Over Employed Below Poverty | Margin Of Error Percent Civilian Female 16 Over Employed Below Poverty | Estimate Civilian 16 Over Unemployed | Margin Of Error Civilian 16 Over Unemployed | Estimate Civilian 16 Over Unemployed Below Poverty | Margin Of Error Civilian 16 Over Unemployed Below Poverty | Estimate Percent Civilian 16 Over Unemployed Below Poverty | Margin Of Error Percent Civilian 16 Over Unemployed Below Poverty | Estimate Civilian Male 16 Over Unemployed | Margin Of Error Civilian Male 16 Over Unemployed | Estimate Civilian Male 16 Over Unemployed Below Poverty | Margin Of Error Civilian Male 16 Over Unemployed Below Poverty | Estimate Percent Civilian Male 16 Over Unemployed Below Poverty | Margin Of Error Percent Civilian Male 16 Over Unemployed Below Poverty | Estimate Civilian Female 16 Over Unemployed | Margin Of Error Civilian Female 16 Over Unemployed | Estimate Civilian Female 16 Over Unemployed Below Poverty | Margin Of Error Civilian Female 16 Over Unemployed Below Poverty | Estimate Percent Civilian Female 16 Over Unemployed Below Poverty | Margin Error Percent Civilian Female 16 Over Unemployed Below Poverty | Estimate Total 16 Over | Margin Of Error Total 16 Over | Estimate 16 Over Below Poverty | Margin Of Error 16 Over Below Poverty | Estimate Percent 16 Over Below Poverty | Margin Of Error Percent 16 Over Below Poverty | Estimate 16 Over Full Time Past 12 Months | Margin Of Error 16 Over Full Time Past 12 Months | Estimate 16 Over Full Time Past 12 Months Below Poverty | Margin Of Error 16 Over Full Time Past 12 Months Below Poverty | Estimate Percent 16 Over Full Time Past 12 Months Below Poverty | Margin Of Error Percent 16 Over Full Time Past 12 Months Below Poverty | Estimate 16 Over Part Time Past 12 Months | Margin Of Error 16 Over Part Time Past 12 Months | Estimate 16 Over Part Time Past 12 Months Below Poverty | Margin Of Error 16 Over Part Time Past 12 Months Below Poverty | Estimate Percent 16 Over Part Time Past 12 Months Below Poverty | Margin Of Error Percent 16 Over Part Time Past 12 Months Below Poverty | Estimate 16 Over Not Work Past 12 Months | Margin Of Error 16 Over Not Work Past 12 Months | Estimate 16 Over Not Work Past 12 Months Below Poverty | Margin Of Error 16 Over Not Work Past 12 Months Below Poverty | Estimate Percent 16 Over Not Work Past 12 Months Below Poverty | Margin Of Error Percent 16 Over Not Work Past 12 Months Below Poverty | Estimate Below 50 Percent Poverty Level | Margin Of Error Below 50 Percent Poverty Level | Estimate Below 125 Percent Poverty Level | Margin Of Error Below 125 Percent Poverty Level | Estimate Below 150 Percent Poverty Level | Margin Of Error Below 150 Percent Poverty Level | Estimate Below 185 Percent Poverty Level | Margin Of Error Below 185 Percent Poverty Level | Estimate Below 200 Percent Poverty Level | Margin Of Error Below 200 Percent Poverty Level | Estimate Below 300 Percent Poverty Level | Margin Of Error Below 300 Percent Poverty Level | Estimate Below 400 Percent Poverty Level | Margin Of Error Below 400 Percent Poverty Level | Estimate Below 500 Percent Poverty Level | Margin Of Error Below 500 Percent Poverty Level | Estimate Unrelated Poverty Status Determined | Margin Of Error Unrelated Poverty Status Determined | Estimate Unrelated Below Poverty | Margin Of Error Unrelated Below Poverty | Estimate Percent Unrelated Below Poverty | Margin Of Error Percent Unrelated Below Poverty | Estimate Unrelated Male Status Determined | Margin Of Error Unrelated Male Status Determined | Estimate Unrelated Male Below Poverty | Margin Of Error Unrelated Male Below Poverty | Estimate Percent Unrelated Male Below Poverty | Margin Of Error Percent Unrelated Male Below Poverty | Estimate Unrelated Female Status Determined | Margin Of Error Unrelated Female Status Determined | Estimate Unrelated Female Below Poverty | Margin Of Error Unrelated Female Below Poverty | Estimate Percent Unrelated Female Below Poverty | Margin Of Error Percent Unrelated Female Below Poverty | Estimate Total 15 Years | Margin Of Error Total 15 Years | Estimate 15 Years Below Poverty | Margin Of Error 15 Years Below Poverty | Estimate Percent 15 Years Below Poverty | Margin Of Error Percent 15 Years Below Poverty | Estimate Total 16 17 Years | Margin Of Error 16 17 Years | Estimate 16 17 Years Below Poverty | Margin Of Error 16 17 Years Below Poverty | Estimate Percent 16 17 Years Below Poverty | Margin Of Error Percent 16 17 Years Below Poverty | Estimate Total 18 24 Years | Margin Of Error 18 24 Years | Estimate 18 24 Years Below Poverty | Margin Of Error 18 24 Years Below Poverty | Estimate Percent 18 24 Years Below Poverty | Margin Of Error Percent 18 24 Years Below Poverty | Estimate Total 25 34 Years | Margin Of Error 25 34 Years | Estimate 25 34 Years Below Poverty | Margin Of Error 25 34 Years Below Poverty | Estimate Percent 25 34 Years Below Poverty | Margin Of Error Percent 25 34 Years Below Poverty | Estimate Total 35 44 Years | Margin Of Error 35 44 Years | Estimate 35 44 Years Below Poverty | Margin Of Error 35 44 Years Below Poverty | Estimate Percent 35 44 Years Below Poverty | Margin Of Error Percent 35 44 Years Below Poverty | Estimate Total 45 54 Years | Margin Of Error 45 54 Years | Estimate 45 54 Years Below Poverty | Margin Of Error 45 54 Years Below Poverty | Estimate Percent 45 54 Years Below Poverty | Margin Of Error Percent 45 54 Years Below Poverty | Estimate Total 55 64 Years | Margin Of Error 55 64 Years | Estimate 55 64 Years Below Poverty | Margin Of Error 55 64 Years Below Poverty | Estimate Percent 55 64 Years Below Poverty | Margin Of Error Percent 55 64 Years Below Poverty | Estimate Total 65 74 Years | Margin Of Error 65 74 Years | Estimate 65 74 Years Below Poverty | Margin Of Error 65 74 Years Below Poverty | Estimate Percent 65 74 Years Below Poverty | Margin Of Error Percent 65 74 Years Below Poverty | Estimate Total 75 And Over | Margin Of Error 75 And Over | Estimate 75 And Over Below Poverty | Margin Of Error 75 And Over Below Poverty | Estimate Percent 75 And Over Below Poverty | Margin Of Error Percent 75 And Over Below Poverty | Estimate Unrelated Income Deficit In Dollars | Margin Of Error Unrelated Income Deficit In Dollars | Estimate Total Full Time Past 12 Months | Margin Of Error Total Full Time Past 12 Months | Estimate Full Time Past 12 Months Below Poverty | Margin Of Error Full Time Past 12 Months Below Poverty | Estimate Percent Full Time Past 12 Months Below Poverty | Margin Of Error Percent Full Time Past 12 Months Below Poverty | Estimate Total Less Full Time Past 12 Months | Margin Of Error Total Less Full Time Past 12 Months | Estimate Less Full Time Past 12 Months Below Poverty | Margin Of Error Less Full Time Past 12 Months Below Poverty | Estimate Percent Less Full Time Past 12 Months Below Poverty | Margin Of Error Percent Less Full Time Past 12 Months Below Poverty | Estimate Total Not Work | Margin Of Error Total Not Work | Estimate Not Work Below Poverty | Margin Of Error Not Work Below Poverty | Estimate Percent Not Work Below Poverty | Margin Of Error Percent Not Work Below Poverty |
| 8600000US00601 | 601 | ZCTA5 00601 | 18.1805555 | -66.7499615 | 166659745 | 799293 | 17754 | 302 | 11078 | 702 | 62.4 | 3.8 | 4111 | 142 | 3118 | 248 | 75.8 | 5.3 | 936 | 91 | 820 | 114 | 87.6 | 7.1 | 3175 | 66 | 2298 | 200 | 72.4 | 6.1 | 4109 | 143 | 3116 | 249 | 75.8 | 5.3 | 10843 | 205 | 6366 | 516 | 58.7 | 4.4 | 4006 | 121 | 2432 | 284 | 60.7 | 6.6 | 6837 | 132 | 3934 | 337 | 57.5 | 4.6 | 3874 | 182 | 2183 | 248 | 56.4 | 5.9 | 2800 | 87 | 1594 | 201 | 56.9 | 7.1 | 8692 | 161 | 5128 | 417 | 59.0 | 4.5 | 9062 | 196 | 5950 | 379 | 65.7 | 4.0 | 14401 | 701 | 9042 | 804 | 62.8 | 4.5 | 106 | 72 | 56 | 53 | 52.8 | 30.1 | 21.0 | 20 | 8.0 | 13 | 38.1 | 52.3 | | 21 | | 21 | | | | 21 | | 21 | | | 3038 | 598 | 1818 | 498 | 59.8 | 11.4 | 188.0 | 166 | 154.0 | 163 | 81.9 | 25.4 | 17718 | 307 | 11050 | 701 | 62.4 | 3.8 | 28 | 28 | 28.0 | 28 | 100.0 | 62.2 | 11862 | 203 | 6775 | 522 | 57.1 | 4.2 | 4374 | 336 | 3255 | 333 | 74.4 | 4.5 | 2973 | 315 | 1641 | 289 | 55.2 | 6.4 | 2294 | 252 | 1260 | 202 | 54.9 | 8.5 | 2221 | 291 | 619 | 177 | 27.9 | 7.4 | 6056 | 367 | 2792 | 397 | 46.1 | 5.4 | 3904 | 339 | 1063 | 190 | 27.2 | 4.3 | 2206 | 237 | 592 | 157 | 26.8 | 6.3 | 1698 | 233 | 471 | 133 | 27.7 | 6.8 | 2152 | 361 | 1729 | 364 | 80.3 | 6.8 | 1112 | 247 | 908 | 242 | 81.7 | 7.9 | 1040 | 211 | 821 | 204 | 78.9 | 9.2 | 14141 | 242 | 8307 | 615 | 58.7 | 4.1 | 2561 | 274 | 419 | 115 | 16.4 | 4.1 | 1873 | 286 | 931 | 212 | 49.7 | 8.9 | 9707 | 405 | 6957 | 599 | 71.7 | 4.0 | 7477 | 684 | 12540 | 654 | 13443 | 607 | 14604 | 574 | 15155 | 542 | 16797 | 389 | 17204 | 337 | 17397 | 326 | 2275 | 255 | 1596 | 199 | 70.2 | 4.3 | 1098 | 170 | 713 | 139 | 64.9 | 7.7 | 1177 | 168 | 883 | 135 | 75.0 | 5.8 | | 21 | | 21 | | | 2.0 | 6 | 2.0 | 6 | 100.0 | 100.0 | 121 | 68 | 114 | 65 | 94.2 | 9.5 | 302 | 128 | 206 | 115 | 68.2 | 18.3 | 222 | 84 | 113 | 62 | 50.9 | 20.0 | 379 | 113 | 264 | 95 | 69.7 | 13.2 | 556 | 130 | 371 | 110 | 66.7 | 12.4 | 393 | 78 | 290 | 74 | 73.8 | 12.2 | 300 | 84 | 236 | 76 | 78.7 | 12.6 | 8336 | 637 | 372 | 96 | 10 | 17 | 2.7 | 4.6 | 229 | 99 | 161 | 88 | 70.3 | 18.5 | 1674 | 223 | 1425 | 213 | 85.1 | 4.1 |
| 8600000US00602 | 602 | ZCTA5 00602 | 18.361945000000002 | -67.1755974 | 79307535 | 4428428 | 39672 | 193 | 21615 | 1387 | 54.5 | 3.5 | 8200 | 82 | 5339 | 463 | 65.1 | 5.5 | 1886 | 83 | 1498 | 170 | 79.4 | 7.8 | 6314 | 34 | 3841 | 410 | 60.8 | 6.5 | 8196 | 82 | 5335 | 464 | 65.1 | 5.5 | 25356 | 156 | 13572 | 1036 | 53.5 | 4.1 | 8949 | 100 | 5084 | 553 | 56.8 | 6.1 | 16407 | 75 | 8488 | 627 | 51.7 | 3.8 | 8946 | 287 | 4183 | 443 | 46.8 | 4.4 | 6116 | 62 | 2704 | 311 | 44.2 | 5.1 | 19478 | 84 | 10423 | 727 | 53.5 | 3.7 | 20194 | 134 | 11192 | 802 | 55.4 | 3.9 | 22917 | 1458 | 12791 | 1265 | 55.8 | 4.3 | 968 | 373 | 572 | 322 | 59.1 | 17.5 | | 28 | | 28 | | | 74.0 | 93 | 2.0 | 5 | 2.7 | 10.9 | | 28 | | 28 | | | 1544 | 595 | 662 | 307 | 42.9 | 12.8 | 14169.0 | 1506 | 7588.0 | 1263 | 53.6 | 5.9 | 37073 | 474 | 20222 | 1308 | 54.5 | 3.5 | 1527 | 344 | 773.0 | 290 | 50.6 | 14.2 | 27535 | 95 | 13936 | 895 | 50.6 | 3.2 | 9617 | 583 | 6598 | 590 | 68.6 | 3.9 | 6069 | 454 | 3277 | 411 | 54.0 | 4.8 | 6273 | 473 | 2933 | 450 | 46.8 | 6.1 | 5576 | 516 | 1128 | 276 | 20.2 | 4.7 | 14676 | 648 | 6181 | 724 | 42.1 | 4.8 | 11560 | 599 | 4006 | 549 | 34.7 | 4.9 | 6492 | 481 | 2632 | 464 | 40.5 | 6.5 | 5068 | 448 | 1374 | 264 | 27.1 | 5.4 | 3116 | 457 | 2175 | 413 | 69.8 | 8.6 | 1524 | 329 | 993 | 281 | 65.2 | 12.2 | 1592 | 269 | 1182 | 254 | 74.2 | 8.7 | 32534 | 175 | 16859 | 1114 | 51.8 | 3.4 | 6410 | 633 | 1051 | 232 | 16.4 | 3.4 | 6044 | 555 | 3409 | 555 | 56.4 | 6.4 | 20080 | 614 | 12399 | 849 | 61.7 | 3.2 | 11836 | 1162 | 24889 | 1377 | 27582 | 1325 | 30394 | 1254 | 31743 | 1152 | 36377 | 755 | 38163 | 479 | 39025 | 336 | 4798 | 450 | 3184 | 374 | 66.4 | 4.5 | 2216 | 298 | 1379 | 229 | 62.2 | 5.8 | 2582 | 344 | 1805 | 277 | 69.9 | 7.1 | | 28 | | 28 | | | 4.0 | 7 | 4.0 | 7 | 100.0 | 100.0 | 210 | 131 | 195 | 126 | 92.9 | 11.9 | 422 | 160 | 334 | 135 | 79.1 | 10.2 | 479 | 161 | 306 | 137 | 63.9 | 18.4 | 1117 | 247 | 750 | 210 | 67.1 | 8.9 | 1020 | 169 | 688 | 158 | 67.5 | 9.4 | 907 | 170 | 486 | 111 | 53.6 | 10.8 | 639 | 148 | 421 | 116 | 65.9 | 12.0 | 7440 | 454 | 946 | 228 | 165 | 86 | 17.4 | 7.9 | 625 | 176 | 550 | 170 | 88.0 | 8.6 | 3227 | 363 | 2469 | 338 | 76.5 | 5.0 |
| 8600000US00603 | 603 | ZCTA5 00603 | 18.455182999999998 | -67.11988740000001 | 81884707 | 183895 | 49969 | 832 | 25331 | 1293 | 50.7 | 2.5 | 10955 | 358 | 7069 | 515 | 64.5 | 4.4 | 2546 | 125 | 1842 | 182 | 72.3 | 6.6 | 8409 | 343 | 5227 | 451 | 62.2 | 4.9 | 10790 | 376 | 6904 | 529 | 64.0 | 4.5 | 29699 | 584 | 14345 | 864 | 48.3 | 2.8 | 10569 | 313 | 5723 | 426 | 54.1 | 4.0 | 19130 | 431 | 8622 | 614 | 45.1 | 3.0 | 12755 | 479 | 5289 | 494 | 41.5 | 3.8 | 9315 | 273 | 3917 | 393 | 42.1 | 4.2 | 23714 | 526 | 11473 | 749 | 48.4 | 3.0 | 26255 | 411 | 13858 | 680 | 52.8 | 2.6 | 34125 | 1164 | 17091 | 1122 | 50.1 | 2.9 | 2068 | 436 | 956 | 302 | 46.2 | 10.5 | 106.0 | 68 | 62.0 | 55 | 58.5 | 35.2 | 638.0 | 299 | 359.0 | 231 | 56.3 | 27.2 | 11.0 | 19 | 11.0 | 19 | 100.0 | 99.2 | 6160 | 895 | 3477 | 678 | 56.4 | 6.6 | 6861.0 | 858 | 3375.0 | 642 | 49.2 | 6.5 | 48340 | 872 | 24753 | 1283 | 51.2 | 2.5 | 638 | 220 | 237.0 | 171 | 37.1 | 20.4 | 34221 | 607 | 15456 | 899 | 45.2 | 2.6 | 10081 | 699 | 6683 | 609 | 66.3 | 3.9 | 9192 | 605 | 4659 | 441 | 50.7 | 4.3 | 6939 | 540 | 2766 | 371 | 39.9 | 4.5 | 8009 | 571 | 1348 | 252 | 16.8 | 3.0 | 16486 | 671 | 5874 | 502 | 35.6 | 3.0 | 12720 | 658 | 3269 | 360 | 25.7 | 2.8 | 6742 | 487 | 1753 | 247 | 26.0 | 3.6 | 5978 | 422 | 1516 | 241 | 25.4 | 3.9 | 3766 | 460 | 2605 | 396 | 69.2 | 5.7 | 2027 | 353 | 1314 | 289 | 64.8 | 8.4 | 1739 | 284 | 1291 | 248 | 74.2 | 7.0 | 40415 | 734 | 19042 | 1056 | 47.1 | 2.5 | 7949 | 545 | 778 | 169 | 9.8 | 2.1 | 6554 | 460 | 3344 | 361 | 51.0 | 4.4 | 25912 | 853 | 14920 | 988 | 57.6 | 2.9 | 14981 | 1074 | 29357 | 1325 | 32242 | 1301 | 36461 | 1360 | 37779 | 1310 | 44284 | 1022 | 47484 | 941 | 48754 | 934 | 7791 | 615 | 4981 | 501 | 63.9 | 3.1 | 3444 | 403 | 2094 | 358 | 60.8 | 6.4 | 4347 | 399 | 2887 | 321 | 66.4 | 4.7 | | 31 | | 31 | | | 165.0 | 109 | 165.0 | 109 | 100.0 | 21.3 | 508 | 203 | 481 | 204 | 94.7 | 6.7 | 840 | 224 | 502 | 160 | 59.8 | 11.1 | 798 | 177 | 472 | 132 | 59.1 | 11.0 | 1349 | 262 | 891 | 219 | 66.0 | 8.4 | 1557 | 300 | 1040 | 233 | 66.8 | 8.1 | 1500 | 189 | 736 | 153 | 49.1 | 7.4 | 1074 | 184 | 694 | 159 | 64.6 | 8.6 | 7753 | 349 | 1319 | 268 | 88 | 60 | 6.7 | 4.4 | 1152 | 225 | 864 | 197 | 75.0 | 9.5 | 5320 | 478 | 4029 | 456 | 75.7 | 3.7 |
| 8600000US00606 | 606 | ZCTA5 00606 | 18.158345100000002 | -66.9329106 | 109579998 | 12487 | 6320 | 233 | 4047 | 404 | 64.0 | 5.6 | 1282 | 118 | 1011 | 142 | 78.9 | 8.6 | 329 | 44 | 302 | 50 | 91.8 | 12.3 | 953 | 97 | 709 | 127 | 74.4 | 11.0 | 1282 | 118 | 1011 | 142 | 78.9 | 8.6 | 3966 | 160 | 2605 | 275 | 65.7 | 6.1 | 1315 | 107 | 904 | 148 | 68.7 | 9.8 | 2651 | 113 | 1701 | 204 | 64.2 | 7.0 | 1659 | 110 | 769 | 148 | 46.4 | 9.2 | 1072 | 73 | 431 | 123 | 40.2 | 11.4 | 3137 | 155 | 2004 | 231 | 63.9 | 6.1 | 3183 | 147 | 2043 | 240 | 64.2 | 6.6 | 3739 | 441 | 2157 | 361 | 57.7 | 6.5 | 175 | 130 | 81 | 82 | 46.3 | 39.9 | | 19 | | 19 | | | | 19 | | 19 | | | | 19 | | 19 | | | 2246 | 451 | 1690 | 443 | 75.2 | 8.7 | 160.0 | 121 | 119.0 | 110 | 74.4 | 35.5 | 6309 | 237 | 4036 | 406 | 64.0 | 5.6 | 11 | 19 | 11.0 | 19 | 100.0 | 99.2 | 4381 | 157 | 2595 | 306 | 59.2 | 6.4 | 1988 | 246 | 1460 | 268 | 73.4 | 8.0 | 1553 | 215 | 866 | 205 | 55.8 | 9.0 | 414 | 105 | 169 | 76 | 40.8 | 13.8 | 426 | 163 | 100 | 68 | 23.5 | 14.9 | 1672 | 194 | 768 | 162 | 45.9 | 7.9 | 1467 | 184 | 621 | 138 | 42.3 | 7.7 | 927 | 133 | 451 | 109 | 48.7 | 8.7 | 540 | 123 | 170 | 66 | 31.5 | 11.3 | 205 | 111 | 147 | 87 | 71.7 | 30.1 | 95 | 58 | 71 | 49 | 74.7 | 32.0 | 110 | 71 | 76 | 56 | 69.1 | 30.9 | 5160 | 175 | 3120 | 346 | 60.5 | 6.1 | 706 | 154 | 151 | 71 | 21.4 | 9.6 | 936 | 176 | 610 | 156 | 65.2 | 10.4 | 3518 | 216 | 2359 | 300 | 67.1 | 6.8 | 2820 | 392 | 4687 | 395 | 5258 | 305 | 5593 | 313 | 5775 | 271 | 6165 | 266 | 6320 | 233 | 6320 | 233 | 901 | 188 | 665 | 157 | 73.8 | 7.1 | 510 | 119 | 344 | 91 | 67.5 | 10.2 | 391 | 106 | 321 | 97 | 82.1 | 9.7 | | 19 | | 19 | | | | 19 | | 19 | | | 10 | 13 | 10 | 13 | 100.0 | 100.0 | 143 | 78 | 110 | 64 | 76.9 | 18.3 | 51 | 41 | 51 | 41 | 100.0 | 46.1 | 157 | 78 | 152 | 77 | 96.8 | 4.9 | 259 | 76 | 191 | 68 | 73.7 | 13.3 | 119 | 55 | 45 | 33 | 37.8 | 22.8 | 162 | 67 | 106 | 57 | 65.4 | 20.1 | 8269 | 712 | 96 | 52 | 33 | 39 | 34.4 | 31.2 | 169 | 76 | 143 | 72 | 84.6 | 15.8 | 636 | 158 | 489 | 133 | 76.9 | 7.5 |
| 8600000US00610 | 610 | ZCTA5 00610 | 18.2953664 | -67.1251351 | 93013427 | 4172060 | 27868 | 207 | 13734 | 1055 | 49.3 | 3.8 | 5912 | 47 | 3670 | 419 | 62.1 | 7.1 | 1315 | 47 | 805 | 172 | 61.2 | 12.8 | 4597 | 2 | 2865 | 371 | 62.3 | 8.1 | 5910 | 47 | 3669 | 418 | 62.1 | 7.1 | 17074 | 204 | 8188 | 758 | 48.0 | 4.4 | 6064 | 142 | 2991 | 381 | 49.3 | 6.2 | 11010 | 113 | 5197 | 498 | 47.2 | 4.5 | 6635 | 222 | 2775 | 342 | 41.8 | 4.8 | 4882 | 83 | 1876 | 253 | 38.4 | 5.1 | 13504 | 102 | 6444 | 586 | 47.7 | 4.3 | 14364 | 155 | 7290 | 606 | 50.8 | 4.2 | 16216 | 1255 | 7446 | 1012 | 45.9 | 4.9 | 988 | 436 | 695 | 380 | 70.3 | 13.6 | | 25 | | 25 | | | | 25 | | 25 | | | 1.0 | 2 | 1.0 | 2 | 100.0 | 100.0 | 6869 | 1163 | 3459 | 836 | 50.4 | 7.3 | 3794.0 | 844 | 2133.0 | 714 | 56.2 | 11.5 | 27286 | 314 | 13448 | 1060 | 49.3 | 3.8 | 411 | 178 | 233.0 | 136 | 56.7 | 17.1 | 19161 | 155 | 8665 | 708 | 45.2 | 3.7 | 6187 | 467 | 3910 | 400 | 63.2 | 4.7 | 6329 | 499 | 2907 | 401 | 45.9 | 5.8 | 3651 | 437 | 1379 | 306 | 37.8 | 7.5 | 2994 | 412 | 469 | 180 | 15.7 | 5.5 | 9914 | 523 | 3221 | 479 | 32.5 | 4.7 | 8327 | 533 | 2098 | 377 | 25.2 | 4.4 | 4476 | 392 | 1064 | 251 | 23.8 | 5.5 | 3851 | 317 | 1034 | 224 | 26.9 | 5.6 | 1587 | 300 | 1123 | 284 | 70.8 | 9.4 | 837 | 209 | 616 | 182 | 73.6 | 12.4 | 750 | 204 | 507 | 173 | 67.6 | 12.4 | 22838 | 227 | 10621 | 868 | 46.5 | 3.8 | 5308 | 457 | 715 | 208 | 13.5 | 3.9 | 3781 | 470 | 1911 | 390 | 50.5 | 7.8 | 13749 | 549 | 7995 | 737 | 58.1 | 4.3 | 7500 | 963 | 16851 | 1073 | 19063 | 1008 | 21811 | 885 | 22777 | 812 | 26574 | 488 | 27251 | 379 | 27391 | 357 | 3501 | 388 | 2110 | 304 | 60.3 | 5.5 | 1596 | 245 | 1017 | 190 | 63.7 | 7.7 | 1905 | 265 | 1093 | 217 | 57.4 | 7.3 | | 25 | | 25 | | | 2.0 | 3 | 1.0 | 2 | 50.0 | 50.0 | 118 | 66 | 108 | 60 | 91.5 | 12.5 | 356 | 113 | 231 | 90 | 64.9 | 14.2 | 411 | 181 | 199 | 93 | 48.4 | 15.1 | 525 | 150 | 294 | 112 | 56.0 | 15.4 | 749 | 156 | 444 | 137 | 59.3 | 12.8 | 740 | 140 | 422 | 115 | 57.0 | 11.1 | 600 | 122 | 411 | 93 | 68.5 | 9.7 | 6781 | 652 | 719 | 194 | 55 | 60 | 7.6 | 7.9 | 445 | 146 | 373 | 133 | 83.8 | 12.4 | 2337 | 295 | 1682 | 286 | 72.0 | 6.2 |
| 8600000US00612 | 612 | ZCTA5 00612 | 18.402253299999998 | -66.7113974 | 175065129 | 9790062 | 63610 | 1566 | 30411 | 1744 | 47.8 | 2.4 | 13832 | 664 | 8240 | 746 | 59.6 | 4.1 | 3442 | 251 | 2305 | 305 | 67.0 | 7.2 | 10390 | 548 | 5935 | 596 | 57.1 | 4.5 | 13793 | 664 | 8201 | 742 | 59.5 | 4.1 | 37754 | 1180 | 17050 | 1099 | 45.2 | 2.8 | 13841 | 596 | 7211 | 584 | 52.1 | 4.2 | 23913 | 778 | 9839 | 746 | 41.1 | 2.8 | 15915 | 517 | 6825 | 511 | 42.9 | 2.7 | 12024 | 395 | 5121 | 412 | 42.6 | 3.0 | 30195 | 960 | 13742 | 906 | 45.5 | 2.7 | 33415 | 849 | 16669 | 1007 | 49.9 | 2.7 | 52749 | 1576 | 25075 | 1560 | 47.5 | 2.5 | 3335 | 671 | 1483 | 410 | 44.5 | 11.2 | 248.0 | 189 | 77.0 | 79 | 31.0 | 33.0 | 678.0 | 276 | 463.0 | 222 | 68.3 | 18.4 | | 31 | | 31 | | | 5151 | 851 | 2761 | 661 | 53.6 | 8.0 | 1449.0 | 488 | 552.0 | 296 | 38.1 | 16.1 | 63387 | 1563 | 30299 | 1733 | 47.8 | 2.4 | 161 | 85 | 101.0 | 70 | 62.7 | 33.8 | 43276 | 1099 | 18644 | 1044 | 43.1 | 2.1 | 10598 | 735 | 6865 | 656 | 64.8 | 3.5 | 12619 | 800 | 6088 | 592 | 48.2 | 3.4 | 9902 | 731 | 3921 | 487 | 39.6 | 4.1 | 10157 | 674 | 1770 | 284 | 17.4 | 2.7 | 20288 | 1011 | 6210 | 613 | 30.6 | 2.8 | 16083 | 830 | 3189 | 384 | 19.8 | 2.4 | 8587 | 657 | 1666 | 309 | 19.4 | 3.3 | 7496 | 507 | 1523 | 283 | 20.3 | 3.4 | 4205 | 582 | 3021 | 495 | 71.8 | 6.4 | 2050 | 352 | 1418 | 266 | 69.2 | 8.3 | 2155 | 416 | 1603 | 359 | 74.4 | 7.8 | 51735 | 1269 | 23219 | 1308 | 44.9 | 2.4 | 10739 | 741 | 1200 | 252 | 11.2 | 2.3 | 7133 | 599 | 2941 | 403 | 41.2 | 4.7 | 33863 | 1111 | 19078 | 1187 | 56.3 | 2.5 | 17995 | 1257 | 35626 | 1680 | 40737 | 1819 | 46350 | 1888 | 48850 | 1809 | 57063 | 1669 | 60475 | 1623 | 62000 | 1613 | 9511 | 676 | 6256 | 514 | 65.8 | 3.4 | 4311 | 421 | 2845 | 355 | 66.0 | 4.9 | 5200 | 544 | 3411 | 445 | 65.6 | 4.5 | | 31 | | 31 | | | 39.0 | 41 | 39.0 | 41 | 100.0 | 52.7 | 540 | 242 | 511 | 238 | 94.6 | 6.7 | 838 | 228 | 446 | 143 | 53.2 | 11.8 | 1213 | 274 | 702 | 209 | 57.9 | 12.2 | 1550 | 242 | 1042 | 200 | 67.2 | 8.1 | 1664 | 259 | 1101 | 209 | 66.2 | 7.5 | 2056 | 275 | 1408 | 212 | 68.5 | 5.9 | 1611 | 197 | 1007 | 178 | 62.5 | 8.3 | 7466 | 380 | 1418 | 287 | 148 | 101 | 10.4 | 6.9 | 1050 | 198 | 704 | 150 | 67.0 | 9.0 | 7043 | 573 | 5404 | 492 | 76.7 | 3.0 |
| 8600000US00616 | 616 | ZCTA5 00616 | 18.4204125 | -66.67197929999999 | 29862710 | 149156 | 10283 | 1081 | 5152 | 785 | 50.1 | 6.3 | 1704 | 348 | 818 | 274 | 48.0 | 12.1 | 490 | 184 | 288 | 157 | 58.8 | 22.2 | 1214 | 267 | 530 | 217 | 43.7 | 13.7 | 1702 | 349 | 816 | 274 | 47.9 | 12.1 | 6345 | 842 | 3020 | 593 | 47.6 | 7.1 | 2231 | 443 | 1046 | 291 | 46.9 | 9.7 | 4114 | 517 | 1974 | 386 | 48.0 | 7.1 | 2791 | 360 | 1628 | 295 | 58.3 | 8.5 | 2234 | 302 | 1314 | 271 | 58.8 | 9.9 | 4804 | 556 | 2307 | 464 | 48.0 | 7.7 | 5479 | 650 | 2845 | 446 | 51.9 | 6.5 | 9203 | 1036 | 4779 | 768 | 51.9 | 6.5 | 424 | 221 | 187 | 118 | 44.1 | 25.8 | 32.0 | 41 | 24.0 | 39 | 75.0 | 53.2 | | 21 | | 21 | | | | 21 | | 21 | | | 290 | 148 | 18 | 24 | 6.2 | 8.7 | 334.0 | 212 | 144.0 | 141 | 43.1 | 31.6 | 10236 | 1078 | 5143 | 784 | 50.2 | 6.3 | 47 | 44 | 9.0 | 14 | 19.1 | 35.2 | 7673 | 765 | 3796 | 536 | 49.5 | 6.3 | 2275 | 357 | 1516 | 301 | 66.6 | 9.6 | 2392 | 429 | 1463 | 348 | 61.2 | 9.3 | 1736 | 367 | 567 | 175 | 32.7 | 8.2 | 1270 | 315 | 250 | 132 | 19.7 | 9.2 | 3072 | 507 | 784 | 233 | 25.5 | 6.5 | 2743 | 460 | 579 | 188 | 21.1 | 5.9 | 1496 | 291 | 387 | 160 | 25.9 | 8.4 | 1247 | 266 | 192 | 82 | 15.4 | 5.8 | 329 | 126 | 205 | 101 | 62.3 | 21.1 | 171 | 87 | 100 | 76 | 58.5 | 25.5 | 158 | 90 | 105 | 71 | 66.5 | 32.1 | 8769 | 870 | 4436 | 644 | 50.6 | 6.3 | 1981 | 378 | 241 | 143 | 12.2 | 6.5 | 861 | 250 | 369 | 129 | 42.9 | 12.2 | 5927 | 627 | 3826 | 581 | 64.6 | 6.7 | 2546 | 607 | 6316 | 934 | 7176 | 997 | 8315 | 1027 | 8536 | 1043 | 9622 | 1060 | 9808 | 1063 | 10032 | 1092 | 1283 | 237 | 1035 | 210 | 80.7 | 8.1 | 651 | 173 | 454 | 131 | 69.7 | 13.4 | 632 | 158 | 581 | 159 | 91.9 | 6.7 | | 21 | | 21 | | | 2.0 | 4 | 2.0 | 4 | 100.0 | 100.0 | 82 | 70 | 82 | 70 | 100.0 | 36.1 | 109 | 64 | 65 | 50 | 59.6 | 32.4 | 207 | 103 | 151 | 82 | 72.9 | 22.1 | 156 | 88 | 117 | 78 | 75.0 | 24.7 | 230 | 102 | 196 | 95 | 85.2 | 17.8 | 328 | 111 | 253 | 113 | 77.1 | 19.6 | 169 | 101 | 169 | 101 | 100.0 | 20.9 | 7114 | 770 | 154 | 83 | 15 | 23 | 9.7 | 15.0 | 169 | 87 | 155 | 84 | 91.7 | 13.2 | 960 | 204 | 865 | 196 | 90.1 | 7.1 |
| 8600000US00617 | 617 | ZCTA5 00617 | 18.4451465 | -66.5596961 | 39355368 | 3980436 | 24619 | 271 | 12921 | 981 | 52.5 | 4.0 | 5662 | 49 | 3647 | 398 | 64.4 | 7.0 | 1379 | 2 | 955 | 168 | 69.3 | 12.2 | 4283 | 49 | 2692 | 323 | 62.9 | 7.6 | 5653 | 51 | 3638 | 397 | 64.4 | 7.0 | 14818 | 248 | 7400 | 705 | 49.9 | 4.8 | 5576 | 150 | 2694 | 436 | 48.3 | 7.9 | 9242 | 129 | 4706 | 498 | 50.9 | 5.4 | 5658 | 250 | 2607 | 386 | 46.1 | 6.7 | 4139 | 57 | 1874 | 292 | 45.3 | 7.2 | 11715 | 205 | 6158 | 485 | 52.6 | 4.2 | 12904 | 76 | 6763 | 619 | 52.4 | 4.9 | 22620 | 650 | 11982 | 1002 | 53.0 | 4.2 | 560 | 293 | 226 | 174 | 40.4 | 26.4 | | 25 | | 25 | | | 96.0 | 86 | | 25 | | 32.7 | | 25 | | 25 | | | 990 | 468 | 483 | 253 | 48.8 | 25.4 | 353.0 | 286 | 230.0 | 201 | 65.2 | 43.6 | 24465 | 308 | 12808 | 968 | 52.4 | 4.0 | 95 | 124 | 95.0 | 124 | 100.0 | 32.9 | 16576 | 145 | 7928 | 710 | 47.8 | 4.4 | 4296 | 448 | 3049 | 486 | 71.0 | 7.9 | 5567 | 528 | 2802 | 437 | 50.3 | 6.9 | 3947 | 503 | 1421 | 401 | 36.0 | 8.0 | 2766 | 420 | 656 | 233 | 23.7 | 7.4 | 6455 | 501 | 2212 | 423 | 34.3 | 5.6 | 5307 | 564 | 1502 | 373 | 28.3 | 5.9 | 2748 | 363 | 712 | 239 | 25.9 | 7.4 | 2559 | 348 | 790 | 254 | 30.9 | 8.4 | 1148 | 279 | 710 | 222 | 61.8 | 13.8 | 603 | 194 | 384 | 184 | 63.7 | 20.9 | 545 | 187 | 326 | 132 | 59.8 | 17.7 | 19547 | 318 | 9692 | 833 | 49.6 | 4.3 | 4009 | 520 | 814 | 283 | 20.3 | 6.0 | 1801 | 357 | 832 | 245 | 46.2 | 11.1 | 13737 | 587 | 8046 | 772 | 58.6 | 5.2 | 7336 | 1058 | 15428 | 978 | 17198 | 1054 | 19464 | 1047 | 19945 | 980 | 22817 | 680 | 24066 | 372 | 24414 | 314 | 3226 | 401 | 2019 | 342 | 62.6 | 7.7 | 1612 | 266 | 922 | 226 | 57.2 | 8.6 | 1614 | 268 | 1097 | 245 | 68.0 | 11.1 | | 25 | | 25 | | | | 25 | | 25 | | | 89 | 76 | 62 | 58 | 69.7 | 38.5 | 448 | 182 | 153 | 99 | 34.2 | 21.1 | 313 | 134 | 132 | 95 | 42.2 | 23.7 | 517 | 186 | 344 | 136 | 66.5 | 16.3 | 782 | 215 | 489 | 172 | 62.5 | 13.9 | 560 | 174 | 438 | 160 | 78.2 | 13.6 | 517 | 146 | 401 | 133 | 77.6 | 13.7 | 7405 | 702 | 685 | 195 | 59 | 71 | 8.6 | 9.8 | 393 | 173 | 234 | 129 | 59.5 | 19.9 | 2148 | 335 | 1726 | 302 | 80.4 | 7.1 |
| 8600000US00622 | 622 | ZCTA5 00622 | 17.9912454 | -67.1539931 | 75090747 | 1694880 | 7336 | 1040 | 4077 | 877 | 55.6 | 9.5 | 1498 | 399 | 1114 | 390 | 74.4 | 12.0 | 299 | 154 | 217 | 152 | 72.6 | 27.0 | 1199 | 334 | 897 | 320 | 74.8 | 11.5 | 1498 | 399 | 1114 | 390 | 74.4 | 12.0 | 3972 | 731 | 2046 | 520 | 51.5 | 11.1 | 1231 | 384 | 699 | 237 | 56.8 | 16.4 | 2741 | 472 | 1347 | 372 | 49.1 | 11.4 | 2292 | 362 | 1116 | 300 | 48.7 | 10.4 | 1866 | 326 | 917 | 243 | 49.1 | 10.8 | 3525 | 547 | 1947 | 465 | 55.2 | 10.0 | 3811 | 592 | 2130 | 464 | 55.9 | 10.1 | 4510 | 763 | 2621 | 722 | 58.1 | 10.2 | 95 | 128 | 95 | 128 | 100.0 | 32.9 | | 19 | | 19 | | | | 19 | | 19 | | | | 19 | | 19 | | | 2731 | 836 | 1361 | 509 | 49.8 | 16.8 | | 19 | | 19 | | | 7271 | 1034 | 4065 | 870 | 55.9 | 9.4 | 65 | 68 | 12.0 | 19 | 18.5 | 32.5 | 5202 | 714 | 2566 | 554 | 49.3 | 9.3 | 1829 | 442 | 1275 | 370 | 69.7 | 12.3 | 1299 | 349 | 745 | 306 | 57.4 | 13.9 | 987 | 257 | 351 | 173 | 35.6 | 13.8 | 1087 | 328 | 195 | 94 | 17.9 | 8.9 | 1654 | 339 | 610 | 229 | 36.9 | 12.2 | 1443 | 327 | 434 | 202 | 30.1 | 12.7 | 742 | 223 | 280 | 146 | 37.7 | 15.0 | 701 | 206 | 154 | 93 | 22.0 | 14.0 | 211 | 113 | 176 | 107 | 83.4 | 19.2 | 171 | 100 | 136 | 95 | 79.5 | 24.1 | 40 | 44 | 40 | 44 | 100.0 | 52.0 | 6087 | 853 | 3143 | 654 | 51.6 | 9.4 | 1110 | 304 | 188 | 103 | 16.9 | 9.4 | 340 | 164 | 253 | 173 | 74.4 | 25.5 | 4637 | 696 | 2702 | 599 | 58.3 | 9.6 | 2213 | 610 | 4419 | 921 | 4936 | 920 | 5858 | 1044 | 5896 | 1036 | 6538 | 1049 | 6718 | 1043 | 6859 | 1032 | 1055 | 241 | 614 | 171 | 58.2 | 10.1 | 384 | 122 | 221 | 96 | 57.6 | 18.5 | 671 | 192 | 393 | 142 | 58.6 | 12.9 | | 19 | | 19 | | | | 19 | | 19 | | | 41 | 33 | 41 | 33 | 100.0 | 51.4 | 74 | 48 | 22 | 28 | 29.7 | 31.0 | 111 | 64 | 59 | 46 | 53.2 | 33.8 | 143 | 98 | 84 | 82 | 58.7 | 36.5 | 262 | 124 | 95 | 55 | 36.3 | 24.2 | 299 | 114 | 233 | 101 | 77.9 | 16.5 | 125 | 75 | 80 | 51 | 64.0 | 26.1 | 6996 | 1125 | 221 | 105 | 11 | 20 | 5.0 | 9.5 | 72 | 72 | 47 | 58 | 65.3 | 51.9 | 762 | 206 | 556 | 164 | 73.0 | 9.8 |
| 8600000US00623 | 623 | ZCTA5 00623 | 18.083360600000002 | -67.153897 | 98351688 | 1633538 | 42657 | 1054 | 20978 | 1431 | 49.2 | 3.2 | 8970 | 399 | 5022 | 510 | 56.0 | 5.5 | 2025 | 154 | 1235 | 212 | 61.0 | 10.3 | 6945 | 334 | 3787 | 435 | 54.5 | 6.4 | 8947 | 401 | 4999 | 515 | 55.9 | 5.6 | 25463 | 729 | 11837 | 1074 | 46.5 | 4.1 | 8816 | 384 | 4430 | 555 | 50.2 | 6.2 | 16647 | 472 | 7407 | 663 | 44.5 | 3.8 | 10753 | 473 | 5364 | 466 | 49.9 | 3.7 | 8224 | 336 | 4119 | 360 | 50.1 | 4.1 | 20269 | 552 | 9634 | 779 | 47.5 | 3.9 | 22388 | 600 | 11344 | 841 | 50.7 | 3.5 | 25544 | 1483 | 12424 | 1413 | 48.6 | 4.5 | 1454 | 504 | 327 | 218 | 22.5 | 15.0 | 38.0 | 36 | 20.0 | 22 | 52.6 | 50.4 | 11.0 | 17 | 11.0 | 17 | 100.0 | 99.2 | | 28 | | 28 | | | 15209 | 1630 | 8097 | 1215 | 53.2 | 5.3 | 401.0 | 312 | 99.0 | 114 | 24.7 | 30.5 | 42597 | 1044 | 20978 | 1431 | 49.2 | 3.2 | 60 | 58 | | 28 | | 42.5 | 29729 | 731 | 13763 | 974 | 46.3 | 3.1 | 8903 | 645 | 6234 | 639 | 70.0 | 3.7 | 7446 | 733 | 3939 | 572 | 52.9 | 5.9 | 5715 | 624 | 2328 | 447 | 40.7 | 6.2 | 7665 | 833 | 1262 | 311 | 16.5 | 3.8 | 12903 | 776 | 3719 | 424 | 28.8 | 3.6 | 11511 | 759 | 2817 | 373 | 24.5 | 3.4 | 5767 | 476 | 1567 | 309 | 27.2 | 4.8 | 5744 | 527 | 1250 | 248 | 21.8 | 4.2 | 1392 | 280 | 902 | 220 | 64.8 | 12.1 | 919 | 250 | 570 | 202 | 62.0 | 14.9 | 473 | 143 | 332 | 129 | 70.2 | 17.7 | 34682 | 886 | 16545 | 1219 | 47.7 | 3.3 | 7932 | 649 | 1147 | 277 | 14.5 | 3.5 | 3956 | 499 | 1799 | 375 | 45.5 | 7.4 | 22794 | 1023 | 13599 | 1121 | 59.7 | 3.5 | 11372 | 1263 | 25296 | 1418 | 28395 | 1483 | 31461 | 1447 | 32658 | 1326 | 38385 | 1240 | 40531 | 1101 | 41541 | 1136 | 6217 | 498 | 4020 | 394 | 64.7 | 3.5 | 2721 | 328 | 1655 | 252 | 60.8 | 6.1 | 3496 | 400 | 2365 | 304 | 67.6 | 4.8 | | 28 | | 28 | | | 23.0 | 28 | 23.0 | 28 | 100.0 | 68.6 | 223 | 107 | 223 | 107 | 100.0 | 16.4 | 468 | 147 | 268 | 109 | 57.3 | 15.9 | 769 | 226 | 376 | 134 | 48.9 | 12.6 | 1125 | 279 | 523 | 164 | 46.5 | 10.2 | 1041 | 215 | 759 | 180 | 72.9 | 8.1 | 1395 | 254 | 931 | 203 | 66.7 | 8.1 | 1173 | 187 | 917 | 165 | 78.2 | 7.7 | 7114 | 471 | 1227 | 247 | 173 | 93 | 14.1 | 7.3 | 614 | 190 | 342 | 138 | 55.7 | 16.5 | 4376 | 423 | 3505 | 376 | 80.1 | 4.1 |