Others titles
SNOMED CT United States Edition
SNOMED CT Latest Version
Machine Readable Concept Model of SNOMED CT
Keywords
Clinical Terminology
SNOMED CT
IHTSDO
Systematized Nomenclature of Medicine Clinical Terms
Healthcare Terminology
Electronic Health Records
Machine Readable Concept Model
SNOMED CT Delta Description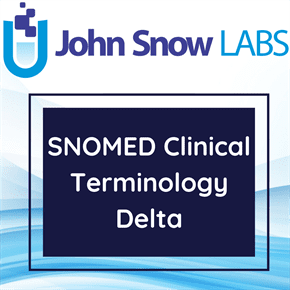 The Description file holds descriptions that describe SNOMED CT concepts. A description is used to give meaning to a concept and provide well-understood and standard ways of referring to a concept. This dataset describes the Release File structure of SNOMED CT, referred to as Release Format 2 (RF2). The US Edition of SNOMED CT is the official source of SNOMED CT for use in US healthcare systems.
Log in to download
Complexity
Get The Data
For getting access to data download links please read and accept the end-user license agreement.
Your Data License
Research

Non-Commercial, Share-Alike, Attribution

Free Forever

Commercial

Commercial Use, Remix & Adapt, White Label Log in to download
Description
SNOMED CT (SNOMED Clinical Terminology) provides a common language that assists with the electronic exchange of clinical health information. It enables a consistent way of indexing, storing, retrieving, and aggregating clinical data across specialties and sites of care. SNOMED CT Can be mapped to other coding systems, such as ICD-10, which helps facilitate semantic interoperability.
A Delta release contains only those component versions created, inactivated or changed since the previous release. The 'Delta' release is much smaller than a 'Full' release and is ideal for updating a 'Full' release of the previous version. Adding a 'Delta' release to the previous version's 'Full' release will update the installation to a 'Full' release of the current Version.
In addition to 623 new concepts specific for the US, the September 2018 SNOMED CT US Edition also contains all of the content from the July 2018 SNOMED CT International Edition. Approximately 543 requests for terminology additions and updates were submitted via the US Content Request System (US CRS) to support US clinical health information data exchange. This latest version of the US Edition also includes the SNOMED CT to ICD-10-CM reference set, with over 123,000 SNOMED CT source concepts mapped to ICD-10-CM targets.
About this Dataset
Data Info
| | |
| --- | --- |
| Date Created | 2007-04-01 |
| Last Modified | 2020-09-01 |
| Version | 2020-09-01 |
| Update Frequency | Semiannual |
| Temporal Coverage | N/A |
| Spatial Coverage | United States |
| Source | John Snow Labs; International Health Terminology Standards Development Organisation (IHTSDO), U.S. National Library of Medicine (NLM); |
| Source License URL | |
| Source License Requirements | Reporting Requirements |
| Source Citation | N/A |
| Keywords | Clinical Terminology, SNOMED CT, IHTSDO, Systematized Nomenclature of Medicine Clinical Terms, Healthcare Terminology, Electronic Health Records, Machine Readable Concept Model |
| Other Titles | SNOMED CT United States Edition, SNOMED CT Latest Version, Machine Readable Concept Model of SNOMED CT |
Data Fields
| Name | Description | Type | Constraints |
| --- | --- | --- | --- |
| Description_Id | Uniquely identifies the description. | integer | level : Nominalrequired : 1 |
| Effective_Date | Specifies the inclusive date at which the component version's state became the then current valid state of the component | date | required : 1 |
| Is_Active | Specifies whether the concept's state was active or inactive from the nominal release date specified by the Effective_Date | boolean | required : 1 |
| Module_Id | Identifies the description version's module. | integer | level : Nominalrequired : 1 |
| Concept_Id | Identifies the concept to which this description belongs. Note that versions of descriptions and concepts don't belong to each other. Which version of any given description is combined with which version of its owning concept depends on the point in time at which they are accessed. | integer | level : Nominalrequired : 1 |
| Language_Code | Specifies the language of the description text using the two character ISO -639-1 code. Note that this specifies a language level only, not a dialect or country code. | string | required : 1 |
| Type_Id | Identifies whether the description is an FSN, Synonym or other description type. | integer | level : Nominalrequired : 1 |
| Term | The description version's text value. | string | - |
| Case_Significance_Id | Identifies the concept enumeration value that represents the case significance of this description version. For example, the term may be completely case sensitive, case insensitive or initial letter case insensitive. | integer | level : Nominalrequired : 1 |
Data Preview
| | | | | | | | | |
| --- | --- | --- | --- | --- | --- | --- | --- | --- |
| Description Id | Effective Date | Is Active | Module Id | Concept Id | Language Code | Type Id | Term | Case Significance Id |
| 2050012 | 2021-01-31 | False | 900000000000207008 | 586008 | en | 900000000000013009 | Contact dermatitis due to primrose | 900000000000448009 |
| 2051011 | 2021-01-31 | False | 900000000000207008 | 586008 | en | 900000000000013009 | Contact dermatitis due to Primula | 900000000000020002 |
| 2052016 | 2021-01-31 | False | 900000000000207008 | 586008 | en | 900000000000013009 | Allergic dermatitis due to primrose | 900000000000448009 |
| 2053014 | 2021-01-31 | False | 900000000000207008 | 586008 | en | 900000000000013009 | Allergic dermatitis due to Primula | 900000000000020002 |
| 3269016 | 2021-01-31 | False | 900000000000207008 | 1287007 | en | 900000000000013009 | Agenesis of bile duct | 900000000000448009 |
| 4902014 | 2021-01-31 | True | 900000000000207008 | 2258008 | en | 900000000000013009 | Bunodont tooth | 900000000000448009 |
| 5435017 | 2021-01-31 | False | 900000000000207008 | 2605005 | en | 900000000000013009 | Red hen mite | 900000000000448009 |
| 6389010 | 2021-01-31 | True | 900000000000207008 | 3191003 | en | 900000000000013009 | Abomasopexy by flank approach | 900000000000448009 |
| 8649017 | 2021-01-31 | False | 900000000000207008 | 3987009 | en | 900000000000013009 | Agenesis of trachea | 900000000000448009 |
| 12723014 | 2021-01-31 | True | 900000000000207008 | 7106000 | en | 900000000000013009 | Finrot | 900000000000448009 |