Others titles
SNOMED CT Cross Mapping of Human Readable Map and ICD-10-CM
ICD-10-CM Mapping of SNOMED CT Human Readable Map
Keywords
Clinical Terminology
SNOMED CT
ICD-10-CM Codes
Medical Terminology
Systematized Nomenclature of Medicine Clinical Terms
Healthcare Terminology Mapping
Electronic Health Records
SNOMED to ICD-10 Map
SNOMED CT to ICD-10-CM Human Readable Cross Map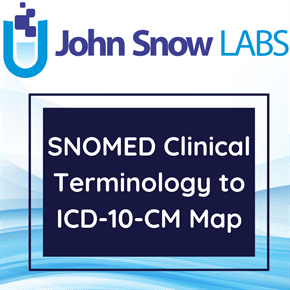 This dataset contains the human readable form of the SNOMED CT to ICD-10-CM cross map. The Map can be used in real-time by the healthcare providers and by coding professionals for retrospective coding purposes.
Log in to download
Complexity
Get The Data
For getting access to data download links please read and accept the end-user license agreement.
Your Data License
Research

Non-Commercial, Share-Alike, Attribution

Free Forever

Commercial

Commercial Use, Remix & Adapt, White Label Log in to download
Description
SNOMED CT is considered to be the most comprehensive, multilingual clinical healthcare terminology in the world. It is designed for use in clinical documentation in the Electronic Health Record (EHR). The purpose of the SNOMED CT to ICD-10-CM map (herein referred to as "the Map") is to support semi-automated generation of ICD-10-CM codes from clinical data encoded in SNOMED CT for reimbursement and statistical purposes.
The direction of the Map is from SNOMED CT (source) to ICD-10-CM (target). All pre-coordinated SNOMED CT concepts that are appropriate for use in a problem list (about a third of all active SNOMED CT concepts) are potentially within scope for the map. Initially, a smaller subset of frequently used SNOMED CT concepts will be mapped. Not all ICD-10-CM codes will appear as targets. It is expected that frequently occurring ICD-10-CM codes will be covered in the initial phase. This can only be verified when real-life usage statistics of ICD-10-CM codes are available. Because of the difference in granularity of the two terminologies, some ICD-10-CM codes will not have SNOMED CT correspondents (e.g. concepts with laterality or episode of care information). Full representation of these ICD-10-CM codes will require post-coordination in SNOMED CT, which is not included in this Map.
SNOMED CT is an extensive clinical terminology that was formed by the merger, expansion, and restructuring of SNOMED RT (Reference Terminology) and the United Kingdom National Health Service (NHS) Clinical Terms (also known as the Read Codes). It is the most comprehensive clinical vocabulary available in English (or any language). SNOMED CT is concept-oriented and has an advanced structure that meets most accepted criteria for a well-formed, machine-readable terminology. It has been designated as a US standard for electronic health information exchange in Interoperability Specifications produced by the Healthcare Information Technology Standards Panel and has also been adopted for use by the US Federal Government, through the Consolidated Health Informatics (CHI) Initiative, for several clinical domains.
About this Dataset
Data Info
| | |
| --- | --- |
| Date Created | 2002-07-03 |
| Last Modified | 2023-03-01 |
| Version | 2023-03-01 |
| Update Frequency | Semiannual |
| Temporal Coverage | N/A |
| Spatial Coverage | United States |
| Source | John Snow Labs; International Health Terminology Standards Development Organization (IHTSDO), U.S. National Library of Medicine (NLM); |
| Source License URL | |
| Source License Requirements | N/A |
| Source Citation | N/A |
| Keywords | Clinical Terminology, SNOMED CT, ICD-10-CM Codes, Medical Terminology, Systematized Nomenclature of Medicine Clinical Terms, Healthcare Terminology Mapping, Electronic Health Records, SNOMED to ICD-10 Map |
| Other Titles | SNOMED CT Cross Mapping of Human Readable Map and ICD-10-CM, ICD-10-CM Mapping of SNOMED CT Human Readable Map |
Data Fields
| Name | Description | Type | Constraints |
| --- | --- | --- | --- |
| Map_Record_Id | An unsigned integer, uniquely identifying the map category record. | string | required : 1 |
| Effective_Time | Specifies the inclusive date at which this change becomes effective. | date | - |
| Is_Active | Specifies whether the member's state was active (true) or inactive (false) from the nominal release date specified by the Effective_Date field. | boolean | required : 1 |
| Module_Id | Identifies the member version's module | integer | level : Nominalrequired : 1 |
| Refset_Id | Set to one of the children of the |Complex map type| concept in the metadata hierarchy. | integer | level : Nominalrequired : 1 |
| Referenced_Component_Id | The SNOMED CT identifier of the source concept that is being mapped in this record | integer | level : Nominalrequired : 1 |
| Referenced_Component_Name | The fully specified name of the SNOMED CT source concept being mapped | string | required : 1 |
| Map_Group | A collation identifier which specifies one or more map records which are to be evaluated in sequence for determination of at most one ICD-10-CM target codes for this map | integer | level : Nominalrequired : 1 |
| Map_Priority | The sequence number for evaluation of this map record within the map group | integer | level : Nominalrequired : 1 |
| Map_Rule | The map rule for this map record | string | required : 1 |
| Map_Advice | The map advice for this map record | string | required : 1 |
| Map_Target | Target ICD-10-CM classification code for this map record | string | - |
| Map_Target_Name | The fully specified name of the map record | string | - |
| Correlation_Id | SNOMED CT and ICD-1-CM corelation code | integer | level : Nominal |
| Map_Category_Id | The metadata identifier for the map category assigned to this map record | integer | level : Nominalrequired : 1 |
| Map_Category_Name | Primary term for the map category metadata assigned to this map record | string | required : 1 |
Data Preview
| | | | | | | | | | | | | | | | |
| --- | --- | --- | --- | --- | --- | --- | --- | --- | --- | --- | --- | --- | --- | --- | --- |
| Map Record Id | Effective Time | Is Active | Module Id | Refset Id | Referenced Component Id | Referenced Component Name | Map Group | Map Priority | Map Rule | Map Advice | Map Target | Map Target Name | Correlation Id | Map Category Id | Map Category Name |
| 4c4d2755-e65f-52dc-8353-ecf437495eb8 | 2023-03-01 | 1 | 5991000124107 | 6011000124106 | 10000006 | Radiating chest pain | 1 | 1 | TRUE | ALWAYS R07.9 | R07.9 | Chest pain, unspecified | 447561005 | 447637006 | MAP SOURCE CONCEPT IS PROPERLY CLASSIFIED |
| f7e1ed02-3107-5a6c-9439-21e9879fb746 | 2023-03-01 | 1 | 5991000124107 | 6011000124106 | 10001005 | Bacterial sepsis | 1 | 1 | IFA 445518008 | Age at onset of clinical finding (observable entity) | < 29.0 days | IF AGE AT ONSET OF CLINICAL FINDING BEFORE 29.0 DAYS CHOOSE P36.9 | CONSIDER ADDITIONAL CODE TO IDENTIFY SPECIFIC CONDITION OR DISEASE | DESCENDANTS NOT EXHAUSTIVELY MAPPED | MAP OF SOURCE CONCEPT IS CONTEXT DEPENDENT | P36.9 | Bacterial sepsis of newborn, unspecified | 447561005 | 447639009 | MAP OF SOURCE CONCEPT IS CONTEXT DEPENDENT |
| 907aa2b0-a832-5254-acdf-6f366e406d2b | 2023-03-01 | 1 | 5991000124107 | 6011000124106 | 10001005 | Bacterial sepsis | 1 | 2 | OTHERWISE TRUE | ALWAYS A41.9 | CONSIDER ADDITIONAL CODE TO IDENTIFY SPECIFIC CONDITION OR DISEASE | DESCENDANTS NOT EXHAUSTIVELY MAPPED | A41.9 | Sepsis, unspecified organism | 447561005 | 447637006 | MAP SOURCE CONCEPT IS PROPERLY CLASSIFIED |
| 0b918513-be22-5059-beb6-e8348dfc631f | 2023-03-01 | 1 | 5991000124107 | 6011000124106 | 10007009 | Coffin-Siris syndrome | 1 | 1 | TRUE | ALWAYS Q04.8 | Q04.8 | Other specified congenital malformations of brain | 447561005 | 447637006 | MAP SOURCE CONCEPT IS PROPERLY CLASSIFIED |
| 7f3f0a95-0441-57ba-a58f-03d2f2736c60 | 2023-03-01 | 1 | 5991000124107 | 6011000124106 | 1001000119102 | Pulmonary embolism with pulmonary infarction | 1 | 1 | TRUE | ALWAYS I26.99 | I26.99 | Other pulmonary embolism without acute cor pulmonale | 447561005 | 447637006 | MAP SOURCE CONCEPT IS PROPERLY CLASSIFIED |
| 977608c1-d006-535a-93a7-7a7b75e90814 | 2023-03-01 | 1 | 5991000124107 | 6011000124106 | 1001000124104 | Normal left ventricular systolic function | 1 | 1 | TRUE | MAP SOURCE CONCEPT CANNOT BE CLASSIFIED WITH AVAILABLE DATA | | | 447561005 | 447638001 | MAP SOURCE CONCEPT CANNOT BE CLASSIFIED WITH AVAILABLE DATA |
| 3fa74c85-56d0-5819-97e8-80c8d4c053c0 | 2023-03-01 | 1 | 5991000124107 | 6011000124106 | 10017004 | Occlusal wear of teeth | 1 | 1 | TRUE | ALWAYS K03.0 | K03.0 | Excessive attrition of teeth | 447561005 | 447637006 | MAP SOURCE CONCEPT IS PROPERLY CLASSIFIED |
| 51537076-a3bf-59f8-aa5f-f571dfcf32cb | 2023-03-01 | 1 | 5991000124107 | 6011000124106 | 100191000119105 | Asymmetry of prostate | 1 | 1 | TRUE | ALWAYS N42.89 | N42.89 | Other specified disorders of prostate | 447561005 | 447637006 | MAP SOURCE CONCEPT IS PROPERLY CLASSIFIED |
| a0263a65-4056-5cf9-8caa-669afce20189 | 2023-03-01 | 1 | 5991000124107 | 6011000124106 | 100211000119106 | Muscle spasm of thoracic back | 1 | 1 | TRUE | ALWAYS M62.830 | M62.830 | Muscle spasm of back | 447561005 | 447637006 | MAP SOURCE CONCEPT IS PROPERLY CLASSIFIED |
| 65fa44e5-272d-54e5-b787-cb977fc24720 | 2023-03-01 | 1 | 5991000124107 | 6011000124106 | 1002229008 | Apocrine miliaria of areola | 1 | 1 | TRUE | ALWAYS L75.2 | L75.2 | Apocrine miliaria | 447561005 | 447637006 | MAP SOURCE CONCEPT IS PROPERLY CLASSIFIED |