Others titles
Spinal Versus General Anesthesia: Management of Hip Fractures
AAOS Guidelines on Hip Fracture Management
Spinal Anesthesia Versus General Anesthesia for Hip Fractures
Spinal Versus General Anesthesia for the Management of Elderly Hip Replacement Fractures
Spinal Versus General Anesthesia for the Management of Elderly Hip Intertrochanteric Fracture
Spinal Versus General Anesthesia for the Management of Elderly Hip and Neck Of Femur Fractures
Spinal Versus General Anesthesia for the Management of Elderly Hip and Femoral Neck Fractures
Keywords
Hip Fractures
Spinal Anesthesia for Fractures
General Anesthesia for Fractures
Anesthesia for Hip Fractures in the Elderly
Hip Replacement
Intertrochanteric Fracture
Neck Of Femur Fracture
Femoral Neck Fracture
Spinal VS General Anesthesia Management for Elderly Hip Fractures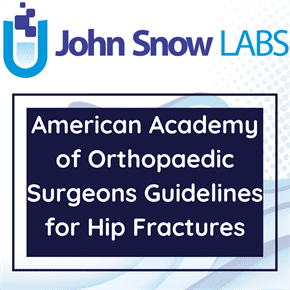 This dataset shows strong evidence that supports similar outcomes for general or spinal anesthesia for patients undergoing hip fracture surgery.
Log in to download
Complexity
Get The Data
For getting access to data download links please read and accept the end-user license agreement.
Your Data License
Research

Non-Commercial, Share-Alike, Attribution

Free Forever

Commercial

Commercial Use, Remix & Adapt, White Label Log in to download
Description
The work group recognizes that anesthetic techniques described in several of these articles which were published decades ago may have changed when compared with modern methods. In addition, there was significant heterogeneity in the patient populations studied, including multiple studies in which patients were not randomized.
Both general anesthesia and spinal anesthesia carry risks and benefits, which should be assessed on an individual basis. Because both forms of anesthesia appear to have similar mortality profiles, providers can consider specific circumstances that would favor one form or the other for their particular patient.
About this Dataset
Data Info
| | |
| --- | --- |
| Date Created | 2014-09-05 |
| Last Modified | 2014-09-05 |
| Version | 2014-09-05 |
| Update Frequency | Never |
| Temporal Coverage | 1971-2003 |
| Spatial Coverage | United States |
| Source | John Snow Labs; American Academy of Orthopaedic Surgeons (AAOS); |
| Source License URL | |
| Source License Requirements | N/A |
| Source Citation | N/A |
| Keywords | Hip Fractures, Spinal Anesthesia for Fractures, General Anesthesia for Fractures, Anesthesia for Hip Fractures in the Elderly, Hip Replacement, Intertrochanteric Fracture, Neck Of Femur Fracture, Femoral Neck Fracture |
| Other Titles | Spinal Versus General Anesthesia: Management of Hip Fractures, AAOS Guidelines on Hip Fracture Management, Spinal Anesthesia Versus General Anesthesia for Hip Fractures, Spinal Versus General Anesthesia for the Management of Elderly Hip Replacement Fractures, Spinal Versus General Anesthesia for the Management of Elderly Hip Intertrochanteric Fracture, Spinal Versus General Anesthesia for the Management of Elderly Hip and Neck Of Femur Fractures, Spinal Versus General Anesthesia for the Management of Elderly Hip and Femoral Neck Fractures |
Data Fields
| Name | Description | Type | Constraints |
| --- | --- | --- | --- |
| Study | Description of the previous studies used in this research. | string | required : 1 |
| Outcome | Description of the reported outcomes from the participants in the use of anesthesia for the research study. | string | required : 1 |
| Month | Description of the duration of the effect of the spinal or general anesthesia. | string | - |
| Group_1 | Description of the type of anesthesia used in the first group. | string | required : 1 |
| Group_2 | Description of the type of anesthesia used in the second group. | string | required : 1 |
| Population_Size | Shows the number of participants or population size in a certain group that received the anesthesia. | integer | level : Ratiorequired : 1 |
| Statistic | Description of the measurable characteristic of a sample population. | string | - |
| Result | Results of the study. | number | level : Ratio |
| Probability | Effectiveness of the result based on the hypothesis of the study. | number | level : Ratio |
| Study_P_Value | Statistical significance of the results of the study. | string | - |
| Favors | Description of which method is more effective. | string | required : 1 |
Data Preview
| | | | | | | | | | | |
| --- | --- | --- | --- | --- | --- | --- | --- | --- | --- | --- |
| Study | Outcome | Month | Group 1 | Group 2 | Population Size | Statistic | Result | Probability | Study P Value | Favors |
| Casati et al 2003 | Hypotension requiring crystalloid infusion | Immediate | Unilateral Spinal Anesthesia with Hyperb | Single-agent Anesthesia with Sevoflurane | 30 | Risk ratio | 0.58 | 0.08 | | NS |
| Casati et al 2003 | Heart Rate | 15-60 minutes after induction | Unilateral Spinal Anesthesia with Hyperb | Single-agent Anesthesia with Sevoflurane | 30 | | | | p= 0.01 | HR significantly lower in Sevoflurane |
| Casati et al 2003 | Bradycardia requiring atropine | Immediate | Unilateral Spinal Anesthesia with Hyperb | Single-agent Anesthesia with Sevoflurane | 30 | % risk difference | 20.0 | 0.05 | | NS |
| Casati et al 2003 | Intraoperative blood loss (mL) | Immediate | Unilateral Spinal Anesthesia with Hyperb | Single-agent Anesthesia with Sevoflurane | 30 | | | | p=0.015 | Favors Spinal Anesthesia |
| McKenzie et al 1984 | Mean (SEM) Blood Loss (mL) | Immediate | Subarachnoid Blockade | General Anesthesia | 148 | Mean difference | 16.0 | 0.76 | | NS |
| Valentin et al 1986 | Blood Loss | | Spinal Anesthesia | General Anesthesia | 578 | | | | p<0.001 | Favors Spinal Anesthesia |
| Davis et al 1981 | Blood Loss (mL) | Immediate | Subarachnoid Block | General Anesthesia | 132 | Mean difference | -201.0 | 0.0 | | Favors Subarachnoid Block |
| Sutcliffe et al 1994 | Incidence of deep vein thrombosis | Immediate | Spinal Anesthesia | General Anesthesia | 1333 | Risk ratio | 2.17 | 0.03 | | Favors General Anesthesia |
| Sutcliffe et al 1994 | Incidence of pulmonary embolism | Immediate | Spinal Anesthesia | General Anesthesia | 1333 | Risk ratio | 1.31 | 0.49 | | NS |
| Koval et al 1998 | Recover ambulatory ability | 6 months | Spinal Anesthesia | General Anesthesia | 531 | | | | P>.05 | NS |