Others titles
New York Record Level Data
New York De-identified inpatient data
New York Inpatient Costs Data
Statewide Planning and Research Cooperative System Dataset
Keywords
New York State
SPARCS
Hospital Quality
Inpatient Discharge
Inpatient Costs
Abortion
State of New York Inpatient Discharges 2012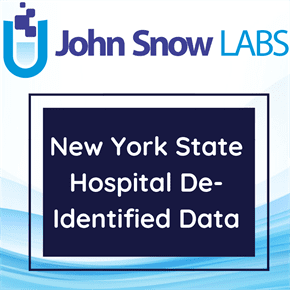 This contains the Inpatient De-identified data of 2012 of the state of New York Office of Quality and Patient Safety, collected from hospitals and treatment centers of New York. This dataset displays information on hospital discharges at patient level data with basic record details without showing protected health information (PHI) and was made not identifiable.
Log in to download
Complexity
Get The Data
For getting access to data download links please read and accept the end-user license agreement.
Your Data License
Research

Non-Commercial, Share-Alike, Attribution

Free Forever

Commercial

Commercial Use, Remix & Adapt, White Label Log in to download
Description
The data is classified by Health Service Area and county. Patients age group, gender, race and ethnicity are listed and contains information on the admission, diagnosis, procedure and discharge, as well as payment and costs. The dataset also indicates abortion records. This data is from the Statewide Planning and Research Cooperative System (SPARCS), a reporting system that protects confidentiality and privacy of patient's data under Section 28.16 of the Public Health Law (PHL). Inpatient data must be submitted to SPARCS by all Article 28 facilities. "[The Statewide Planning and Research Cooperative System] SPARCS is a comprehensive all payer data reporting system established in 1979 as a result of cooperation between the healthcare industry and government. The system was initially created to collect information on discharges from hospitals. SPARCS currently collects patient level detail on patient characteristics, diagnoses and treatments, services, and charges for each hospital inpatient stay and outpatient (ambulatory surgery, emergency department, and outpatient services) visit; and each ambulatory surgery and outpatient services visit to a hospital extension clinic and diagnostic and treatment center licensed to provide ambulatory surgery services.
The enabling legislation for SPARCS is located under Section 28.16 of the Public Health Law (PHL). The regulations pertaining to SPARCS are under Section 400.18 of Title 10 (Health) of the Official Compilation of Codes, Rules, and Regulations of the State of New York (NYCRR)."
"The Statewide Planning and Research Cooperative System (SPARCS) Inpatient De-identified dataset contains discharge level detail on patient characteristics, diagnoses, treatments, services, charges and costs. This data contains basic record level detail regarding the discharge; however the data does not contain protected health information (PHI) under Health Insurance Portability and Accountability Act (HIPAA). The health information is not individually identifiable; all data elements considered identifiable have been redacted. For example, the direct identifiers regarding a date have the day and month portion of the date removed."
"Discharges that are identified as Abortion will have some information redacted; Facility ID, Facility Name, Health Service Area, Hospital County, Operating Certificate, Admission and Discharge Day of Week, and all provider license numbers. Patient zip code is limited to the first three digits. Zip codes for population size less than 20,000 are blank. Out of State are "OOS'. Patient age is presented in age groups: 0 to 17, 18 to 29, 30 to 49, 50 to 69, and 70 or Older."
"Secondary diagnoses and procedures, as well as revenue codes have been excluded from this file. When interpreting New York's data, it is important to keep in mind that variations in cost may be attributed to many factors. Some of these include overall volume, teaching hospital status, facility specific attributes, geographic region and quality of care provided. Additionally, costs derived from billing data are based upon a ratio that is submitted by a facility to the state and may not necessarily reflect a final price of the service delivered. Cost data presented in this dataset was calculated using facility specific 2010 audited RCCs file."
Description source: New York State Department of Health. (2016). Health.ny.gov. Retrieved 8 November, 2016.
About this Dataset
Data Info
| | |
| --- | --- |
| Date Created | 2013-10-03 |
| Last Modified | 2016-07-22 |
| Version | 2016.11.06 |
| Update Frequency | Annual |
| Temporal Coverage | 2012 |
| Spatial Coverage | State of New York |
| Source | John Snow Labs; Department of Health and Human Services; |
| Source License URL | |
| Source License Requirements | N/A |
| Source Citation | N/A |
| Keywords | New York State, SPARCS, Hospital Quality, Inpatient Discharge, Inpatient Costs, Abortion |
| Other Titles | New York Record Level Data, New York De-identified inpatient data, New York Inpatient Costs Data, Statewide Planning and Research Cooperative System Dataset |
Data Fields
| Name | Description | Type | Constraints |
| --- | --- | --- | --- |
| Hospital_Service_Area | A description of the Health Service Area (HSA) in which the hospital is located. Blank for abortion records. Capital/Adirondack, Central NY, Finger Lakes, Hudson Valley, Long Island, New York City, Southern Tier, Western NY | string | - |
| Hospital_County | A description of the county in which the hospital is located. Blank for abortion records. | string | - |
| Operating_Certificate_Number | The facility Operating Certificate Number as assigned by NYS Department of Health. Blank for abortion records. | string | - |
| Permanent_Facility_Id | Facility Identifier. Blank for abortion records. | string | - |
| Facility_Name | The name of the facility where services were performed based on the Permanent Facility Identifier (PFI), as maintained by the NYSDOH Division of Health Facility Planning. For abortion records 'Abortion Record – Facility Name Redacted' appears. | string | - |
| Age_Group | Age in years at time of discharge. Grouped into the following age groups: 0 to 17,18 to 29, 30 to 49, 50 to 69, and 70 or Older. | string | - |
| Zip_Code | The first three digits of the patient's zip code. Blank for: population size less than 20,000, abortion records, or cell size less than 10 on population classification strata. "OOS" are Out of State zip codes. | string | - |
| Gender | Patient gender: (M) Male, (F) Female, (U) Unknown | string | - |
| Race | Patient race. Black/African American, Other Race, Unknown, White. Other Race includes Native Americans and Asian/Pacific Islander. | string | - |
| Ethnicity | Patient ethnicity. The ethnicity of the patient: Spanish/Hispanic Origin, Not of Spanish/Hispanic Origin, Unknown | string | - |
| Length_Of_Stay | The total number of patient days at an acute level and/or other than acute care level (excluding leave of absence days) (Discharge Date - Admission Date) + 1. Length of Stay greater than or equal to 120 days has been aggregated to 120+ days. | string | - |
| Admit_Day_Of_Week | Sun, Mon, Tue, Wed, Thu, Fri, Sat. Blank for abortion records. | string | - |
| Type_Of_Admission | A description of the manner in which the patient was admitted to the health care facility: Elective, Emergency, Newborn, Not Available, Trauma, Urgent | string | - |
| Patient_Disposition | The patient's destination or status upon discharge. | string | - |
| Discharge_Year | The year (CCYY) of discharge. | date | - |
| Discharge_Day_Of_Week | Sun, Mon, Tue, Wed, Thu, Fri, Sat. Blank for abortion records. | string | - |
| CCS_Diagnosis_Code | AHRQ Clinical Classification Software (CCS) Diagnosis Category Code. | string | - |
| CCS_Diagnosis_Description | AHRQ Clinical Classification Software (CCS) Diagnosis Category Description. | string | - |
| CCS_Procedure_Code | AHRQ Clinical Classification Software (CCS) ICD-9 Procedure Category Code. | string | - |
| CCS_Procedure_Description | AHRQ Clinical Classification Software (CCS) ICD-9 Procedure Category Description. | string | - |
| APR_DRG_Code | The APR-DRG Classification Code. All Patients Refined Diagnosis Related Groups (APR DRG). | string | - |
| APR_DRG_Description | The APR-DRG Classification Code Description In Calendar Year 2011, Version 28 of the APR-DRG Grouper. All Patients Refined Diagnosis Related Groups (APR DRG). | string | - |
| APR_MDC_Code | All Patient Refined Major Diagnostic Category (APR MDC) Code. APR-DRG Codes 001-006 and 950-956 may group to more than one MDC Code. All other APR DRGs group to one MDC category. | string | - |
| APR_MDC_Description | All Patient Refined Major Diagnostic Category (APR MDC) Description. | string | - |
| APR_Severity_Of_Illness_Code | The APR-DRG Severity of Illness Code: 1, 2, 3, 4 | string | - |
| APR_Severity_Of_Illness_Description | All Patient Refined Severity of Illness (APR SOI) Description. Minor (1), Moderate (2), Major (3) , Extreme (4) | string | - |
| APR_Risk_Of_Mortality | All Patient Refined Risk of Mortality (APR ROM). Minor (1), Moderate (2), Major (3) , Extreme (4) | string | - |
| APR_Medical_Surgical_Description | The APR-DRG specific classification of Medical, Surgical or Not Applicable. | string | - |
| Source_Of_Payment_1 | A description of the type of payment for this occurrence. | string | - |
| Source_Of_Payment_2 | A description of the type of payment for this occurrence. | string | - |
| Source_Of_Payment_3 | A description of the type of payment for this occurrence. | string | - |
| Attending_Provider_License_Number | The professional license number, issued by the New York State Department of Education, used to identify the physician or other health care professional primarily responsible for the care of the patient. Blank for abortion records. | string | - |
| Operating_Provider_License_Number | The professional license number, issued by the New York State Department of Education, used to identify the physician or other health care professional who performed the principal procedure. Blank for abortion records. | string | - |
| Other_Provider_License_Number | The professional license number, issued by the New York State Department of Education, used to identify the physician or other health care professional (other than the Attending Physician or Operating Physician) who was involved in the patient's care or treatment (i.e., consulting physician, second operating physician, nurse/midwife). Blank for abortion records. | string | - |
| Birth_Weight | The neonate birth weight in grams; rounded to nearest 100g. | string | - |
| Abortion_Edit_Indicator | A flag to indicate if the discharge record contains any indication of abortion ("N" = No; "Y" = Yes) | string | - |
| Emergency_Department_Indicator | The Emergency Department Indicator is set based on the submitted revenue codes. If the record contained an Emergency Department revenue code of 045X, the indicator is set to "Y", otherwise it will be "N". | string | - |
| Total_Charges_USD | Total charges for the discharge. | number | - |
| Total_Costs_USD | Total estimated cost for the discharge. | number | - |
Data Preview
| | | | | | | | | | | | | | | | | | | | | | | | | | | | | | | | | | | | | | | |
| --- | --- | --- | --- | --- | --- | --- | --- | --- | --- | --- | --- | --- | --- | --- | --- | --- | --- | --- | --- | --- | --- | --- | --- | --- | --- | --- | --- | --- | --- | --- | --- | --- | --- | --- | --- | --- | --- | --- |
| Hospital Service Area | Hospital County | Operating Certificate Number | Permanent Facility Id | Facility Name | Age Group | Zip Code | Gender | Race | Ethnicity | Length Of Stay | Admit Day Of Week | Type Of Admission | Patient Disposition | Discharge Year | Discharge Day Of Week | CCS Diagnosis Code | CCS Diagnosis Description | CCS Procedure Code | CCS Procedure Description | APR DRG Code | APR DRG Description | APR MDC Code | APR MDC Description | APR Severity Of Illness Code | APR Severity Of Illness Description | APR Risk Of Mortality | APR Medical Surgical Description | Source Of Payment 1 | Source Of Payment 2 | Source Of Payment 3 | Attending Provider License Number | Operating Provider License Number | Other Provider License Number | Birth Weight | Abortion Edit Indicator | Emergency Department Indicator | Total Charges USD | Total Costs USD |
| Capital/Adiron | Albany | 101000 | 1 | Albany Medical Center Hospital | 30 to 49 | 120 | F | White | Not Span/Hispanic | 11 | THU | Urgent | Home or Self Care | 2012 | MON | 657 | MOOD DISORDERS | 0 | NO PROC | 753 | BIPOLAR DISORDERS | 19 | Mental Diseases and Disorders | 1 | Minor | Minor | Medical | Blue Cross/Blue Shield | Self-Pay | | 241172 | | | 0 | N | N | 31482.98 | 10490.3 |
| Capital/Adiron | Albany | 101000 | 1 | Albany Medical Center Hospital | 18 to 29 | 121 | F | White | Not Span/Hispanic | 8 | THU | Urgent | Home or Self Care | 2012 | FRI | 657 | MOOD DISORDERS | 0 | NO PROC | 753 | BIPOLAR DISORDERS | 19 | Mental Diseases and Disorders | 1 | Minor | Minor | Medical | Managed Care, Unspecified | Self-Pay | | 238830 | | | 0 | N | N | 19970.95 | 6443.65 |
| Capital/Adiron | Albany | 101000 | 1 | Albany Medical Center Hospital | 30 to 49 | OOS | M | White | Not Span/Hispanic | 13 | TUE | Urgent | Home or Self Care | 2012 | MON | 657 | MOOD DISORDERS | 0 | NO PROC | 753 | BIPOLAR DISORDERS | 19 | Mental Diseases and Disorders | 2 | Moderate | Minor | Medical | Medicaid | Medicaid | Self-Pay | 241172 | | | 0 | N | N | 29424.54 | 9874.7 |
| Capital/Adiron | Albany | 101000 | 1 | Albany Medical Center Hospital | 18 to 29 | 120 | F | White | Not Span/Hispanic | 7 | WED | Elective | Home or Self Care | 2012 | WED | 657 | MOOD DISORDERS | 0 | NO PROC | 753 | BIPOLAR DISORDERS | 19 | Mental Diseases and Disorders | 2 | Moderate | Minor | Medical | Managed Care, Unspecified | Self-Pay | | 241172 | | | 0 | N | N | 17601.42 | 5733.27 |
| Capital/Adiron | Albany | 101000 | 1 | Albany Medical Center Hospital | 0 to 17 | 121 | F | White | Not Span/Hispanic | 2 | THU | Urgent | Home or Self Care | 2012 | SAT | 184 | EARLY LABOR | 0 | NO PROC | 563 | THREATENED ABORTION | 14 | Pregnancy, Childbirth and the Puerperium | 1 | Minor | Minor | Medical | Medicaid | Medicaid | Self-Pay | 209866 | | | 0 | N | N | 6791.5 | 2416.01 |
| Capital/Adiron | Albany | 101000 | 1 | Albany Medical Center Hospital | 30 to 49 | 122 | F | White | Not Span/Hispanic | 6 | THU | Urgent | Home or Self Care | 2012 | WED | 659 | SCHIZ/OTH PSYCH DISORDR | 0 | NO PROC | 750 | SCHIZOPHRENIA | 19 | Mental Diseases and Disorders | 2 | Moderate | Minor | Medical | Medicare | Medicaid | Self-Pay | 3880 | | | 0 | N | N | 15569.41 | 5147.77 |
| Capital/Adiron | Albany | 101000 | 1 | Albany Medical Center Hospital | 18 to 29 | 122 | F | White | Not Span/Hispanic | 3 | FRI | Elective | Home or Self Care | 2012 | MON | 189 | PREVIOUS C-SECTION | 134 | CESAREAN SECTION | 540 | CESAREAN DELIVERY | 14 | Pregnancy, Childbirth and the Puerperium | 1 | Minor | Minor | Surgical | Medicaid | Medicaid | Self-Pay | 254742 | 254742.0 | 254742.0 | 0 | N | N | 14319.49 | 6578.44 |
| Capital/Adiron | Albany | 101000 | 1 | Albany Medical Center Hospital | 50 to 69 | 124 | F | White | Not Span/Hispanic | 3 | THU | Elective | Home or Self Care | 2012 | SUN | 203 | OSTEOARTHRITIS | 153 | HIP REPLACEMENT,TOT/PRT | 301 | HIP JOINT REPLACEMENT | 8 | Diseases and Disorders of the Musculoskeletal System and Conn Tissue | 1 | Minor | Minor | Surgical | Medicaid | Self-Pay | | 170254 | 170254.0 | 170254.0 | 0 | N | N | 31369.18 | 14247.52 |
| Capital/Adiron | Albany | 101000 | 1 | Albany Medical Center Hospital | 18 to 29 | 122 | M | White | Not Span/Hispanic | 2 | MON | Elective | Home or Self Care | 2012 | WED | 83 | EPILEPSY/CONVULSIONS | 0 | NO PROC | 53 | SEIZURE | 1 | Diseases and Disorders of the Nervous System | 3 | Major | Minor | Medical | Medicaid | Medicaid | Self-Pay | 172759 | | | 0 | N | N | 14977.4 | 4747.49 |
| Capital/Adiron | Albany | 101000 | 1 | Albany Medical Center Hospital | 18 to 29 | 122 | M | Other Race | Spanish/Hispanic | 6 | SAT | Urgent | Home or Self Care | 2012 | FRI | 657 | MOOD DISORDERS | 0 | NO PROC | 753 | BIPOLAR DISORDERS | 19 | Mental Diseases and Disorders | 2 | Moderate | Minor | Medical | Medicaid | Self-Pay | | 241172 | | | 0 | N | N | 18511.1 | 6126.48 |