Others titles
Death by Suicide
Use of Different Methods to commit Suicide
Methods Used to Attempt Suicide
Keywords
Suicide
Suicide Reasons
Methods of Suicide
Death by Suicide
Suicidal Ideation
Suicide Attempt
Suicidal Depression
Help with Suicidal Thoughts
Suicidal Behavior
Depression And Suicidal Thoughts
Suicide Related Diagnoses Symptoms and Drugs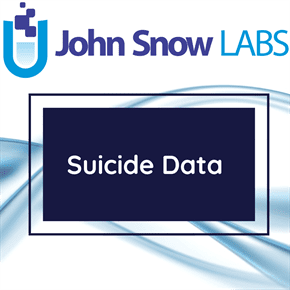 This dataset consists of information available over the internet for the reasons and methods used for suicidal attempts and their relevant ICD-10-CM codes and UMLS concept IDs. Reasons like depression and various mental disorders that lead to suicide can be treated with medication and counseling. Although the treatment plans vary from patient to patient, general treatment options available have been mentioned in this dataset along with their NDC Product Codes.
Log in to download
Complexity
Get The Data
For getting access to data download links please read and accept the end-user license agreement.
Your Data License
Research

Non-Commercial, Share-Alike, Attribution

Free Forever

Commercial

Commercial Use, Remix & Adapt, White Label Log in to download
Description
Suicide is the act of intentionally causing one's own death. Risk factors include mental disorders such as depression, bipolar disorder, schizophrenia, personality disorders, and substance abuse, including alcoholism and use of benzodiazepines. Other suicides are impulsive acts due to stress such as from financial difficulties, troubles with relationships, or from bullying. Those who have previously attempted suicide are at higher risk for future attempts. Suicide prevention efforts include limiting access to methods of suicide, such as firearms, drugs, and poisons, treating mental disorders and substance misuse, proper media reporting of suicide, and improving economic conditions. Although crisis hotlines are common, there is little evidence for their effectiveness.
The most commonly used method of suicide varies between countries, and is partly related to the availability of effective means. Common methods include hanging, pesticide poisoning, and firearms. Suicide is the 10th leading cause of death worldwide. Approximately 0.5% to 1.4% of people die by suicide, about 12 per 100,000 persons per year. Three quarters of suicides globally occur in the developing world. Rates of completed suicides are generally higher in men than in women, ranging from 1.5 times as much in the developing world to 3.5 times in the developed world. Suicide is generally most common among those over the age of 70; however, in certain countries those aged between 15 and 30 are at highest risk. There are an estimated 10 to 20 million non-fatal attempted suicides every year. Non-fatal suicide attempts may lead to injury and long-term disabilities. In the Western world, attempts are more common in young people and females.
About this Dataset
Data Info
| | |
| --- | --- |
| Date Created | 2017-08-03 |
| Last Modified | 2017-08-03 |
| Version | 2017-08-03 |
| Update Frequency | Irregular |
| Temporal Coverage | N/A |
| Spatial Coverage | United States |
| Source | John Snow Labs; ICD10Data.com, Unified Medical Language System (UMLS), U.S. Food and Drug Administration, National Drug Code (NDC); |
| Source License URL | |
| Source License Requirements | N/A |
| Source Citation | N/A |
| Keywords | Suicide, Suicide Reasons, Methods of Suicide, Death by Suicide, Suicidal Ideation, Suicide Attempt, Suicidal Depression, Help with Suicidal Thoughts, Suicidal Behavior, Depression And Suicidal Thoughts |
| Other Titles | Death by Suicide, Use of Different Methods to commit Suicide, Methods Used to Attempt Suicide |
Data Fields
| Name | Description | Type | Constraints |
| --- | --- | --- | --- |
| Suicide_Reasons | Reasons and methods that people use to commit suicide. | string | required : 1 |
| ICD_10_CM_Codes | ICD-10-CM codes relevant to suicide reasons. | string | required : 1 |
| ICD_10_CM_Codes_Description | Description of ICD-10-CM codes | string | required : 1 |
| Symptoms | Symptoms observed in suicide victims before death, and in case of failed suicide attempt. | string | - |
| UMLS_Concept_id | Unique concept identifier of UMLS (Unified Medical Language System) pertaining to the suicide reasons. | string | required : 1 |
| UMLS_Concept_id_Description | Description of UMLS_Concept_id | string | required : 1 |
| Drug_Treatment_Options | Drugs available to treat the cause that led to suicial ideations/attempts. | string | - |
| NDC_Product_Code | NDC (National Drug Code) product code of the drug (based on its proprietary name mentioned in Drug_Treatment_Options) | string | - |
Data Preview
| | | | | | | | |
| --- | --- | --- | --- | --- | --- | --- | --- |
| Suicide Reasons | ICD 10 CM Codes | ICD 10 CM Codes Description | Symptoms | UMLS Concept id | UMLS Concept id Description | Drug Treatment Options | NDC Product Code |
| Death by drowning natural water | X71.3 | Intentional self-harm by drowning and submersion in natural water | Increase carbon dioxide, decrease in oxygen until involuntarily inhalation occurs which bring in water, some is swallowed, and the person may vomit, involuntary gasping for air continues for several minutes. Cerebral hypoxia continues until it becomes irreversible, and death occurs. | C0564930 | Suicide - drowning | | |
| Use of firearms | X74.9 | Intentional self-harm by unspecified firearm discharge | severe pain, reduced cognitive abilities, reduced motor functions, subdural hematoma, foreign bodies in the head, pneumocephalus and cerebrospinal fluid leaks, | C0564931 | Suicide - firearms | | |
| Use of small firearms e.g., handgun, revolver, pistol | X72 | Intentional self-harm by handgun discharge | severe pain, reduced cognitive abilities, reduced motor functions, subdural hematoma, foreign bodies in the head, pneumocephalus and cerebrospinal fluid leaks, | C0564931, C0418304 | Suicide - firearms, Suicide or selfinflicted injury by handgun | | |
| Use of larger firearms | X73 | Intentional self-harm by rifle, shotgun and larger firearm discharge | severe pain, reduced cognitive abilities, reduced motor functions, subdural hematoma, foreign bodies in the head, pneumocephalus and cerebrospinal fluid leaks, | C0564931 | Suicide - firearms | | |
| Use of shotgun | X73.0 | Intentional self-harm by shotgun discharge | severe pain, reduced cognitive abilities, reduced motor functions, subdural hematoma, foreign bodies in the head, pneumocephalus and cerebrospinal fluid leaks, | C0564931, C0418305 | Suicide - firearms, Suicide or selfinflicted injury by shotgun | | |
| Use of rifle | X73.1 | Intentional self-harm by hunting rifle discharge | severe pain, reduced cognitive abilities, reduced motor functions, subdural hematoma, foreign bodies in the head, pneumocephalus and cerebrospinal fluid leaks, | C0564931 | Suicide - firearms | | |
| Use of machine gun | X73.2 | Intentional self-harm by machine gun discharge | severe pain, reduced cognitive abilities, reduced motor functions, subdural hematoma, foreign bodies in the head, pneumocephalus and cerebrospinal fluid leaks, | C0564931 | Suicide - firearms | | |
| Use of explosive material (dry heat) | X75 | Intentional self-harm by explosive material | Blisters, Pain (the degree of pain is not related to the severity of the burn -- the most serious burns can be painless), Peeling skin, Red skin, Shock (watch for pale and clammy skin, weakness, bluish lips and fingernails, and a drop in alertness), Swelling, White or charred skin | C0418308 | Suicide or selfinflicted injury by explosives | | |
| Use of steam | X77.0 | Intentional self-harm by steam or hot vapors | Blisters, Pain (the degree of pain is not related to the severity of the burn -- the most serious burns can be painless), Peeling skin, Red skin, Shock (watch for pale and clammy skin, weakness, bluish lips and fingernails, and a drop in alertness), Swelling, White or charred skin | C0600046 | Burning due to contact with hot steam | | |
| Use of hot water (wet heat) | X77.1 | Intentional self-harm by hot tap water | Blisters, Pain (the degree of pain is not related to the severity of the burn -- the most serious burns can be painless), Peeling skin, Red skin, Shock (watch for pale and clammy skin, weakness, bluish lips and fingernails, and a drop in alertness), Swelling, White or charred skin | C0332691 | Scalding injury | | |