Others titles
US Offenses Reported during 2015
US Crimes and Number of Offenses
Uniform Crime Reporting Program US 2015
Keywords
Crime Reports
United States Crime
Crime Reported to Police
Weapons Used in Assault
Types of Weapon Used in Aggravated Assault and Robbery by State 2015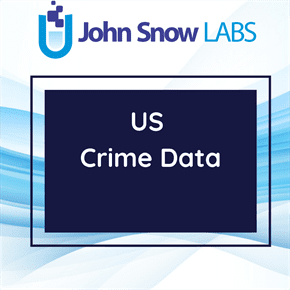 This table provides the types of weapons used in aggravated assault and robbery offenses. The data are based on the aggregated data from agencies within each state for which weapon information was reported to the FBI. The table includes the number of agencies that submitted data by state and the population covered by those agencies. The dataset also includes a breakdown of the types of firearms used in murders (i.e., handguns, rifles, shotguns, or firearms).
Log in to download
Complexity
Get The Data
For getting access to data download links please read and accept the end-user license agreement.
Your Data License
Research

Non-Commercial, Share-Alike, Attribution

Free Forever

Commercial

Commercial Use, Remix & Adapt, White Label Log in to download
Description
The FBI's Uniform Crime Reporting (UCR) Program defines aggravated assault as an unlawful attack by one person upon another for the purpose of inflicting severe or aggravated bodily injury. The UCR Program further specifies that this type of assault is usually accompanied by the use of a weapon or by other means likely to produce death or great bodily harm. Attempted aggravated assault that involves the display of—or threat to use—a gun, knife, or other weapon is included in this crime category because serious personal injury would likely result if the assault were completed. When aggravated assault and larceny-theft occur together, the offense falls under the category of robbery.
Males, American Indians, and Hispanics, the young, and those with the lowest annual household income were more vulnerable to weapon violence in general and firearm violence in particular than their respective counterparts.
The supplemental homicide data submitted by the Florida state UCR Program did not meet UCR guidelines and were not included in this table.
The FBI received limited supplemental homicide data from the Illinois and Alabama state UCR Programs.
About this Dataset
Data Info
| | |
| --- | --- |
| Date Created | 2016-07-11 |
| Last Modified | 2016-09-22 |
| Version | 2016-09-22 |
| Update Frequency | Annual |
| Temporal Coverage | 2015 |
| Spatial Coverage | United States |
| Source | John Snow Labs; U.S. Department of Justice, Federal Bureau of Investigation; |
| Source License URL | |
| Source License Requirements | N/A |
| Source Citation | N/A |
| Keywords | Crime Reports, United States Crime, Crime Reported to Police, Weapons Used in Assault |
| Other Titles | US Offenses Reported during 2015, US Crimes and Number of Offenses, Uniform Crime Reporting Program US 2015 |
Data Fields
| Name | Description | Type | Constraints |
| --- | --- | --- | --- |
| State | State Name | string | - |
| Total_Aggravated_Assaults | The number of aggravated assaults from agencies that submitted 12 months of data in 2015 for which breakdowns by type of weapon were included. | integer | level : Interval |
| Assault_By_Fireams | Total Firearms in 2015 | integer | level : Interval |
| Assault_By_Knives_Or_Cutting_Instruments | Knives or other Cutting Instruments in 2015 | integer | level : Interval |
| Assault_By_Other_Weapons | Other Weapons used in Assault | integer | level : Interval |
| Assault_By_Personal_Weapons | Personal weapons used in assault | integer | level : Interval |
| Total_Robberies | The number of robberies from agencies that submitted 12 months of data in 2015 for which breakdowns by type of weapon were included. | integer | level : Interval |
| Robberies_By_Firearms | Total Firearms in 2015 | integer | level : Interval |
| Robberies_By_Knives_Or_Cutting_Instruments | Knives or other Cutting Instruments in 2015 | integer | level : Interval |
| Robberies_By_Other_Weapons | Other Weapons used in Robberies | integer | level : Interval |
| Robberies_By_Strong_Arm | Strong Arm | integer | level : Interval |
| Agency_Count | Agency Count | integer | level : Interval |
| Population_By_City | Population by City in 2015 | integer | level : Interval |
Data Preview
| | | | | | | | | | | | | |
| --- | --- | --- | --- | --- | --- | --- | --- | --- | --- | --- | --- | --- |
| State | Total_Aggravated_Assaults | Assault_By_Fireams | Assault_By_Knives_Or_Cutting_Instruments | Assault_By_Other_Weapons | Assault_By_Personal_Weapons | Total_Robberies | Robberies_By_Firearms | Robberies_By_Knives_Or_Cutting_Instruments | Robberies_By_Other_Weapons | Robberies_By_Strong_Arm | Agency_Count | Population_By_City |
| Wyoming | 58 | 15 | 8 | 7 | 28 | | | | | | 57 | 562162 |
| West Virginia | 517 | 180 | 77 | 85 | 175 | | | | | | 198 | 1159784 |
| Wisconsin | 5129 | 2759 | 242 | 457 | 1671 | | | | | | 392 | 5533433 |
| Vermont | 484 | 72 | 102 | 76 | 234 | 101 | 25 | 14 | 14 | 48 | 73 | 605265 |
| Maine | 921 | 53 | 124 | 204 | 540 | 311 | 85 | 44 | 34 | 148 | 184 | 1329328 |
| Idaho | 2583 | 483 | 437 | 840 | 823 | 187 | 55 | 23 | 18 | 91 | 107 | 1647895 |
| Montana | 2658 | 425 | 379 | 864 | 990 | 203 | 43 | 31 | 40 | 89 | 99 | 959340 |
| Hawaii | 1554 | 117 | 332 | 538 | 567 | 1009 | 142 | 97 | 86 | 684 | 2 | 1164233 |
| Illinois | 1678 | 974 | 143 | 256 | 305 | 504 | 262 | 28 | 32 | 182 | 1 | 148178 |
| Alaska | 3652 | 716 | 701 | 1049 | 1186 | 759 | 201 | 89 | 92 | 377 | 32 | 734820 |