Others titles
Substance Registration System
UNII Names and Types
UNIIs List of Names and Types
Keywords
FDA Product Code
UNII
FDA UNII
FDA Registration
Ingredient Search Results
Unique Ingredient Identifier Names
Unique Ingredient Identifier Records
UNII Descriptive Information
Drug Name Dictionary
Unique Ingredient Identifier Names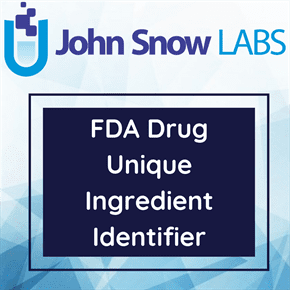 This dataset contains a list of the names used for each UNII (Unique Ingredient Identifier). Contents on this dataset are related to the UNII Records dataset.
Log in to download
Complexity
Get The Data
For getting access to data download links please read and accept the end-user license agreement.
Your Data License
Research

Non-Commercial, Share-Alike, Attribution

Free Forever

Commercial

Commercial Use, Remix & Adapt, White Label Log in to download
Description
The Unique Ingredient Identifier (UNII) is a non-proprietary, free, unique, unambiguous, nonsemantic, alphanumeric identifier based on a substance molecular structure and/or descriptive information.
The UNII is:
– One of the core components of the United States Federal Medication Terminology.
– Used in the FDA's Structured Product Labeling
– Used to assist in the generation of the National Library of Medicine's (NLM's) RxNorm.
– A US government standard for drug ingredient and food allergen identifiers
– A component of the Environmental Protection Agency's Substance Registry System (future)
The UNII may be found in:
– NLM's Unified Medical Language System (UMLS)
– National Cancer Institutes Enterprise Vocabulary Service
– USP Dictionary of USAN and International Drug Names (future)
– FDA Data Standards Council website
– VA National Drug File Reference Terminology (NDF-RT)
– FDA Inactive Ingredient Query Application
The present data set indicates the name used for each UNII and the type of name selected, either preferred name, systematic name, synonym, code or brand name.
About this Dataset
Data Info
| | |
| --- | --- |
| Date Created | 2016-01-21 |
| Last Modified | 2022-05-09 |
| Version | 2022-05-09 |
| Update Frequency | Irregular |
| Temporal Coverage | N/A |
| Spatial Coverage | United States |
| Source | John Snow Labs; U.S. Food and Drug Administration (FDA), United States National Library of Medicine (NLM); |
| Source License URL | |
| Source License Requirements | N/A |
| Source Citation | N/A |
| Keywords | FDA Product Code, UNII, FDA UNII, FDA Registration, Ingredient Search Results, Unique Ingredient Identifier Names, Unique Ingredient Identifier Records, UNII Descriptive Information, Drug Name Dictionary |
| Other Titles | Substance Registration System, UNII Names and Types, UNIIs List of Names and Types |
Data Fields
| Name | Description | Type | Constraints |
| --- | --- | --- | --- |
| UNII_Name | Name associated with a particular UNII | string | required : 1 |
| Type_of_Name | Type of name used for each UNII selected, either preferred name, systematic name, synonym, code or brand name. | string | required : 1 |
| Unique_Ingredient_Identifier | UNII (Unique Ingredient Identifier) is a non-proprietary, free, unique, unambiguous, nonsemantic, alphanumeric identifier based on a substance's molecular structure and/or descriptive information. | string | required : 1 |
| Preferred_Term | Preferred Term, Preferred Substance Name or display name assigned to UNII | string | required : 1 |
Data Preview
| | | | |
| --- | --- | --- | --- |
| UNII Name | Type of Name | Unique Ingredient Identifier | Preferred Term |
| (R)-2-(5-CYANO-2-(6-(METHOXYCARBONYL)-7-METHYL-3-OXO-8-(3-(TRIFLUOROMETHYL)PHENYL)-2,3,5,8-TETRAHYDRO-(1,2,4)TRIAZOLO(4,3-A)PYRIMIDIN-5-YL)PHENYL)-N,N,N-TRIMETHYLETHANAMINIUM | Systematic Name (chemical and taxonomic names) | 17462400.0 | CHF-6333 CATION |
| (R)-2-(5-CYANO-2-(6-(METHOXYCARBONYL)-7-METHYL-3-OXO-8-(3-(TRIFLUOROMETHYL)PHENYL)-2,3,5,8-TETRAHYDRO-(1,2,4)TRIAZOLO(4,3-A)PYRIMIDIN-5-YL)PHENYL)-N,N,N-TRIMETHYLETHANAMINIUM ION | Common Name | 17462400.0 | CHF-6333 CATION |
| 2-(5-CYANO-2-(6-(METHOXYCARBONYL)-7-METHYL-3-OXO-8-(3-(TRIFLUOROMETHYL)PHENYL)-2,3,5,8-TETRAHYDRO-(1,2,4)TRIAZOLO(4,3-A)PYRIMIDIN-5-YL)PHENYL)-N,N,N-TRIMETHYLETHANAMINIUM | Systematic Name (chemical and taxonomic names) | 17462400.0 | CHF-6333 CATION |
| BENZENEETHANAMINIUM, 5-CYANO-N,N,N-TRIMETHYL-2-((5R)-2,3,5,8-TETRAHYDRO-6-(METHOXYCARBONYL)-7-METHYL-3-OXO-8-(3-(TRIFLUOROMETHYL)PHENYL)-1,2,4-TRIAZOLO(4,3-A)PYRIMIDIN-5-YL)- | Systematic Name (chemical and taxonomic names) | 17462400.0 | CHF-6333 CATION |
| CHF-6333 CATION | Common Name | 17462400.0 | CHF-6333 CATION |
| (1,2,4)TRIAZOLO(1,5-C)PYRIMIDIN-2-AMINE, 5,8-DIMETHOXY- | Systematic Name (chemical and taxonomic names) | 129526470.0 | 5,8-DIMETHOXY(1,2,4)TRIAZOLO(1,5-C)PYRIMIDIN-2-AMINE |
| 2-AMINO-5,8-DIMETHOXY-(1,2,4)TRIAZOLO(1,5-C)PYRIMIDINE | Systematic Name (chemical and taxonomic names) | 129526470.0 | 5,8-DIMETHOXY(1,2,4)TRIAZOLO(1,5-C)PYRIMIDIN-2-AMINE |
| 5,8-DIMETHOXY(1,2,4)TRIAZOLO(1,5-C)PYRIMIDIN-2-AMINE | Systematic Name (chemical and taxonomic names) | 129526470.0 | 5,8-DIMETHOXY(1,2,4)TRIAZOLO(1,5-C)PYRIMIDIN-2-AMINE |
| KAWAKAWA LEAF | Common Name | 258808825.0 | MACROPIPER EXCELSUM LEAF |
| MACROPIPER EXCELSUM LEAF | Common Name | 258808825.0 | MACROPIPER EXCELSUM LEAF |