Others titles
US Census Bureau Federal Poverty Levels Starting 1980
Poverty Thresholds By Family Size And Number Of Children Starting 1980
Keywords
Federal Poverty Thresholds
Poverty Line
Poverty Level
Family Size
Number Of Children
Poverty In US
US Census Bureau Poverty Thresholds Starting 1980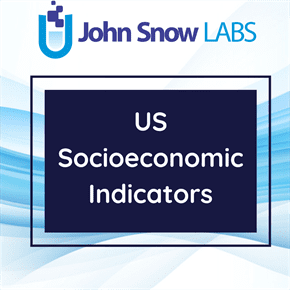 This dataset contains poverty thresholds by family size and number of children under 18 years starting from 1980. Poverty thresholds are the dollar amounts used to determine poverty status.
Log in to download
Complexity
Get The Data
For getting access to data download links please read and accept the end-user license agreement.
Your Data License
Research

Non-Commercial, Share-Alike, Attribution

Free Forever

Commercial

Commercial Use, Remix & Adapt, White Label Log in to download
Description
Following the Office of Management and Budget's (OMB) Statistical Policy Directive 14, the Census Bureau uses a set of money income thresholds that vary by family size and composition to determine who is in poverty.
The Census Bureau assigns each person or family one out of 48 possible poverty thresholds. Thresholds vary by the size of the family and age of the members. The same thresholds are used throughout the United States (they do not vary geographically). Thresholds are updated annually for inflation using the Consumer Price Index for All Urban Consumers (CPI-U). Although the thresholds in some sense reflect a family's needs, they are intended for use as a statistical yardstick, not as a complete description of what people and families need to live.
To calculate total family income, the incomes of all related family members that live together are added up to determine poverty status. If an individual or group of individuals (such as housemates) are not living with family members, their own individual income is compared with their individual poverty threshold. Thus, all family members have the same poverty status, and some families may be composed of single unrelated individuals. If total family income is less than the poverty threshold for that family – that family and everyone in it is considered to be in poverty. If total family income equals or is greater than the poverty threshold – the family is not considered to be in poverty. Poverty status cannot be determined for people in:
– Institutional group quarters (such as prisons or nursing homes)
– College dormitories
– Military barracks
– Living situations without conventional housing (and who are not in shelters)
Additionally, poverty status cannot be determined for unrelated individuals under age 15 (such as foster children) because income questions are asked of people age 15 and older and, if someone is under age 15 and not living with a family member, their income is not known. Since one cannot determine their poverty status, they are excluded from the "poverty universe" (datasets totals).
About this Dataset
Data Info
| | |
| --- | --- |
| Date Created | 2017-08-11 |
| Last Modified | 2022-09-13 |
| Version | 2022-09-13 |
| Update Frequency | Annual |
| Temporal Coverage | 1980-2021 |
| Spatial Coverage | United States |
| Source | John Snow Labs; United States Census Bureau; |
| Source License URL | |
| Source License Requirements | N/A |
| Source Citation | N/A |
| Keywords | Federal Poverty Thresholds, Poverty Line, Poverty Level, Family Size, Number Of Children, Poverty In US |
| Other Titles | US Census Bureau Federal Poverty Levels Starting 1980, Poverty Thresholds By Family Size And Number Of Children Starting 1980 |
Data Fields
| Name | Description | Type | Constraints |
| --- | --- | --- | --- |
| Year | The year for which poverty thresholds were available | date | required : 1 |
| Size_and_Description_of_Family | The number of related persons who live together | string | required : 1 |
| Weighted_Average_Threshold_in_USD | The weighted average poverty threshold in dollars for one person (unrelated) or for a group of related persons who live together | number | level : Ratio |
| No_Child_Under_18_Poverty_Threshold_in_USD | The poverty threshold in dollars for a person (unrelated) or a group of related persons who live together and who don't have children of age under 18 | number | level : Ratio |
| One_Child_Under_18_Poverty_Threshold_in_USD | The poverty threshold in dollars for a person (unrelated) or a group of related persons who live together and who have one child of age under 18 | number | level : Ratio |
| Two_Children_Under_18_Poverty_Threshold_in_USD | The poverty threshold in dollars for a person (unrelated) or a group of related persons who live together and who have two children of age under 18 | number | level : Ratio |
| Three_Children_Under_18_Poverty_Threshold_in_USD | The poverty threshold in dollars for a person (unrelated) or a group of related persons who live together and who have three children of age under 18 | number | level : Ratio |
| Four_Children_Under_18_Poverty_Threshold_in_USD | The poverty threshold in dollars for a person (unrelated) or a group of related persons who live together and who have four children of age under 18 | number | level : Ratio |
| Five_Children_Under_18_Poverty_Threshold_in_USD | The poverty threshold in dollars for a person (unrelated) or a group of related persons who live together and who have five children of age under 18 | number | level : Ratio |
| Six_Children_Under_18_Poverty_Threshold_in_USD | The poverty threshold in dollars for a person (unrelated) or a group of related persons who live together and who have six children of age under 18 | number | level : Ratio |
| Seven_Children_Under_18_Poverty_Threshold_in_USD | The poverty threshold in dollars for a person (unrelated) or a group of related persons who live together and who have seven children of age under 18 | number | level : Ratio |
| Eight_Or_More_Children_Under_18_Poverty_Threshold_in_USD | The poverty threshold in dollars for a person (unrelated) or a group of related persons who live together and who have eight or more children of age under 18 | number | level : Ratio |
Data Preview
| | | | | | | | | | | | |
| --- | --- | --- | --- | --- | --- | --- | --- | --- | --- | --- | --- |
| Year | Size and Description of Family | Weighted Average Threshold in USD | No Child Under 18 Poverty Threshold in USD | One Child Under 18 Poverty Threshold in USD | Two Children Under 18 Poverty Threshold in USD | Three Children Under 18 Poverty Threshold in USD | Four Children Under 18 Poverty Threshold in USD | Five Children Under 18 Poverty Threshold in USD | Six Children Under 18 Poverty Threshold in USD | Seven Children Under 18 Poverty Threshold in USD | Eight Or More Children Under 18 Poverty Threshold in USD |
| 1980 | 1 person (all ages) | 4190 | | | | | | | | | |
| 1980 | 1 person (under 65) | 4290 | 4284.0 | | | | | | | | |
| 1980 | 1 person (65+) | 3949 | 3950.0 | | | | | | | | |
| 1980 | 2 persons (householder all ages) | 5363 | | | | | | | | | |
| 1980 | 2 persons (householder under 65) | 5537 | 5514.0 | 5676.0 | | | | | | | |
| 1980 | 2 persons (householder 65+) | 4983 | 4978.0 | 5655.0 | | | | | | | |
| 1980 | 3 persons | 6565 | 6442.0 | 6628.0 | 6635.0 | | | | | | |
| 1980 | 4 persons | 8414 | 8494.0 | 8633.0 | 8351.0 | 8380.0 | | | | | |
| 1980 | 5 persons | 9966 | 10243.0 | 10392.0 | 10074.0 | 9828.0 | 9677.0 | | | | |
| 1980 | 6 persons | 11269 | 11782.0 | 11828.0 | 11585.0 | 11351.0 | 11004.0 | 10798.0 | | | |