Others titles
Obesity Prevalence in the United States
Obesity Prevalence in US by County and Sex During 2001-2011
Keywords
Obesity
Prevalence of Obesity
Adult Diabetes
Physical Activity
Prevalence of Physical Activity
Diabetes Levels
Cardiovascular Risk Factors
Onset Diabetes
Diabetes Numbers
Diabetes Statistics
US Obesity Prevalence 2001 to 2011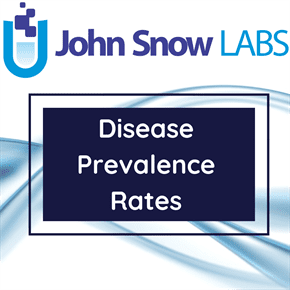 This dataset provides physical activity and obesity prevalence estimates by county and sex in the United States from 2001 to 2011.
Log in to download
Complexity
Get The Data
For getting access to data download links please read and accept the end-user license agreement.
Your Data License
Research

Non-Commercial, Share-Alike, Attribution

Free Forever

Commercial

Commercial Use, Remix & Adapt, White Label Log in to download
Description
This dataset was from the research published in Population Health Metrics in July 2013, titled "Prevalence of physical activity and obesity in US counties, 2001-2011: a road map for action." The study examined county-level changes in physical activity and obesity.
Results of this study showed an increase in the prevalence of sufficient physical activity from 2001 to 2009. Levels were generally higher in men than in women, but increases were greater in women than men. There was a low correlation between the level of physical activity and obesity in US counties.
In conclusion, increased physical activity alone has a small impact on obesity prevalence at the county level in the US. The rise in physical activity levels will help reduce the burden of cardiovascular diseases and diabetes.
About this Dataset
Data Info
| | |
| --- | --- |
| Date Created | 2013-12-31 |
| Last Modified | 2020-06-26 |
| Version | 2020-06-26 |
| Update Frequency | Never |
| Temporal Coverage | N/A |
| Spatial Coverage | United States |
| Source | John Snow Labs; Institute for Health Metrics and Evaluation (IHME), Global Health Data Exchange; |
| Source License URL | |
| Source License Requirements | N/A |
| Source Citation | N/A |
| Keywords | Obesity, Prevalence of Obesity, Adult Diabetes, Physical Activity, Prevalence of Physical Activity, Diabetes Levels, Cardiovascular Risk Factors, Onset Diabetes, Diabetes Numbers, Diabetes Statistics |
| Other Titles | Obesity Prevalence in the United States, Obesity Prevalence in US by County and Sex During 2001-2011 |
Data Fields
| Name | Description | Type | Constraints |
| --- | --- | --- | --- |
| State | US state where physical activity and obesity prevalance was estimated from January 1, 2001, through December 31, 2011, in the United States | string | - |
| County | US counties where physical activity and obesity prevalance was estimated from January 1, 2001, through December 31, 2011, in the United States | string | - |
| FIPS_Code | FIPS county code is a five-digit Federal Information Processing Standards (FIPS) code which uniquely identifies counties and county equivalents in the United States | string | - |
| Merged_FIPS_Code | Merged FIPS county code is a five-digit Federal Information Processing Standards (FIPS) code which uniquely identifies counties and county equivalents in the United States | integer | level : Nominal |
| Sex | Sex | string | - |
| Physical_Activity_Outcome | Physical activity outcome whether any physical activity, sufficient physical activity or obesity | string | - |
| Physical_Activity_And_Obesity_Prevalence_2001 | Physical activity and obesity prevalence estimates in 2001 | number | level : Ratio |
| Physical_Activity_And_Obesity_Prevalence_2001_Lower_Bound | Lower confidence interval of physical activity and obesity prevalence estimates in 2001 | number | level : Ratio |
| Physical_Activity_And_Obesity_Prevalence_2001_Upper_Bound | Upper confidence interval of physical activity and obesity prevalence estimates in 2001 | number | level : Ratio |
| Physical_Activity_And_Obesity_Prevalence_2002 | Physical activity and obesity prevalence estimates in 2002 | number | level : Ratio |
| Physical_Activity_And_Obesity_Prevalence_2002_Lower_Bound | Lower confidence interval of physical activity and obesity prevalence estimates in 2002 | number | level : Ratio |
| Physical_Activity_And_Obesity_Prevalence_2002_Upper_Bound | Upper confidence interval of physical activity and obesity prevalence estimates in 2002 | number | level : Ratio |
| Physical_Activity_And_Obesity_Prevalence_2003 | Physical activity and obesity prevalence estimates in 2003 | number | level : Ratio |
| Physical_Activity_And_Obesity_Prevalence_2003_Lower_Bound | Lower confidence interval of physical activity and obesity prevalence estimates in 2003 | number | level : Ratio |
| Physical_Activity_And_Obesity_Prevalence_2003_Upper_Bound | Upper confidence interval of physical activity and obesity prevalence estimates in 2003 | number | level : Ratio |
| Physical_Activity_And_Obesity_Prevalence_2004 | Physical activity and obesity prevalence estimates in 2004 | number | level : Ratio |
| Physical_Activity_And_Obesity_Prevalence_2004_Lower_Bound | Lower confidence interval of physical activity and obesity prevalence estimates in 2004 | number | level : Ratio |
| Physical_Activity_And_Obesity_Prevalence_2004_Upper_Bound | Upper confidence interval of physical activity and obesity prevalence estimates in 2004 | number | level : Ratio |
| Physical_Activity_And_Obesity_Prevalence_2005 | Physical activity and obesity prevalence estimates in 2005 | number | level : Ratio |
| Physical_Activity_And_Obesity_Prevalence_2005_Lower_Bound | Lower confidence interval of physical activity and obesity prevalence estimates in 2005 | number | level : Ratio |
| Physical_Activity_And_Obesity_Prevalence_2005_Upper_Bound | Upper confidence interval of physical activity and obesity prevalence estimates in 2005 | number | level : Ratio |
| Physical_Activity_And_Obesity_Prevalence_2006 | Physical activity and obesity prevalence estimates in 2006 | number | level : Ratio |
| Physical_Activity_And_Obesity_Prevalence_2006_Lower_Bound | Lower confidence interval of physical activity and obesity prevalence estimates in 2006 | number | level : Ratio |
| Physical_Activity_And_Obesity_Prevalence_2006_Upper_Bound | Upper confidence interval of physical activity and obesity prevalence estimates in 2006 | number | level : Ratio |
| Physical_Activity_And_Obesity_Prevalence_2007 | Physical activity and obesity prevalence estimates in 2007 | number | level : Ratio |
| Physical_Activity_And_Obesity_Prevalence_2007_Lower_Bound | Lower confidence interval of physical activity and obesity prevalence estimates in 2007 | number | level : Ratio |
| Physical_Activity_And_Obesity_Prevalence_2007_Upper_Bound | Upper confidence interval of physical activity and obesity prevalence estimates in 2007 | number | level : Ratio |
| Physical_Activity_And_Obesity_Prevalence_2008 | Physical activity and obesity prevalence estimates in 2008 | number | level : Ratio |
| Physical_Activity_And_Obesity_Prevalence_2008_Lower_Bound | Lower confidence interval of physical activity and obesity prevalence estimates in 2008 | number | level : Ratio |
| Physical_Activity_And_Obesity_Prevalence_2008_Upper_Bound | Upper confidence interval of physical activity and obesity prevalence estimates in 2008 | number | level : Ratio |
| Physical_Activity_And_Obesity_Prevalence_2009 | Physical activity and obesity prevalence estimates in 2009 | number | level : Ratio |
| Physical_Activity_And_Obesity_Prevalence_2009_Lower_Bound | Lower confidence interval of physical activity and obesity prevalence estimates in 2009 | number | level : Ratio |
| Physical_Activity_And_Obesity_Prevalence_2009_Upper_Bound | Upper confidence interval of physical activity and obesity prevalence estimates in 2009 | number | level : Ratio |
| Physical_Activity_And_Obesity_Prevalence_2010 | Physical activity and obesity prevalence estimates in 2010 | number | level : Ratio |
| Physical_Activity_And_Obesity_Prevalence_2010_Lower_Bound | Lower confidence interval of physical activity and obesity prevalence estimates in 2010 | number | level : Ratio |
| Physical_Activity_And_Obesity_Prevalence_2010_Upper_Bound | Upper confidence interval of physical activity and obesity prevalence estimates in 2010 | number | level : Ratio |
| Physical_Activity_And_Obesity_Prevalence_2011 | Physical activity and obesity prevalence estimates in 2011 | number | level : Ratio |
| Physical_Activity_And_Obesity_Prevalence_2011_Lower_Bound | Lower confidence interval of physical activity and obesity prevalence estimates in 2011 | number | level : Ratio |
| Physical_Activity_And_Obesity_Prevalence_2011_Upper_Bound | Upper confidence interval of physical activity and obesity prevalence estimates in 2011 | number | level : Ratio |
| Prevalence_Difference_2001_to_2009 | Difference of physical activity and obesity prevalence estimates from 2001 to 2009 | number | level : Ratio |
| Prevalence_Difference_2001_to_2009_Lower_Bound | Lower confidence of the difference of physical activity and obesity prevalence estimates from 2001 to 2009 | number | level : Ratio |
| Prevalence_Difference_2001_to_2009_Upper_Bound | Upper confidence interval of the difference of physical activity and obesity prevalence estimates from 2001 to 2009 | number | level : Ratio |
Data Preview
| | | | | | | | | | | | | | | | | | | | | | | | | | | | | | | | | | | | | | | | | | |
| --- | --- | --- | --- | --- | --- | --- | --- | --- | --- | --- | --- | --- | --- | --- | --- | --- | --- | --- | --- | --- | --- | --- | --- | --- | --- | --- | --- | --- | --- | --- | --- | --- | --- | --- | --- | --- | --- | --- | --- | --- | --- |
| State | County | FIPS Code | Merged FIPS Code | Sex | Physical Activity Outcome | Physical Activity And Obesity Prevalence 2001 | Physical Activity And Obesity Prevalence 2001 Lower Bound | Physical Activity And Obesity Prevalence 2001 Upper Bound | Physical Activity And Obesity Prevalence 2002 | Physical Activity And Obesity Prevalence 2002 Lower Bound | Physical Activity And Obesity Prevalence 2002 Upper Bound | Physical Activity And Obesity Prevalence 2003 | Physical Activity And Obesity Prevalence 2003 Lower Bound | Physical Activity And Obesity Prevalence 2003 Upper Bound | Physical Activity And Obesity Prevalence 2004 | Physical Activity And Obesity Prevalence 2004 Lower Bound | Physical Activity And Obesity Prevalence 2004 Upper Bound | Physical Activity And Obesity Prevalence 2005 | Physical Activity And Obesity Prevalence 2005 Lower Bound | Physical Activity And Obesity Prevalence 2005 Upper Bound | Physical Activity And Obesity Prevalence 2006 | Physical Activity And Obesity Prevalence 2006 Lower Bound | Physical Activity And Obesity Prevalence 2006 Upper Bound | Physical Activity And Obesity Prevalence 2007 | Physical Activity And Obesity Prevalence 2007 Lower Bound | Physical Activity And Obesity Prevalence 2007 Upper Bound | Physical Activity And Obesity Prevalence 2008 | Physical Activity And Obesity Prevalence 2008 Lower Bound | Physical Activity And Obesity Prevalence 2008 Upper Bound | Physical Activity And Obesity Prevalence 2009 | Physical Activity And Obesity Prevalence 2009 Lower Bound | Physical Activity And Obesity Prevalence 2009 Upper Bound | Physical Activity And Obesity Prevalence 2010 | Physical Activity And Obesity Prevalence 2010 Lower Bound | Physical Activity And Obesity Prevalence 2010 Upper Bound | Physical Activity And Obesity Prevalence 2011 | Physical Activity And Obesity Prevalence 2011 Lower Bound | Physical Activity And Obesity Prevalence 2011 Upper Bound | Prevalence Difference 2001 to 2009 | Prevalence Difference 2001 to 2009 Lower Bound | Prevalence Difference 2001 to 2009 Upper Bound |
| Alabama | Autauga, AL | 1001 | 1001 | Male | Any PA | 76.72 | 71.45 | 80.94 | 77.3 | 72.42 | 81.32 | 77.63 | 73.02 | 81.67 | 77.03 | 72.46 | 81.18 | 77.21 | 72.76 | 81.27 | 76.72 | 71.9 | 80.69 | 77.32 | 72.74 | 81.46 | 77.32 | 72.76 | 81.24 | 76.73 | 71.89 | 80.81 | 76.37 | 71.06 | 80.87 | 76.05 | 70.21 | 81.02 | 0.01 | -6.7 | 6.75 |
| Alabama | Autauga, AL | 1001 | 1001 | Female | Any PA | 68.21 | 62.94 | 73.12 | 68.79 | 63.92 | 73.25 | 69.2 | 64.59 | 73.48 | 67.39 | 62.16 | 72.19 | 67.6 | 62.79 | 72.12 | 67.26 | 62.19 | 72.3 | 67.39 | 62.12 | 71.45 | 67.09 | 62.5 | 71.09 | 68.77 | 64.5 | 72.86 | 68.74 | 64.19 | 72.93 | 68.75 | 63.69 | 73.12 | 0.55 | -6.32 | 6.91 |
| Alabama | Baldwin, AL | 1003 | 1003 | Male | Any PA | 73.9 | 69.75 | 78.34 | 74.41 | 70.39 | 78.57 | 74.87 | 70.95 | 78.84 | 75.67 | 71.86 | 79.16 | 75.1 | 71.19 | 78.58 | 77.02 | 73.6 | 80.47 | 78.02 | 74.58 | 81.04 | 79.51 | 76.53 | 82.36 | 78.33 | 75.56 | 81.16 | 78.04 | 74.96 | 81.1 | 77.69 | 74.17 | 81.13 | 4.43 | -0.88 | 9.39 |
| Alabama | Baldwin, AL | 1003 | 1003 | Female | Any PA | 71.84 | 67.69 | 75.63 | 72.66 | 68.91 | 76.16 | 73.46 | 69.75 | 76.9 | 74.5 | 71.07 | 77.53 | 75.62 | 72.44 | 78.65 | 76.59 | 73.79 | 79.25 | 75.57 | 72.52 | 78.29 | 73.52 | 70.6 | 75.94 | 72.87 | 70.36 | 75.43 | 72.69 | 69.93 | 75.29 | 72.56 | 69.43 | 75.45 | 1.03 | -3.59 | 6.1 |
| Alabama | Barbour, AL | 1005 | 1005 | Male | Any PA | 65.61 | 59.4 | 71.07 | 66.21 | 60.24 | 71.66 | 66.8 | 60.9 | 72.3 | 66.99 | 61.23 | 72.73 | 65.43 | 59.55 | 71.01 | 63.98 | 58.31 | 69.15 | 65.63 | 59.7 | 70.98 | 66.55 | 61.06 | 72.1 | 66.66 | 61.61 | 71.81 | 66.23 | 60.61 | 71.73 | 65.75 | 59.24 | 72.07 | 1.05 | -6.94 | 9.6 |
| Alabama | Barbour, AL | 1005 | 1005 | Female | Any PA | 57.74 | 51.58 | 63.59 | 58.48 | 52.48 | 64.09 | 59.26 | 53.3 | 64.86 | 58.88 | 52.95 | 64.47 | 60.15 | 54.52 | 65.24 | 59.95 | 54.5 | 65.15 | 59.92 | 54.6 | 65.13 | 61.67 | 57.06 | 66.14 | 62.58 | 57.93 | 67.04 | 63.04 | 58.35 | 67.65 | 62.98 | 57.87 | 67.85 | 4.84 | -3.1 | 11.89 |
| Alabama | Bibb, AL | 1007 | 1007 | Male | Any PA | 65.62 | 58.69 | 71.47 | 66.81 | 60.54 | 72.44 | 67.05 | 60.89 | 72.47 | 67.77 | 61.02 | 73.15 | 66.82 | 60.87 | 72.84 | 66.77 | 60.75 | 72.29 | 67.85 | 62.51 | 72.86 | 66.75 | 60.94 | 71.74 | 66.15 | 60.35 | 71.21 | 65.39 | 59.27 | 71.1 | 64.67 | 57.7 | 70.83 | 0.53 | -8.08 | 9.26 |
| Alabama | Bibb, AL | 1007 | 1007 | Female | Any PA | 60.58 | 54.0 | 66.39 | 61.8 | 55.67 | 67.29 | 62.6 | 56.41 | 67.87 | 63.48 | 57.87 | 68.93 | 60.79 | 55.35 | 66.37 | 59.95 | 54.69 | 65.23 | 59.42 | 54.1 | 64.18 | 59.74 | 54.62 | 64.75 | 61.28 | 56.38 | 65.72 | 61.49 | 56.52 | 65.83 | 61.68 | 56.36 | 66.36 | 0.69 | -6.8 | 8.48 |
| Alabama | Blount, AL | 1009 | 1009 | Male | Any PA | 66.11 | 60.14 | 71.94 | 67.2 | 61.57 | 72.62 | 67.23 | 61.65 | 72.61 | 67.93 | 62.84 | 73.08 | 67.85 | 61.96 | 72.95 | 68.12 | 62.92 | 73.15 | 68.42 | 62.92 | 73.17 | 69.83 | 64.47 | 75.0 | 68.21 | 62.52 | 73.12 | 67.86 | 61.77 | 73.18 | 67.58 | 60.72 | 73.62 | 2.1 | -5.76 | 10.39 |
| Alabama | Blount, AL | 1009 | 1009 | Female | Any PA | 63.12 | 57.89 | 68.22 | 64.04 | 59.25 | 68.9 | 64.47 | 59.76 | 69.23 | 65.4 | 60.18 | 69.72 | 64.86 | 59.89 | 69.75 | 62.09 | 56.94 | 67.13 | 60.54 | 55.52 | 65.65 | 59.68 | 54.67 | 64.48 | 58.6 | 53.37 | 63.46 | 58.57 | 53.25 | 63.69 | 58.77 | 53.28 | 64.2 | -4.52 | -12.42 | 2.73 |