The price of medical devices make an impact in our lives. Fortunately, for consumers, medical devices price are likely to remain steady or even decrease in many cases.
According to Kolarama Information's Top 10 Medical Device Trends to Watch in 2017, medical devices industry, has experienced 153 significant mergers and acquisitions from 2015 to early 2016. This trend is likely to continue in 2017 (Bean). Mergers and acquisitions would make medical device industry have less members but more powerful players. This would mean less competitors and higher price for medical devices.
Nevertheless, hospitals' consolidation trend in the last five years seen up to 100 consolidation transactions, leading to less buyers of medical device products (Bean). Health care providers seem to have a similar trend as medical devices companies. Ironically, this means the hospitals' negotiation power for medical device purchasing significantly increases as well, leading to lower medical device prices.
Though the report believes the Federal Trade Commission would take actions to reduce hospital consolidations, its enforcement power is called into question by Law360 due to some consolidation cases when the FTC failed to block the consolidation. In the article "FTC's Hospital Merger Enforcement Hangs In the Balance", Leslie John et al believes that Penn State Hershey Medical Center case on May 9, 2016 and Advocate Health Care case on June 14, 2016, "if not overturned, likely will have a significant impact on the FTC's efforts to slow the record pace of health care provider consolidation."
If FTC cannot effectively reduce consolidation of hospitals, the medical devices prices are likely to be limited by the high growth, group purchasing hospitals.
Along with these two main facts, the purchasing power of individual patients, the strong competition of the medical device companies and others are driving the price down.
Kolarama predicts that the medical device price will grow slowly despite that FDA will help medical device establishments by providing a significant fee break in premarket application, premarket report, efficacy supplement ($26893 less than 2016 in total) and panel-track supplement fees (more than $20000 less than 2016) for medical device companies (Brennan).
Finally, the growth of the medical devices industry is predicted to grow at a rate of 2.8 percent for the next five years based on Kolarama (Bean).
Let's dive deeper into the medical device price by understanding the role competition makes in the industry. Forbes article "US Health Care Costs Rise Faster Than Inflation" explains from a financial perspective that the consumer price index (CPI) for health care is higher than the CPI itself. Please see the chart below. All the years in the chart other than 2008 all have a health care CPI higher than CPI itself. This means that healthcare cost is growing more fast than inflation.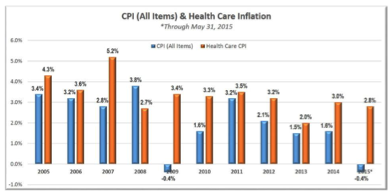 "What can be done to reduce health care costs? Health care, like any other industry, needs competition to push prices lower." (Patton)
Like my prediction, Sandler from Modern Healthcare saw evidence that "Device prices fall as hospitals' leverage grows" from ECRI Institute's data. "The overall median price for high-spend products dropped 1.5% from 2013 to 2014, from $144,278 to $142,072, according to data from the ECRI Institute, a not-for-profit based in Plymouth Meeting, Pa., that evaluates medical procedures, devices, drugs and processes. (Sandler)"
Carlson's article in StarTribune states that "At a time when US health care costs have been rising faster than inflation, the prices for many medical devices have been dropping" (Carlson). Carlson believes some medical trends of minor improvement for a medical device price increase and the practice of relying on repeated purchase from physician wanes. Instead, strong competition are driving down the price (Carlson).
This is accurate and applies in many cases when name brand devices are replaced by generic alternatives. Here I have an example of how individual patients´ purchasing power led to competition and price reduction. EpiPen is a product thousands of people rely on to reverse severe allergic reactions in allergy accidents and is common to be used for children. The price of the product rose from $100 in 2007 to $600 in summer 2016. While the outcry and initiative from consumers to reduce the price of EpiPen, it severely damaged the brand. As a result, physicians have been prescribing more EpiPen alternatives.
Adrenaclick, which is a product similar to EpiPen with a cost of around $150-$200 (if GoodRx coupons are used), is a common alternative product. Unfortunately, Adrenaclick's price isn't that low either.
Despite the general trend of decreasing price in Medical Devices, drug prices and healthcare cost in general are likely to keep soaring.
John Snow Lab's Cost category includes extensive Medicare relevant information, consumer price index, real estate, electric utility companies etc that are relevant to our healthcare costs.
All the data used to perform this analysis is available as clean, linked, always up to date and commercially licensed data sets from John Snow Labs.
References
Brennan, Zachary. (28 July, 2016). Medical Device Companies to See Slight Discount in FDA User Fees in 2017. Regulatory Affairs Professionals Society. Retrieved 20 Feb, 2017 from http://www.raps.org/Regulatory-Focus/News/2016/07/28/25418/Medical-Device-Companies-to-See-Slight-Discount-in-FDA-User-Fees-in-2017/
Patton, Mike. (29 Jun, 2015) US Health Care Costs Rise Faster Than Inflation. Forbes. Retrieved 20 Feb, 2017 from https://www.forbes.com/sites/mikepatton/2015/06/29/u-s-health-care-costs-rise-faster-than-inflation/#28ced6b36fa1
Sandler, Michael. (28 Feb, 2015). Device Prices Fall as Hospitals' Leverage Grows. Modern Healthcare. Retrieved 20 Feb, 2017 from http://www.modernhealthcare.com/article/20150228/MAGAZINE/302289969
Bean, Mackenzie. (5 Jan, 2017). 10 Medical Device Trends for 2017. Bechers Hospital Review. Retrieved 20 Feb, 2017 from http://www.beckershospitalreview.com/supply-chain/10-medical-device-trends-for-2017.html
Carlson, Joe. (6 Feb, 2016). Medical Device Makers Face Challeng of Falling Prices. Star Tribune. Retrieved 20 Feb, 2017 from http://www.startribune.com/medical-device-makers-face-challenge-of-falling-prices/367872781/
Athena Research. Retreived 20 Feb, 2017 from http://www.modernhealthcare.com/article/20161101/NEWS/161109995
7 Reasons Why Your Insurance Premiums Are Rising Faster Than Your Salary