The Big Data revolution and Precision Medicine provides substantial opportunities to diabetes management. Managing the disease means careful monitoring of numerous variables, including blood sugar, medication and direct impact of food and exercise.
There are 29 million people living with diabetes in the U.S. – more than 9 percent of the population – at an annual cost of $245 billion. Even with an array of devices and drugs available to manage the condition, diabetes is the seventh-leading cause of death in the country.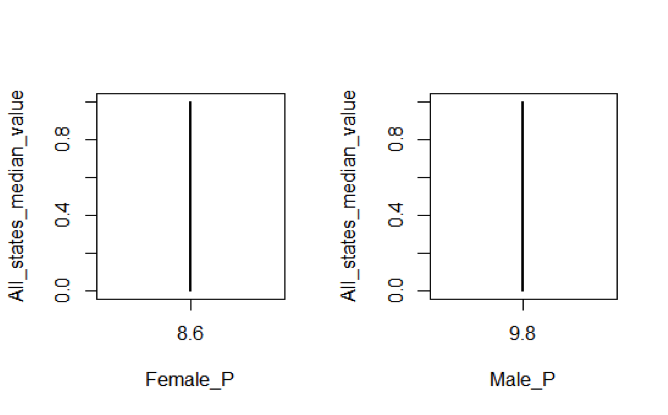 The figure above shows that on an average, there are a greater number of diabetic males (median %= 9.8) than females (median % = 8.5) in the United States
"Today, there are people with Types 1 and 2 diabetes receiving suboptimal care. We don't need to spend more money caring for them", Altinger says, "We need to leverage Big Data and Analytics."
Researchers describe a new data-driven approach to population health in which they use machine learning to develop predictive models and risk factors for the onset of type 2 diabetes. They base the model on claims data, pharmacy records, healthcare utilization information, and laboratory results gathered on 4.1 million individuals over 4 years. The model identifies new risk factors for type 2 diabetes and is at least 50% better at predicting disease onset than a model based on known risk factors used for comparison.
To spark this new level of innovation, the Data Design Diabetes Innovation Challenge created by US drug maker, Sanofi asks entrepreneurs to submit innovative ideas on how to use open datasets to improve diabetes care in the US, in alignment with the government initiative to liberate big data to advance health. The 5 finalists for this year's Data Design Diabetes Innovation Challenge are: AllazoEngine, Connect & Coach™, GoCap – Insulin Dose Tracking Pen Cap, MediSapien Diabetic Clinical Data Repository and Nuduro.
These healthcare analytics companies leverage existing member data with diabetes to both anticipate which patients will not take their medications and to predict the most effective interventions to influence each of those patients to take their medication. Thus, overall, the benefits of Big Data to curing diabetes, or any other disease for that matter, are numerous, and can be exploited in multidimensional ways.