John Snow Labs has been recognized by Healthcare Tech Outlook as the Healthcare Analytics Provider of the year 2020 based on its widely acclaimed Spark NLP software library. The library equips the open-source community with state-of-the-art natural language processing capabilities, and is the only natively distributed open-source natural language processing library for Python, Java, and Scala. 
"By all accounts, John Snow Labs has created the most accurate software in history to extract facts from unstructured text."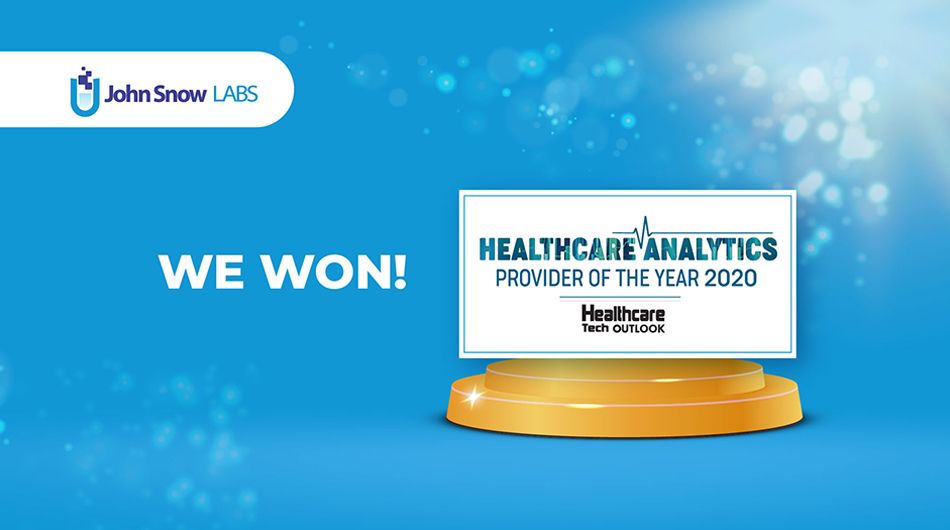 The Confluence of Technical Expertise and Industry Experience
"Spark NLP ships with over 150 pre–trained pipelines and models, enabling users to get things done within minutes and a few lines of code," comments David Talby, CTO at John Snow Labs.  
Spark NLP provides production-grade versions of the latest research in NLP, ensuring that customers and the open-source community continuously get upgraded to the most accurate algorithms & models as they are invented. It delivers on that promise often: The team made 26 new releases in 2018 and 30 new releases in 2019.  
"Our team regularly reads the latest academic papers in this area and productizes the most accurate reproducible results. We aim to provide the production-grade, trainable, and scalable implementations of the best techniques available," elucidates Talby.  
Spark NLP now provides out-of-the-box support for twenty languages – including German, Spanish, Russian, Turkish, Portuguese, and French. The library has a global following – with a recent analysis finding that of people interested in the library 44% are from the Americas, 24% from Asia-Pacific, and the remaining 22% are based in the EMEA region. The team's goal is to provide free, open- source, state-of-the-art natural language processing models for all the widely spoken languages on earth.  
Leading the NLP Revolution in Healthcare
Natural language processing for healthcare by John Snow Labs is a software product that provides clinical named entity recognition, entity linking, assertion status detection, de-identification, and OCR capabilities. It has enabled a growing number of AI success stories which the company with its customers – including Roche, Kaiser Permanente, Intel, and SelectData – have presented in top AI industry conferences like Strata Data, Spark+AI Summit, O'Reilly AI, Open Data Science, Predictive Analytics World, and Global AI Conference. 
John Snow Labs is all set to break new grounds and help many more healthcare entities to realize the potential for improving healthcare and human wellbeing in the 21st century. Striding ahead, the company will put the latest academic research, novel innovations, and AI best practices into their customers' hands.  
"John Snow Labs exists to help put AI to good use faster. That is why the company championed Data Philanthropy – sharing valuable private data to help solve community needs – from its very first month. That is why we've grown our commitment and giving to Open Source and Open Data every year. Nowadays, it is the reason we provide free access to all our software for teams fighting the COVID-19 pandemic," concludes Talby.