The Data Science Foundation recognizes Spark NLP for delivering "best practice, innovation, and excellence in data science and artificial intelligence".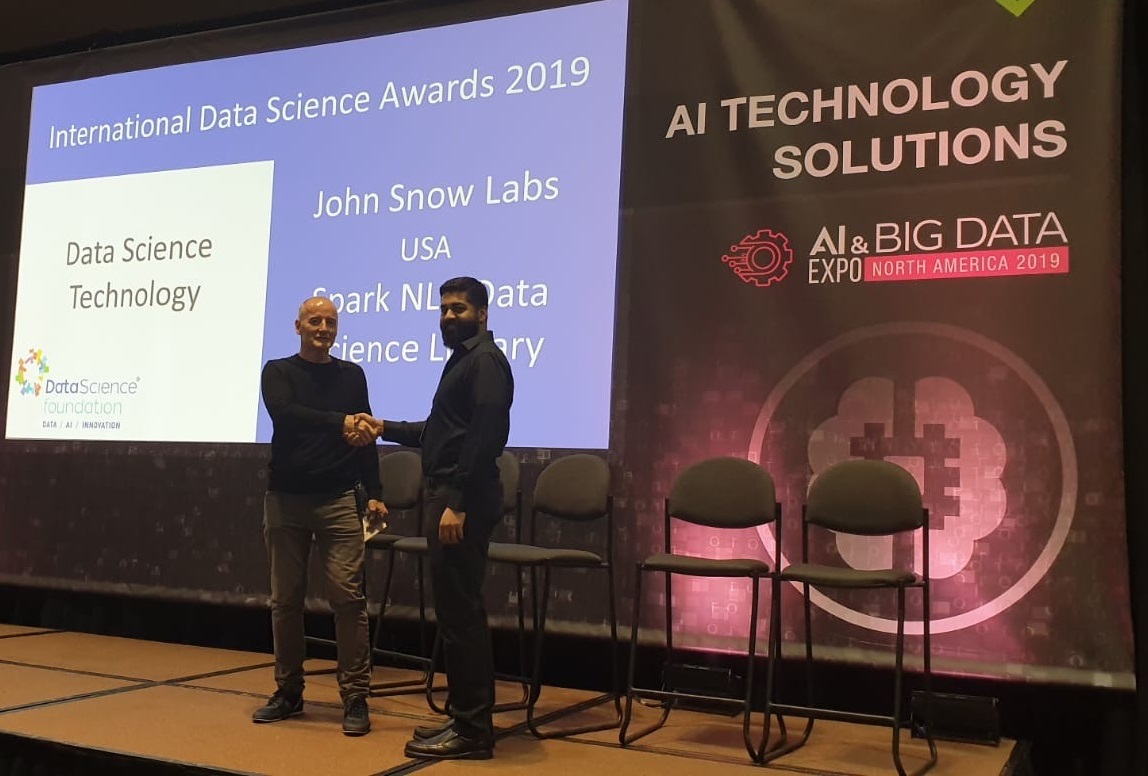 We are excited to announce that John Snow Labs is the winner of the 2019 Data Science Technology Award, granted by the Data Science Foundation. This award is a fantastic recognition for our wildly popular Spark NLP library. Spark NLP is an open-source text processing library that provides production-grade versions of the latest research in natural language processing.
The winners of the 2019 Data Science Awards were announced at the AI & Big Data Expo North America in Santa Clara on 13 November 2019. The Data Science Foundation gave three individual and three organization awards. The judging panels have been drawn from across the globe and include industry leaders, authors, academics and educators from 10 countries, USA, China, Australia, Canada, India, Pakistan, Spain, UK, Holland, Zambia. These include experts such as Kerry Sheehan, Chart.PR, Vice Chair of the #AIinPR panel and CIPR Council member; Dr. Wang VP of Data Science at PayPal, California; Dr. Frank Soboczenski Computer Scientist at King's College London & NASA SpaceApps Lead; and Dr. Michael Baron Data Scientist, Author, Educator from Australia.
John Snow Labs' NLP Library was highlighted in February 2019 as the most widely used NLP library in the enterprise in the "AI in the Enterprise" global study conducted by O'Reilly. It is the only AI software library to date to be adopted by 16% of enterprises within less than two years of its first release. Since then, we have been recognized as the "Most Significant Open Source Project" at the Strata Data Awards, "AI Platform of the Year" by CIO Applications, and "NLP Company to Watch" by Technology Headlines.
John Snow Labs' fast pace of innovation is key to its success. Spark NLP had 28 new releases in 2019, on top of 26 releases in 2018. New functionality this year includes the first production-grade named entity recognition models backed by BERT embeddings; tools to evaluate and monitor deep-learning NLP modeltraining; improved spell checking algorithms; major speed gains across all pipelines, in both local and cluster modes; optimized builds for the latest Nvidia and Intel chips; and 30+ new pre-trained NLP models and pipelines in four languages.
Beyond the core functionality of the library, Spark NLP became more accessible to a wider audience in 2019, thanks to the publication of a self-guided tutorial, a how-to video series, revamped documentation, new examples, and a new interactive user interface. The growing team also directly supports the community in an open Slack channel, answering questions daily in order to help newcomers succeed and get constant feedback from the community.
"We are honored and thankful for this recognition by the Data Science Foundation. Such a vote of confidence by the international community motivates us to keep making sure that the latest and greatest NLP research is made available to the AI community in a production-grade and easy-to-use library. You have our commitment to keep delivering state-of-the-art accuracy, speed, and scalability." – said Saif Addin Ellafi, lead developer of Spark NLP and Spark Healthcare NLP.

"The International Data Science Awards are a way to recognize the amazing things our members are doing with data, advanced analytics and AI", says Chris Tomlinson, director and founder of the Data Science Foundation, "Profiling excellence in this way will help the participants win new business and will help in the development of new technologies."