Others titles
Approved Food Establishments in UK
Food Establishments that Need Approval
Keywords
Food Standards Agency
Food Hygiene Agency
Food Safety Regulations
Food Hygiene Rating
FSA List
Approved Food Establishments in UK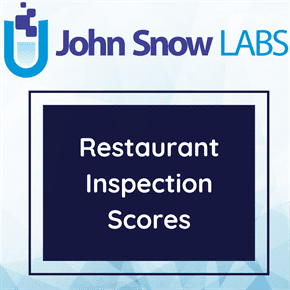 This dataset contains a list of establishments in United Kingdom which are approved to handle, prepare or produce products of animal origin for which requirements are laid down in Regulation (EC) No 853/2004.
Log in to download
Complexity
Get The Data
For getting access to data download links please read and accept the end-user license agreement.
Your Data License
Research

Non-Commercial, Share-Alike, Attribution

Free Forever

Commercial

Commercial Use, Remix & Adapt, White Label Log in to download
Description
Certain types of food premises may need to be approved either by the local authority or in some cases, the Foods Standards Agency. The Food Standards Agency (FSA) keep a full register of all approved premises with the UK.
Examples of types of businesses that are required to be approved by local authorities are manufacturing or processing premises for meat, fish, egg or dairy products not for sale to the final consumer.
Fresh meat premises such as fresh red meat and poultry slaughterhouses, cutting plants or farmed and wild game handling establishments, require approval by the Foods Standards Agency.
About this Dataset
Data Info
| | |
| --- | --- |
| Date Created | 2018-02-12 |
| Last Modified | 2022-08-02 |
| Version | 2022-08-02 |
| Update Frequency | Quarterly |
| Temporal Coverage | 2022 |
| Spatial Coverage | United Kingdom |
| Source | John Snow Labs; Food Standards Agency; |
| Source License URL | |
| Source License Requirements | N/A |
| Source Citation | N/A |
| Keywords | Food Standards Agency, Food Hygiene Agency, Food Safety Regulations, Food Hygiene Rating, FSA List |
| Other Titles | Approved Food Establishments in UK, Food Establishments that Need Approval |
Data Fields
| Name | Description | Type | Constraints |
| --- | --- | --- | --- |
| Approval_Number | Approval number assigned after the approval has been given. | string | - |
| Trading_Name | Trading name is any name under which someone carries on business other than their own i.e. the approval name | string | - |
| Address1 | Establishment address, line 1 | string | - |
| Address2 | Establishment address, line 2 | string | - |
| Address3 | Establishment address, line 3 | string | - |
| Town | Town in which the establishment is located | string | - |
| Postal_Code | Establishment postal code | string | - |
| Country | Country in which the establishment is located | string | - |
| All_Activities | All the activities for which the approval is sought | string | - |
| General_Activity_Establishment_Part_A | This is section 0 of Part A in Regulation (EC) No 853/2004 and includes establishments with general activity and which cannot be placed under one of the other specific Sections. These establishments include Cold stores (Independent, stand-alone), Re-wrapping and re-packaging establishment (Independent, stand-alone), Wholesale Market and Reefer Vessel. | string | - |
| Meat_of_Domestic_Ungulates_Part_A | These are the establishments that fall under Part A (Food of Animal Origin), Section I of Regulation (EC) No 853/2004, and include Slaughterhouse and Cutting Plant. | string | - |
| Meat_From_Poultry_and_Lagomorphs_Part_A | These are the establishments that fall under Part A (Food of Animal Origin), Section II of Regulation (EC) No 853/2004, and include Slaughterhouse and Cutting Plant. | string | - |
| Meat_of_Farmed_Game_Part_A | These are the establishments that fall under Part A (Food of Animal Origin), Section III of Regulation (EC) No 853/2004, and include Slaughterhouse and Cutting Plant. | string | - |
| Wild_Game_Meat_Part_A | These are the establishments that fall under Part A (Food of Animal Origin), Section IV of Regulation (EC) No 853/2004, and include Collection center (voluntarily), Game-handling establishment and Cutting plant. | string | - |
| Minced_Meat_Meat_Preparations_and_Mechanically_Separated_Meat_Part_A | These are the establishments that fall under Part A (Food of Animal Origin), Section V of Regulation (EC) No 853/2004, and include Minced meat establishment, Meat preparation establishment and Mechanically separated meat establishment. | string | - |
| Meat_Products_Part_A | These are the establishments that fall under Part A (Food of Animal Origin), Section VI of Regulation (EC) No 853/2004, and include Processing plant. | string | - |
| Live_Bivalve_Molluscs_Part_A | These are the establishments that fall under Part A (Food of Animal Origin), Section VII of Regulation (EC) No 853/2004, and include Dispatch center and Purification center. | string | - |
| Fishery_Products_Part_A | These are the establishments that fall under Part A (Food of Animal Origin), Section VIII of Regulation (EC) No 853/2004, and include Factory vessel, Freezing vessel, Fresh fishery products plant, Processing plant, Wholesale market, Auction hall, Mechanically separated fishery products plant. | string | - |
| Raw_Milk_and_Dairy_Products_Part_A | These are the establishments that fall under Part A (Food of Animal Origin), Section IX of Regulation (EC) No 853/2004, and include Collection center and Processing plant. | string | - |
| Eggs_and_Egg_Products_Part_A | These are the establishments that fall under Part A (Food of Animal Origin), Section X of Regulation (EC) No 853/2004, and include Packing center, Liquid eggplant and Processing plant. | string | - |
| Frog_Legs_and_Snails_Part_A | These are the establishments that fall under Part A (Food of Animal Origin), Section XI of Regulation (EC) No 853/2004, and include Processing plant. | string | - |
| Rendered_Animal_Fats_and_Greaves_Part_A | These are the establishments that fall under Part A (Food of Animal Origin), Section XII of Regulation (EC) No 853/2004, and include Collection center and Processing plant. | string | - |
| Treated_Stomachs_Bladders_and_Intestines_Part_A | These are the establishments that fall under Part A (Food of Animal Origin), Section XIII of Regulation (EC) No 853/2004, and include Processing plant. | string | - |
| Gelatine_Part_A | These are the establishments that fall under Part A (Food of Animal Origin), Section XIV of Regulation (EC) No 853/2004, and include Collection centers and tanneries authorized for supply of raw materials for the production of gelatin for human consumption (voluntarily) and Processing plant. | string | - |
| Collagen_Part_A | These are the establishments that fall under Part A (Food of Animal Origin), Section XV of Regulation (EC) No 853/2004, and include Collection centers and tanneries authorized for supply of raw materials for the production of gelatin for human consumption (voluntarily) and Processing plant. | string | - |
| Highly_Refined_Product_Part_A | These are the establishments that fall under Part A (Highly refined products of animal origin), Section XVI of Regulation (EC) No 853/2004, and include highly refined Chondroitin Sulphate, Hyaluronic Acid, Other Hydrolysed Cartilage products, Chitosan, Glucosamine, Rennet, Isinglass and Amino acids. | string | - |
| Sprouts_Part_B | These are the establishments that fall under Part B (Food of Non-Animal Origin), Section I of Regulation (EC) No 853/2004, and include Producing plants. | string | - |
| Part_A_All_Sections | All the establishments that are included in Part A. | string | - |
| Part_B_All_Sections | All the establishments that are included in Part B. | string | - |
| Species | Specifies which species are slaughtered in the facility. | string | - |
| Remarks | Remarks on what kind of products are processed in the establishment. | string | - |
| TSE_Feed_Ban_Registrations_Authorizations | The feed ban is the basic preventive measure laid down against TSE (Transmissible Spongiform Encephalopathy) and consists of a ban on the use of processed animal protein (PAP) in feed for farmed animals. | string | - |
| Is_Poultry | Specifies if the establishment deals in poultry | boolean | - |
| Is_Bovine | Specifies if the establishment deals in bovine | boolean | - |
| Is_Caprine | Specifies if the establishment deals in caprine | boolean | - |
| Is_Lagomorphs | Specifies if the establishment deals in lagomorphs | boolean | - |
| Is_Ovine | Specifies if the establishment deals in ovine | boolean | - |
| Is_Porcine | Specifies if the establishment deals in porcine | boolean | - |
| Is_Solipeds | Specifies if the establishment deals in solipeds | boolean | - |
| Is_Ratite | Specifies if the establishment deals in ratite | boolean | - |
| Is_Wild_Birds | Specifies if the establishment deals in wild birds | boolean | - |
| Is_Wild_Lagomorphs | Specifies if the establishment deals in wild lagomorphs | boolean | - |
| Is_Wild_Ungulates | Specifies if the establishment deals in wild ungulates | boolean | - |
| Is_Other_Wild_Land_Mammals | Specifies if the establishment deals in other wildland mammals | boolean | - |
| Is_Auction_Hall | Specifies if the establishment is an auction hall | boolean | - |
| Is_Collection_Center | Specifies if the establishment is a collection center | boolean | - |
| Is_Cutting_Plant | Specifies if the establishment is a cutting plant | boolean | - |
| Is_Cold_Store | Specifies if the establishment is a cold store | boolean | - |
| Is_Dispatch_Center | Specifies if the establishment is a dispatch center | boolean | - |
| Is_Packing_Center | Specifies if the establishment is a packing center | boolean | - |
| Is_Fresh_Fishery_Products_Plant | Specifies if the establishment is a fresh fishery products plant | boolean | - |
| Is_Factory_Vessel | Specifies if the establishment is a factory vessel | boolean | - |
| Is_Game_Handling_Establishment | Specifies if the establishment is a game handling establishment | boolean | - |
| Is_Liquid_Egg_Plant | Specifies if the establishment is a liquid egg plant | boolean | - |
| Is_Mince_Meat_Establishment | Specifies if the establishment is a mincemeat establishment | boolean | - |
| Is_Meat_Preparation_Establishment | Specifies if the establishment is a meat preparation establishment | boolean | - |
| Is_Mechanically_Separated_Meat_Establishment | Specifies if the establishment is a mechanically separated meat establishment | boolean | - |
| Is_Purification_Center | Specifies if the establishment is a purification center | boolean | - |
| Is_Producing_Plant | Specifies if the establishment is a producing plant | boolean | - |
| Is_Processing_Plant | Specifies if the establishment is a processing plant | boolean | - |
| Is_Rewrapping_and_Repackaging_Establishment | Specifies if the establishment is a rewrapping and repackaging establishment | boolean | - |
| Is_Slaughter_House | Specifies if the establishment is a slaughterhouse | boolean | - |
| Is_Tannery | Specifies if the establishment is a tannery. | boolean | - |
| Is_Wholesale_Market | Specifies if the establishment is a wholesale market | boolean | - |
| Is_Freezer_Vessel | Specifies if the establishment is a freezer vessel | boolean | - |
| Competent_Authority | Refers to the competent authority | string | - |
| Geographic_Local_Authority | Name of the area in which the local authority is located | string | - |
| Local_Authority_Geographic_X_Axis | The x coordinate is a given number of pixels along the horizontal axis of a display. | string | - |
| Local_Authority_Geographic_Y_Axis | The y coordinate is a given number of pixels along the vertical axis of a display. | string | - |
| Is_Address_Withheld | Specifies if the establishment is withheld or not. | boolean | - |
Data Preview
| | | | | | | | | | | | | | | | | | | | | | | | | | | | | | | | | | | | | | | | | | | | | | | | | | | | | | | | | | | | | | | | | | | | | | |
| --- | --- | --- | --- | --- | --- | --- | --- | --- | --- | --- | --- | --- | --- | --- | --- | --- | --- | --- | --- | --- | --- | --- | --- | --- | --- | --- | --- | --- | --- | --- | --- | --- | --- | --- | --- | --- | --- | --- | --- | --- | --- | --- | --- | --- | --- | --- | --- | --- | --- | --- | --- | --- | --- | --- | --- | --- | --- | --- | --- | --- | --- | --- | --- | --- | --- | --- | --- | --- | --- |
| Approval Number | Trading Name | Address1 | Address2 | Address3 | Town | Postal Code | Country | All Activities | General Activity Establishment Part A | Meat of Domestic Ungulates Part A | Meat From Poultry and Lagomorphs Part A | Meat of Farmed Game Part A | Wild Game Meat Part A | Minced Meat Meat Preparations and Mechanically Separated Meat Part A | Meat Products Part A | Live Bivalve Molluscs Part A | Fishery Products Part A | Raw Milk and Dairy Products Part A | Eggs and Egg Products Part A | Frog Legs and Snails Part A | Rendered Animal Fats and Greaves Part A | Treated Stomachs Bladders and Intestines Part A | Gelatine Part A | Collagen Part A | Highly Refined Product Part A | Sprouts Part B | Part A All Sections | Part B All Sections | Species | Remarks | TSE Feed Ban Registrations Authorizations | Is Poultry | Is Bovine | Is Caprine | Is Lagomorphs | Is Ovine | Is Porcine | Is Solipeds | Is Ratite | Is Wild Birds | Is Wild Lagomorphs | Is Wild Ungulates | Is Other Wild Land Mammals | Is Auction Hall | Is Collection Center | Is Cutting Plant | Is Cold Store | Is Dispatch Center | Is Packing Center | Is Fresh Fishery Products Plant | Is Factory Vessel | Is Game Handling Establishment | Is Liquid Egg Plant | Is Mince Meat Establishment | Is Meat Preparation Establishment | Is Mechanically Separated Meat Establishment | Is Purification Center | Is Producing Plant | Is Processing Plant | Is Rewrapping and Repackaging Establishment | Is Slaughter House | Is Tannery | Is Wholesale Market | Is Freezer Vessel | Competent Authority | Geographic Local Authority | Local Authority Geographic X Axis | Local Authority Geographic Y Axis | Is Address Withheld |
| MX 010 | Healthaid Limited | Healthaid House | Malborough Hill | | Harrow | HA1 1UD | England | Re-Wrappingand repackaging establishment | RW (Re-Wrappingand repackaging establishment)(General) | | | | | | | | | | | | | | | | | | Section: 0 (RW) | | | | | | | | | | | | | | | | | | | | | | | | | | | | | | | | | True | | | | | Harrow (London Borough) | Harrow (London Borough) | | | False |
| 1 UK 22028 | Riverways Farm | New Bath Road | | | Twyford | RG10 9RY | England | Packing Centre (Egg) | | | | | | | | | | | EPC (Packing Centre) | | | | | | | | Section: X (EPC) | | | | | | | | | | | | | | | | | | | | | | True | | | | | | | | | | | | | | | | Wokingham | Wokingham | 478165.0 | 176920.0 | False |
| 1000 | Ahmed Brothers Halal Ltd | Maple Court | Crystal Drive | | Smethwick | B66 1RB | England | Cold Store Cutting Plant (Poultry) Mince Meat Establishment | CS (Cold Store)(General) | | CP (Cutting Plant) | | | MM (Mince Meat Establishment) | | | | | | | | | | | | | Section: 0 (CS) Section: II (CP) Section: V (MM) | | | | ABP | | | | | | | | | | | | | | | True | True | | | | | | | True | | | | | | | | | | | Food Standards Agency | Sandwell | | | False |
| 1003 | Kinda Food Ltd | Unit 7 | Rosebery Industrial Estate | Rosebery Venue | London | N17 9SR | England | Cutting Plant (Red) Re-Wrappingand repackaging establishment Cold Store | RW (Re-Wrappingand repackaging establishment) CS (Cold Store)(General) | CP (Cutting Plant) | | | | | | | | | | | | | | | | | Section: I (CP) Section: 0 (RW) Section: 0 (CS) | | | | | | | | | | | | | | | | | | | True | True | | | | | | | | | | | | | True | | | | | Food Standards Agency | Haringey (London Borough) | | | False |
| 1004 | Newby Foods Ltd | Head Office | Marylands | Newby Wiske | Northallerton | DL7 9ER | England | Cold Store Cutting Plant (Red) Cutting Plant (Poultry) Meat Preparation Establishment Processing Plant (Meat) Mince Meat Establishment Mechanically Separated Meat Establishment | CS (Cold Store)(General) | CP (Cutting Plant) | CP (Cutting Plant) | | | MP (Meat Preparation Establishment) MM (Mince Meat Establishment) MSM (Mechanically Separated Meat Establishment) | PP (Processing Plant) | | | | | | | | | | | | Section: 0 (CS) Section: I (CP) Section: II (CP) Section: V (MP) Section: VI (PP) Section: V (MM) Section: V (MSM) | | | Meat Products | | | | | | | | | | | | | | | | True | True | | | | | | | True | True | True | | | True | | | | | | Food Standards Agency | Hambleton District | | | False |
| 10058 | Woodlands Poultry Farm | Bigbury Road | Chartham Hatch | | Canterbury | CT4 7NE | England | Packing Centre (Egg) | | | | | | | | | | | EPC (Packing Centre) | | | | | | | | Section: X (EPC) | | | | | | | | | | | | | | | | | | | | | | True | | | | | | | | | | | | | | | | Canterbury | Canterbury | | | False |
| 1006 | Aubrey Allen Limited | Unit 1 | Siskin Parkway East | Middlemarch Business Park | Coventry | CV3 4AD | England | Cold Store Re-Wrappingand repackaging establishment Cutting Plant (Red) Cutting Plant (Poultry) Cutting Plant (Wild Game) Mince Meat Establishment Meat Preparation Establishment Processing Plant (Meat) Processing Plant (Dairy) Mince Meat (LTTC) | CS (Cold Store) RW (Re-Wrappingand repackaging establishment)(General) | CP (Cutting Plant) | CP (Cutting Plant) | | CP (Cutting Plant) | MM (Mince Meat Establishment) MP (Meat Preparation Establishment) MMLTTC (Mince Meat (LTTC)) | PP (Processing Plant) | | | PP (Processing Plant) | | | | | | | | | Section: 0 (CS) Section: 0 (RW) Section: I (CP) Section: II (CP) Section: IV (CP) Section: V (MM) Section: V (MP) Section: VI (PP) Section: IX (PP) Section: V (MMLTTC) | | | Meat Products | | | | | | | | | | | | | | | | True | True | | | | | | | True | True | | | | True | True | | | | | Food Standards Agency | Warwick District | | | False |
| 1007 | Frank Bird (Poultry) Ltd | Underlyne | Langwathby | | Penrith | CA10 1NB | England | Cold Store Cutting Plant (Poultry) Slaughterhouse (Poultry) | CS (Cold Store)(General) | | CP (Cutting Plant) SH (Slaughterhouse) | | | | | | | | | | | | | | | | Section: 0 (CS) Section: II (CP) Section: II (SH) | | Poultry | | BLD ABP | True | | | | | | | | | | | | | | True | True | | | | | | | | | | | | | | True | | | | Food Standards Agency | Eden District | 357081.0 | 533629.0 | |
| 1008 | K D Catering Butchers Ltd | Baytree Farm | Bay Tree Lane | Sayerland | Polegate | BN26 6QN | England | Cold Store Cutting Plant (Red) Cutting Plant (Poultry) Mince Meat Establishment Meat Preparation Establishment | CS (Cold Store)(General) | CP (Cutting Plant) | CP (Cutting Plant) | | | MM (Mince Meat Establishment) MP (Meat Preparation Establishment) | | | | | | | | | | | | | Section: 0 (CS) Section: I (CP) Section: II (CP) Section: V (MM) Section: V (MP) | | | | | | | | | | | | | | | | | | | True | True | | | | | | | True | True | | | | | | | | | | Food Standards Agency | Wealden District | 557892.0 | 105812.0 | |
| 1009 | Karaca Meat Limited | Unit 3 Beeching Park Industrial Estate | Wainwright Road | | Bexhill-on-Sea | TN39 3UR | England | Cold Store Cutting Plant (Red) Meat Preparation Establishment | CS (Cold Store)(General) | CP (Cutting Plant) | | | | MP (Meat Preparation Establishment) | | | | | | | | | | | | | Section: 0 (CS) Section: I (CP) Section: V (MP) | | | | | | | | | | | | | | | | | | | True | True | | | | | | | | True | | | | | | | | | | Food Standards Agency | Rother District | 573724.0 | 107495.0 | False |