Others titles
Physician and Supplier Part B Claims PUF 2010
Non Institutional Providers Claims File 2010
Physician Assistants Payment 2010
Clinical Social Workers Payment 2010
Nurse Practitioners Payment 2010
Independent Clinical Laboratories Payment 2010
Ambulance Providers Payment 2010
Free Standing Ambulatory Surgical Centers Payments 2010
Medicare Carrier Line Item Claims 2010
Keywords
Physician and Supplier Part B Claims
Non-institutional Providers Claims
Physician Assistant Payments
Clinical Social Worker Payments
Nurse Practitioner Payments
Independent Clinical Laboratory Payments
Ambulance Provider Payments
Free‐standing Ambulatory Surgical Center Payments
Medicare Carrier Line Item Payments
Basic Stand Alone Carrier Line Items PUF 2010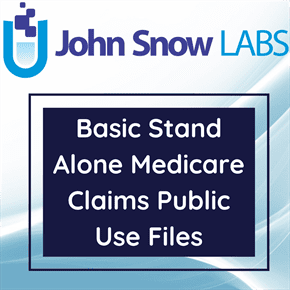 BSA Carrier Line Item PUF has information from Medicare Carrier claims. The CMS BSA Carrier Line Items PUF is a line item level file in which each record is a line item of a Carrier claim incurred by a 5% sample of Medicare beneficiaries. The CMS BSA Carrier Line Items PUF originates from a 5% simple random sample of beneficiaries drawn (without replacement) from the 100% Beneficiary Summary File for the reference year.
Log in to download
Complexity
Get The Data
For getting access to data download links please read and accept the end-user license agreement.
Your Data License
Research

Non-Commercial, Share-Alike, Attribution

Free Forever

Commercial

Commercial Use, Remix & Adapt, White Label Log in to download
Description
The Carrier claims file was originally called the Physician/Supplier Part B file. This file contains final action claims data submitted by non-institutional providers. These claims are largely from physicians, although they also include claims from other non‐institutional providers such as: physician assistants, clinical social workers, nurse practitioners, independent clinical laboratories, ambulance providers, and free‐standing ambulatory surgical centers. Each record in the Carrier claims file is a claim.
Each carrier claim must include at least one Health Care Procedure Classification Code (HCPCS code) to describe the nature of the billed service. Each HCPCS code on the carrier bill must be accompanied by a line item ICD-9 diagnosis code, providing a reason for the service. In addition, each line item has the fields for the dates of service, reimbursement amount, provider numbers (e.g., NPI), and beneficiary demographic data. Demographic and line item related variables are provided in this PUF. It contains ten analytic variables (in addition to a unique record key): gender, age, ICD‐9‐CM diagnosis code, HCPCS procedure code, BETOS code, count of the services related to the line item, type of provider, type of service, place of service, and line item payment by Medicare. Each claim is comprised of up to 13 line items, each of which corresponds to one HCPCS code and its accompanying information.
The most important aspects of the CMS BSA Carrier Line Items PUF 2010 are that it contains carrier line item services for a simple random sample of 5% of the 2010 beneficiary population. Out of approximately 2.5 million beneficiaries in the 5% sample, 1,596,468 had claims, resulting in a PUF of 70,052,393 line items after excluding invalid line items, denied claims and protecting the privacy of Medicare beneficiaries. The line item payments have been rounded and the ICD‐9‐CM diagnosis codes have been coarsened in order to protect individuals from identification while retaining the analytic value of the data. A line item service for a sampled beneficiary is only included in the PUF if the combination of all ten variables is shared by at least eleven line items pertaining to at least eleven beneficiaries and eleven providers in the population. For some combinations of values of the ten variables, however, there are fewer than eleven line items in the PUF. Line items cannot be linked by claim or by beneficiary, and cannot be linked to any external data source by means of the carrier line ID. The carrier line ID is a cryptographic key specific to the CMS 2010 BSA Carrier Line Items PUF and not available elsewhere. The CMS 2010 BSA Carrier Line Items PUF is sorted by this carrier line ID to ensure that the relative positions of each line item in the PUF and in the original source data are totally uncorrelated.
About this Dataset
Data Info
| | |
| --- | --- |
| Date Created | 2011 |
| Last Modified | 2013-04-03 |
| Version | 2013-04-03 |
| Update Frequency | Biennial |
| Temporal Coverage | 2010 |
| Spatial Coverage | United States |
| Source | John Snow Labs; Centers for Medicare and Medicaid Services; |
| Source License URL | |
| Source License Requirements | N/A |
| Source Citation | N/A |
| Keywords | Physician and Supplier Part B Claims, Non-institutional Providers Claims, Physician Assistant Payments, Clinical Social Worker Payments, Nurse Practitioner Payments, Independent Clinical Laboratory Payments, Ambulance Provider Payments, Free‐standing Ambulatory Surgical Center Payments, Medicare Carrier Line Item Payments |
| Other Titles | Physician and Supplier Part B Claims PUF 2010, Non Institutional Providers Claims File 2010, Physician Assistants Payment 2010, Clinical Social Workers Payment 2010, Nurse Practitioners Payment 2010, Independent Clinical Laboratories Payment 2010, Ambulance Providers Payment 2010, Free Standing Ambulatory Surgical Centers Payments 2010, Medicare Carrier Line Item Claims 2010 |
Data Fields
| Name | Description | Type | Constraints |
| --- | --- | --- | --- |
| Gender | Indicates the sex of the beneficiary | string | enum : Array ( [0] => Male [1] => Female ) |
| Age | The beneficiary's age at end of the reference year | string | enum : Array ( [0] => Under 65 years old [1] => 65-69 years old [2] => 70-74 years old [3] => 75-79 years old [4] => 80-84 years old [5] => 85 years old and over ) |
| ICD9_Diagnosis_Code | Indicates the patient's ICD‐9 CM diagnosis code associated with thw line item | string | maxLength : 4 |
| HCPCS_Procedure_Code | The Healthcare Common Procedure Coding System (HCPCS) codes that identify an item or service associated with the line item | string | maxLength : 5 |
| BETOS_Code | Indicates the Berenson‐Eggers Type of Service code | string | maxLength : 3 |
| Count_Of_Sevices | Total number of services associated with the line item | integer | level : Ratio |
| Type_Of_Provider | Identifies the type of provider furnishing the service for the line item | string | enum : Array ( [0] => Clinics [1] => groups [2] => associations [3] => partnerships [4] => or other entities [5] => Physicians or suppliers reporting as solo practitioners [6] => Institutional provider [7] => Clinics (multiple specialties) [8] => Other entities [9] => Other entities for whomEI numbers are used in coding the ID field ) |
| Type_Of_Service | Indicates the type of service for the line item | string | enum : Array ( [0] => Medical care [1] => Diagnostic laboratory [2] => Diagnostic radiology [3] => Surgery [4] => Pneumococcal/flu vaccine [5] => Ambulance [6] => Outpatient mental health limitation [7] => Vision items or services [8] => Anesthesia [9] => Therapeutic radiology [10] => Ambulatory surgical center [11] => Hearing items and services [12] => Assistant at surgery [13] => Other medical items or services [14] => Consultation [15] => Lump sum purchase of DME [16] => prosthetics [17] => orthotics [18] => Surgical dressings or other medical supplies [19] => Immunosuppressive drugs [20] => Kidney donor [21] => Whole blood only ) |
| Place_Of_Service | Indicates the place of service for the line item | string | enum : Array ( [0] => Office (pre 1992) [1] => Office [2] => Home [3] => Inpatient hospital [4] => Outpatient hospital [5] => Emergency room ‐hospital [6] => Ambulatory surgical center [7] => Skilled nursing facility [8] => Nursing facility [9] => Custodial care facility [10] => Hospice [11] => Ambulance ‐ land [12] => Ambulance ‐ air or water [13] => Federally qualified health centers [14] => Inpatient psychiatric facility [15] => Psychiatric facility partial hospitalization [16] => Community mental health center [17] => Intermediate care facility/mentally retarded [18] => Psychiatric residential treatment center [19] => Mass immunizations center [20] => Comprehensive inpatient rehabilitation facility [21] => End stage renal disease treatment facility [22] => State or local public health clinic [23] => Rural health clinic [24] => Independent laboratory [25] => Other unlisted facility ) |
| Medicare_Payment_Amount | The payment made by Medicare for the line item | number | - |
| Count_Of_Line_Items | The number of carrier line items associated with each profile | integer | level : Ratio |
Data Preview
| | | | | | | | | | | |
| --- | --- | --- | --- | --- | --- | --- | --- | --- | --- | --- |
| Gender | Age | ICD9 Diagnosis Code | HCPCS Procedure Code | BETOS Code | Count Of Sevices | Type Of Provider | Type Of Service | Place Of Service | Medicare Payment Amount | Count Of Line Items |
| Male | 75-79 years old | V12 | 45378 | P8D | 1 | Physicians or suppliers reporting as solo practitioners | Surgery | Ambulatory surgical center | 50 | 2 |
| Male | 75-79 years old | V12 | 45378 | P8D | 1 | Physicians or suppliers reporting as solo practitioners | Surgery | Ambulatory surgical center | 90 | 2 |
| Male | 75-79 years old | V12 | 45378 | P8D | 1 | Physicians or suppliers reporting as solo practitioners | Surgery | Ambulatory surgical center | 150 | 23 |
| Male | 75-79 years old | V12 | 45378 | P8D | 1 | Physicians or suppliers reporting as solo practitioners | Surgery | Ambulatory surgical center | 175 | 90 |
| Male | 75-79 years old | V12 | 45378 | P8D | 1 | Physicians or suppliers reporting as solo practitioners | Surgery | Ambulatory surgical center | 200 | 21 |
| Male | 75-79 years old | V12 | 45378 | P8D | 1 | Clinics (multiple specialties) | Ambulatory surgical center | Ambulatory surgical center | 150 | 2 |
| Male | 75-79 years old | V12 | 45378 | P8D | 1 | Clinics (multiple specialties) | Ambulatory surgical center | Ambulatory surgical center | 175 | 4 |
| Male | 75-79 years old | V12 | 45378 | P8D | 1 | Clinics (multiple specialties) | Ambulatory surgical center | Ambulatory surgical center | 200 | 3 |
| Male | 75-79 years old | V12 | 45378 | P8D | 1 | Clinics (multiple specialties) | Ambulatory surgical center | Ambulatory surgical center | 225 | 4 |
| Male | 75-79 years old | V12 | 45378 | P8D | 1 | Clinics (multiple specialties) | Ambulatory surgical center | Ambulatory surgical center | 275 | 32 |