Others titles
Analyzing Vital Behavioral Risk Factors (BRFs) Data from SMART Project
Using BRFSS for Analysis of Selected MMSAs within SMART Project
Keywords
Behavioral Risk Factors (BRFs)
Risk Trends Prevalence Data
Health-Related Risk Behaviors
Selected Metropolitan Area Risk Trends (SMART)
Metropolitan/Micropolitan Statistical Area (MMSA)
BRFSS Selected Metropolitan Area Risk Trends MMSA Prevalence Data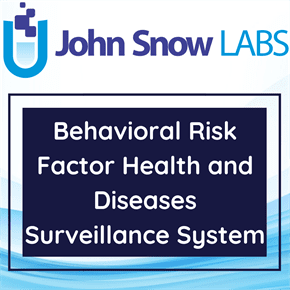 This dataset includes information regarding the Selected Metropolitan Area Risk Trends (SMART) project. This project uses the Behavioral Risk Factor Surveillance System (BRFSS) to analyze the data of selected Metropolitan/Micropolitan Statistical Areas (MMSAs) with 500 or more respondents. BRFSS data can be used to identify emerging health problems, establish and track health objectives, and develop and evaluate public health policies and programs.
Log in to download
Complexity
Get The Data
For getting access to data download links please read and accept the end-user license agreement.
Your Data License
Research

Non-Commercial, Share-Alike, Attribution

Free Forever

Commercial

Commercial Use, Remix & Adapt, White Label Log in to download
Description
The Behavioral Risk Factor Surveillance System (BRFSS) which is also the data source for this data set, is a continuous, state-based surveillance system that collects information about modifiable risk factors for chronic diseases and other leading causes of death.
Centers for Disease Control and Prevention (CDC) analyzes BRFSS data for metropolitan and micropolitan statistical areas (MMSAs), to provide localized health information that can help public health practitioners identify local emerging health problems, plan and evaluate local responses, and efficiently allocate resources to specific needs. MMSAs are selected on the basis of having had 500 or more respondents to the BRFSS.
Metropolitan statistical areas are a group of counties that contain at least one urbanized area of 50,000 or more inhabitants (e.g., Atlanta-Sandy Springs-Marietta, GA). Micropolitan statistical areas are a group of counties that contain at least one urban cluster of at least 10,000 but less than 50,000 inhabitants (e.g., Willimantic, CT). Metropolitan divisions are a smaller group of counties within a metropolitan statistical area of 2.5 million or more inhabitants (e.g., Boston-Quincy, MA within Boston-Cambridge-Quincy, MA-NH Metropolitan Statistical Area). The Selected Metropolitan/Micropolitan Area Risk Trends (SMART) uses BRFSS data to provide prevalence rates for selected conditions and behaviors for cities and their surrounding counties.
The risk factor categories available are alcohol consumption, asthma, cholesterol awareness, colorectal cancer screening, diabetes, disability, exercise and physical activity, health status, health care access, hypertension awareness, immunization, nutrition, oral health, tobacco use, weight classifications, and women's health. The categories available will vary from year to year based on questionnaire changes. The findings of the study are depicted in percentages while the data value type is crude prevalence. The prevalence estimates not available if the unweighted sample size for the denominator was less than 50 or the CI half width was greater than 10 for any cell, or if the state did not collect data for that calendar year.
About this Dataset
Data Info
| | |
| --- | --- |
| Date Created | 2015-06-04 |
| Last Modified | 2021-11-23 |
| Version | 2021-11-23 |
| Update Frequency | Annual |
| Temporal Coverage | 2011-2019 |
| Spatial Coverage | United States |
| Source | John Snow Labs; Centers for Disease Control and Prevention; |
| Source License URL | |
| Source License Requirements | N/A |
| Source Citation | N/A |
| Keywords | Behavioral Risk Factors (BRFs), Risk Trends Prevalence Data, Health-Related Risk Behaviors, Selected Metropolitan Area Risk Trends (SMART), Metropolitan/Micropolitan Statistical Area (MMSA) |
| Other Titles | Analyzing Vital Behavioral Risk Factors (BRFs) Data from SMART Project, Using BRFSS for Analysis of Selected MMSAs within SMART Project |
Data Fields
| Name | Description | Type | Constraints |
| --- | --- | --- | --- |
| Year | Identifies the year in which the data is collected for years 2010 and prior (2002-2010). | date | - |
| Location_Abbreviation | The five digit abbreviation to represent different states of United States. | string | - |
| Location_Description | Full description of different counties of United States with two-letter abbreviation of the states from where they belong. | string | - |
| Class_Description | The class of the dataset. | string | - |
| Topic_Description | Depicts the topic within the survey of Behavioral Risk Factors (BRFs) - Selected Metropolitan Area Risk Trends (SMART) Metropolitan/Micropolitan Statistical Area (MMSA) Prevalence Data. | string | - |
| Survey_Question | The questions included in the survey questionnaire. | string | - |
| Survey_Response | The responses to different questions of the survey questionnaire. | string | - |
| Sample_Size | Total number of respondents through which the survey questionnaire was circulated. | integer | level : Ratio |
| Data_Value | The actual value or responses collected against each of the survey questions. | number | level : Ratio |
| Confidence_Limit_Low | The lower limit of the confidence interval. | number | level : Ratio |
| Confidence_Limit_High | The upper limit of the confidence interval. | number | level : Ratio |
| Display_Order | The display order of different questions and their responses. | integer | level : Ordinal |
| Class_Id | The alphanumeric identity of the class. | string | - |
| Topic_Id | The alphanumeric identity of the topic. | string | - |
| Location_ID | The numerical identity of the location. | string | - |
| Question_ID | The identity of the survey questions. | string | - |
| Response_ID | The alphanumeric identity of different responses. | string | - |
| Latitude | Identifies the geographical location Latitude. | number | - |
| Longitude | Identifies the geographical location Longitude. | number | - |
Data Preview
| | | | | | | | | | | | | | | | | | | |
| --- | --- | --- | --- | --- | --- | --- | --- | --- | --- | --- | --- | --- | --- | --- | --- | --- | --- | --- |
| Year | Location Abbreviation | Location Description | Class Description | Topic Description | Survey Question | Survey Response | Sample Size | Data Value | Confidence Limit Low | Confidence Limit High | Display Order | Class Id | Topic Id | Location ID | Question ID | Response ID | Latitude | Longitude |
| 2006 | 42644 | Seattle-Bellevue-Everett, WA Metropolitan Division | Chronic Health Indicators | Cardiovascular Disease | Ever told you had angina or coronary heart disease? | No | 4584 | 97.4 | 97.0 | 97.7 | 62 | CLASS03 | Topic10 | 42644 | CVDCRHD3 | RESP054 | 47.7622073 | -121.7815119 |
| 2004 | 48864 | Wilmington, DE-MD-NJ Metropolitan Division | Chronic Health Indicators | Asthma | Adults who have ever been told they have asthma (variable calculated from one or more BRFSS questions) | Yes | 235 | 14.7 | 12.6 | 16.9 | 28 | CLASS03 | Topic06 | 48864 | _LTASTHM | RESP046 | 39.5724235 | -75.6592147 |
| 2006 | 36500 | Olympia-Tumwater, WA Metropolitan Statistical Area | Oral Health | Teeth Removed | Adults that have had any permanent teeth extracted (variable calculated from one or more BRFSS questions) | No | 701 | 38.1 | 35.1 | 41.0 | 19 | CLASS13 | Topic57 | 36500 | _EXTETH2 | RESP054 | 46.932597799999996 | -122.8294407 |
| 2009 | 48620 | Wichita, KS Metropolitan Statistical Area | Chronic Health Indicators | Cardiovascular Disease | Ever told you had angina or coronary heart disease? | No | 3621 | 96.0 | 95.4 | 96.5 | 30 | CLASS03 | Topic10 | 48620 | CVDCRHD4 | RESP054 | 37.6385839 | -97.2460377 |
| 2010 | 11700 | Asheville, NC Metropolitan Statistical Area | Health Status | Overall Health | How is your general health? | Excellent | 93 | 22.7 | 17.0 | 28.3 | 1 | CLASS08 | Topic41 | 11700 | GENHLTH | RESP056 | 35.595669 | -82.681613 |
| 2010 | 11700 | Asheville, NC Metropolitan Statistical Area | Health Status | Overall Health | How is your general health? | Very good | 164 | 33.2 | 27.5 | 38.8 | 2 | CLASS08 | Topic41 | 11700 | GENHLTH | RESP057 | 35.595669 | -82.681613 |
| 2010 | 11700 | Asheville, NC Metropolitan Statistical Area | Health Status | Overall Health | How is your general health? | Good | 170 | 27.6 | 22.5 | 32.6 | 3 | CLASS08 | Topic41 | 11700 | GENHLTH | RESP058 | 35.595669 | -82.681613 |
| 2010 | 11700 | Asheville, NC Metropolitan Statistical Area | Health Status | Overall Health | How is your general health? | Fair | 70 | 10.9 | 7.7 | 14.0 | 4 | CLASS08 | Topic41 | 11700 | GENHLTH | RESP059 | 35.595669 | -82.681613 |
| 2010 | 11700 | Asheville, NC Metropolitan Statistical Area | Health Status | Overall Health | How is your general health? | Poor | 50 | 5.5 | 3.7 | 7.2 | 5 | CLASS08 | Topic41 | 11700 | GENHLTH | RESP060 | 35.595669 | -82.681613 |
| 2010 | 11700 | Asheville, NC Metropolitan Statistical Area | Health Status | Fair or Poor Health | Health Status (variable calculated from one or more BRFSS questions) | Good or Better Health | 427 | 83.6 | 80.0 | 87.1 | 6 | CLASS08 | Topic24 | 11700 | _RFHLTH | RESP061 | 35.595669 | -82.681613 |