Others titles
Child Immunization Annual Uptake Rates By NHS Board
Immunization Uptake Rates By SIMD 2016 Quintile in Scotland
Immunization Uptake Rates for Children in Scotland at 12 and 24 Months
Keywords
Immunization
Child Immunization
SIMD
Scottish Annual Uptake Rates
Scottish Vaccination Programmes
Vaccine Statistics in Scotland
Rotavirus Vaccine
Measles
Mumps And Rubella (MMR) Vaccine
Child Immunization Annual Uptake Rates by NHS Board in Scotland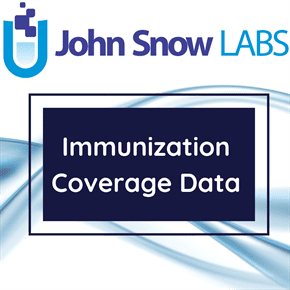 This dataset provides information about child immunization uptake rates for the 6-1n-1 vaccine by 12 and 24 months of rates by Scottish Index of Multiple Deprivation (SIMD) 2016 quintile by National Health Service (NHS) board in Scotland. It also includes Pneumococcal conjugate vaccine (PCV), Rotavirus and Meningococcal serogroup B (MenB) by 12 months of age, Measles, Mumps, and Rubella (MMR1), Hib/MenC, PCV Booster (PCVB) and MenB by 24 months of age for evaluation period in the Year 2018.
Log in to download
Complexity
Get The Data
For getting access to data download links please read and accept the end-user license agreement.
Your Data License
Research

Non-Commercial, Share-Alike, Attribution

Free Forever

Commercial

Commercial Use, Remix & Adapt, White Label Log in to download
Description
Children in Scotland are protected through immunization against many serious infectious diseases. Vaccination programmes aim both to protect the individual and to prevent the spread of these diseases within the wider population. As a public health measure, immunizations are very effective in reducing the burden of disease.
This publication provides an annual update of immunization uptake rates for children in Scotland at 12 months and 24 months. The release includes data to 31 December 2018. Data are presented by NHS Board, local authority and deprivation category.
The European Region of the World Health Organization (WHO) recommends that on a national basis at least 95% of children are immunized against diseases preventable by immunization and targeted for elimination or control. These include diphtheria, tetanus, pertussis (whooping cough), polio, Haemophilus influenza type b (Hib), measles, mumps and rubella. In Scotland a target of 95% uptake of one dose of the measles, mumps and rubella (MMR) vaccine by five years of age (with a supplementary measure at 24 months) was introduced in 2006 to focus efforts on reducing the number of susceptible children entering primary school.
Uptake rates, sometimes referred to as coverage, relates to the number of children immunized against a particular disease as a proportion of the children eligible to have received the appropriate vaccine. Uptake rates are calculated as follows:
(Total number of eligible children immunized /Total number of eligible children in the population) X 100
About this Dataset
Data Info
| | |
| --- | --- |
| Date Created | 2019-03-26 |
| Last Modified | 2019-03-26 |
| Version | 2019-03-26 |
| Update Frequency | Annual |
| Temporal Coverage | 2018 |
| Spatial Coverage | Scotland |
| Source | John Snow Labs; Information Services Division (ISD) Scotland; |
| Source License URL | |
| Source License Requirements | N/A |
| Source Citation | N/A |
| Keywords | Immunization, Child Immunization, SIMD, Scottish Annual Uptake Rates, Scottish Vaccination Programmes, Vaccine Statistics in Scotland, Rotavirus Vaccine, Measles, Mumps And Rubella (MMR) Vaccine |
| Other Titles | Child Immunization Annual Uptake Rates By NHS Board, Immunization Uptake Rates By SIMD 2016 Quintile in Scotland, Immunization Uptake Rates for Children in Scotland at 12 and 24 Months |
Data Fields
| Name | Description | Type | Constraints |
| --- | --- | --- | --- |
| NHS_Board_Of_Residence | The NHS board of residence in Scotland for which the data is recorded. | string | - |
| Scottish_Index_of_Multiple_Deprivation_2016_Quintile | Indicates the Scottish Index of Multiple Deprivation 2016 (Scotland level) Quintile (population weighted). There are 1 to 5 values in SIMD quintiles in which 1 indicates the most deprived and 5 indicates the least deprived. There are a small number of records where it is not possible to derive a SIMD quintile from the postcode recorded. This category is labeled as 'unknown'. | string | - |
| Number_In_Cohort_12_Months | Identifies the number in cohort by 12 months of age. | integer | level : Ratio |
| Number_Completed_Course_6_In_1_for_12_Months | Indicates the number of completed course for 6-in-1 by 12 months of age. The 6-in-1 vaccine (3 doses) protects against diphtheria, tetanus, pertussis, polio, Haemophilus influenza type b (Hib) and Hepatitis B. | integer | level : Ratio |
| Number_Completed_Course_PCV_12_Months | Indicates the number of completed course for Pneumococcal conjugate vaccine for 2 doses under 12 months of age. | integer | level : Ratio |
| Number_Completed_Course_Rotavirus_12_Months | Indicates the percentage of completed course for Rotavirus by 12 months of age. The children require two doses of vaccine, given at least four weeks apart. The first dose should be given before 15 weeks of age. The second dose should be given before 24 weeks of age. | integer | level : Ratio |
| Number_Completed_Course_MenB_12_Months | Indicates the number of completed course for Meningococcal serogroup B vaccine for 2 doses under 12 months of age. | integer | level : Ratio |
| Percentage_Completed_Course_6_In_1_for_12_Months | Indicates the percentage of completed course for 6-in-1 by 12 months of age. The 6-in-1 vaccine (3 doses) protects against diphtheria, tetanus, pertussis, polio, Haemophilus influenza type b (Hib) and Hepatitis B. | number | level : Ratio |
| Percentage_Completed_Course_PCV_12_Months | Indicates the percentage of completed course for Pneumococcal conjugate vaccine for 2 doses under 12 months of age. | number | level : Ratio |
| Percentage_Completed_Course_Rotavirus_12_Months | Indicates the percentage of completed course for Rotavirus by 12 months of age. The children require two doses of vaccine, given at least four weeks apart. The first dose should be given before 15 weeks of age. The second dose should be given before 24 weeks of age. | number | level : Ratio |
| Percentage_Completed_Course_MenB_12_Months | Indicates the percentage of completed course for Meningococcal serogroup B vaccine for 2 doses under 12 months of age. | number | level : Ratio |
| Number_In_Cohort_24_Months | Identifies the number in cohort by 24 months of age. | integer | level : Ratio |
| Number_Completed_Course_MMR1_24_Months | Indicates the number of completed course for Measles, mumps, and rubella vaccine (1 dose over 12 months). | integer | level : Ratio |
| Number_Completed_Course_Hib_Or_MenC_24_Months | Indicates the number of completed course for Hib Or MenC for 1 dose after 12 months of age. | integer | level : Ratio |
| Number_Completed_Course_PCVB_24_Months | Indicates the number of completed course for Pneumococcal Conjugate Vaccine booster for 1 dose after 12 months of age. | integer | level : Ratio |
| Number_Completed_Course_MenB_Booster_24_Months | Indicates the number of completed course for Meningococcal serogroup B vaccine for 3 doses before 24 months of which one after 12 months, or 2 doses of which both after 12 months. | integer | level : Ratio |
| Percentage_Completed_Course_MMR1_24_Months | Indicates the percentage of completed course for Measles, mumps, and rubella vaccine for 1 dose after 12 months of age. | number | level : Ratio |
| Percentage_Completed_Course_Hib_Or_MenC_24_Months | Indicates the percentage of completed course for Hib Or MenC for 1 dose after 12 months of age. | number | level : Ratio |
| Percentage_Completed_Course_PCVB_24_Months | Indicates the percentage of completed course for Pneumococcal Conjugate Vaccine booster for 1 dose after 12 months of age. | number | level : Ratio |
| Percentage_Completed_Course_MenB_Booster_24_Months | Indicates the percentage of completed course for Meningococcal serogroup B vaccine for 3 doses before 24 months of which one after 12 months, or 2 doses of which both after 12 months. | number | level : Ratio |
Data Preview
| | | | | | | | | | | | | | | | | | | | |
| --- | --- | --- | --- | --- | --- | --- | --- | --- | --- | --- | --- | --- | --- | --- | --- | --- | --- | --- | --- |
| NHS Board Of Residence | Scottish Index of Multiple Deprivation 2016 Quintile | Number In Cohort 12 Months | Number Completed Course 6 In 1 for 12 Months | Number Completed Course PCV 12 Months | Number Completed Course Rotavirus 12 Months | Number Completed Course MenB 12 Months | Percentage Completed Course 6 In 1 for 12 Months | Percentage Completed Course PCV 12 Months | Percentage Completed Course Rotavirus 12 Months | Percentage Completed Course MenB 12 Months | Number In Cohort 24 Months | Number Completed Course MMR1 24 Months | Number Completed Course Hib Or MenC 24 Months | Number Completed Course PCVB 24 Months | Number Completed Course MenB Booster 24 Months | Percentage Completed Course MMR1 24 Months | Percentage Completed Course Hib Or MenC 24 Months | Percentage Completed Course PCVB 24 Months | Percentage Completed Course MenB Booster 24 Months |
| Scotland | Total | 53413 | 51228 | 51460 | 49590 | 50982 | 95.91 | 96.34 | 92.84 | 95.45 | 55337 | 52137 | 52361 | 52390 | 51863 | 94.22 | 94.62 | 94.67 | 93.72 |
| Scotland | 1 | 13181 | 12461 | 12565 | 11934 | 12471 | 94.54 | 95.33 | 90.54 | 94.61 | 13270 | 12251 | 12347 | 12358 | 12186 | 92.32 | 93.04 | 93.13 | 91.83 |
| Scotland | 2 | 10790 | 10304 | 10358 | 9992 | 10275 | 95.5 | 96.0 | 92.6 | 95.23 | 11097 | 10419 | 10480 | 10504 | 10403 | 93.89 | 94.44 | 94.66 | 93.75 |
| Scotland | 3 | 9704 | 9334 | 9368 | 9016 | 9274 | 96.19 | 96.54 | 92.91 | 95.57 | 10106 | 9517 | 9560 | 9566 | 9485 | 94.17 | 94.6 | 94.66 | 93.86 |
| Scotland | 4 | 10030 | 9701 | 9711 | 9450 | 9626 | 96.72 | 96.82 | 94.22 | 95.97 | 10580 | 10065 | 10100 | 10105 | 10018 | 95.13 | 95.46 | 95.51 | 94.69 |
| Scotland | 5 | 9565 | 9294 | 9323 | 9067 | 9201 | 97.17 | 97.47 | 94.79 | 96.19 | 10162 | 9773 | 9762 | 9744 | 9659 | 96.17 | 96.06 | 95.89 | 95.05 |
| Scotland | unknown | 143 | 134 | 135 | 131 | 135 | 93.71 | 94.41 | 91.61 | 94.41 | 122 | 112 | 112 | 113 | 112 | 91.8 | 91.8 | 92.62 | 91.8 |
| Ayrshire & Arran | Total | 3352 | 3245 | 3252 | 3116 | 3240 | 96.81 | 97.02 | 92.96 | 96.66 | 3569 | 3407 | 3422 | 3421 | 3400 | 95.46 | 95.88 | 95.85 | 95.26 |
| Ayrshire & Arran | 1 | 1279 | 1230 | 1233 | 1175 | 1230 | 96.2 | 96.4 | 91.9 | 96.2 | 1320 | 1242 | 1249 | 1250 | 1241 | 94.09 | 94.62 | 94.7 | 94.02 |
| Ayrshire & Arran | 2 | 850 | 826 | 828 | 801 | 823 | 97.2 | 97.4 | 94.2 | 96.8 | 872 | 838 | 843 | 840 | 838 | 96.1 | 96.67 | 96.33 | 96.1 |