Others titles
Blood Lab Clinical Diagnostic Laboratory Fee Schedule
Medicare Schedule Clinical Diagnostic Laboratory Fee Schedule
Clinical Laboratory Diagnostic Fee Schedule
Keywords
Medicare Schedule
Diagnostic Laboratory Fee Schedule
Outpatient Clinical Laboratory Services
Outpatient Laboratory Services
Medicare Clinical Laboratory Fee Schedule
Critical Access Hospitals
Blood Laboratories
Medicare Laboratory Schedule
Clinical Laboratories
Diagnostic Laboratories
Clinical Diagnostic Laboratory Fee Schedule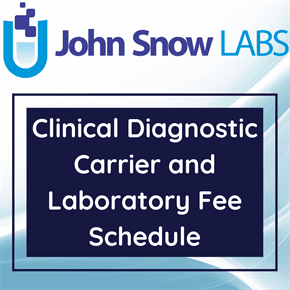 This dataset contains the clinical diagnostic laboratory fee schedule revised for April 2023. The update includes all changes identified in Change Request (CR) 13082.
Log in to download
Complexity
Get The Data
For getting access to data download links please read and accept the end-user license agreement.
Your Data License
Research

Non-Commercial, Share-Alike, Attribution

Free Forever

Commercial

Commercial Use, Remix & Adapt, White Label Log in to download
Description
Outpatient clinical laboratory services are paid based on a fee schedule in accordance with Section 1833(h) of the Social Security Act. Payment is the lesser of the amount billed, the local fee for a geographic area, or a national limit. In accordance with the statute, the national limits are set at a percent of the median of all local fee schedule amounts for each laboratory test code. Each year, fees are updated for inflation based on the percentage change in the Consumer Price Index. However, legislation by Congress can modify the update to the fees. Co-payments and deductibles do not apply to services paid under the Medicare clinical laboratory fee schedule.
Each year, new laboratory test codes are added to the clinical laboratory fee schedule and corresponding fees are developed in response to a public comment process. Also, for a cervical or vaginal smear test (pap smear), the fee cannot be less than a national minimum payment amount, initially established at $14.60 and updated each year for inflation.
Critical access hospitals are paid for outpatient laboratory tests on a reasonable cost basis, instead of by the fee schedule. Hospitals with fewer than 50 beds in qualified rural areas—those with population densities in the lowest quartile of all rural areas—are paid based on a reasonable cost basis for outpatient clinical laboratory tests for cost reporting.
Note: Where modifier is shown in the dataset, QW denotes a CLIA waiver test.The QW modifier states that the tests you are performing are "simple laboratory examinations and procedures that have an insignificant risk of an erroneous result". They are considered "CLIA waived" and therefore require a "CLIA Certificate of Waiver".
About this Dataset
Data Info
| | |
| --- | --- |
| Date Created | 2015-12-15 |
| Last Modified | 2023-04-03 |
| Version | 2023-04-03 |
| Update Frequency | Annual |
| Temporal Coverage | 2023 |
| Spatial Coverage | United States |
| Source | John Snow Labs; Centers for Medicare and Medicaid Services; |
| Source License URL | |
| Source License Requirements | N/A |
| Source Citation | N/A |
| Keywords | Medicare Schedule, Diagnostic Laboratory Fee Schedule, Outpatient Clinical Laboratory Services, Outpatient Laboratory Services, Medicare Clinical Laboratory Fee Schedule, Critical Access Hospitals, Blood Laboratories, Medicare Laboratory Schedule, Clinical Laboratories, Diagnostic Laboratories |
| Other Titles | Blood Lab Clinical Diagnostic Laboratory Fee Schedule, Medicare Schedule Clinical Diagnostic Laboratory Fee Schedule, Clinical Laboratory Diagnostic Fee Schedule |
Data Fields
| Name | Description | Type | Constraints |
| --- | --- | --- | --- |
| Year | Calender year associated with the CLFS (Clinical Laboratory Fee Schedule). | date | - |
| Quarter | Quarter associated with the CLFS (Clinical Laboratory Fee Schedule). | string | - |
| HCPCS_Code | HCPCS, The Healthcare Common Procedure Coding System, includes All current year active CPT and alpha-numeric codes subject to the Clinical Laboratory Fee Schedule. | string | required : 1 |
| Description_of_HCPCS_Code | Short description of HCPCS Code | string | required : 1 |
| Modifier | Where modifier is shown, QW denotes a CLIA waiver test. The QW modifier states that the tests you are performing are "simple laboratory examinations and procedures that have an insignificant risk of an erroneous result". They are considered "CLIA waived" and therefore require a "CLIA Certificate of Waiver". | string | - |
| Indicator | Indicates whether it is National or local pricing indicator | string | required : 1 |
| Payment_Rate | Indicates the payment amount associated with each HCPCS code. | number | level : Ratio |
Data Preview
| | | | | | | |
| --- | --- | --- | --- | --- | --- | --- |
| Year | Quarter | HCPCS Code | Description of HCPCS Code | Modifier | Indicator | Payment Rate |
| 2023 | Q1 | 0001U | Red blood cell typing | | N | 720.0 |
| 2023 | Q1 | 0002M | Molecular pathology test for liver disease, including alcohol liver disease | | N | 503.4 |
| 2023 | Q1 | 0002U | Measurement of substances in urine to predict likelihood of polyps in large | | N | 25.0 |
| 2023 | Q1 | 0003M | Molecular pathology test for liver disease, including non-alcohol liver disease | | N | 503.4 |
| 2023 | Q1 | 0003U | Measurement of proteins associated with ovarian cancer in serum | | N | 950.0 |
| 2023 | Q1 | 0004M | Molecular pathology test for genetic analysis of curved spine deformity | | N | 79.0 |
| 2023 | Q1 | 0005U | Test for detecting genes associated with prostate cancer in urine | | N | 760.0 |
| 2023 | Q1 | 0006M | Molecular pathology test for genetic analysis of liver tumor (HeproDX) | | N | 150.0 |
| 2023 | Q1 | 0007M | Molecular pathology test for genetic analysis of tumors in the digestive system | | N | 375.0 |
| 2023 | Q1 | 0007U | Testing for presence of drug in urine | | N | 114.43 |