Others titles
DUR
Drug Utilization Annual Report
Drug Utilization Survey
National Summary State Drug
Keywords
CMS Drug Utilization
DUR
Prescription Drug Monitoring
Managed Care Organizations
Medicare Utilization Review
Medicaid Drug Utilization Review
CMS Annual Report Survey
Utilization Management
CMS Drug Reports
CMS Opioid Utilization Review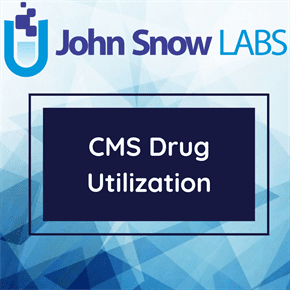 This dataset contains information about the opioid products in the Medicaid Drug Utilization Review Program as collected through the Newly Revised Drug Utilization Review (DUR) Annual Report Survey. This survey included since 2014 new sections on fraud, waste and abuse, Prescription Drug Monitoring Program and state Managed Care Organizations. This specific dataset is an extraction of the opioids in the main DUR dataset.
Log in to download
Complexity
Get The Data
For getting access to data download links please read and accept the end-user license agreement.
Your Data License
Research

Non-Commercial, Share-Alike, Attribution

Free Forever

Commercial

Commercial Use, Remix & Adapt, White Label Log in to download
Description
The Medicaid Drug Utilization Review (DUR) Program promotes patient safety through state-administered utilization management tools and systems that interface with CMS' Medicaid Management Information Systems (MMIS). Medicaid DUR is a two-phase process that is conducted by the Medicaid state agencies. In the first phase (prospective DUR) the state's Medicaid agency's electronic monitoring system screens prescription drug claims to identify problems such as therapeutic duplication, drug-disease contraindications, incorrect dosage or duration of treatment, drug allergy and clinical misuse or abuse. The second phase (retrospective DUR) involves ongoing and periodic examination of claims data to identify patterns of fraud, abuse, gross overuse, or medically unnecessary care and implements corrective action when needed.
On an annual basis, states are required to report on their state's prescribing habits, cost savings generated from their DUR programs and their program's operations, including the adoption of new innovative DUR practices via the Medicaid Drug Utilization Review Annual Report Survey.
The information for the NDCs in this dataset represents a Managed Care Organization Utilization record.
About this Dataset
Data Info
| | |
| --- | --- |
| Date Created | 2011 |
| Last Modified | 2015 |
| Version | 2015 |
| Update Frequency | Annual |
| Temporal Coverage | 2015 |
| Spatial Coverage | United States |
| Source | John Snow Labs; Centers for Medicare & Medicaid Services; |
| Source License URL | |
| Source License Requirements | N/A |
| Source Citation | N/A |
| Keywords | CMS Drug Utilization, DUR, Prescription Drug Monitoring, Managed Care Organizations, Medicare Utilization Review, Medicaid Drug Utilization Review, CMS Annual Report Survey, Utilization Management, CMS Drug Reports |
| Other Titles | DUR, Drug Utilization Annual Report, Drug Utilization Survey, National Summary State Drug |
Data Fields
| Name | Description | Type | Constraints |
| --- | --- | --- | --- |
| Labeler_Code | First segment of National Drug Code (NDC1) that identifies the manufacturer, labeler, relabeler, packager, repackager or distributor of the drug. | integer | level : Nominal |
| Product_Code | Second segment of National Drug Code (NDC2) | integer | level : Nominal |
| Package_Size | Third segment of National Drug Code (NDC3) | integer | level : Nominal |
| Period_Covered | Calendar year and quarter covered by data. Values: 20151 = January, 1 – March 31, 20152 = April 1 – June 30, 20153 = July 1 – September 30, 20154 = October 1 – December 31 | string | - |
| Product_FDA_Name | (Abbreviated) – First 10 characters of product name as approved by the FDA listing form | string | - |
| Units_Reimbursed_USD | The total number of units (based on Unit Type) of the drug (11-digit NDC level) reimbursed by the state during the period covered. | number | - |
| Number_Of_Prescriptions | The number of prescriptions reimbursed (by the Medicaid Program ONLY) to pharmacists for the (11-digit NDC) drug for the period covered. | integer | level : Ratio |
| Total_Reimbursed_USD | The total amount reimbursed by both Medicaid and non-Medicaid entities to pharmacies for the (11-digit NDC) drug in the period covered (two below fields added together). This total is not reduced or affected by Medicaid rebates paid to the state. This amount represents both the Federal and State Reimbursement and is inclusive of dispensing fees. | number | - |
| Medicaid_Reimbursed_USD | The amount reimbursed (by the Medicaid Program Only) to pharmacies for the (11-digit NDC) drug in the period covered. | number | - |
| Non_Medicaid_Amount_Reimbursed_USD | The amount reimbursed (by non-Medicaid entities) to pharmacies for the (11-digit NDC) drug in the period covered. The Non-Medicaid Amount Reimbursed includes any reimbursement amount for which the state is not eligible for Federal Matching Funds. | number | - |
Data Preview
| | | | | | | | | | |
| --- | --- | --- | --- | --- | --- | --- | --- | --- | --- |
| Labeler Code | Product Code | Package Size | Period Covered | Product FDA Name | Units Reimbursed USD | Number Of Prescriptions | Total Reimbursed USD | Medicaid Reimbursed USD | Non Medicaid Amount Reimbursed USD |
| 54 | 3545 | 63 | 20151 | MEPERIDINE | 13822.268 | 1113 | 4183.04 | 4169.29 | 13.75 |
| 54 | 3545 | 63 | 20152 | MEPERIDINE | 13520.263 | 1405 | 4951.63 | 4941.68 | 9.95 |
| 54 | 3545 | 63 | 20153 | MEPERIDINE | 17491.773 | 1712 | 5768.53 | 5735.79 | 32.74 |
| 54 | 3553 | 44 | 20151 | METHADONE | 6889.5 | 82 | 2957.08 | 2733.38 | 223.7 |
| 54 | 3553 | 44 | 20152 | METHADONE | 25854.0 | 60 | 3232.71 | 3135.2 | 97.51 |
| 54 | 3553 | 44 | 20153 | METHADONE | 8469.6 | 75 | 4233.72 | 3518.72 | 715.0 |
| 54 | 3555 | 63 | 20151 | METHADONE | 88702.395 | 560 | 6364.74 | 6279.2 | 85.54 |
| 54 | 3555 | 63 | 20152 | METHADONE | 112899.95 | 583 | 7783.52 | 7479.49 | 304.03 |
| 54 | 3555 | 63 | 20153 | METHADONE | 88938.25 | 395 | 19301.39 | 19092.51 | 208.88 |
| 54 | 3556 | 63 | 20151 | METHADONE | 73213.65 | 172 | 8518.2 | 8348.87 | 169.33 |