Others titles
Transparency Reports and Reporting of Physician Ownership or Investment Interests
Ownership Payment Data
Ownership and Investment Interest Analytics
Manufacturer or GPO Analytics (who had ownership or investment interests from physicians)
Interest held by Physician or Immediate family member Analytics
Disputed / Undisputed Records Analytics
Keywords
Open Payments
Affordable Care Act
Sunshine Act
Transparency programs
Physician Ownership
Physician Medicare Payments
Physician Reimbursements
CMS Physician Ownership or Investment Interests Details 2013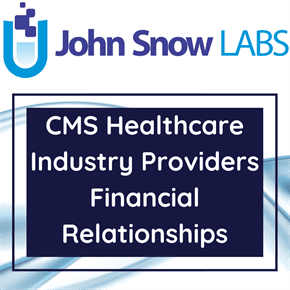 Dataset for reported Ownership and Investment Interest Information for the 2013 program year. It is the Information about physicians who hold an ownership or investment interest in an applicable manufacturer or applicable Group Purchasing Organization (GPO) or who have an immediate family member holding such interest.
This dataset has been refreshed to include the most recent attested-to data for program year 2013.
Log in to download
Complexity
Get The Data
The data in CSV format

DOWNLOAD

Metadata in Human Readable format (PDF)

DOWNLOAD

Metadata in Machine Readable format (JSON)

DOWNLOAD
Your Data License
Research

Non-Commercial, Share-Alike, Attribution

Free Forever

Commercial

Commercial Use, Remix & Adapt, White Label Buy Subscription
Description
Open Payments, which is managed by the Centers for Medicare & Medicaid Services (CMS), is a national disclosure program created by the Affordable Care Act (ACA) that promotes transparency and accountability by helping consumers understand the financial relationships between pharmaceutical and medical device industries and physicians and teaching hospitals. These financial relationships may include consulting fees, research grants, travel reimbursements, and payments made from the industry to medical practitioners.
Physician Ownership Details contains the complete published data set for physician ownership or investment interest data. Physician ownership records provide information on physician ownership or investment interests in an applicable manufacturer or applicable GPO.
Each record now includes a Change Type indicator field. In General Payment, Research Payment, and Ownership/Investment records, the Change Type value indicates if the record is new (NEW), if the record is being published for the first time despite having been submitted during an earlier submission period due to the record not being eligible for publication until the current publication (ADD), if the record has been previously published but modified since its last publication (CHANGED), or if the record is being republished without change in the current publication (UNCHANGED). A record whose only change since the last publication is a change to its dispute status is categorized as a changed record.
About this Dataset
Data Info
| | |
| --- | --- |
| Date Created | 2014-06 |
| Last Modified | 2020-01-03 |
| Version | 2020-01-03 |
| Update Frequency | Annual |
| Temporal Coverage | 2013-08 to 2013-12 |
| Spatial Coverage | United States |
| Source | John Snow Labs; Centers of Medicare and Medicaid Services (CMS); |
| Source License URL | |
| Source License Requirements | N/A |
| Source Citation | N/A |
| Keywords | Open Payments, Affordable Care Act, Sunshine Act, Transparency programs, Physician Ownership, Physician Medicare Payments, Physician Reimbursements |
| Other Titles | Transparency Reports and Reporting of Physician Ownership or Investment Interests, Ownership Payment Data, Ownership and Investment Interest Analytics, Manufacturer or GPO Analytics (who had ownership or investment interests from physicians), Interest held by Physician or Immediate family member Analytics, Disputed / Undisputed Records Analytics |
Data Fields
| Name | Description | Type | Constraints |
| --- | --- | --- | --- |
| Change_Type | Indicator showing if the payment record is New, Added, Modified, or Unchanged in the current publication compared to the previous publication. | string | required : 1 enum : Array maxLength : 20 |
| Physician_Profile_ID | System-generated unique identifier for physician profile receiving the payment or other transfer of value | integer | level : Nominal required : 1 |
| Physician_First_Name | First name of the physician (covered recipient) | string | required : 1 maxLength : 20 |
| Physician_Middle_Name | Middle name of the physician (covered recipient) | string | maxLength : 20 |
| Physician_Last_Name | Last name of the physician (covered recipient) | string | required : 1 maxLength : 35 |
| Physician_Name_Suffix | Name suffix of the physician (covered recipient) | string | maxLength : 5 |
| Recipient_Primary_Business_Street_Address_Line1 | The first line of the primary practice street address of the physician | string | required : 1 maxLength : 55 |
| Recipient_Primary_Business_Street_Address_Line2 | The second line of the primary practice street address of the physician | string | maxLength : 55 |
| Recipient_City | The primary practice city of the physician | string | required : 1 maxLength : 40 |
| Recipient_State | The primary practice/business state or territory abbreviation of the of the physician, if the primary practice/business address is in the United States | string | maxLength : 2 |
| Recipient_Zip_Code | The 9-digit zip code for the primary practice location of the physician, if the primary practice address is in the United States | string | maxLength : 10 |
| Recipient_Country | The primary practice/business address country name of the physician | string | required : 1 maxLength : 100 |
| Recipient_Province | The primary practice/business province name of the physician, if the primary practice/business address is outside the United States, and if applicable | string | maxLength : 20 |
| Recipient_Postal_Code | The international postal code for the primary practice/business location of the physician, if the primary practice/business address is outside the United States | string | maxLength : 20 |
| Physician_Primary_Type | Primary type name of medicine practiced by the physician (covered recipient) | string | required : 1 maxLength : 50 |
| Physician_Specialty | Physician's single specialty chosen from the standardized "provider taxonomy" code list | string | maxLength : 300 |
| Record_ID | Identifier for the ownership payment record | integer | level : Nominal required : 1 |
| Program_Year | The year in which the ownership/investment interest occurred | date | required : 1 |
| Total_Amount_Invested_USDollars | The dollar amount the physician or immediate family member has invested in the applicable manufacturer or applicable GPO in US dollars | number | level : Ratio required : 1 |
| Value_of_Interest | The value of ownership or investment interest held by the physician or immediate family member in the applicable manufacturer or applicable GPO in US dollars | number | level : Ratio required : 1 |
| Terms_of_Interest | Description of any applicable terms of the ownership or investment interest | string | maxLength : 500 |
| Submitting_Applicable_Manufacturer_or_Applicable_GPO_Name | Textual proper name of either the submitting applicable manufacturer or applicable GPO | string | required : 1 maxLength : 100 |
| Applicable_Manufacturer_or_Applicable_GPO_Making_Payment_ID | ID of either the submitting applicable manufacturer or applicable GPO | integer | level : Nominal required : 1 |
| Applicable_Manufacturer_or_Applicable_GPO_Making_Payment_Name | Textual proper name of either the submitting applicable manufacturer or applicable GPO | string | required : 1 maxLength : 100 |
| Applicable_Manufacturer_or_Applicable_GPO_Making_Payment_State | State name of the submitting applicable manufacturer or applicable GPO | string | maxLength : 2 |
| Applicable_Manufacturer_or_Applicable_GPO_Making_Payment_Country | Country name of the submitting applicable manufacturer or applicable GPO | string | required : 1 maxLength : 100 |
| Is_Dispute_Status_for_Publication | Indicates whether the payment or other transfer of value is disputed by the physician | boolean | required : 1 |
| Interest_Held_by_Physician_or_an_Immediate_Family_Member | Indicator showing if the ownership or investment interest is held by the physician themselves or by an immediate family member | string | required : 1 maxLength : 50 |
| Payment_Publication_Date | The predefined date when the payment or other transfer of value is scheduled to be published | date | required : 1 |
Data Preview
| | | | | | | | | | | | | | | | | | | | | | | | | | | | | |
| --- | --- | --- | --- | --- | --- | --- | --- | --- | --- | --- | --- | --- | --- | --- | --- | --- | --- | --- | --- | --- | --- | --- | --- | --- | --- | --- | --- | --- |
| Change Type | Physician Profile ID | Physician First Name | Physician Middle Name | Physician Last Name | Physician Name Suffix | Recipient Primary Business Street Address Line1 | Recipient Primary Business Street Address Line2 | Recipient City | Recipient State | Recipient Zip Code | Recipient Country | Recipient Province | Recipient Postal Code | Physician Primary Type | Physician Specialty | Record ID | Program Year | Total Amount Invested USDollars | Value of Interest | Terms of Interest | Submitting Applicable Manufacturer or Applicable GPO Name | Applicable Manufacturer or Applicable GPO Making Payment ID | Applicable Manufacturer or Applicable GPO Making Payment Name | Applicable Manufacturer or Applicable GPO Making Payment State | Applicable Manufacturer or Applicable GPO Making Payment Country | Is Dispute Status for Publication | Interest Held by Physician or an Immediate Family Member | Payment Publication Date |
| UNCHANGED | 914500 | Anthony | JOSEPH | Reganato | | 2879 W 95TH ST STE 131 | | NAPERVILLE | IL | 60564 | United States | | | Doctor of Dentistry | Dental Providers|Dentist | 11934357 | 2013 | 1 | 7259 | Rolling Common Stock | BioHorizons Implant Systems Inc. | 100000005633 | BioHorizons Implant Systems Inc. | AL | United States | False | Physician Covered Recipient | 2020-01-17 |
| UNCHANGED | 653431 | RANDOLPH | R | Resnik | | 1082 BOWER HILL RD | | PITTSBURGH | PA | 15243 | United States | | | Doctor of Dentistry | Dental Providers|Dentist|Prosthodontics | 11934662 | 2013 | 1 | 19356 | Rolling Common Stock | BioHorizons Implant Systems Inc. | 100000005633 | BioHorizons Implant Systems Inc. | AL | United States | False | Physician Covered Recipient | 2020-01-17 |
| UNCHANGED | 5545 | Robert | G | Ritter | | 500 UNIVERSITY BLVD STE 109 | | JUPITER | FL | 33458 | United States | | | Doctor of Dentistry | Dental Providers|Dentist|General Practice | 11934678 | 2013 | 1 | 29034 | Rolling Common Stock | BioHorizons Implant Systems Inc. | 100000005633 | BioHorizons Implant Systems Inc. | AL | United States | False | Physician Covered Recipient | 2020-01-17 |
| UNCHANGED | 276468 | Stephen | Curtis | Wallace | | 2525 Delaney Ave | | Wilmington | NC | 28403 | United States | | | Doctor of Dentistry | Dental Providers|Dentist|Periodontics | 11934794 | 2013 | 1 | 8709 | Rolling Common Stock | BioHorizons Implant Systems Inc. | 100000005633 | BioHorizons Implant Systems Inc. | AL | United States | False | Physician Covered Recipient | 2020-01-17 |
| UNCHANGED | 480736 | JEFFREY | L | CUTLER | | 850 E HARVARD AVE | STE 505 | DENVER | CO | 80210 | United States | | | Medical Doctor | Allopathic & Osteopathic Physicians|Otolaryngology|Otolaryngic Allergy | 13026041 | 2013 | 0 | 9196 | Stock | Entellus Medical, Inc. | 100000000211 | Entellus Medical, Inc. | MN | United States | False | Physician Covered Recipient | 2020-01-17 |
| UNCHANGED | 459132 | JAMES | A | DUNCAVAGE | | 3601 TVC | | NASHVILLE | TN | 37232 | United States | | | Medical Doctor | Allopathic & Osteopathic Physicians|Otolaryngology | 13026042 | 2013 | 0 | 9196 | Stock | Entellus Medical, Inc. | 100000000211 | Entellus Medical, Inc. | MN | United States | False | Physician Covered Recipient | 2020-01-17 |
| UNCHANGED | 97204 | Kenneth | | Ausloos | | 3600 Gaston Ave | | Dallas | TX | 75246 | United States | | | Medical Doctor | Allopathic & Osteopathic Physicians|Internal Medicine|Pulmonary Disease | 13359253 | 2013 | 1309272 | 7162710 | Shares | Medline Industries, Inc. | 100000005431 | Medline Industries, Inc. | IL | United States | False | Immediate family member | 2020-01-17 |
| UNCHANGED | 575081 | Andrea | | Buck | | 103 Old Marlton Pike | Suite 215 | Medford | NJ | 8055 | United States | | | Doctor of Osteopathy | Allopathic & Osteopathic Physicians|Dermatology | 13359254 | 2013 | 366650 | 411650 | Shares | Medline Industries, Inc. | 100000005431 | Medline Industries, Inc. | IL | United States | False | Immediate family member | 2020-01-17 |
| UNCHANGED | 132361 | Thomas | F | Deering | | 275 Collier RD NW | Ste 500 | Atlanta | GA | 30309 | United States | | | Medical Doctor | Allopathic & Osteopathic Physicians|Internal Medicine|Clinical Cardiac Electrophysiology | 14336936 | 2013 | 100000 | 265650 | stock | CorMatrix Cardiovascular Inc. | 100000010373 | CorMatrix Cardiovascular Inc. | GA | United States | False | Physician Covered Recipient | 2020-01-17 |
| UNCHANGED | 151784 | Terry | C | Stelly | | 1855 Springhill Ave | | Mobile | AL | 36607 | United States | | | Medical Doctor | Allopathic & Osteopathic Physicians|Thoracic Surgery (Cardiothoracic Vascular Surgery) | 14336938 | 2013 | 18750 | 28125 | stock | CorMatrix Cardiovascular Inc. | 100000010373 | CorMatrix Cardiovascular Inc. | GA | United States | False | Physician Covered Recipient | 2020-01-17 |