Others titles
Community Health Indicators New York
Community Health Assessment Reports New York
Community Health Profiles New York
Keywords
Health Indicators
Health
Health Status
Health Assessment
Community Health
Healthy Community
Community Health Profiles
County Rankings
Community Health Indicator Reports NY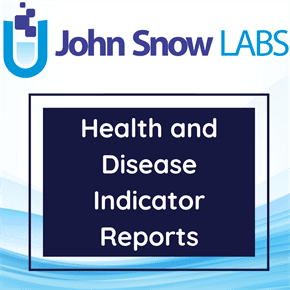 This dataset contains the latest community health indicator data available. New York State Community Health Indicator Reports (CHIRS) were developed in 2012, and are updated annually to consolidate and improve data linkages for the health indicators included in the County Health Assessment Indicators (CHAI) for all communities in New York.
Log in to download
Complexity
Get The Data
For getting access to data download links please read and accept the end-user license agreement.
Your Data License
Research

Non-Commercial, Share-Alike, Attribution

Free Forever

Commercial

Commercial Use, Remix & Adapt, White Label Log in to download
Description
The New York State Community Health Indicator Reports (CHIRS) provide data for over 300 health indicators, organized by 15 health topic and data tables with links to trend graphs and maps.
Data tables are provided for all 62 New York State counties, 11 regions (including New York City), the State excluding New York City, and New York State.
Data available from this source can be accessed by Health indicator data for all counties, regions, and state by health topics; Health indicator data by counties or by Data sources, methodology and data presentation.
This dataset, however, consists of various types of indicators with different units of measurement such as rates per 10,000 population, rates per 100,000 population, and percentages. Therefore, comparisons of data across indicators might not be valid.
About this Dataset
Data Info
| | |
| --- | --- |
| Date Created | 2014-07-04 |
| Last Modified | 2017-09-16 |
| Version | 2017-09-16 |
| Update Frequency | Quarterly |
| Temporal Coverage | 2008-2017 |
| Spatial Coverage | New York, United States |
| Source | John Snow Labs; Data State of New York; |
| Source License URL | |
| Source License Requirements | N/A |
| Source Citation | N/A |
| Keywords | Health Indicators, Health, Health Status, Health Assessment, Community Health, Healthy Community, Community Health Profiles, County Rankings |
| Other Titles | Community Health Indicators New York, Community Health Assessment Reports New York, Community Health Profiles New York |
Data Fields
| Name | Description | Type | Constraints |
| --- | --- | --- | --- |
| County_Name | Description of the geographical region or subdivision of New York City in terms of its Community Health Indicator Reports. | string | required : 1 |
| Health_Topic_Number | Description of the assigned health topic number. | integer | level : Nominalrequired : 1 |
| Health_Topic | Description of the specific health topic for the Community Health Indicator Reports. | string | required : 1 |
| Indicator_Number | Description of the indicator number. | string | required : 1 |
| Indicator_Unit_of_Measurement | Description of the units of measurement used for the specific population. | string | required : 1 |
| Event_Count | Description of the number of events recorded. | integer | level : Ratio |
| Average_Number_Of_Denominator | Description of the average number representing the total population. | integer | level : Ratio |
| Measure_Unit | Description of the unit of measurement used for the data whether rate or percentage. | string | - |
| Percent_Or_Rate | Description of the percentage or rate. | number | level : Ratio |
| Lower_Limit_Of_95_Percent_Confidence_Interval | Description of the lower limits in the range of values that have been given specific parameters to it. | number | level : Ratio |
| Upper_Limit_Of_95_Percent_Confidence_Interval | Description of the upper limits in the range of values that have been given specific parameters to it. | number | level : Ratio |
| Data_Comments | Description of special notes or comments related to the survey value. | string | - |
| Quartile | Description of the middle value between the lower and the upper limits of the data set. | string | - |
| Data_Years | Description of the coverage years for the survey. | string | required : 1 |
| Data_Source | Description of the source of data. | string | required : 1 |
| Mapping_Distribution | Description of the graphic representation of elements of importance to the dataset such as or pertaining to indicators, event counts or geographic occurrence of an item. | integer | level : Ratio |
| Latitude | The description of the mapping in terms of latitude of the County where the surveillance report was gathered. | number | - |
| Longitude | The description of the mapping in terms of longitude of the County where the surveillance report was gathered. | number | - |
Data Preview
| | | | | | | | | | | | | | | | | | |
| --- | --- | --- | --- | --- | --- | --- | --- | --- | --- | --- | --- | --- | --- | --- | --- | --- | --- |
| County Name | Health Topic Number | Health Topic | Indicator Number | Indicator Unit of Measurement | Event Count | Average Number Of Denominator | Measure Unit | Percent Or Rate | Lower Limit Of 95 Percent Confidence Interval | Upper Limit Of 95 Percent Confidence Interval | Data Comments | Quartile | Data Years | Data Source | Mapping Distribution | Latitude | Longitude |
| Albany | 6 | Family Planning/Natality Indicators | b1 | Percentage of births within 24 months of previous pregnancy | 2043 | 3144 | Percentage | 21.7 | | | | 0 - < 22.7 : Q1 & Q2 | 2012-2014 | 2012-2014 Vital Statistics Data as of May, 2016 | 1.0 | 42.678065999999994 | -73.814233 |
| Allegany | 6 | Family Planning/Natality Indicators | b1 | Percentage of births within 24 months of previous pregnancy | 399 | 487 | Percentage | 27.3 | | | | 25.5 + : Q4 | 2012-2014 | 2012-2014 Vital Statistics Data as of May, 2016 | 3.0 | 42.226801 | -78.020567 |
| Bronx | 6 | Family Planning/Natality Indicators | b1 | Percentage of births within 24 months of previous pregnancy | 10032 | 21249 | Percentage | 15.7 | | | | 0 - < 22.7 : Q1 & Q2 | 2012-2014 | 2012-2014 Vital Statistics Data as of May, 2016 | 1.0 | 40.85589 | -73.86829399999999 |
| Broome | 6 | Family Planning/Natality Indicators | b1 | Percentage of births within 24 months of previous pregnancy | 1654 | 2083 | Percentage | 26.5 | | | | 25.5 + : Q4 | 2012-2014 | 2012-2014 Vital Statistics Data as of May, 2016 | 3.0 | 42.122015000000005 | -75.93319100000001 |
| Capital Region | 6 | Family Planning/Natality Indicators | b1 | Percentage of births within 24 months of previous pregnancy | 6273 | 9774 | Percentage | 21.4 | | | | | 2012-2014 | 2012-2014 Vital Statistics Data as of May, 2016 | | | |
| Cattaraugus | 6 | Family Planning/Natality Indicators | b1 | Percentage of births within 24 months of previous pregnancy | 597 | 915 | Percentage | 21.7 | | | | 0 - < 22.7 : Q1 & Q2 | 2012-2014 | 2012-2014 Vital Statistics Data as of May, 2016 | 1.0 | 42.224267 | -78.606673 |
| Cayuga | 6 | Family Planning/Natality Indicators | b1 | Percentage of births within 24 months of previous pregnancy | 600 | 774 | Percentage | 25.8 | | | | 25.5 + : Q4 | 2012-2014 | 2012-2014 Vital Statistics Data as of May, 2016 | 3.0 | 42.940095 | -76.560755 |
| Central NY | 6 | Family Planning/Natality Indicators | b1 | Percentage of births within 24 months of previous pregnancy | 8201 | 11085 | Percentage | 24.7 | | | | | 2012-2014 | 2012-2014 Vital Statistics Data as of May, 2016 | | | |
| Chautauqua | 6 | Family Planning/Natality Indicators | b1 | Percentage of births within 24 months of previous pregnancy | 1055 | 1408 | Percentage | 25.0 | | | | 22.7 - < 25.5 : Q3 | 2012-2014 | 2012-2014 Vital Statistics Data as of May, 2016 | 2.0 | 42.246904 | -79.315313 |
| Chemung | 6 | Family Planning/Natality Indicators | b1 | Percentage of births within 24 months of previous pregnancy | 823 | 986 | Percentage | 27.8 | | | | 25.5 + : Q4 | 2012-2014 | 2012-2014 Vital Statistics Data as of May, 2016 | 3.0 | 42.116644 | -76.812331 |