Others titles
Dietary Supplement Database
Dietary Ingredient Database
Keywords
US Dietary Supplement Products
Dietary Supplement Ingredients
Dietary Supplement (DS)
Dietary Ingredients
Multivitamin/Mineral (MVM)
Food Supplements
Omega-3 Fatty Acid Dietary Supplement (DS)
Dietary Supplement Ingredient Database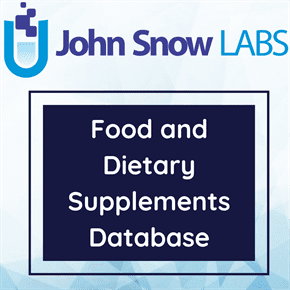 The Dietary Supplement Ingredient Database (DSID) provides estimated levels of ingredients in dietary supplement products sold in the United States. The DSID data are reported by ingredient type and ingredient level for each product category.
Log in to download
Complexity
Get The Data
For getting access to data download links please read and accept the end-user license agreement.
Your Data License
Research

Non-Commercial, Share-Alike, Attribution

Free Forever

Commercial

Commercial Use, Remix & Adapt, White Label Log in to download
Description
This dataset contains national estimates for ingredient levels in dietary supplements (DS) based on chemical analysis as released by the Dietary Supplement Ingredient Database (DSID-4). DSID was developed by the Nutrient Data Laboratory, US Department of Agriculture, in collaboration with the Office of Dietary Supplements at the National Institutes of Health (NIH) and other federal agencies. DSID-4 reports national estimates of ingredient content in adult, children's and non-prescription prenatal multivitamin/mineral (MVMs) and omega-3 fatty acid supplements.
Analytically-validated means estimates for vitamin D, vitamin A and chromium in adult MVMs are reported for the first time, and estimates for 18 other ingredients have been calculated based on a new, second study of representative adult MVMs. DSID-4 also reports results for the first DSID study of botanical dietary supplements.
DSID data are linked to the National Health and Nutrition Examination Survey (NHANES) cycles corresponding most closely to the purchase of products for each study (currently, a maximum of 3 NHANES cycles per study). If the fields for NHANES 2003-04, 2005-06, 2007-08, 2019-10, 2011-12 and 2013-14 are filled in with Y, then the linking code can be applied to one or more products reported in that cycle. If the field has an N, the study results are being applied to that cycle, but no products are reported with that ingredient at that labeled level. If the fields are blank, then those study results are not currently being applied to that NHANES cycle.
The DSID is intended primarily for researchers estimating ingredient intake from surveys of reported dietary supplement use. These data are appropriate for use in population studies of nutrient intake rather than for assessing the content of individual products.
About this Dataset
Data Info
| | |
| --- | --- |
| Date Created | 2017-08-01 |
| Last Modified | 2017-08-01 |
| Version | 4 |
| Update Frequency | Triennial |
| Temporal Coverage | 2017 |
| Spatial Coverage | World |
| Source | John Snow Labs; Dietary Supplement Ingredient Database; |
| Source License URL | |
| Source License Requirements | N/A |
| Source Citation | N/A |
| Keywords | US Dietary Supplement Products, Dietary Supplement Ingredients, Dietary Supplement (DS), Dietary Ingredients, Multivitamin/Mineral (MVM), Food Supplements, Omega-3 Fatty Acid Dietary Supplement (DS) |
| Other Titles | Dietary Supplement Database, Dietary Ingredient Database |
Data Fields
| Name | Description | Type | Constraints |
| --- | --- | --- | --- |
| DSID_Study_Category_Code | Dietary Supplement Ingredient Database (DSID) study category code arranged in ascending order. A product category code indicates whether the row of parameters is for adult MVMs (01; 05), children's MVMs for serving sizes for ages 4 years and older (02), children's MVMs for serving sizes for ages 1 to <4 years (02A), non-prescription prenatal MVMs (03), omega-3 fatty acid products with data per serving (04), and per day (04A). | integer | level : Nominal |
| DSID_Ingredient_Name | Dietary Supplement Ingredient Database (DSID) ingredient names arranged by ascending alphabetical order. Ingredients include vitamins, minerals and omega-3 fatty acids DS: ALA, EPA and DHA. | string | - |
| NHANES_Supplement_Label_Value_per_Serving | NHANES supplement label value per serving sorted in ascending numerical order. | number | level : Ratio |
| Unit_per_Serving | Ingredient unit per serving in milligram (mg), microgram (mcg), and an International Unit (IU). | string | - |
| Predicted_Mean_Value_per_Serving | Predicted mean value per serving for each ingredient calculated from regression data. | number | level : Ratio |
| Standard_Error_of_Predicted_Mean_Value | The standard error (SE) of the predicted mean value per serving for each ingredient calculated from regression data. | number | level : Ratio |
| Standard_Error_of_Predicted_Observation_Value | The standard error (SE) of an observation for each ingredient calculated from regression data. | number | level : Ratio |
| Predicted_Difference_from_Label_for_Predicted_Mean | Predicted mean percent differences from the label for each ingredient calculated from regression data. | number | level : Ratio |
| DSID_Linking_Code | DSID 4 linking code contains four pieces of information and consists of four segments which add up to 13 digits long (3-5-2-3): 1112222233444 where digits 1 through 3 (segment 111) represent United States Department of Agriculture (USDA Standard Reference Nutrient number; digits 4 through 8 (segment 22222) represent National Health and Nutrition Examination Survey (NHANES) supplement label value per serving; digits 9 through 10 (segment 33) represent the DSID study category code, and digits 11 through 13 (segment 444) represent DSID release. | integer | level : Nominal |
| NHANES_2003_to_2004 | Linking of the DSID study to NHANES 2003 to 2004 cycle. If the fields for NHANES 2003-04 are filled in with Y, then the linking code can be applied to one or more products reported in that cycle. If the field has an N, the study results are being applied to that cycle, but no products are reported with that ingredient at that labeled level. If the fields are blank, then those study results are not currently being applied to that NHANES cycle. | string | - |
| NHANES_2005_to_2006 | Linking of the DSID study to NHANES 2005 to 2006 cycle. If the fields for NHANES 2005-06 are filled in with Y, then the linking code can be applied to one or more products reported in that cycle. If the field has an N, the study results are being applied to that cycle, but no products are reported with that ingredient at that labeled level. If the fields are blank, then those study results are not currently being applied to that NHANES cycle. | string | - |
| NHANES_2007_to_2008 | Linking of the DSID study to NHANES 2007 to 2008 cycle. If the fields for NHANES 2007-08 are filled in with Y, then the linking code can be applied to one or more products reported in that cycle. If the field has an N, the study results are being applied to that cycle, but no products are reported with that ingredient at that labeled level. If the fields are blank, then those study results are not currently being applied to that NHANES cycle. | string | - |
| NHANES_2009_to_2010 | Linking of the DSID study to NHANES 2009 to 2010 cycle. If the fields for NHANES 2019-10 are filled in with Y, then the linking code can be applied to one or more products reported in that cycle. If the field has an N, the study results are being applied to that cycle, but no products are reported with that ingredient at that labeled level. If the fields are blank, then those study results are not currently being applied to that NHANES cycle. | string | - |
| NHANES_2011_to_2012 | Linking of the DSID study to NHANES 2011 to 2012 cycle. If the fields for NHANES 2011-12 are filled in with Y, then the linking code can be applied to one or more products reported in that cycle. If the field has an N, the study results are being applied to that cycle, but no products are reported with that ingredient at that labeled level. If the fields are blank, then those study results are not currently being applied to that NHANES cycle. | string | - |
| NHANES_2013_to_2014 | Linking of the DSID study to NHANES 2013 to 2014 cycle. If the fields for NHANES 2013-14 are filled in with Y, then the linking code can be applied to one or more products reported in that cycle. If the field has an N, the study results are being applied to that cycle, but no products are reported with that ingredient at that labeled level. If the fields are blank, then those study results are not currently being applied to that NHANES cycle. | string | - |
Data Preview
| | | | | | | | | | | | | | | |
| --- | --- | --- | --- | --- | --- | --- | --- | --- | --- | --- | --- | --- | --- | --- |
| DSID Study Category Code | DSID Ingredient Name | NHANES Supplement Label Value per Serving | Unit per Serving | Predicted Mean Value per Serving | Standard Error of Predicted Mean Value | Standard Error of Predicted Observation Value | Predicted Difference from Label for Predicted Mean | DSID Linking Code | NHANES 2003 to 2004 | NHANES 2005 to 2006 | NHANES 2007 to 2008 | NHANES 2009 to 2010 | NHANES 2011 to 2012 | NHANES 2013 to 2014 |
| 1 | CALCIUM | 25.0 | mg | 32.3 | 1.3 | 3.9 | 29.3 | 3010025001030 | Y | Y | Y | | | |
| 1 | CALCIUM | 26.0 | mg | 33.6 | 1.3 | 4.0 | 29.1 | 3010026001030 | Y | N | N | | | |
| 1 | CALCIUM | 28.0 | mg | 36.1 | 1.4 | 4.3 | 28.8 | 3010028001030 | N | Y | Y | | | |
| 1 | CALCIUM | 29.0 | mg | 37.3 | 1.4 | 4.5 | 28.7 | 3010029001030 | N | Y | N | | | |
| 1 | CALCIUM | 30.0 | mg | 38.6 | 1.5 | 4.6 | 28.6 | 3010030001030 | N | Y | Y | | | |
| 1 | CALCIUM | 31.0 | mg | 39.8 | 1.5 | 4.8 | 28.4 | 3010031001030 | N | Y | Y | | | |
| 1 | CALCIUM | 32.0 | mg | 41.1 | 1.6 | 4.9 | 28.3 | 3010032001030 | N | Y | N | | | |
| 1 | CALCIUM | 33.0 | mg | 42.3 | 1.6 | 5.1 | 28.2 | 3010033001030 | N | N | Y | | | |
| 1 | CALCIUM | 33.3 | mg | 42.7 | 1.6 | 5.1 | 28.1 | 3010033301030 | N | Y | N | | | |
| 1 | CALCIUM | 35.0 | mg | 44.8 | 1.7 | 5.4 | 27.9 | 3010035001030 | Y | Y | Y | | | |