Others titles
Electricity Dispersed Generation with Capacity Number Type Of Generator 2011
Electricity Dispersed Generation Utility Characteristics Number Capacity Types Of Generators 2011
Keywords
Electricity Rates
Utility Companies
Utility Rates
Electricity
Dispersed Electric Generation Data By Capacity Number Type Generator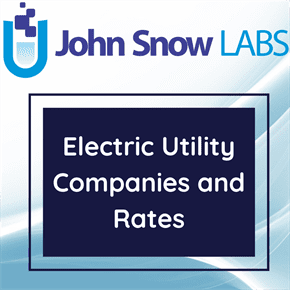 The dataset contains information on utility or customer-owned dispersed generation (NOT grid-connected) such as the number, capacity and types of generators.
Log in to download
Complexity
Get The Data
For getting access to data download links please read and accept the end-user license agreement.
Your Data License
Research

Non-Commercial, Share-Alike, Attribution

Free Forever

Commercial

Commercial Use, Remix & Adapt, White Label Log in to download
Description
The Energy Information Administration dataset includes information such as peak load, generation, electric purchases, sales, revenues, customer counts and demand-side management programs, green pricing and net metering programs, and distributed generation capacity. Dispersed generation (NOT grid-connected) are for companies that own or operate a distribution system. Dispersed generators could be utility-owned or customer-owned. The dataset includes the number of generators, number of generators less than one megawatt, total aggregate capacity, aggregate capacity used only for backup, and capacity by technology type. Respondents specify whether data are actual or estimated.
The dataset compiled by National Renewable Energy Laboratory (NREL) using data from ABB, the Velocity Suite and the U.S. Energy Information Administration dataset 861, provides average residential, commercial and industrial electricity rates by zip code for both investor-owned utilities (IOU) and non-investor owned utilities. The file includes average rates for each utility, but not the detailed rate structure data found in the Open EI U.S. Utility Rate Database. A more recent version of this data is also available through the NREL Utility Rate API with more search options. This data was released by National Renewable Energy Laboratory (NREL)/Ventyx in February 2011.
About this Dataset
Data Info
| | |
| --- | --- |
| Date Created | 2015-02-23 |
| Last Modified | 2016-10-20 |
| Version | 2016-10-20 |
| Update Frequency | Never |
| Temporal Coverage | 2011 |
| Spatial Coverage | United States |
| Source | John Snow Labs; Data.gov; |
| Source License URL | |
| Source License Requirements | N/A |
| Source Citation | N/A |
| Keywords | Electricity Rates, Utility Companies, Utility Rates, Electricity |
| Other Titles | Electricity Dispersed Generation with Capacity Number Type Of Generator 2011, Electricity Dispersed Generation Utility Characteristics Number Capacity Types Of Generators 2011 |
Data Fields
| Name | Description | Type | Constraints |
| --- | --- | --- | --- |
| Year | Year of data | date | - |
| Utility_Id | ID number of utility (reporting entity) | integer | level : Nominal |
| Utility_Name | Name of Utility | string | - |
| Number_Of_Dispersed_Generators | Number of distributed generators < 1 MW (megawatts) | integer | level : Ratio |
| Capacity_Of_Dispersed_Generators | Capacity of distributed generators < 1 MW (megawatts) | number | level : Ratio |
| Capacity_Of_Dispersed_Generators_For_Backup | Total nameplate capacity that is comprised of distributed generators that are used only for emergency backup service | number | level : Ratio |
| Capacity_Of_Dispersed_Generators_Respondents_Owned | Total nameplate capacity for distributed generators that the respondent owns. | number | level : Ratio |
| Data_Type1_Actual_Or_Estimated | Data Type 1. A=actual, E=estimated. | string | - |
| Capacity_Of_Dispersed_Internal_Combustion_Or_Reciprocating_Engines | Capacity of distributed internal combustion/ reciprocating engines. | number | level : Ratio |
| Capacity_Of_Dispersed_Combustion_Turbine_Generators | Capacity of distributed combustion turbine generators. | number | level : Ratio |
| Capacity_Of_Dispersed_Steam_Turbine_Generators | Capacity of distributed steam turbine generators | number | level : Ratio |
| Capacity_Of_Dispersed_Hydroelectric_Generators | Capacity of distributed hydroelectric generators. | number | level : Ratio |
| Capacity_Of_Dispersed_Wind_Turbine_Generators | Capacity of distributed wind turbine generators | number | level : Ratio |
| Capacity_Of_Dispersed_Photovoltaic_Generators | Capacity of distributed photovoltaic generators | number | level : Ratio |
| Capacity_Of_Storage_Dispersed_Generation | Capacity of storage distributed generation. | number | level : Ratio |
| Capacity_Of_Dispersed_Other_Generators | Capacity of distributed other generators | number | level : Ratio |
| Total_Capacity_Of_Dispersed_Comprises | Total capacity less than 1 megawatt that technology (distributed) comprises. | number | level : Ratio |
| Data_Type2_Actual_Or_Estimated | Data Type 2. A=actual, E=estimated | string | - |
| State_Abbreviation | State/Territory in which the generators are located | string | - |
Data Preview
| | | | | | | | | | | | | | | | | | | |
| --- | --- | --- | --- | --- | --- | --- | --- | --- | --- | --- | --- | --- | --- | --- | --- | --- | --- | --- |
| Year | Utility Id | Utility Name | Number Of Dispersed Generators | Capacity Of Dispersed Generators | Capacity Of Dispersed Generators For Backup | Capacity Of Dispersed Generators Respondents Owned | Data Type1 Actual Or Estimated | Capacity Of Dispersed Internal Combustion Or Reciprocating Engines | Capacity Of Dispersed Combustion Turbine Generators | Capacity Of Dispersed Steam Turbine Generators | Capacity Of Dispersed Hydroelectric Generators | Capacity Of Dispersed Wind Turbine Generators | Capacity Of Dispersed Photovoltaic Generators | Capacity Of Storage Dispersed Generation | Capacity Of Dispersed Other Generators | Total Capacity Of Dispersed Comprises | Data Type2 Actual Or Estimated | State Abbreviation |
| 2011 | 97 | Adams Electric Coop | 8 | 5.6 | 5.6 | 0.2 | E | 5.6 | | | | | | | | 5.6 | E | IL |
| 2011 | 232 | City of Albemarle | 3 | 1.2 | 1.2 | 1.2 | A | 1.2 | | | | | | | | 1.2 | A | NC |
| 2011 | 295 | City of Alexandria | 2 | 1.8 | | | A | 1.8 | | | | | | | | 1.8 | A | MN |
| 2011 | 392 | Alpena Power Co | 19 | 3.6 | 0.3 | 0.1 | A | 3.3 | | | 0.3 | | | | | 3.6 | A | MI |
| 2011 | 471 | Amana Society Service Co | 5 | 3.1 | 3.1 | 0.0 | A | 2.8 | | | 0.3 | | | | | 3.1 | A | IA |
| 2011 | 689 | Connexus Energy | 31 | 14.1 | 9.3 | 0.0 | A | 14.1 | | | | | | | | 14.1 | A | MN |
| 2011 | 691 | City of Anoka | 7 | 3.5 | 3.5 | 1.5 | E | 3.5 | | | | | | | | 3.5 | E | MN |
| 2011 | 925 | Ashley Chicot Elec Coop, Inc | 59 | 3.0 | 3.0 | | E | 3.0 | | | | | | | | 3.0 | E | AR |
| 2011 | 963 | Atlantic City Electric Co | 13 | 3.8 | 3.8 | | E | 3.8 | | | | | | | | 3.8 | E | NJ |
| 2011 | 998 | City of Augusta | 5 | 1.1 | 1.1 | 0.7 | A | 1.1 | | | | | | | | 1.1 | A | KS |