Others titles
Monthly Electric Consumption and Cost
Electric Meter Information
Energy Consumption And Cost 2010 to 2020
Keywords
Electric Consumption
Electric Cost
Electricity Rates
Electricity Prices
Energy Consumption
Electric Consumption And Cost 2010 to 2020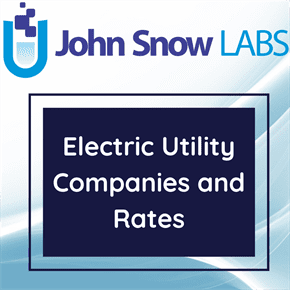 This Dataset contains the monthly consumption and cost data by borough and development from 2010 to 2020. The dataset also includes utility vendor and meter information.
Log in to download
Complexity
Get The Data
For getting access to data download links please read and accept the end-user license agreement.
Your Data License
Research

Non-Commercial, Share-Alike, Attribution

Free Forever

Commercial

Commercial Use, Remix & Adapt, White Label Log in to download
Description
In 2016, for the first time, New York obtained more than 1 million megawatt hours of electricity from solar generation, and 84% of that power came from distributed sources such as rooftop solar panels.
New York obtained 24% of its electricity from renewable sources in 2016; the state's Reforming the Energy Vision plan aims to raise the renewable contribution to 50% by 2030.
The 2.4-gigawatt Robert Moses Niagara hydroelectric power plant is the fourth-largest hydroelectric power plant in the United States. In 2016, New York produced more hydroelectric power than any other state east of the Rocky Mountains.
Nearly half of New York's electricity-generating units can burn either fuel oil or natural gas, and state regulators require them to be ready to switch to fuel oil if the natural gas supply is constrained.
To curb air pollution, in 2012 New York became the first northeastern state to require that all heating oil be ultra-low sulfur diesel.
About this Dataset
Data Info
| | |
| --- | --- |
| Date Created | 2016-07-16 |
| Last Modified | 2021-04-07 |
| Version | 2021-04-07 |
| Update Frequency | Annual |
| Temporal Coverage | 2010 - 2020 |
| Spatial Coverage | New York City, United States |
| Source | John Snow Labs; Data City of New York; |
| Source License URL | |
| Source License Requirements | N/A |
| Source Citation | N/A |
| Keywords | Electric Consumption, Electric Cost, Electricity Rates, Electricity Prices, Energy Consumption |
| Other Titles | Monthly Electric Consumption and Cost, Electric Meter Information, Energy Consumption And Cost 2010 to 2020 |
Data Fields
| Name | Description | Type | Constraints |
| --- | --- | --- | --- |
| Development_Name | Name of the Development | string | - |
| Borough | Borough Name | string | - |
| Account_Name | Name of Account | string | - |
| Location | Building number. In order to run an analysis by building, you can use a combination of TDS and building number which gives a unique identifier for each building. | string | - |
| Automatic_Meter_Reader | Is the meter Automatic Meter Reading (AMR), Interval or none. | string | - |
| Meter_Scope | The buildings or areas the account and meter supply | string | - |
| Tenent_Data_System | TDS (Tenant Data System) number is the unique identifier for all NCYHA developments. It is recommended to use it in order to run analysis by development. The TDS is also the unique link between NYCHA data sets. | integer | level : Nominal |
| Electronic_Data_Processing | NYCHA Electronic Data Processing. Number used to identify individual NYCHA developments. EDP is used by NYCHA only to link data issued from a different system (the energy management system that was used by NYCHA before 2010). It is recommended to use the TDS # as a unique identifier of each development. | integer | level : Nominal |
| Response_Code | NYCHA budget responsibility code. Code representing a specific development. | string | - |
| Funding_Source | The development's funding source including Federal, Mixed Finance, or an indication that the facility is a non development facility which means a non residential facility. | string | - |
| Asset_Management_Project_Number | Abbreviation for Asset Management Project (AMP) numbers. HUD Development asset tracking number. An AMP number can consist of more than one development. | string | - |
| Vendor_Name | Utility vendor name. | string | - |
| UMIS_BILL_ID | Utility Management Interface Bill Identity | integer | level : Nominal |
| Revenue_Month | Year and month of bill | string | - |
| Service_Start_Date | Bill start date | date | - |
| Service_End_Date | Bill end date | date | - |
| Number_of_Days | Number of days on bill | integer | level : Nominal |
| Meter_Number | Meter Number | string | - |
| Is_Estimated_Reading | Meter was not read for the time period. The consumption and cost are estimated. (Data is updated with actual reads once the meter is read) | boolean | - |
| Current_Charges | Current charges of the charged bill | string | - |
| Rate_Class | The rate applied to the account. Details about each rate (dollar value) are available on the vendor web site. | string | - |
| Bill_Analyzed | The bill was analyzed for billing errors by (New York City Housing Authority)NYCHA's Utility Management system during the billing period. | string | - |
| Consumption_KWH | Total KWH consumption | integer | level : Nominal |
| KWH_Charges | Total KWH charges | string | - |
| Consumption_KW | Total KW consumption | number | level : Ratio |
| KW_Charges | Total KW charges | string | - |
| Other_Charges | Any other charges included in bill | string | - |
Data Preview
| | | | | | | | | | | | | | | | | | | | | | | | | | | |
| --- | --- | --- | --- | --- | --- | --- | --- | --- | --- | --- | --- | --- | --- | --- | --- | --- | --- | --- | --- | --- | --- | --- | --- | --- | --- | --- |
| Development Name | Borough | Account Name | Location | Automatic Meter Reader | Meter Scope | Tenent Data System | Electronic Data Processing | Response Code | Funding Source | Asset Management Project Number | Vendor Name | UMIS BILL ID | Revenue Month | Service Start Date | Service End Date | Number of Days | Meter Number | Is Estimated Reading | Current Charges | Rate Class | Bill Analyzed | Consumption KWH | KWH Charges | Consumption KW | KW Charges | Other Charges |
| ADAMS | BRONX | ADAMS | BLD 05 | NONE | BLD 01 to 07 | 118 | 248 | B011800 | FEDERAL | NY005001180P | NEW YORK POWER AUTHORITY | 1842037 | 2010-01 | 2009-12-24 | 2010-01-26 | 33 | 7223256 | False | 15396.82 | GOV/NYC/068 | Yes | 128800 | 7387.97 | 216 | 2808 | 5200.85 |
| ADAMS | BRONX | ADAMS | BLD 05 | NONE | BLD 01 to 07 | 118 | 248 | B011800 | FEDERAL | NY005001180P | NEW YORK POWER AUTHORITY | 1844205 | 2010-02 | 2010-01-26 | 2010-02-25 | 30 | 7223256 | False | 14556.34 | GOV/NYC/068 | Yes | 115200 | 6607.87 | 224 | 2912 | 5036.47 |
| ADAMS | BRONX | ADAMS | BLD 05 | NONE | BLD 01 to 07 | 118 | 248 | B011800 | FEDERAL | NY005001180P | NEW YORK POWER AUTHORITY | 1841378 | 2010-03 | 2010-02-25 | 2010-03-26 | 29 | 7223256 | False | 13904.98 | GOV/NYC/068 | Yes | 103200 | 5919.55 | 216 | 2808 | 5177.43 |
| ADAMS | BRONX | ADAMS | BLD 05 | NONE | BLD 01 to 07 | 118 | 248 | B011800 | FEDERAL | NY005001180P | NEW YORK POWER AUTHORITY | 1847148 | 2010-04 | 2010-03-26 | 2010-04-26 | 31 | 7223256 | False | 14764.04 | GOV/NYC/068 | Yes | 105600 | 6057.22 | 208 | 2704 | 6002.82 |
| ADAMS | BRONX | ADAMS | BLD 05 | NONE | BLD 01 to 07 | 118 | 248 | B011800 | FEDERAL | NY005001180P | NEW YORK POWER AUTHORITY | 1848672 | 2010-05 | 2010-04-26 | 2010-05-24 | 28 | 7223256 | False | 13729.54 | GOV/NYC/068 | Yes | 97600 | 5598.34 | 216 | 2808 | 5323.2 |
| ADAMS | BRONX | ADAMS | BLD 05 | NONE | BLD 01 to 07 | 118 | 248 | B011800 | FEDERAL | NY005001180P | NEW YORK POWER AUTHORITY | 1850070 | 2010-06 | 2010-05-24 | 2010-06-23 | 30 | 7223256 | False | 16689.19 | GOV/NYC/068 | Yes | 124000 | 7112.64 | 240 | 3120 | 6456.55 |
| ADAMS | BRONX | ADAMS | BLD 05 | NONE | BLD 01 to 07 | 118 | 248 | B011800 | FEDERAL | NY005001180P | NEW YORK POWER AUTHORITY | 1853250 | 2010-07 | 2010-06-23 | 2010-07-23 | 30 | 7223256 | False | 20563.52 | GOV/NYC/068 | Yes | 156000 | 8948.16 | 296 | 3848 | 7767.36 |
| ADAMS | BRONX | ADAMS | BLD 05 | NONE | BLD 01 to 07 | 118 | 248 | B011800 | FEDERAL | NY005001180P | NEW YORK POWER AUTHORITY | 1854710 | 2010-08 | 2010-07-23 | 2010-08-23 | 31 | 7223256 | False | 19675.94 | GOV/NYC/068 | Yes | 151200 | 8672.83 | 272 | 3536 | 7467.11 |
| ADAMS | BRONX | ADAMS | BLD 05 | NONE | BLD 01 to 07 | 118 | 248 | B011800 | FEDERAL | NY005001180P | NEW YORK POWER AUTHORITY | 1868915 | 2010-09 | 2010-08-23 | 2010-09-22 | 30 | 7223256 | False | 17716.94 | GOV/NYC/068 | Yes | 119200 | 6837.31 | 280 | 3640 | 7239.63 |
| ADAMS | BRONX | ADAMS | BLD 05 | NONE | BLD 01 to 07 | 118 | 248 | B011800 | FEDERAL | NY005001180P | NEW YORK POWER AUTHORITY | 1856223 | 2010-10 | 2010-09-22 | 2010-10-22 | 30 | 7223256 | False | 14742.21 | GOV/NYC/068 | Yes | 103200 | 5919.55 | 224 | 2912 | 5910.66 |