Others titles
Electric Retail Revenue Sales Customer Counts By State And Class Of Service 2011
Electric Power Industry Retail Revenue Sales Customer Counts Report 2011
Keywords
Electricity Rates
Utility Companies
Utility Rates
Zipcode by Electric Investor
Electricity Investors
Customers
Electric Power Utilization Sales And Revenue By Class Of Service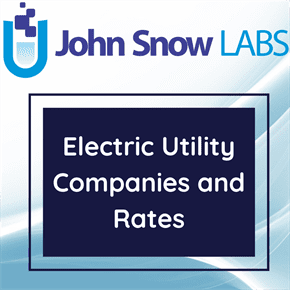 Electric Retail Revenue Sales Customer Counts By State And Class Of Service contains information on retail revenue, sales, and customer counts, by State and class of service (including the Transportation sector, new in 2003), for each electric distribution utility, or energy service provider in all 50 States, the District of Columbia, the Dominion of Puerto Rico, and the Territories of American Samoa, Guam, and the Virgin Islands.
Log in to download
Complexity
Get The Data
For getting access to data download links please read and accept the end-user license agreement.
Your Data License
Research

Non-Commercial, Share-Alike, Attribution

Free Forever

Commercial

Commercial Use, Remix & Adapt, White Label Log in to download
Description
The Energy Information Administration data files include information such as peak load, generation, electric purchases, sales, revenues, customer counts and demand-side management programs, green pricing and net metering programs, and distributed generation capacity. The dataset compiled by National Renewable Energy Laboratory (NREL) using data from ABB, the Velocity Suite and the U.S. Energy Information Administration dataset 861, provides average residential, commercial and industrial electricity rates by zip code for both investor owned utilities (IOU) and non-investor owned utilities. The file includes average rates for each utility, but not the detailed rate structure data found in the Open Energy Information (OpenEI) Utility Rate Database (URDB). A more recent version of this data is also available through the NREL Utility Rate API with more search options. This data was released by NREL/Ventyx in February 2011.
About this Dataset
Data Info
| | |
| --- | --- |
| Date Created | 2015-02-23 |
| Last Modified | 2016-10-20 |
| Version | 2016-10-20 |
| Update Frequency | Never |
| Temporal Coverage | 2011 |
| Spatial Coverage | United States |
| Source | John Snow Labs; Data.gov; |
| Source License URL | |
| Source License Requirements | N/A |
| Source Citation | N/A |
| Keywords | Electricity Rates, Utility Companies, Utility Rates, Zipcode by Electric Investor, Electricity Investors, Customers |
| Other Titles | Electric Retail Revenue Sales Customer Counts By State And Class Of Service 2011, Electric Power Industry Retail Revenue Sales Customer Counts Report 2011 |
Data Fields
| Name | Description | Type | Constraints |
| --- | --- | --- | --- |
| Data_Year | Year of Data | date | - |
| Utility_Number | ID number of utility (reporting entity) "99999" is not a utility ID; it represents an adjustment factor. | integer | level : Nominal |
| Utility_Name | Name of Utility | string | - |
| Part | A=Bundled Service, B=Energy Only Service, C=Delivery Only Service, D=TX Energy Service Providers | string | - |
| Service_Type | Provider Type. Designates electric service types as either Bundled (reported on Schedule 4 Part A or D), Energy (reported on Schedule 4 Part B) or Delivery (reported on Schedule 4 Part C). Total revenue nationally includes all components. | string | - |
| Data_Type_Observed_Or_Imputed | O=observed, I=imputed | string | - |
| State_Abbreviation | 2-digit State Code; also includes US Territories: AS = American Samoa; GU = Guam; PR = Puerto Rico; VI = Virgin Islands; MP = Mariana Islands. | string | - |
| Ownership | Ownership Type: One of 10 different types of ownership categories: Federal; Political Subdivision; Municipal Marketing Authority; Cooperative; State; Municipal; Investor-Owned; Retail Power Marketer (Energy Service Provider); (Wholesale) Power Marketer; and Unregulated. "State" ownership refers to statewide organizations whose scope is larger than county level. | string | - |
| Residential_Revenues_1000_Dollars | Revenues from residential customers (in thousands of dollars). Residential revenue is the billed amount | number | level : Ratio |
| Residential_Sales_Megawatt_Hours | Electricity sales to residential customers (in megawatthours). Residential sales is the billed amount. | number | level : Ratio |
| Residential_Customers_Count | Number of residential consumers (meters, or customer accounts). Note: Each residential customer in an aggregated account (as for a residential buying cooperative) should be counted as a separate customer, if metered separately. | number | level : Ratio |
| Commercial_Revenues_1000_Dollars | Revenues from commercial customers (in thousands of dollars). Commercial revenue is the billed amount including demand revenue. | number | level : Ratio |
| Commercial_Sales_Megawatt_Hours | Electricity sales to commercial customers (in megawatthours). | number | level : Ratio |
| Commercial_Customers_Count | Number of commercial consumers (meters, or customer accounts). Note: Each location in an aggregated account (as all restaurants in a chain) should be counted as a separate customer, if metered separately. | number | level : Ratio |
| Industrial_Revenues_Thousand_Dollars | Revenues from industrial customers (in thousands of dollars. Industrial revenue is the billed amount including demand revenue, reactive demand charges (if applicable), high-voltage discounts (if applicable), etc. | number | level : Ratio |
| Industrial_Sales_Megawatt_Hours | Electricity sales to industrial customers (in megawatthours) | number | level : Ratio |
| Industrial_Customers_Count | Number of industrial consumers (meters, or customer accounts). Note: Each facility is counted as one customer even if power is taken and metered at more than one point. | number | level : Ratio |
| Transportation_Revenues_1000_Dollars | Transportation revenue. Beginning with the 2003 data cycle this sector replaces "Other" (thousand dollars). Revenues for the sales of power to electrified rail and urban transit systems whose primary propulsive energy source is electricity. | number | level : Ratio |
| Transportation_Sales_Megawatt_Hours | Transportation sales. Beginning with the 2003 data cycle this sector replaces "Other" (megawatthours). Sales of power to electrified rail and urban transit systems whose primary propulsive energy source is electricity. | number | level : Ratio |
| Transportation_Customers_Count | Transportation consumers. Beginning with the 2003 data cycle this sector replaces "Other". Customer counts for the sales of power to electrified rail and urban transit systems whose primary propulsive energy source is electricity. | number | level : Ratio |
| Total_Revenues_1000_Dollars | Total revenues of all sectors | number | level : Ratio |
| Total_Sales_Megawatt_Hours | Total electricity consumed by all sectors (megawatthours) | number | level : Ratio |
| Total_Customers_Count | Total number of consumers in all sectors | integer | level : Nominal |
Data Preview
| | | | | | | | | | | | | | | | | | | | | | | |
| --- | --- | --- | --- | --- | --- | --- | --- | --- | --- | --- | --- | --- | --- | --- | --- | --- | --- | --- | --- | --- | --- | --- |
| Data Year | Utility Number | Utility Name | Part | Service Type | Data Type Observed Or Imputed | State Abbreviation | Ownership | Residential Revenues 1000 Dollars | Residential Sales Megawatt Hours | Residential Customers Count | Commercial Revenues 1000 Dollars | Commercial Sales Megawatt Hours | Commercial Customers Count | Industrial Revenues Thousand Dollars | Industrial Sales Megawatt Hours | Industrial Customers Count | Transportation Revenues 1000 Dollars | Transportation Sales Megawatt Hours | Transportation Customers Count | Total Revenues 1000 Dollars | Total Sales Megawatt Hours | Total Customers Count |
| 2011 | 34 | City of Abbeville - (SC) | A | Bundled | O | SC | Municipal | 4187.0 | 34206 | 2973 | 3014.0 | 27198 | 503 | | | | | | | 7201.0 | 61404 | 3476 |
| 2011 | 55 | City of Aberdeen - (MS) | A | Bundled | O | MS | Municipal | 3978.0 | 38549 | 2712 | 4114.0 | 37955 | 678 | 6953.0 | 108267.0 | 2.0 | 0.0 | 0.0 | 0.0 | 15045.0 | 184771 | 3392 |
| 2011 | 59 | City of Abbeville - (LA) | A | Bundled | O | LA | Municipal | 6212.0 | 58482 | 4561 | 4819.0 | 42186 | 1029 | 3493.0 | 38715.0 | 23.0 | | | | 14524.0 | 139383 | 5613 |
| 2011 | 84 | A & N Electric Coop | A | Bundled | O | MD | Cooperative | 265.3 | 2196 | 275 | 75.3 | 600 | 48 | 0.0 | 0.0 | 0.0 | 0.0 | 0.0 | 0.0 | 340.6 | 2796 | 323 |
| 2011 | 84 | A & N Electric Coop | A | Bundled | O | VA | Cooperative | 39287.6 | 334113 | 30287 | 17672.0 | 161581 | 4025 | 14893.3 | 169334.0 | 16.0 | 0.0 | 0.0 | 0.0 | 71852.9 | 665028 | 34328 |
| 2011 | 87 | City of Ada | A | Bundled | O | MN | Municipal | 719.0 | 10202 | 862 | 436.0 | 7325 | 149 | 188.0 | 3325.0 | 34.0 | | | | 1343.0 | 20852 | 1045 |
| 2011 | 97 | Adams Electric Coop | A | Bundled | O | IL | Cooperative | 15043.0 | 110844 | 8334 | 4727.0 | 52281 | 190 | | | | | | | 19770.0 | 163125 | 8524 |
| 2011 | 108 | Adams-Columbia Electric Coop | A | Bundled | O | WI | Cooperative | 40453.0 | 273185 | 33524 | 6690.0 | 56957 | 1801 | 11515.0 | 141521.0 | 709.0 | | | | 58658.0 | 471663 | 36034 |
| 2011 | 113 | Agway Energy Services, LLC | B | Energy | O | NY | Retail Power Marketer | 26669.0 | 295006 | 37015 | 23782.0 | 300219 | 12754 | | | | | | | 50451.0 | 595225 | 49769 |
| 2011 | 118 | Adams Rural Electric Coop, Inc | A | Bundled | O | OH | Cooperative | 12726.0 | 97955 | 7422 | 1501.0 | 13380 | 55 | | | | | | | 14227.0 | 111335 | 7477 |