Others titles
National Healthcare Safety Network And Bloodstream Infection For Combined Measure
State and National Average Measure Scores For NHSN Combined Measure
ESRD QIP NHSN Combined Measure Score For PY 2019
Keywords
Dialysis Facility Compare
NHSN Combined Measure Score
NHSN Bloodstream Infection Ratio
Combined Quality Measures
ESRD QIP Combined National Healthcare Safety Network
NHSN BSI Performance Ratio
Healthcare-Associated Infections
Hemodialysis Outpatients Measure
ESRD QIP National Healthcare Safety Network Combined Measure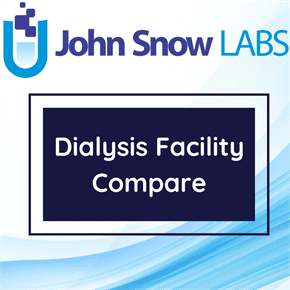 This dataset includes facility details, National Healthcare Safety Network (NHSN) Bloodstream Infection (BSI) performance ratio, NHSN dialysis events number of months reported, NHSN combined measure score, and the state and national average measure scores. The NHSN dialysis event number of months reported and the NHSN bloodstream Infection ratio, which comprise the NHSN combined measure score are included in the PY 2019 End-Stage Renal Disease (ESRD) Quality Incentive Program (QIP).
Log in to download
Complexity
Get The Data
For getting access to data download links please read and accept the end-user license agreement.
Your Data License
Research

Non-Commercial, Share-Alike, Attribution

Free Forever

Commercial

Commercial Use, Remix & Adapt, White Label Log in to download
Description
The Centers for Medicare & Medicaid Services (CMS) administers the End-Stage Renal Disease (ESRD) Quality Incentive Program (QIP) to promote high-quality services in outpatient dialysis facilities treating patients with ESRD. As the first of its kind in Medicare, this program changes the way CMS pays for the treatment of patients with ESRD by linking a portion of payment directly to facilities' performance on quality of care measures. These types of programs are known as "pay-for-performance" or "value-based purchasing" (VBP) programs.
The ESRD QIP will reduce payments to ESRD facilities that do not meet or exceed certain performance standards. The maximum payment reduction CMS can apply to any facility is two percent. This reduction will apply to all payments for services performed by the facility receiving the reduction during the applicable Payment Year (PY).
National Healthcare Safety Network (NHSN) provides facilities, states, regions, and the nation with data needed to identify problem areas, measure progress of prevention efforts and ultimately eliminate Healthcare-Associated Infections (HAI). In addition, NHSN allows healthcare facilities to track blood safety errors and important healthcare process measures such as healthcare personnel influenza vaccine status and infection control adherence rates. NHSN enables healthcare facilities to collect and use data about HAIs, adherence to clinical practices known to prevent HAIs, the incidence or prevalence of multidrug-resistant organisms within their organizations, trends and coverage of healthcare personnel safety and vaccination, and adverse events related to the transfusion of blood and blood products.
In the NHSN Dialysis Event Protocol, the National Healthcare Safety Network (NHSN) Bloodstream Infection (BSI) in Hemodialysis Outpatients Measure is the standard for evaluating the number of positive blood cultures observed by a facility. Although other dialysis event types are reported to NHSN and calculated from the data, the BSI measure only assesses the number of positive blood cultures reported by a facility using a standardized infection ratio (SIR). Use of this measure has been demonstrated to help identify outbreaks of bloodstream infections and to stimulate improvements in vascular access care and other infection control practices that have led to subsequent reductions in bloodstream infections.
The foundation, principles, and mechanisms guiding the ESRD QIP will remain the same over time, but the program's specific quality measures, standards, weights and formulas will change from year to year.
About this Dataset
Data Info
| | |
| --- | --- |
| Date Created | 2013-12-19 |
| Last Modified | 2020-01-22 |
| Version | 2020-01-22 |
| Update Frequency | Quarterly |
| Temporal Coverage | 2020 |
| Spatial Coverage | United States |
| Source | John Snow Labs; Centers for Medicare and Medicaid Services; |
| Source License URL | |
| Source License Requirements | N/A |
| Source Citation | N/A |
| Keywords | Dialysis Facility Compare, NHSN Combined Measure Score, NHSN Bloodstream Infection Ratio, Combined Quality Measures, ESRD QIP Combined National Healthcare Safety Network, NHSN BSI Performance Ratio, Healthcare-Associated Infections, Hemodialysis Outpatients Measure |
| Other Titles | National Healthcare Safety Network And Bloodstream Infection For Combined Measure, State and National Average Measure Scores For NHSN Combined Measure, ESRD QIP NHSN Combined Measure Score For PY 2019 |
Data Fields
| Name | Description | Type | Constraints |
| --- | --- | --- | --- |
| Facility_Name | The name of the Dialysis center or Facility. | string | - |
| CMS_Certification_Number_CCN | Center for Medicare & Medicaid Services (CMS) certification number (CCN). Identification number of the facility within the CMS dataset. The CCN for providers and suppliers is a 6 digit number. The first 2 digits identify the State in which the provider is located. The last 4 digits identify the type of facility. | integer | level : Nominal |
| Alternate_CCN | Identification number of the facility within the CMS dataset. The CCN for providers and suppliers is a 6 digit number. The first 2 digits identify the State in which the provider is located. The last 4 digits identify the type of facility. | integer | level : Nominal |
| Address | The address of the dialysis center or facility. | string | - |
| City | The city name in the location address of the facility being identified. | string | - |
| State_Abbreviation | The two-letter abbreviations of the state in the mailing address of the dialysis center. This includes information on hospitals in different U.S states. | string | - |
| Zip_Code | The postal Zip code in the mailing address of the hospital. | integer | level : Nominal |
| Network | Indicates the Network. | integer | level : Nominal |
| NHSN_BSI_Achievement_Measure_Rate | Identifies the achievement measure rate in percentage of National Healthcare Safety Network (NHSN) Bloodstream Infection (BSI) measure. | number | level : Ratio |
| NHSN_BSI_Measure_Score | Indicates the score of the National Healthcare Safety Network (NHSN) Bloodstream Infection (BSI) measure. | integer | level : Ratio |
| NHSN_BSI_Reason_For_No_Score | Indicates the reason for no score of National Healthcare Safety Network (NHSN) Bloodstream Infection (BSI) measure. | string | - |
| State_Average_NHSN_BSI_Measure_Score | Identifies the State Average score of National Healthcare Safety Network (NHSN) Bloodstream Infection (BSI) Measure. This measure indicates the number of months for which facility reports NHSN Dialysis Event data to the Centers for Disease Control and Prevention (CDC). | integer | level : Ratio |
| National_Average_NHSN_BSI_Measure_Score | Identifies the National Average score of National Healthcare Safety Network (NHSN) Bloodstream Infection (BSI) measure. This measure indicates the number of months for which facility reports NHSN Dialysis Event data to the Centers for Disease Control and Prevention (CDC). | integer | level : Ratio |
| NHSN_Dialysis_Event_Reporting_Measure_Score | Identifies the reporting score of dialysis event for National Healthcare Safety Network (NHSN) measure. | integer | level : Ratio |
| NHSN_Dialysis_Event_Reporting_Reason_For_No_Score | Indicates the reason for no score of dialysis event reporting for National Healthcare Safety Network (NHSN) measure. | string | - |
| NHSN_Dialysis_Event_Reporting_Number_of_Months_Reported | Identifies the number of reported months for dialysis event reporting of National Healthcare Safety Network (NHSN) measure. | integer | level : Ratio |
| State_Average_NHSN_Dialysis_Event_Reporting_Measure_Score | Indicates the state average score for dialysis event reporting of National Healthcare Safety Network (NHSN) measure. | integer | level : Ratio |
| National_Average_NHSN_Dialysis_Event_Reporting_Measure_Score | Indicates the national average score for dialysis event reporting of National Healthcare Safety Network (NHSN) measure. | integer | level : Ratio |
| NHSN_Combined_Measure_Score | Indicates the combined score of National Healthcare Safety Network (NHSN) measure. | integer | level : Ratio |
| NHSN_Combined_Reason_For_No_Score | Indicates the combined reason for no score of National Healthcare Safety Network (NHSN) measure. | string | - |
| State_Average_NHSN_Combined_Measure_Score | Indicates the state average combined score of National Healthcare Safety Network (NHSN) measure. | integer | level : Ratio |
| National_Average_NHSN_Combined_Measure_Score | Indicates the national average combined score of National Healthcare Safety Network (NHSN) measure. | integer | level : Ratio |
Data Preview
| | | | | | | | | | | | | | | | | | | | | | |
| --- | --- | --- | --- | --- | --- | --- | --- | --- | --- | --- | --- | --- | --- | --- | --- | --- | --- | --- | --- | --- | --- |
| Facility Name | CMS Certification Number CCN | Alternate CCN | Address | City | State Abbreviation | Zip Code | Network | NHSN BSI Achievement Measure Rate | NHSN BSI Measure Score | NHSN BSI Reason For No Score | State Average NHSN BSI Measure Score | National Average NHSN BSI Measure Score | NHSN Dialysis Event Reporting Measure Score | NHSN Dialysis Event Reporting Reason For No Score | NHSN Dialysis Event Reporting Number of Months Reported | State Average NHSN Dialysis Event Reporting Measure Score | National Average NHSN Dialysis Event Reporting Measure Score | NHSN Combined Measure Score | NHSN Combined Reason For No Score | State Average NHSN Combined Measure Score | National Average NHSN Combined Measure Score |
| CHILDRENS HOSPITAL DIALYSIS | 12306 | 13300.0 | 1600 7TH AVENUE SOUTH | BIRMINGHAM | AL | 35233 | 8 | 3.318 | | | 6 | 6 | 10 | | 12 | 10 | 10 | 4 | | 8 | 7 |
| FMC CAPITOL CITY | 12500 | | 255 S JACKSON STREET | MONTGOMERY | AL | 36104 | 8 | 0.938 | 5.0 | | 6 | 6 | 10 | | 12 | 10 | 10 | 7 | | 8 | 7 |
| GADSDEN DIALYSIS | 12501 | | 409 SOUTH FIRST STREET | GADSDEN | AL | 35901 | 8 | 1.364 | 4.0 | | 6 | 6 | 10 | | 12 | 10 | 10 | 6 | | 8 | 7 |
| TUSCALOOSA UNIVERSITY DIALYSIS | 12502 | | 220 15TH STREET | TUSCALOOSA | AL | 35401 | 8 | 0.772 | 6.0 | | 6 | 6 | 10 | | 12 | 10 | 10 | 8 | | 8 | 7 |
| PCD MONTGOMERY | 12505 | | 1001 FOREST AVENUE | MONTGOMERY | AL | 36106 | 8 | 2.352 | | | 6 | 6 | 10 | | 12 | 10 | 10 | 4 | | 8 | 7 |
| DOTHAN DIALYSIS | 12506 | | 216 GRACELAND DR. | DOTHAN | AL | 36305 | 8 | 0.7340000000000001 | 6.0 | | 6 | 6 | 10 | | 12 | 10 | 10 | 8 | | 8 | 7 |
| FMC MOBILE | 12507 | | 2620 OLD SHELL RD | MOBILE | AL | 36607 | 8 | 0.542 | 7.0 | | 6 | 6 | 10 | | 12 | 10 | 10 | 8 | | 8 | 7 |
| BIRMINGHAM EAST DIALYSIS | 12508 | | 1105 EAST PARK DRIVE | BIRMINGHAM | AL | 35235 | 8 | 0.22 | 8.0 | | 6 | 6 | 10 | | 12 | 10 | 10 | 9 | | 8 | 7 |
| FMC NORTH ALABAMA | 12509 | | 1311 N MEMORIAL PKWY #200 | HUNTSVILLE | AL | 35801 | 8 | 0.191 | 9.0 | | 6 | 6 | 10 | | 12 | 10 | 10 | 9 | | 8 | 7 |
| FMC SELMA | 12512 | | 905 MEDICAL CENTER PARKWAY | SELMA | AL | 36701 | 8 | 0.759 | 6.0 | | 6 | 6 | 10 | | 12 | 10 | 10 | 8 | | 8 | 7 |