Others titles
ESRD QIP State and National Average Measure Scores for PY 2018
ESRD QIP State and National Average Measure Scores for PY 2019
ESRD QIP State and National Average Measure Scores for PY 2020
Average Measure Scores for ESRD QIP
CMS Quality Improvement Program
ESRD QIP for Value Based Purchasing Program
Keywords
Dialysis
Dialysis Facilities
Dialysis Facility Compare
Renal Disease Clinical Measures
Quality Measures
Linking Quality to Payment
Quality Net ESRD
Healthcare Professions
Medicare Facilities
Quality Incentive Program (QIP)
ESRD QIP State and National Average Measure Scores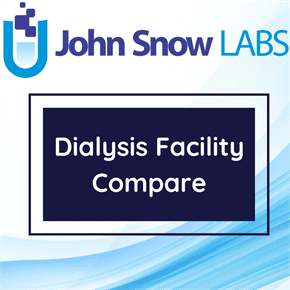 This dataset includes facility details, measure score, and the state and national average measure scores for the six measures included in the Payment Year 2018 End-Stage Renal Disease (ESRD) Quality Incentive Program (QIP). These measures specifically include facility addresses, facility names, states and average national and state measure scores.
Log in to download
Complexity
Get The Data
For getting access to data download links please read and accept the end-user license agreement.
Your Data License
Research

Non-Commercial, Share-Alike, Attribution

Free Forever

Commercial

Commercial Use, Remix & Adapt, White Label Log in to download
Description
The Centers for Medicare & Medicaid Services (CMS) administers the End-Stage Renal Disease (ESRD) Quality Incentive Program (QIP) to promote high-quality services in outpatient dialysis facilities treating patients with ESRD. As the first of its kind in Medicare, this program changes the way CMS pays for the treatment of patients with ESRD by linking a portion of payment directly to facilities' performance on quality of care measures. These types of programs are known as "pay-for-performance" or "value-based purchasing" (VBP) programs.
The ESRD QIP includes six measure scores for Clinical Depression Screening and Follow-up, Standardized Transfusion Ratio, Standardized Readmission Ratios, Pain Assessment and Follow-up, National Healthcare Safety Network Healthcare Personnel Influenza Vaccination and NHSN bloodstream infection for PY 2018.
According to CMS, nearly 30% of beneficiaries with ESRD experience significant symptoms of depression, which can lead to low energy, fatigue, sleep disturbance, and anorexia. Additionally, according to Paul L. Kimmel, MD, of the Division of Renal Diseases and Hypertension at George Washington University Medical Center, depression is the most common psychological disorder in patients with ESRD.
Transfusion avoidance has been the cornerstone of anemia treatment for patients with kidney disease, direct measurement of red blood cell transfusion use to assess dialysis facility anemia management performance is reasonable. Administration of transfusions to dialysis patients reflects medical practice both within and outside the dialysis unit. Some transfusions may be deemed unavoidable and transfusion practices are subject to considerable regional variation. Reducing hospital readmission rates is a clinical and policy priority, but little is known about variation in rates of readmission after major surgery and whether these rates at a given hospital are related to other markers of the quality of surgical care.
Percentage of visits for patients aged 18 years and older with documentation of a pain assessment using a standardized tools on each visit and documentation of a follow-up plan when pain is present. This measure is to be reported at each denominator eligible visit occurring during the performance period for patients seen during the performance period. There is no diagnosis associated with this measure. This measure may be reported by eligible clinicians who perform the quality actions described in the measure based on the services provided and the measure-specific denominator coding.
The Advisory Committee on Immunization Practices (ACIP) recommends that all healthcare personnel (HCP) and persons in training for healthcare professions should be vaccinated annually against influenza. Persons who are infected with influenza virus, including those with subclinical infection, can transmit influenza virus to persons at higher risk for complications from influenza. Vaccination of HCP has been associated with reduced work absenteeism and with fewer deaths among nursing home patients and elderly hospitalized patients. The foundation, principles, and mechanisms guiding the ESRD QIP will remain the same over time, but the program's specific quality measures, standards, weights, and formulas will change from year to year.
About this Dataset
Data Info
| | |
| --- | --- |
| Date Created | 2017-11-01 |
| Last Modified | 2022-04-12 |
| Version | 2022-04-27 |
| Update Frequency | Quarterly |
| Temporal Coverage | 2019-2022 |
| Spatial Coverage | United States |
| Source | John Snow Labs; Centers for Medicare and Medicaid Services; |
| Source License URL | |
| Source License Requirements | N/A |
| Source Citation | N/A |
| Keywords | Dialysis, Dialysis Facilities, Dialysis Facility Compare, Renal Disease Clinical Measures, Quality Measures, Linking Quality to Payment, Quality Net ESRD, Healthcare Professions, Medicare Facilities, Quality Incentive Program (QIP) |
| Other Titles | ESRD QIP State and National Average Measure Scores for PY 2018, ESRD QIP State and National Average Measure Scores for PY 2019, ESRD QIP State and National Average Measure Scores for PY 2020, Average Measure Scores for ESRD QIP, CMS Quality Improvement Program, ESRD QIP for Value Based Purchasing Program |
Data Fields
| Name | Description | Type | Constraints |
| --- | --- | --- | --- |
| Facility_Name | The name of the Dialysis center or facility. | string | - |
| CMS_Certification_Number_CCN | Center for Medicare & Medicaid Services (CMS) certification number (CCN). Identification number of the facility within the CMS dataset. The CCN for providers and suppliers is a 6 digit number. The first 2 digits identify the State in which the provider is located. The last 4 digits identify the type of facility. | integer | level : Nominal |
| Alternate_CCN | Identification number of the facility within the CMS dataset. The CCN for providers and suppliers is a 6 digit number. The first 2 digits identify the State in which the provider is located. The last 4 digits identify the type of facility. | integer | level : Nominal |
| Address1 | The address of the dialysis center or facility. | string | - |
| City | The city name in the location address of the facility being identified. | string | - |
| State_Abbreviation | The two-letter abbreviations of the state in the mailing address of the ambulatory center. This includes information on hospitals in different U.S states. | string | required : 1 |
| Zip_Code | The postal Zip code in the mailing address of the hospital. | integer | level : Nominal |
| Network | Indicates the network. | integer | level : Nominal |
| Measure_Name | Indicates the name of the specific measure. | string | - |
| Achievement_Measure_Rate | Indicates the achievement rate for the specific measure scores. | number | level : Ratio |
| Measure_Score | Identifies the score of the specific measures. | integer | level : Ratio |
| Reason_For_No_Score | Indicates the reason for no score of the specific measures. | string | - |
| State_Average_Measure_Score | Identifies the score of State Average Measure. | integer | level : Ratio |
| National_Average_Measure_Score | Identifies the score of National Average Measure. | integer | level : Ratio |
Data Preview
| | | | | | | | | | | | | | |
| --- | --- | --- | --- | --- | --- | --- | --- | --- | --- | --- | --- | --- | --- |
| Facility Name | CMS Certification Number CCN | Alternate CCN | Address1 | City | State Abbreviation | Zip Code | Network | Measure Name | Achievement Measure Rate | Measure Score | Reason For No Score | State Average Measure Score | National Average Measure Score |
| 032302 MARICOPA MEDICAL CTR - DIALYSIS | 32302 | 30022.0 | 2525 E ROOSEVELT ST | PHOENIX | AZ | 85008 | 15 | Clinical Depression Screening and Follow Up | | | 15 | | |
| 032314 PHOENIX CHILDRENS HOSPITAL- DIALYSIS CENTER | 32314 | 33302.0 | 1920 E CAMBRIDGE RD STE 102 | PHOENIX | AZ | 85016 | 15 | Clinical Depression Screening and Follow Up | | | 15 | | |
| 032315 GILA RIVER DIALYSIS EAST | 32315 | 31308.0 | 565 W SEED FARM RD | SACATON | AZ | 85147 | 15 | Clinical Depression Screening and Follow Up | | | 15 | | |
| 032316 Banner University Medical Center Pediatric Outpatient DIALYSIS UNIT | 32316 | 30064.0 | PO BOX 245148 | TUCSON | AZ | 85724 | 15 | Clinical Depression Screening and Follow Up | | | 15 | | |
| 032503 PHOENIX ARTIFICIAL KIDNEY CENTER (FMC) | 32503 | | 13090 N 94TH DR STE 100 | PEORIA | AZ | 85381 | 15 | Clinical Depression Screening and Follow Up | | | 15 | | |
| 032508 SOUTH PHOENIX DIALYSIS SERVICES (FMC) | 32508 | | 1021 S 7TH AVE STE 108 | PHOENIX | AZ | 85007 | 15 | Clinical Depression Screening and Follow Up | | | 15 | | |
| 032509 EAST VALLEY DIALYSIS (FMC) | 32509 | | 135 S POWER RD STE 103 | MESA | AZ | 85206 | 15 | Clinical Depression Screening and Follow Up | | | 15 | | |
| 032514 DESERT DIALYSIS CENTER (DCI) | 32514 | | 2022 E PRINCE RD | TUCSON | AZ | 85719 | 15 | Clinical Depression Screening and Follow Up | | | 15 | | |
| 032516 CHANDLER DIALYSIS (FMC) | 32516 | | 912 W CHANDLER BLVD BLDG A-D | CHANDLER | AZ | 85225 | 15 | Clinical Depression Screening and Follow Up | | | 15 | | |
| 032517 CENTRAL PHX DIALYSIS (FMC) | 32517 | | 3421 N 7TH AVE | PHOENIX | AZ | 85013 | 15 | Clinical Depression Screening and Follow Up | | | 15 | | |