Others titles
Retail Prescription Medicine
Pharmacy Rx Income by Age
Retail Prescription Drugs Filled at Pharmacies (Annual per Capita by Age)
Pharmacy Rx Income by Gender
Retail Prescription Drugs Filled at Pharmacies (Annual per Capita by Gender)
Pharmacy Rx Per capita Income
Retail Prescription Drugs Filled at Pharmacies (Annual per Capita)
Total Pharmacy Rx Sales
Total Retail Sales for Prescription Drugs Filled at Pharmacies
Total Pharmacy Rx
Total Number of Retail Prescription Drugs Filled at Pharmacies
Keywords
Retail Drugs
Prescription Medicines
Rx Drugs
OTC Medication
Retail Pharmacy
Drug Use by Gender
Pharmacy Sales
Retail Drugs
Prescription Drugs
Prescription Cost
Online Pharmacy
FDA Pharmacy Prescriptions Per Capita Income and Total Sales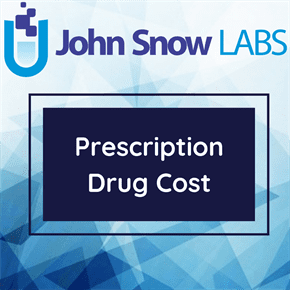 This dataset is a two-years data on retail prescription drugs filled at each state and regional zone; it is for pharmacies per capita categorized by age, gender, prescription drug and by per capita annually as well as by total prescription drugs and total sales for each state and regional zone. This data is for 2014 and 2016 for pharmacies, stores and merchandises at 814 defined regional zones.
Log in to download
Complexity
Get The Data
For getting access to data download links please read and accept the end-user license agreement.
Your Data License
Research

Non-Commercial, Share-Alike, Attribution

Free Forever

Commercial

Commercial Use, Remix & Adapt, White Label Log in to download
Description
Dataset shown here is for the calendar year 2014 and 2016 and includes the number of prescription drugs filled at retail by pharmacies only. Data is based on IMS's Vector One® database which collects data from a panel of retail pharmacies, third-party payers, and data providers. Retail pharmacies include independent pharmacies, chain pharmacies, food stores, and mass merchandisers found in 814 defined regional zones. This total includes prescriptions filled at pharmacies only and a small portion of over-the-counter medications and repackages that exclude those filled by mail order.
About this Dataset
Data Info
| | |
| --- | --- |
| Date Created | 2015 |
| Last Modified | 2020 |
| Version | 2020 |
| Update Frequency | Annual |
| Temporal Coverage | 2019 |
| Spatial Coverage | United States |
| Source | John Snow Labs; IMS Health Incorporated; |
| Source License URL | |
| Source License Requirements | N/A |
| Source Citation | N/A |
| Keywords | Retail Drugs, Prescription Medicines, Rx Drugs, OTC Medication, Retail Pharmacy, Drug Use by Gender, Pharmacy Sales, Retail Drugs, Prescription Drugs, Prescription Cost, Online Pharmacy |
| Other Titles | Retail Prescription Medicine, Pharmacy Rx Income by Age, Retail Prescription Drugs Filled at Pharmacies (Annual per Capita by Age), Pharmacy Rx Income by Gender, Retail Prescription Drugs Filled at Pharmacies (Annual per Capita by Gender), Pharmacy Rx Per capita Income, Retail Prescription Drugs Filled at Pharmacies (Annual per Capita), Total Pharmacy Rx Sales, Total Retail Sales for Prescription Drugs Filled at Pharmacies, Total Pharmacy Rx, Total Number of Retail Prescription Drugs Filled at Pharmacies |
Data Fields
| Name | Description | Type | Constraints |
| --- | --- | --- | --- |
| State | USA or the state | string | required : 1 |
| Retail_Prescription_Drugs_Filled_At_Pharmacies_By_Payer_Commercial | Retail Prescription Drugs filled at Pharmacies during 2019 by commericial payers as well as some government programs, such as the Children's Health Insurance Program (CHIP), Veterans Administration (VA) and Indian Health Service. | number | level : Ratiorequired : 1 |
| Retail_Prescription_Drugs_Filled_At_Pharmacies_By_Payer_Medicare | Retail Prescription Drugs filled at Pharmacies during 2019 by Medicare payers which includes prescriptions covered by Medicare Part D plans. | number | level : Ratiorequired : 1 |
| Retail_Prescription_Drugs_Filled_At_Pharmacies_By_Payer_Medicaid | Retail Prescription Drugs filled at Pharmacies during 2019 by Medicaid payers which includes prescriptions covered by Medicaid fee-for-service and Medicaid managed care plans. . | number | level : Ratiorequired : 1 |
| Retail_Prescription_Drugs_Filled_At_Pharmacies_By_Payer_Cash | Retail Prescription Drugs filled at Pharmacies during 2019 paid for by cash only, with no payer involved in the reimbursement. This includes prescriptions filled by uninsured patients as well as insured patients paying cash for prescriptions. | number | level : Ratiorequired : 1 |
| Retail_Prescription_Drugs_Filled_At_Pharmacies_By_Payer_Total | Total number of Retail Prescription Drugs filled at Pharmacies during 2019 by payers. | number | level : Ratiorequired : 1 |
| Retail_Rx_Drugs_Per_Capita | Reqired | number | level : Ratio |
| Retail_Sales_For_Rx_Drugs_Filled_At_Pharmacies_By_Payer_Commercial | Includes retail sales for prescriptions covered by commericial payers as well as some government programs, such as the Children's Health Insurance Program (CHIP), Veterans Administration (VA) and Indian Health Service. | number | level : Ratiorequired : 1 |
| Retail_Sales_For_Rx_Drugs_Filled_At_Pharmacies_By_Payer_Medicare | Retail sales for Prescription Drugs filled at Pharmacies during 2019 by Medicare payers which includes prescriptions covered by Medicare Part D plans. | number | level : Ratiorequired : 1 |
| Retail_Sales_For_Rx_Drugs_Filled_At_Pharmacies_By_Payer_Medicaid | Retail sales for Prescription Drugs filled at Pharmacies during 2019 by Medicaid payers which includes prescriptions covered by Medicaid fee-for-service and Medicaid managed care plans. | number | level : Ratiorequired : 1 |
| Retail_Sales_For_Rx_Drugs_Filled_At_Pharmacies_By_Payer_Cash | Retail sales for Prescription Drugs filled at Pharmacies during 2019 paid for by cash only, with no payer involved in the reimbursement. This includes prescriptions filled by uninsured patients as well as insured patients paying cash for prescriptions. | number | level : Ratiorequired : 1 |
| Retail_Sales_For_Rx_Drugs_Filled_At_Pharmacies_By_Payer_Total | Total retail sales for Retail Prescription Drugs filled at Pharmacies during 2019 by payers. | number | level : Ratiorequired : 1 |
| Number_Of_Mail_Order_Prescriptions_Drugs_By_Payer_Third_Party | Refers to the number of mail order prescription drugs by third prty which includes commercial plans, Medicare Part D, Medicaid managed care and fee-for-service, and other government plans such as the Veterans Administration and Indian Health Services. Third Party also includes prescriptions covered by insurance but subject to deductibles or other out-of-pocket payments by patients. | integer | level : Ratiorequired : 1 |
| Number_Of_Mail_Order_Prescriptions_Drugs_By_Payer_Cash | Refers to the number of mail order prescription drugs paid for by cash only, with no payer involved in the reimbursement. This includes prescriptions paid for by uninsured patients as well as insured patients paying cash for prescriptions. | integer | level : Ratiorequired : 1 |
| Number_Of_Mail_Order_Prescriptions_Drugs_By_Payer_Total | Refers to the total number of mail order prescription drugs by payers. | integer | level : Ratiorequired : 1 |
| Mail_Order_Sales_Of_Prescriptions_Drugs_By_Payer_Third_Party | Refers to the mail order sales of prescription drugs by third prty which includes commercial plans, Medicare Part D, Medicaid managed care and fee-for-service, and other government plans such as the Veterans Administration and Indian Health Services. Third Party also includes prescriptions covered by insurance but subject to deductibles or other out-of-pocket payments by patients. | number | level : Ratiorequired : 1 |
| Mail_Order_Sales_Of_Prescriptions_Drugs_By_Payer_Cash | Refers to the mail order sales of prescription drugs paid for by cash only, with no payer involved in the reimbursement. This includes prescriptions paid for by uninsured patients as well as insured patients paying cash for prescriptions. | number | level : Ratiorequired : 1 |
| Mail_Order_Sales_Of_Prescriptions_Drugs_By_Payer_Total | Refers to the total mail order sales of prescription drugs by payers. | number | level : Ratiorequired : 1 |
Data Preview
| | | | | | | | | | | | | | | | | | |
| --- | --- | --- | --- | --- | --- | --- | --- | --- | --- | --- | --- | --- | --- | --- | --- | --- | --- |
| State | Retail Prescription Drugs Filled At Pharmacies By Payer Commercial | Retail Prescription Drugs Filled At Pharmacies By Payer Medicare | Retail Prescription Drugs Filled At Pharmacies By Payer Medicaid | Retail Prescription Drugs Filled At Pharmacies By Payer Cash | Retail Prescription Drugs Filled At Pharmacies By Payer Total | Retail Rx Drugs Per Capita | Retail Sales For Rx Drugs Filled At Pharmacies By Payer Commercial | Retail Sales For Rx Drugs Filled At Pharmacies By Payer Medicare | Retail Sales For Rx Drugs Filled At Pharmacies By Payer Medicaid | Retail Sales For Rx Drugs Filled At Pharmacies By Payer Cash | Retail Sales For Rx Drugs Filled At Pharmacies By Payer Total | Number Of Mail Order Prescriptions Drugs By Payer Third Party | Number Of Mail Order Prescriptions Drugs By Payer Cash | Number Of Mail Order Prescriptions Drugs By Payer Total | Mail Order Sales Of Prescriptions Drugs By Payer Third Party | Mail Order Sales Of Prescriptions Drugs By Payer Cash | Mail Order Sales Of Prescriptions Drugs By Payer Total |
| United States | 1940630274 | 1058091761 | 608008501 | 185320882 | 3792051418 | 11.6 | 200617588532 | 146039353255 | 52185955495 | 8272155586 | 407115052868 | 170934374 | 358249 | 171292623 | 144740170813 | 138074650 | 144878245463 |
| Alabama | 40353453 | 22929989 | 6283646 | 6012212 | 75579301 | 15.4 | 3841183189 | 2866372241 | 658716972 | 228792659 | 7595065062 | 2237632 | 15718 | 2253349 | 2126454684 | 2283597 | 2128738281 |
| Alaska | 2669311 | 1031538 | 812087 | 267811 | 4780747 | 6.5 | 404518801 | 213197153 | 120477106 | 19013310 | 757206371 | 153942 | 704 | 154646 | 198375791 | 77808 | 198453599 |
| Arizona | 35024612 | 19811016 | 13792167 | 2957661 | 71585456 | 9.8 | 4360433864 | 3368239547 | 1322376762 | 154829721 | 9205879893 | 2917666 | 4646 | 2922312 | 2579845428 | 1445334 | 2581290762 |
| Arkansas | 24880983 | 14110387 | 4714657 | 3709787 | 47415814 | 15.7 | 2194684915 | 1534404710 | 414326319 | 126995200 | 4270411143 | 1479753 | 6666 | 1486420 | 990649071 | 916263 | 991565335 |
| California | 152488307 | 93326125 | 73287085 | 14805005 | 333906521 | 8.5 | 13487501922 | 12662770488 | 5630593319 | 744984994 | 32525850723 | 10568235 | 71603 | 10639839 | 10881723358 | 20862736 | 10902586094 |
| Colorado | 24650372 | 10350505 | 6644289 | 2118093 | 43763259 | 7.6 | 3254105945 | 2035231874 | 1340616079 | 112687452 | 6742641348 | 2451584 | 5542 | 2457126 | 1981324373 | 1613872 | 1982938245 |
| Connecticut | 21829082 | 11804992 | 8570305 | 1286925 | 43491305 | 12.2 | 2171184015 | 1890350250 | 1280026341 | 74818156 | 5416378763 | 2025971 | 7446 | 2033417 | 2046220043 | 1681202 | 2047901246 |
| Delaware | 5631027 | 3427716 | 2563480 | 378030 | 12000253 | 12.3 | 763525680 | 661367891 | 282049941 | 18779848 | 1725723360 | 798360 | 608 | 798968 | 640239916 | 187654 | 640427570 |
| Dist. of Columbia | 3314629 | 1149387 | 1921791 | 225546 | 6611353 | 9.4 | 454505979 | 251057984 | 222977046 | 16949309 | 945490319 | 330739 | 973 | 331713 | 604192327 | 398256 | 604590584 |